It's been roughly two weeks since I first wrote about The VIP Pass Singapore, highlighting its non-transparent pricing, questionable hotel partnerships, dubious use of media mentions/ awards, and shall we say interesting corporate structure.
Since then, VIP Pass has taken down its original Facebook post (possibly because they got tired of curating the comments), and removed the logos of various hotel chains from its website. 
At the same time, they've not addressed or even doubled down on the following:
Price: The VIP Pass still advertised at S$399 for six nights, despite the fact nights 4-6 have a compulsory cleaning fee of S$50 each. What has changed is the "original price", which was increased to S$2,093 from S$600. Yay for even more savings!
And just as a side note, am I the only one wondering why they keep saying "free" when you, um, have to pay money?
Awards: The Agoda Gold Circle award, which Agoda confirmed was not awarded to VIP Pass, is still displayed prominently
Media mentions: "As featured on" continues to list numerous media outlets where I can find no trace of VIP Pass being mentioned. Well, with one hilarious exception- The Straits Times has now been added, even though the original article has mysteriously disappeared.
Good thing they took a screenshot of it; just a pity about the typo…
But that's not all. I've been digging deeper into VIP Pass, and discovered a few more practices that really need highlighting. 
VIP Pass testimonials
VIP Pass has added a section filled with reviews and testimonials of "amazing VIP experiences across Singapore".
If that's not a ringing endorsement, I don't know what is. Let's read more about these "amazing VIP experiences"!
Here's Bill, who looks full of energetic energy as he energetically energizes the energy around him. "Nice hotels advertised, unbelievable prices!!" says Bill. That's right Bill. I find the prices unbelievable too.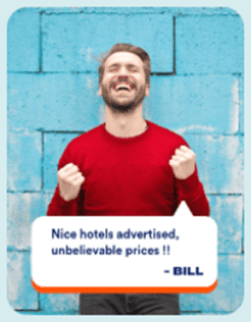 But it's amazing how Bill stays energetic. He's out there giving 10 tips for maintaining a positive attitude, 9 strategies to combat burnout, sagely LinkedIn advice, and dishing the dirt on the top 3 teeth whitening products of 2021. 
My goodness, he's everywhere. If someone deserves six relaxing nights in a hotel, it's this man. 
Then there's Shan, who says "going to fully utilise for vacations planned after MCO, heh!" I wasn't aware we had an MCO in Singapore, but now that the air travel bubble corridor's been mooted again, it's probably only a matter of time. 
Shan, or shall I say "smiling girl in white crew neck t-shirt and blue denim shorts" is wearing a Stranger Things t-shirt, visible when we zoom and enhance. 
But Shan also comes in cherry version…
…Visit Taiwan version…
…and conveniently enough, "drag your project here" version. 
Another busy soul. I hope she enjoys her six nights at the Value Hotel Thomson. 
And finally there's Sylvia, who says "I got 3 rooms for 2 days for a big family holiday celebrating grandpa's birthday". 
Aw. It's sweet she could find the time to do that, given how busy she is gracing the P&G careers page…
…not to mention finding true love in Hong Kong via Match Dating. 
I'm not going to clog your screen with reverse image searches for every single photo, but one thing's for sure. These aren't photos of actual VIP Pass customers. 
So the photos aren't legit, but what about the words? I think there's questions to be asked here too. Here's a still from a Facebook ad that VIP Pass is running. Nurul, supposedly from Singapore, says "kids loved the huge pool…going to use the VIP Pass for the next trip here". 
That's nice, except elsewhere on the VIP Pass website you find the exact same quote again from Nurul…this time from Penang.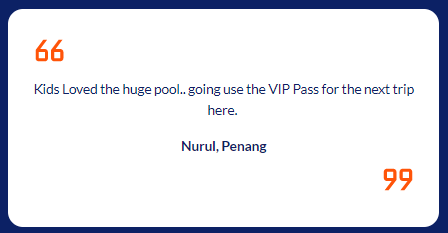 And then there's Shan and Suraya, which VIP Pass would have you believe hail from Singapore. 
Even ignoring the whole MCO thing in Shan's quote, I think there's good reason to doubt this claim. 
Suraya and Shan's reviews are sourced from the reviews section on the VIP Pass website, which is more of a comments system (no verification required). These reviews are dated 8 June 2021, before VIP Pass even went on sale in Singapore. 
Make of that what you will. 
VIP Pass sales notifications
When you visit the VIP Pass website, you'll see a notification popping up every now and then on the bottom right of your screen. 
This is a common feature on e-commerce sites, known as "live sales notification" or "recent sales notification". It's social proof 101: people are more likely to buy something if they know that others are doing the same (FOMO is a powerful thing). 
While it's obviously intended to drive conversions, there's nothing wrong with live sales notifications per se. Other sites like Book Depository do it, and as long as it's truthful, why not? 
The problem arises when you start doubting the veracity of the underlying data. My suspicions were triggered when I noticed the same names appearing over different days. 
To document this, I observed the VIP Pass website on two different dates, about a week apart: Friday 2 July and Thursday 8 July. I opened the website in one window, and placed it side by side with clocktab.com to show the current date and time. 
Here's the samples from 2 July.
Note how Siti Sarah, Tan Fui Fui, Lam Foo Keat, Lisa Lee, Lim Bee Ann and Fida Hossain all made purchases. 
Here's the samples from 8 July.
Hello, what's this? 
Here we are nearly a week later, and Siti Sarah, Tan Fui Fui, Lam Foo Keat, Lisa Lee, Lim Bee Ann and Fida Hossain all appear again, still tagged as "about one day ago". That's really stretching the definition of "one day." 
Now, it's certainly possible that these individuals did buy a VIP Pass at some point. However, showing the same names every day on loop with the implication that they're recent sales is a questionable practice at best. 
VIP Pass MLM affiliate program
VIP Pass customers may have noticed an "earn free holidays" tab in the member's area. 
Clicking on this leads to an invitation to become a VIP Pass affiliate, earning a 15% commission on every pass you sell to friends and family. Gushes Malik from Malaysia:
"In less than a day, I made RM238.80 while watching 2 Netflix movies at home! I sent my affiliate link to my friends on WhatsApp, next thing I know I have made a good amount of commissions, with no effort! Now I have 7 months of FREE Netflix subscription. Thank you VIP Team!!"
Now who can argue with that?
Certainly not Noile Lim (spell it backwards), who is excited about the prospect of earning a good amount of commissions while watching Netflix movies at home. Noile loves luxury staycations, great deals and popular music.
Noile is also entirely fictitious, her photo courtesy of thispersondoesnotexist.com, a website which uses AI to generate portraits of imaginary people.
But that hasn't stopped her from registering as an affiliate of The VIP Pass. After entering some basic demographic details…
…she receives an email informing her she's now part of the family! A pity the Telegram link doesn't work, but still. 
Noile now earns a 15% cut of every membership she sells through her affiliate link to family and (soon to be ex) friends. 
That's not all. The affiliate platform has the ability to add sub-affiliates in a scheme it literally refers to as "multi level marketing". Affiliates can recruit further affiliates, and earn an unspecified cut of whatever sales they make. 
Noile gets on the phone with two of her closest friends, and in no time flat, they become her sub-affiliates. She's well on her way now to lots of Netflix!
I shall be very interested to see how this MLM program develops. 
Conclusion
The marketing tactics used by VIP Pass should be raising more than a few eyebrows, and perhaps the team might consider this for their weekend reading. 
At the risk of sounding like a broken record, I'll say once again that there are many fantastic staycation deals out there, and this isn't one of them. Visit Trip.com. Visit Traveloka. Visit Klook. Bookmark the SHA's staycation deals page. But please, don't spend SS$399 S$549 on a VIP Pass. 
Unless you use Noile's affiliate link. 
(Cover image: VIP Pass)