Singapore Airlines has announced its latest set of KrisFlyer Experiences, and this time we finally get a trip to nowhere…on the open seas. 
From 17-19 November 2021, KrisFlyer has chartered Dream Cruises' World Dream for a 2-night cruise to nowhere, with specially curated SIA activities onboard. Passengers will receive goody bags with SIA amenity kits and sleeper suits, as well as other commemorative items. Special grooming workshops and craft activities will be organised, and all guests will enjoy free Wi-Fi.
If you're a KrisFlyer UOB cardholder, however, you want to wait till 26 August 2021 before pulling the trigger- you'll get 20% milesback. 
KrisFlyer Cruise to Nowhere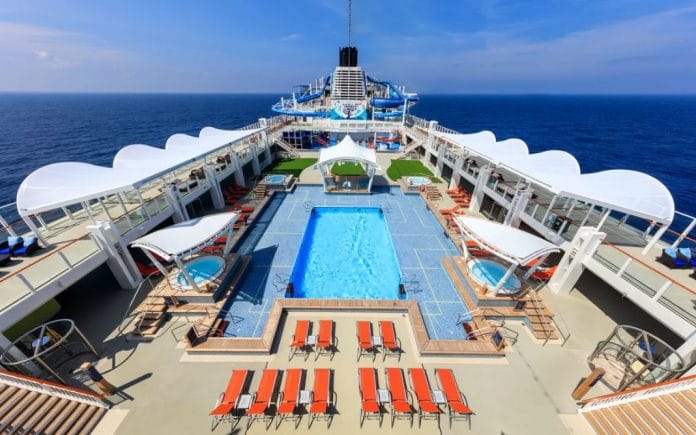 KrisFlyer's cruise to nowhere runs from 17-19 November 2021 (2 nights) on the World Dream.
Cruises depart from the Marina Bay Cruise Centre, with boarding starting from 2 p.m (you'll be assigned a specific boarding time in order to minimise crowding at the terminal). The ship returns to port around 9 a.m on the final day. 
The following redemption options are now available on KrisFlyer Experiences:
🚢 KrisFlyer Cruise to Nowhere
(17-19 November 2021)

Experience

Cost (Regular)

Cost (UOB KF)

Palace Suite (2 pax)

120,000 miles

96,000 miles

Palace Suite (4 pax)

240,000 miles

192,000 miles

Balcony Stateroom (1 pax)

38,000 miles

30,400 miles

Balcony Stateroom (2 pax)

50,000 miles

40,000 miles

Balcony Stateroom (3 pax)

75,000 miles

60,000 miles

Extra Pax (Balcony Stateroom)

25,000 miles

20,000 miles

Infant redemption (6-23 months)

6,500 miles

5,200 miles
Redemptions for UOB KrisFlyer Card members only open on 26 August 2021 (and are likely to be snapped up fast), so hold your fire till then if you have it. 
A pre-departure COVID-19 ART swab is required before embarkation, and is already included in the cost. Gratuities of S$42 (balcony) and S$52 (suite) per person per voyage must be paid with a Mastercard onboard, before disembarkation. 
Here's a few important things to note regarding passengers:
All room bookings must consist of at least one adult (18 years old or older)
Children (24 months and above) are counted one passenger
Redemptions for infants (6-23 months) may be made separately (6,500 miles each), or an infant may count as one passenger in your redemption
Infants younger than 6 months may not sail
After redemption, KrisFlyer will contact you at least six weeks before the cruise for the information required to complete your cruise booking. A S$30 fee applies for each request to change or swap passenger names once tickets have been issued.
Redemptions are non-refundable, and there is no limit on the number of tickets a member can redeem.
What to expect onboard
Passengers will be greeted with a special boarding programme, served SIA's signature satay and given welcome packs with amenity kits (all) and sleeper suits (Palace Suites only). If I had to guess, Balcony Stateroom passengers will get the Business Class Penhaligon's amenities kit, while Palace Suites passengers get the First Class Lalique ones. 
In addition to the welcome goodies, passengers can expect additional SIA-themed activities during the cruise. 
Enjoy unique programmes such as grooming workshops* conducted by SIA's cabin crew trainers, batik rose making, balloon sculpting workshops and KrisFlyer-exclusive Bingo games. Member can also look forward to the chance to win KrisPay miles and other KrisFlyer commemorative items during the cruise.

What's more, this cruise will be the first to feature Dream Cruises' Nordic Christmas-themed festivities which will include a Nordic Village, Santa Express and Christmas Market.
Guests who book a Palace Suite will enjoy a First Class meal by Georges Blanc on the first night, an enhanced welcome pack and complimentary butler service throughout the sailing. 
All regular entertainment, activities and dining will continue as normal. 
Singapore Airlines has published a list of FAQs regarding onboard activities. Most crucial is the point that if you travelled overseas within 21 days of cruise departure, you will be prohibited from sailing. That's the deal-breaker for me, since it precludes me from reviewing any new VTL arrangements. 
Is it worth it?
To provide some perspective, here's how much Dream Cruises is charging for a 2-night cruise to nowhere in November 2021.
Cabin

Miles*

Price*

Balcony Stateroom (2 pax)

50,000

S$618

Palace Suite (2 pax)

120,000

S$1,518

*Excludes gratuity fees of S$42 (balcony) or S$52 (suite) per person.
Do the math, and it works out to ~1.2 cents per mile, which isn't fantastic (although still better than most of your on-ground redemption options). What's more, it was just in February that KrisFlyer Experiences offered a (regular) 3-night Dream Cruise at 6,000 miles in a Balcony Stateroom for two. 
That said, this is a unique event, and there's no putting a price on novelty. 
Plus, there's extras too. Those staying in a Palace Suite will also enjoy an SIA First Class meal by Georges Blanc on the first night, and assuming it's similar to the one on KrisShop, you can expect some very fine food and wines. This retails for S$479 nett, although that price also includes two amenities kits and a full bottle of wine. 
For my full review of the Balcony Stateroom experience on World Dream, including the pre-departure testing, dining and entertainment, refer to the link below. 
Conclusion
KrisFlyer's cruise to nowhere is an interesting mix of SIA@Home, Inside SIA and a regular cruise, all rolled into one. 
I can't say I'm not tempted, but the fact it's with Dream Cruises gives me reason to pause (if it were Royal, I'd book without a second thought). I guess I'd be interested to review the Palace Suites experience , but 120,000 miles for a 2-night stint feels very steep indeed. 
There'd have to be some serious SIA theming on this cruise for me to bite, like performances by the SIA choir, flight simulators in the arcade, and book the cook meals.
Oh, and upgrades to the Palace Villa for KrisFlyer Elite Silver members 😉.