Platinum af'FAIR is American Express' annual blowout for Centurion and Platinum Charge members, the joke being it's a way of convincing them the af (annual fee) is fair. 
In the good old days before COVID, this would be an evening of non-stop food, drinks (yes, there's champagne) and freebies, kind of a big carnival for adults. 2019's edition was held at the Arts House, and it was an incredible experience indeed.
COVID understandably put a dampener on such festivities, and 2020's Platinum af'FAIR was an online-only event. It was still pretty interesting, with a virtual Second Life-esque concert and a set menu plus two bottles of champagne delivered to your door.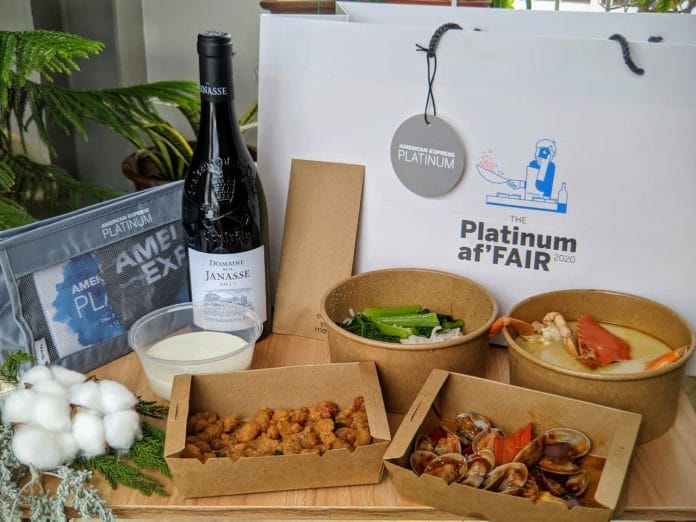 I was hoping that 2021 might see the return of a physical event, but it appears that's a bridge too far for this year…
Platinum af'FAIR 2021
American Express has sent out the invitations for Platinum af'FAIR 2021, which takes place on Sunday, 31 October 2021. It's very short notice (they gave more than a month's heads up last year), and unfortunately I'll be in Germany at the time.
This year's event has two main components:
an OTOT (own time, own target, for those unfamiliar with army lingo) picnic
a 7.30 p.m live-streamed concert
Registration is now open, and can be done via the AMEX Experiences app (Android | iPhone) under the "Offers" tab. 
You'll see two different options:
Picnic Plush
Concert Culture
RSVPs must be received by 22 October 2021, and each Platinum Charge member can redeem a single package only.
Picnic Plush costs 20,000 MR points, and includes:
Exclusively-designed and curated picnic set for two, including four appetisers, two mains and a dessert platter
Bottle of 2015 La Fleur de Bourd, two bottles of craft beer, two bottles of cold-pressed juice, two bottles of cold-brew coffee & tea, Evian water
Limited-edition Platinum mementos
Livestream concert by an international artiste and exclusive access to mobile games with exciting prizes to be won
Concert Culture costs 5,000 MR points, and includes just (4), access to the concert. 
I'd pick the Picnic Plush package without a doubt. 20,000 MR points are about 12,500 miles, which I value at 1.8 cents each. That's about ~S$225, and although it's not the screaming good deal that last year's package was (the champagne alone retailed at more than S$230), I think you won't be disappointed still. 
Picnic Plush includes a choice of the following set menus:
Option 1: Picnic Delights by Masons
Classic Black Tiger Prawn Cocktail

Chicken Caesar Salad topped with shaved Grana Padano

Oktoberfest Mixed Bratwurst Platter (grilled pork, chicken & lamb bratwursts)

Boneless Chicken Prawn Paste Chicken Pops

Classic English Summer Sandwich Selection (smoked salmon, chicken mayonnaise & tiger prawns)

Lobster Fusilli Aglio e Olio

Sweet Trio (brownies, pineapple tarts & assorted macarons)
Option 2: Picnic Specialties by Hopscotch
Farmer's Pick Mixed Berried (sic?) Salad

Charcuterie Platter (herbed chipolata, honey turkey ham, smoked salmon & assorted cheese selection)

Wild Mushroom Soup with White Truffle Oil

Japanese-style Truffle Capellini

Herb Crusted Roasted Chicken (the description in the PDF reads "smoked salmon, chicken mayonnaise & tiger prawns, but I'm pretty sure that's a typo- or else I haven't really had roasted chicken before!)

New England Lobster and Crab Roll

Picnic Snack Bag (cookies, chocolate truffles & assorted macarons)
Option 3: Picnic Classic by Masons


(vegan/gluten-free)
Loaded Sweet Potato Bites

Refreshing Pasta Salad

Steamed Cabbage Rolls

Vegetable Skewers

Mushroom Trio Risotto with Truffle Oil

Linguine Semplice

Sweet Summer (strawberry & pineapple tart duo and mixed berries)
Option 4: Picnic Signatures


(Halal)



Tahu Begedil

Chicken Popiah

Egg & Potato Rissoles

Mango Tango Salad

Jumbo Prawn Linguine

Sambal Prawn Biryani

Brownie Tiramisu in a Tub
Picnic baskets need to be collected at Gillman Barracks between 10 a.m to 3.30 p.m on 31 October; you'll specify a collection time when you register. If you're driving, a car decal will be sent to you via registered mail. 
The FAQs and T&Cs for this event can be found here.
Conclusion
American Express has always been known for their events, though there haven't been too many opportunities for those over the past couple of years. Platinum af'FAIR is sort of your birthright as a Platinum Charge cardholder, so I'd strongly encourage you to experience it at least once. 
Do register early to avoid disappointment.