I'm in the midst of planning a trip to Koh Samui, returning to one of my favourite vacation spots after a three and a half year absence.
While travelling to Thailand used to be so simple that many Singaporeans would do it over a long weekend, the COVID situation adds some annoying hoops to jump through.
🏖️ Sandbox Requirements
Fully vaccinated with approved vaccine (age 17 and below exempt)

Purchase travel insurance with min. US$50K COVID-19 medical coverage (foreigners only)

Book AQ/SHA Extra Plus hotel and pre-pay for 2x RT-PCR tests
Apply for Thailand Pass

Take pre-departure PCR test 72h before flight (age 5 and below exempt)

Take on-arrival PCR test and approved transport to hotel; isolate until negative result received

Stay within Sandbox for first 7 days before travelling elsewhere in Thailand

If staying <7 days, must leave Thailand immediately from Sandbox
TAT: Sandbox
I'll be visiting under the Sandbox Programme, which releases you from isolation as soon as you receive a negative on-arrival PCR test result. In fact, I'd argue that the Sandbox is more or less the same as the now suspended Test & Go scheme, from the perspective of someone who has no intention of travelling elsewhere in Thailand on the same trip (it does add some complexity in terms of flights, however, which will be explained below).
I've already written a separate article about the application process for the Thailand Pass. In this post, I'll answer as many FAQs as I can about the Koh Samui Sandbox.
Note that this is technically called the Surat Thani Sandbox, since Surat Thani comprises of Koh Samui, Koh Tao, and Koh Pha-ngan. But since Koh Samui is the most familiar name (and in any case, your first point of entry), I'll use that term throughout this post to refer to all three.
Sandbox Extension
From 1 February 2022, Thailand will introduce a "Sandbox Extension", which allows Sandbox travellers to travel within Phuket, Phang-Nga, Krabi and Koh Samui/ Koh Pha-ngan/ Ko Tao. In other words, you can first travel to Koh Samui, then to Phuket even within the first seven days.
Flights
Do I need to fly non-stop to/from Koh Samui?
Into Koh Samui
Koh Samui has a small airport with a runway that's just 2,100m long (for comparison, Changi Airport's runways are 4,000m). This rules out all widebody aircraft (many narrowbody aircraft too), and consequently, Koh Samui's only international air link at the moment is with Singapore.
This means that most international passengers will need to transit in Bangkok, and Bangkok Airways has created so-called "sealed routes" between Bangkok and Samui. To enter Koh Samui under the Sandbox scheme, you must either:
Transit in Bangkok and take a sealed route flight on Bangkok Airways from Bangkok to Samui
Take the Singapore to Samui flight on Bangkok Airways
From Bangkok to Samui (Sealed route)
Days
PG5125

S
M
T
W
T
F
S
BKK


1200

➞

USM


1330

✔
✔
✔
✔
✔
✔
✔
PG5171

S
M
T
W
T
F
S
BKK


1710

➞

USM


1840

✔
✔
✔
✔
✔
✔
✔
From Singapore to Koh Samui
Days
PG962

S
M
T
W
T
F
S
SIN


1930

➞

USM


2035

✔
✔
✔
Out of Koh Samui
I was originally under the impression that if you were staying in Samui for less than seven nights, you must take a sealed flight from Samui to Bangkok, and then out of Thailand.
Apparently that's not the case. Having spoken to people on the ground I'm told that you can take any domestic flight you wish out of Samui, and then out of Thailand. This means you're not limited to sealed route flights when going out of Samui.
Alternatively, you can take a flight directly from Samui to Singapore. Do note that there are no VTL flights out of Samui, so you'll need to serve a 7-day SHN upon entering Singapore.
From Samui to Singapore
Days
PG961


(Non-VTL)

S
M
T
W
T
F
S
USM


1505

➞

SIN


1800

✔
✔
✔
If you want to avoid the SHN, you'll need to take one of the following VTL flights back from Bangkok:
SQ705 (Daily; Depart BKK 0950, Arrive SIN 1315)
SQ707 (Daily; Depart BKK 1215, Arrive SIN 1545)
SQ709 (Daily; Depart BKK 1540, Arrive SIN 1915)
Can I buy separate air tickets (e.g. SIN-BKK and BKK-USM)?
No, at least not on the way to Samui.
Your itinerary to Koh Samui must be on a single booking, e.g. SIN-BKK-USM. Unfortunately for miles chasers, this means you can't use your KrisFlyer miles to redeem a SIN-BKK ticket and your Etihad miles to redeem a separate BKK-USM ticket.
The good news is that Singapore Airlines' website sells a combined SIN-BKK-USM itinerary, with SIN-BKK on Singapore Airlines and BKK-USM on Bangkok Airways' sealed route.
For your return leg, whether or not you need to book a single itinerary depends on whether you've been in the Sandbox for at least seven nights.
If you've been in the Sandbox for at least seven nights, you can proceed to book separate tickets because you're "clean".
If not, the same rules apply as for inbound travel- one single booking, featuring a flight from USM-BKK connecting to a BKK-anywhere outside of Thailand flight.
Can I change my flights?
Into Koh Samui
After getting approved for your Thailand Pass, you're allowed to change your flight to a new arrival date that's up to 72 hours after the original arrival date.
Some places say "within 72 hours", implying it can be before or after- this is incorrect. This rule is meant to accommodate those with flight delays, so that they don't need to apply for a new Thailand Pass at the last minute. It's not meant to accommodate those who want to bring forward their trip.
If you want to bring forward your date of entry into Thailand, you'll need to apply for a fresh Thailand Pass.
From Koh Samui
If your original stay is seven nights or more, no approval is required to extend it, since after Day 7 you're basically like any other local.
If your original stay is seven nights or more and you wish to shorten it, no approval is required unless the revised duration is now <7 days. Remember, if you're staying <7 days the local authorities will be tracking your movements closely to ensure you leave Thailand promptly.
If your original stay is seven nights or less, you'll need to get approval to shorten or extend it, regardless of the revised duration. Your hotel will contact the local Command Centre to approve the request.
Hotels
What kind of hotels can I book?
Sandbox travellers must book an approved SHA Extra+ (not to be confused with SHA or SHA+) or AQ accommodation.
SHA Extra+ Hotels
AQ Hotels
I recommend you use the link for SHA Extra+ Hotels, it's much easier to navigate. Toggle the language to English on the top right.
If you already have a hotel in mind and just want to check that it's SHA Extra+ approved, enter its name in the search field.
Now, the official requirements say you need to make a prepaid booking for your hotel, but in practice I've found that's not the case. You could, for example, redeem a refundable points reservation, then contact the hotel to add on the "Sandbox package" which typically includes:
2x RT-PCR tests
One-way airport transfer from airport to hotel
You'll be sent a payment link for the RT-PCR tests; for the airport transfer, Conrad Koh Samui told me I could settle it upon arrival.
Must I stay at least seven nights?
While the Thailand Pass portal mentions a 7-day (don't get confused- it's actually 7-nights!) hotel booking, that's only required if you wish to travel outside of the Sandbox to other parts of Thailand.
If you're only intending to stay in the Sandbox and leave Thailand on the same day of your hotel check-out, you can submit a <7-day hotel booking. Make sure the "estimated date of departure" field in the Thailand Pass application coincides with the check-out date of your hotel booking.
Must I stay at the same hotel throughout?
Under the Koh Samui sandbox, you may change hotels up to three times per visit.
The first night must be in Koh Samui (in this case, I'm using the term Koh Samui specifically- this doesn't include Koh Tao and Koh Pha-ngan).
After receiving a negative result on the first PCR test, you can spend the remaining nights at a different hotel in Koh Tao or Koh Pha-ngan.
How do I fill out the Thailand Pass if I have more than one hotel?
The Thailand Pass application interface only allows you to submit the details of one hotel.
If you're staying in more than one hotel, submit the booking details at the very last step under Additional Documents.
Insurance
What kind of insurance do I need?
Non-Thai nationals require travel insurance that has a minimum of US$50,000 (~S$67,300) coverage for COVID-19 medical treatment.
I'd highly recommend purchasing AXA's Sawasdee Thailand policy. It's very affordable (THB560 for an 8-day trip) and the insurance certificate states in black and white the amount of coverage provided.
Testing
What are the testing requirements?
Sandbox visitors must take an RT-PCR test on arrival, as well as on Day 5-6. The on arrival test is done at Koh Samui Airport, while the Day 5-6 test is done at Samui Hospital.
Is the day of arrival Day 0 or Day 1?
If your flight arrives from 12.01 a.m to 6.00 p.m, the day of arrival counts as Day 1.
If your flight arrives from 6.01 p.m to 12.00 a.m, the day of arrival counts as Day 0.
How much are the on-arrival and Day 5-6 PCR tests?
For Koh Samui, most places will quote 2,200 THB per test (~S$90), per person. This must be prepaid in advance, and you'll need to submit the booking confirmation as part of your Thailand Pass application.
If your travel plans subsequently change, you can request a refund of the PCR test costs, with an admin fee.
For Koh Samui, refunds can be requested by emailing [email protected] (yes, that's a Gmail address- don't be so surprised; it's Thailand). I emailed to enquire how much the refund fee was, and was told it will "differ by bank."
How long do on-arrival test results take to process?
On-arrival test results should be available within 12 hours. Your hotel is responsible for notifying you when your results are out.
Do I need to book two tests if I'm staying less than five nights?
The second RT-PCR test will not be required if the traveller's length of stay is less than 5 nights, or his/her scheduled international departure date out of Thailand is on Day 5 or before.
For example if the traveller plans to stay in Thailand for 3 days, then he/she does not have to undergo the second RT-PCR test, but he/she must leave for another country immediately.
Can the Day 5-6 test be used for pre-departure testing purposes for travel to Singapore?
For your Day 5-6 test certificate to be valid as a pre-departure test, it must have the following information:
Full name
Date of birth or passport number
Negative COVID-19 test result
Date and time the test was taken
Name of testing institution
If your hotel partners with Koh Samui Hospital, you'll be charged an additional THB 700 to get a results certificate suitable for flying.
What if I test positive?
Here's the advice from the Tourism Authority of Thailand's website.
Travellers whose test result returns as positive will be referred for appropriate medical treatment in accordance with Thailand's Communicable Diseases Act B.E. 2558 (2015). The expenses must be covered by the required insurance for foreign travellers, or national healthcare coverage for Thais and eligible foreign expatriates.

Pending on their conditions, they may be medically advised by to receive treatment in either hospital hotel isolation or community isolation.

During receiving the medical treatment – at least 10 days, they must remain in their accommodation only. They should not leave their accommodation unless utmost necessary, and must notify the Communicable Disease Control officer in-charge.

After having recovered from COVID-19, they will receive a medical certificate of recovery.
For reference, here's the advice issued by the government.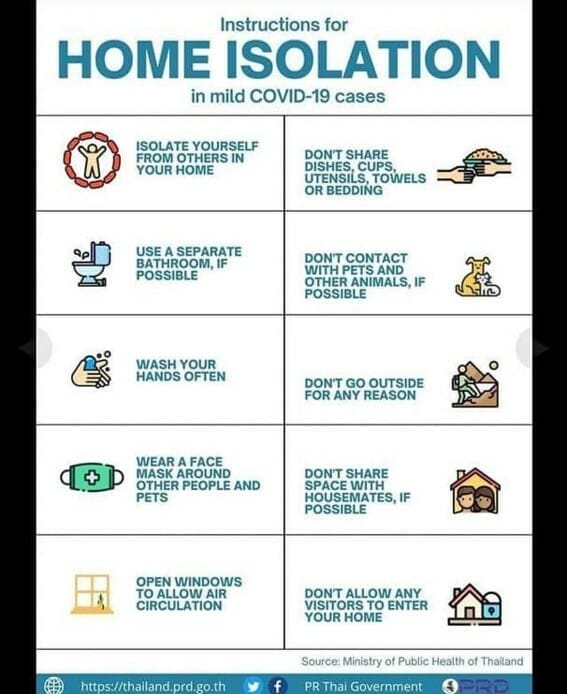 Transport
Must I take the hotel's transport option from/to the airport?
From the airport
No. The requirement is that you book an SHA+ certified transport provider. This can be the hotel, or a third-party service.
To the airport
You can take any mode of transport you wish to the airport.
Can I rent a car at the airport and drive to my SHA Plus hotel?
No.
If your on-arrival test comes back negative, you can proceed to hire a car and drive around anywhere within the Sandbox area.
To avoid the hassle of travelling back to the airport to pick up your car, I'd recommend looking at a service that offers hotel delivery. StayWithCar and samuirentcars.com both have decent reviews online, though I've not tried them out personally. You can drop off the car at the airport upon departure.
Can we stop along the way to the hotel to buy items?
No. Don't be dumb.
Conclusion
Travelling to Koh Samui isn't as straightforward as before, but hopefully the above provides some clarification.
If you have additional questions about the Koh Samui sandbox, leave them in the comments below- I'll try and get them answered during the trip.