Let's be honest: you probably don't have the best impression of United Airlines. I know I don't- every time I fly, my main goal is to not be scolded by the surly flight attendants, who take great pains to remind you that they're there "primarily for your safety" (read: unless you're having a heart attack, don't bother us).
But I've been softening somewhat to the "new United", ever since I tried out the Polaris seat and visited the Polaris Lounge in Houston. And my recent visit to the Polaris Lounge in San Francisco only confirms to me that United's offerings on the ground really punch above their weight. 
🍸 tl;dr: United Polaris Lounge SFO

With elegant design and excellent F&B options, the United Polaris Lounge would give many First Class facilities a run for the money.

👍 The Good

👎 The Bad

Excellent made-to-order meals

Fully-stocked and tended bar

Spacious shower suites and quiet rooms for napping

Friendly staff who seem proud of what the lounge has to offer

No international power outlets

Strict access policy, but on the other hand, that's probably why it's such a pleasant experience
Access and Operating Hours
The United Polaris Lounge at SFO is located in International Terminal G- just turn right immediately after clearing the security checkpoint.
While there's also an International Terminal A, virtually all international carriers (except Avianca, Copa and Hawaiian) operate from G, so most Star Alliance passengers will be able to visit.
The lounge is open from 6.30 a.m to 10.30 p.m daily, and access is available to:
United Polaris Business Class passengers
Long-haul* First Class passengers on a Star Alliance airline (+1 guest)
Long-haul* Business Class passengers on a Star Alliance airline
*"Long-haul" flights are defined as those from the U.S. to Asia, Australia, Europe and select South American countries, including Argentina, Brazil, Chile and Peru. It excludes travel to Canada, Mexico, Guam, the Caribbean, Central America, Colombia and Ecuador. 
The additional guest for First Class passengers must also be departing on a long-haul United or Star Alliance flight, in any cabin.
If you're arriving in San Francisco, you may only use the Polaris lounge if your inbound flight was in Polaris Business Class. In other words, someone arriving on SQ32 would not be allowed to use the lounge. 
If you're a Star Gold member travelling in Premium Economy or Economy Class, the Polaris Lounge isn't available to you. Instead, you'll be sent to the United Club, where it's digital juice dispensers and trail mix all day, every day. And to think that once upon a time, this was the flagship Global First Lounge!
Polaris Lounge Overview
The United Polaris lounge seats 440 passengers across two floors, with a staircase and escalator connecting the upper and lower levels.
The lower floor is where you'll find the shower suites and nap rooms, as well as a library-style seating area good for reading or catching up with work. 
The seating options on the lower level are mostly solitary, designed with solo travellers in mind. 
For those who want some additional privacy, United designed a special "signature seat" with a wide leather chair, side table and personal reading lamp. Partitions separate you from your immediate neighbour. It's not quite a productivity pod, but it'll do.
A row of seats along a communal table affords views of the tarmac, which at SFO is always busy.
The upper floor is where most of the action is. I have to say, the place is beautifully designed, with 28,000 square feet of space making this the largest Polaris lounge in the network. Interior decorating was overseen by SCB, and there's subtle nods to the Polaris theme everywhere you look, like the dramatic light fixture hanging above the escalator, and the Polaris star embedded into various areas of the lounge. 
Seating on the upper floor lends itself more to groups, though there's still a good number of semi-private options along the main artery running through the lounge.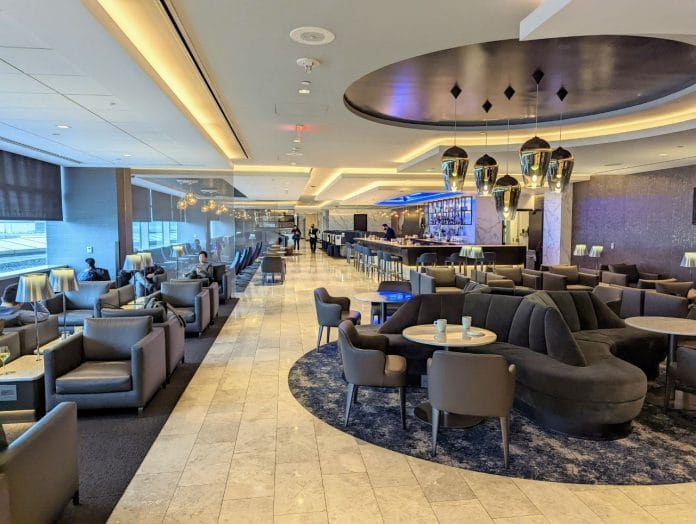 The lounge was perhaps about 25% full when I visited on a Saturday morning, although I imagine it might be much more crowded during peak hours. 
Power & Productivity
There's no shortage of USB ports or power outlets throughout the lounge, with these seemingly built into every wall, table and surface you can find (United quotes the total figure at an impressive 492). 
The power outlets accept US-style Type A and B plugs, so everyone else will need to bring a converter. It's a strange omission for a lounge meant to see plenty of international traffic.
I did not see any wireless charging pads in the lounge. 
Wi-Fi speeds were in the zippy three-digit range, and I was able to stream 4K Netflix and take video calls without any issues whatsoever.
Food & Beverage
While the lower level does have a refreshments corner, the bulk of the F&B offerings are on the upper floor.
The buffet features self-serve food and drinks, just like the good old days. 
I was there during breakfast time, so the selection featured pastries, breads, French toast, eggs, potatoes, breakfast meats and fruits. 
The buffet is good for someone on a tight connection who just needs to fuel and go, but the star attraction (Polaris reference!) is the dining room. You owe it to yourself to try this out, because it is seriously impressive. Those traumatised by years of mediocre food in United Clubs will find catharsis here. 
The dining room offers made-to-order meals all day long, and since there's limited capacity, you're going to want to put your name down with the maître d as soon as you arrive. 
Just like in a regular restaurant, there's table service and you order off a menu. You can have as much or as little as you want, and substitutions are happily entertained. 
What can I say about the food? It was something I'd have happily paid money for outside. It didn't just taste good, it was plated attractively, and certainly better than anything you'd get in the air. I'd heartily recommend the breakfast tartine (avocado toast, basically) and grain bowl. 
Oh, and did I mention they serve real champagne? Yes, not some Korbel or "California Champagne", but honest-to-god Lanson brut.  A rose version was also available. 
There wasn't any wine list I could find, but I spotted the selection a corner- a very impressive range indeed. Most of them were from the Napa and Sonoma area, although there were a couple of Italian reds too. 
A quick word on tipping. The Polaris Lounge sees enough international visitors for staff to know that tipping isn't the law of the land outside the USA. You're perfectly at liberty to tip the staff if you think they've provided great service, but it's not expected either. If you get stressed by the whole idea, US$5 probably isn't much to someone flying in Business Class, and would go a long way for your server. 
For those who prefer liquid calories, the Polaris Lounge also features a bar, staffed by an affable bartender. All alcohol is free (it seems ridiculous that I need to state that, but patrons of United Clubs will know that's not always guaranteed!), with various beers on tap and liquors on pour. 
The bartender was all too happy to whip up a custom concoction for me, featuring some seasonal ingredients and St Germain elderflower liqueur. 
The experience with the Polaris Lounge staff was top notch, and certainly a far cry from the hit-and-miss encounters people have in the air. I'd go so far as to say the F&B experience here is right up there with a First Class lounge, and I'd even rate it better than Singapore Airlines' Private Room (albeit with inferior champagne, obviously).
Showers and toilets
Toilets are available on both the upper and lower levels, but if you'd like a shower, the lower level is where to head. 
A total of eight shower suites are available to guests, each with a changing bench, toilet, and rain shower. There's no hand shower, however, so you might have issues cleaning some of your extremities. The suites are spacious enough that you could bring in your luggage and repack it if needed.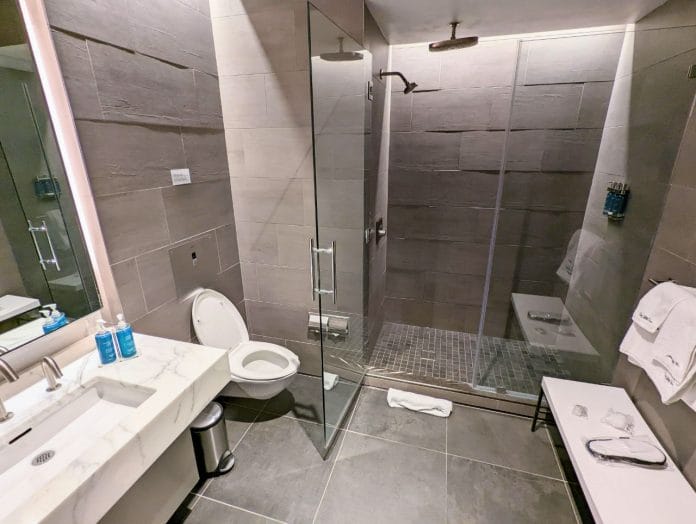 Shower amenities were previously from Cowshed, but have been replaced by Sunday Riley, which the wife tells me is "acceptable". 
Individual toilets can be found on the upper level. These were kept clean throughout the entire time I was there. 
Sleeping rooms
Co-located with the showers on the lower level are the sleeping rooms. A total of five pods are available, each with a daybed and charging outlets. A Saks Fifth Avenue pillow and blanket are provided on request. 
There's even a white noise machine, for those who need a bit of background sound to mask the inevitable snoring. 
Conclusion
The Polaris Lounge at SFO is elegant, well designed, and boasts some seriously impressive F&B options. In many ways, it's creating the kind of halo effect United was no doubt hoping for. Even if passengers aren't particularly enthused about the inflight experience, it'd take a real curmudgeon to find fault with the lounges.
Well worth coming to the airport early for.