After a seamless arrival at Auckland International Airport, it was time to head to the domestic terminal and catch our connecting flight to Queenstown. 
If you're making an international to domestic connection in New Zealand, it's not possible to check your bags all the way through. You'll need to collect your bags at the first point of entry, clear customs, then recheck them for the connecting flight. 
Fortunately, Air New Zealand passengers connecting to domestic flights have the option of getting their boarding passes and checking their bags at the international terminal, which saves the trouble of lugging them over. 
A free shuttle bus service operates every 15 minutes between the international and domestic terminals, with transfers taking roughly 10 minutes. It's not that the international and domestic terminals are far apart (you could walk over if the inter-terminal walkway weren't currently closed for improvements), it's just that the bus needs to go one big loop.
Once at the domestic terminal, we cleared security and headed straight for the lounge. 
It's worth noting that Air New Zealand operates two lounges in the domestic terminal: a Domestic Lounge (post-security), and a Regional Lounge (pre-security). This review is for the Domestic Lounge, and I reckon it's the one you want because it offers hot food and showers. Eligible passengers can visit either one regardless of destination. 
🍸 tl;dr: Air New Zealand Domestic Lounge Auckland

With showers, hot food and barista-made coffee, Air New Zealand's Domestic Lounge in Auckland is surprisingly full-featured.

👍 The Good

👎 The Bad

Decent selection of wines and hot food

Numerous shower rooms with great water pressure

Barista-made coffee

Wi-Fi sluggish

Obstructed tarmac views
🇳🇿 Journey to Middle Earth
Access and Operating Hours
The Air New Zealand Domestic Lounge at Auckland Airport is located on the first floor (that's one floor up from the ground level) of the domestic terminal, near departure gate 33. It opens one hour before the first flight up till the last departure for the day, which would put the operating hours at roughly 6 a.m to 8.30 p.m at the time of writing.
Air New Zealand doesn't actually offer Business Class on domestic routes, so access to the lounge is available to:
Airpoints Gold, Elite, Elite Partner and Koru members departing on an Air New Zealand flight (+3 guests for Elite, +1 guest for Gold, Elite Partner and Koru)
Star Gold members departing on an Air New Zealand flight (+1 guest)
Up to a maximum of three children aged 3-17 are permitted on a complimentary basis, without counting towards the guest allowance. There is no restriction on the number of children aged 2 and below who may access the lounge (subject to space availability).
Lounge access is only available within four hours prior to departure. 
Lounge Overview
Air New Zealand began a makeover of the Auckland Domestic Lounge in early 2020, and despite delays due to New Zealand's lockdown, finished work in July that year. The refreshed lounge measures in at 1,357 sqm, with seating for 375 guests. More showers have been added, and the bar and barista stations have been refurbished. 
While the previous lounge was heavy with wood accents, the new design has opted for a cleaner, minimalist feel, with black and white floors and ceilings the order of the day.
It was busy when we arrived at 1.30 p.m, with about 60-70% of the seats already occupied. While New Zealand has lowered its COVID footing from red to orange, masks are still required in airports, including lounges. You can technically only remove them when eating or drinking, but in practice everyone took them off once seated.
In addition to the solo lounge chairs, two long white tables near the front of the lounge offered communal seating. 
The lounge had a viewing area with windows looking out to the tarmac, but you won't be doing much plane spotting since the aerobridges block most of the view. 
Towards the rear of the lounge was a bar area with counter and dining table seating. This is where you'll find the in-house barista, and bartending service later in the day. 
Three additional communal high tables can be found at the back of the lounge, together with additional armchair seating.
The lounge doesn't have much in the way of décor (no ornamental lights or display cases), but I did enjoy these retro travel posters on the walls. 
Power & Productivity
Wi-Fi speeds in the lounge were relatively slow at ~10 Mbps down and up. I could stream YouTube videos and Netflix, but there was some stuttering at higher bitrates. 
Scattered throughout the lounge were Type I power plugs and USB-A charging ports. I even spotted a few USB-C ports as well, good for future-proofing (there weren't any wireless charging pads though).
While the lounge didn't have a business centre as such, complimentary document printing was available. All you had to do was send your document to a particular email address- no driver installation or fiddling required. 
Food & Beverage
Self-serve buffets returned to New Zealand a long time ago, and I have to say the selection was impressive for a domestic lounge- particularly if you're used to flying domestically in the US or within Europe.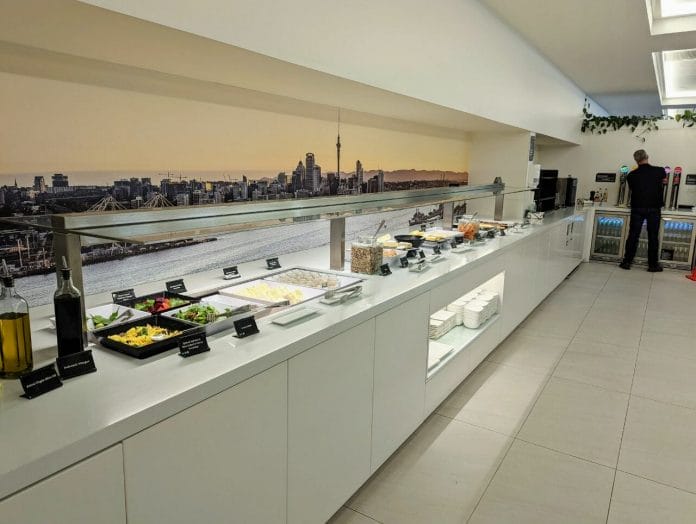 Cold options included a salad bar, sandwiches, cakes and a selection of cheese and crackers. 
Hot food options included a tomato soup, roasted tomato ratatouille, roast potatoes and a very decent braised venison ragu. Food was replenished regularly, and warmers were rarely empty. 
A wide range of alcoholic and non-alcoholic drinks were available, including a soda fountain, various local and imported beers, and juices.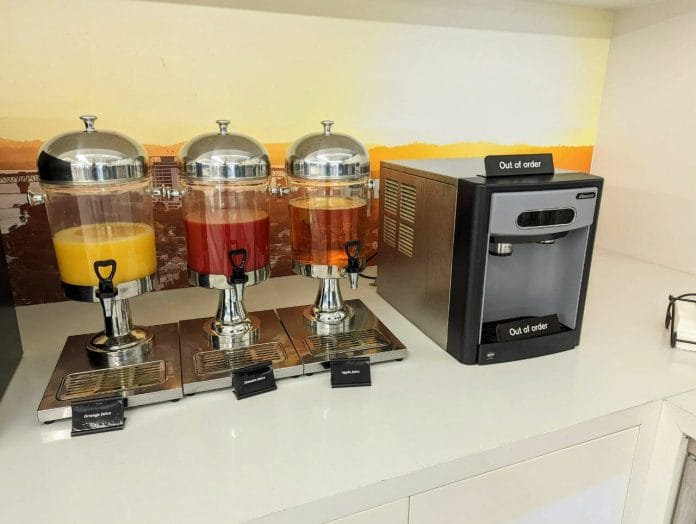 The wine selection, as you might expect, was exclusively from New Zealand vineyards:
Gimblett Gravels Select Vineyards 2016 Syrah (Not rated)
Te Awanga Estate 2018 Merlot/Cabernet Sauvignon (3.7★)
Villa Maria 2020 Pinot Noir (3.8★)
Saint Clair Family Estate 2019 Pinot Noir (3.3★)
Villa Maria Earth Garden 2021 Sauvignon Blanc (3.7★)
Te Awa 2020 Chardonnay (3.8★)
Te Pa 2021 Sauvignon Blanc (4.2★)
Framingham Nobody's Hero 2020 Sauvignon Blanc (3.9★)
There was even sparkling wine available in the form of a Dulcet brut, which if you believe Vivino's algorithm ranks in the bottom 3% of wines in the world. It wasn't that bad…
Kiwis are particular about their coffee, so it's no surprise the lounge had barista service. Orders were placed via an iPad with a dedicated coffee app, and didn't take more than five minutes to prepare. 
Coffee could be served in a regular cup or taken to-go, depending on how long you had before boarding.
Showers & Toilets
A total of seven showers were available in the lounge, on a first-come-first-serve basis. There was no shower attendant to assign rooms or issue buzzers; you just walked up to whichever one happens to be empty and serviced. 
Water pressure in the shower was strong and refreshing, although there was only a hand shower available. 
Shower amenities were by Antipodes, a premium New Zealand skincare brand. The Nirvana Hand & Body Wash alone costs NZ$40 per bottle- enjoy it!
Conclusion
For someone just stepping off an overnight long-haul flight, the Air New Zealand Domestic Lounge in Auckland had everything I could ask for: hot food, an invigorating shower, and barista-made coffee. It would even make a passable international lounge, and certainly much better than the Christchurch one I was to visit a week later!