Hello from New Zealand! I'm writing this in Mount Cook, en route to Christchurch where I'll be catching a Singapore Airlines flight home.
I've been in New Zealand for just over a week now, having caught the first flight over when the borders opened on 2 May. My last visit came in 2004, and my goodness, I'd forgotten how breathtaking New Zealand can be. There's an unspeakable beauty to the landscapes here, God's handiwork on full display. It's so effortlessly gorgeous that every scenic lookout is a postcard moment, whether it's glacier carved valleys, snowcapped mountains, or cascading waterfalls.
When planning this trip, it did cross my mind whether I should wait till summer to visit instead. After all, May is just a few steps removed from the dead of winter, right? 
Perhaps, but so far I've had no regrets at all. Early May weather is actually closer to autumn than winter, and while the days are shorter than I'd like (the sun rises around 7.50 a.m and sets by 5.30 p.m), there's still a good amount of sunshine. There's no ice on the roads, most attractions are open, and it oftentimes feels like we have the whole place to ourselves. 
Besides, you get treated to some spectacular colours as the leaves change. 
For those of you looking to visit New Zealand soon, I thought I'd share a few random things that may be useful for trip planning. 
🇳🇿 Journey to Middle Earth
The entry process is completely painless
While there's some pre-departure paperwork to be done before boarding the plane (NZeTA, NZ Traveller Declaration, pre-departure test), once you arrive in New Zealand things are completely seamless.
Singapore passport holders can enter via the eGates, which means close to zero waiting time at immigration. I was out of Auckland Airport in less than 20 minutes. 
On and post-arrival testing (Day 0/1 and Day 5/6) is completely self-administered. You'll receive three complimentary RAT kits at customs, and links to submit your results will be automatically generated and emailed on the relevant days. 
No isolation is required before/after each test (and in any case, results take just 15 minutes), which means you can catch a domestic flight immediately after arriving in New Zealand.
It's as painless as you could have hoped for.
COVID restrictions mostly gone, but masks remain
New Zealand recently lowered its COVID stance from Red to Orange, eliminating the need for vaccine passes, QR code check-ins, or contact tracing apps. However, masks are still required in certain settings, including: 
Airports
Domestic flights
Public transport
Taxis or ride share vehicles
Retail locations like supermarkets, malls, petrol stations
Museums and libraries
Children under 12 are exempt from the mask requirement.
Masks are not required in hospitality settings like hotels and restaurants, and for what it's worth, I didn't see anyone wearing masks in shops (except supermarkets). You're free to wear a mask outside if you want, but no one really cares either way.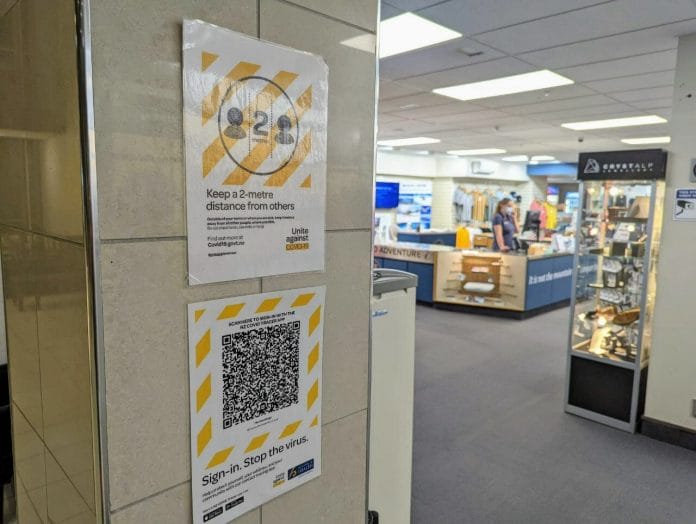 Otherwise, everything seems to have gone back to normal. Restaurants are full, nightclubs have reopened, there's live entertainment, and people are getting on with life. 
But COVID's far from gone, and its impact is still very much visible in the hospitality industry. Some restaurants and cafes I've visited have had to limit their operating hours and menus because of infection-enforced absences, and hotels have cut back on frills like daily housekeeping. 
Use Bookme for discounted activities
You can find a lot of attractions and activities in New Zealand on Klook. In my experience, they're priced the same as the official website, and by applying various promo codes and discounted gift cards (the two can be stacked), you'll often score a cheaper price than buying direct.
Klook Promo Codes
S$10 off min. S$60 spend
S$50 off min. S$300 spend

Amaze: <AMAZEVTL10OFF>

Citibank: <CITIVTL10OFF>

DBS: <DBSVTL10OFF>

GrabPay: <GRABVTL10OFF>

OCBC: <OCBCVTL10OFF>

StanChart: <SCBVTL10OFF>

UOB: <UOBVTL10OFF>

Amaze: <AMAZEVTL50OFF>

Citibank: <CITIVTL50OFF>

DBS: <DBSVTL50OFF>

GrabPay: <GRABVTL50OFF>

OCBC: <OCBCVTL50OFF>

StanChart: <SCBVTL50OFF>

UOB: <UOBVTL50OFF>
Klook Gift Cards
Pay S$175 for a S$200 e-gift card

Pay S$425 for a S$500 e-gift card
Limit one purchase of each denomination per Klook account. Must pay with Zip (a BNPL platform). Discount will automatically reflect at check-out, no code required.
But the first place I'd start looking is a website called BookMe. I've found some excellent deals through this portal, in some cases more than 50% off the official website! 
| | | |
| --- | --- | --- |
| Activity | Official Website | BookMe |
| Queenstown Segway Tour | NZ$139 | NZ$97 |
| Te Anau Glowworm Caves | NZ$99 | NZ$79 |
| Glenorchy LOTR Tour | NZ$180 | NZ$99 |
| Chameleon Stargazing | NZ$70 | NZ$56 |
| Milford Sound Cruise | NZ$79 | NZ$59 |
The catch with BookMe is that you will have to select a specific date and time slot (though Klook often requires you to do the same), and cancellations initiated by customers will incur a 10% penalty fee. 
However, activities can be booked up to one day before they begin, so you can delay your purchase until your plans are confirmed. 
Another useful option to explore is GrabOne, through which I booked a 35-minute Mt Cook scenic helicopter flight for two at NZ$438, versus a regular price of NZ$799. 
Side note: if you're on the fence about a helicopter ride, I say go for it. It's a bit of a splurge, but the sights are something you'll remember for a long time. We took a ride up the Tasman Glacier, and got to trample on powder-soft snow for the best 15 minutes of my life.
No issues with card acceptance (or surcharges)
I changed NZ$300 of cash before coming to New Zealand, and so far haven't used a single penny. 
COVID has accelerated the cashless drive in New Zealand, and card acceptance is widespread. Every place I've been, right down to the mom and pop cafes in the little one street towns, has accepted credit card payments. 
What's even more surprising is that unlike my time in Australia, I've yet to encounter a card surcharge in New Zealand. From what I understand, this is a fairly recent development- card interchange fees were significantly reduced thanks to a 2021 ruling.
Update: Probably jinxed it, because I'm now in Christchurch and surcharges are more common. 
In case you're curious, I'm charging all my expenses to the Amaze, paired with the DBS Woman's World Card (final month to make hay!). I'm getting fairly reasonable exchange rates, though certainly higher than a few months ago.
Relaxed driving experience
Given the long distances we've covering in New Zealand, I decided that an SUV was the way to go. I managed to secure a 10-day booking from Queenstown to Christchurch at NZ$587 with Apex Car Rentals, which was significantly cheaper than the NZ$900+ that other agencies were charging.
While the the price seemed too good to be true, I have no complaints. After hours pickup at Queenstown Airport went off without a hitch, and even though the Toyota RAV4 we received wasn't exactly fresh off the lot (26,000 km with some cosmetic scratches), it came with GPS, parking sensors, reversing cameras, adaptive cruise control, keyless entry, and blind spot/cross traffic warnings. 
If you're looking for other options, I'd recommend skipping the big-name rental companies like Avis and Hertz and looking at some of the local agencies such as Omega, Ezi, GO Rentals and NZ Rent A Car. These tend to be cheaper in my experience, although do note that some locations may require taking a shuttle bus from the airport. 
Some odds and ends about driving in New Zealand:
The experience so far has been completely stress-free; New Zealand drives on the left just like Singapore, and motorists here are polite to a fault
Singapore license holders don't need an IDP to rent a car in New Zealand
Petrol prices in the Canterbury and Otago region are hovering around NZ$2.80 per litre of 91-grade petrol; certainly cheaper than the S$3+ we're seeing in Singapore
There are sheep on the road. It adds to the ambiance.
Modern Kiwi cuisine is where it's at
I wasn't expecting food to be a highlight of this trip. The last time I visited New Zealand, all I remember was an endless parade of uninspiring fish and chips, pies and lamb dishes. 
But I've discovered so-called "modern Kiwi cuisine", and am hooked. There's no easy way to describe this; think a farm-to-table philosophy (I used to roll my eyes at this term, but the places I've visited really do it credit) focusing on exciting interpretations of seasonal produce. 
I'd rather let the photos do the talking. 
The following are restaurants I'd stake my reputation on:
Arrowtown/Queenstown

Akarua Wines & Kitchen by Artisan
Aosta
La Rumbla 
Nest Kitchen & Bar

Wanaka
I wouldn't necessarily call these places budget-friendly (except Firebird). Dining out in New Zealand is a pricey affair, and our typical bill for two (before wine) comes up to about NZ$110 or so. 
If you're trying to save money without slumming it, you might want to try a booking platform called First Table. This lets you book a less popular timeslot for NZ$10, which comes with 50% off the food bill for 2-4 pax. 
They're not kidding about the "first" part though; you'll need to be OK taking dinner from 5 p.m onwards, depending on restaurant (lunch slots are available from 12p.m, but at a very limited selection).
If you're an Accor Plus member, don't forget that your dining discounts apply overseas as well, with up to 50% off the food bill at any participating hotel.
Conclusion
New Zealand took a long time to reopen, but it's been every bit worth the wait in my opinion. I'd easily rank this as my most enjoyable trip in the post-COVID era so far, what with the unforgettable views, great food, and beautiful drives. It doesn't hurt that Kiwis are among the friendliest people you'll ever meet, either. 
While award space on Singapore Airlines to New Zealand isn't great at the moment, I'm hoping this will improve one Christchurch services return to daily frequencies. And hey, maybe an A380 to Auckland in the near future?