If you think "Fortress Australia" was bad, wait till you get a load of New Zealand.
New Zealand shut its borders back in March 2020, and as recently as February this year, was talking about admitting tourists only from July, with a 10-day quarantine on arrival. Needless to say no tourist was ever going to agree to that, and thankfully common sense prevailed with the reopening brought forward to May, sans quarantine.
While most people might prefer to see New Zealand in summer, there's a certain beauty to late fall/early winter conditions too. So I'll be heading over as soon as the borders open next week, and exploring the following places in South Island.
Days 1-3: Queenstown
Day 4: Te Anau/Milford Sound
Day 5: Queenstown
Day 6-7: Wanaka
Day 8: Mount Cook
Day 9: Lake Tekapo
Day 10: Christchurch
Here's the game plan.
🇳🇿 Journey to Middle Earth
Travel to New Zealand: Pre-Departure Checklist
✈️ Checklist for travel to New Zealand

Fully vaccinated with any approved vaccine (exemption for children aged 16 and below)
Obtain visa or apply for NZeTA (for nationals of visa waiver countries like Singapore)

Not required for APEC Business Travel Cardholders with NZ on the back

Complete

NZ Traveller Declaration

Take pre-departure ART/PCR test 24/48h before flight

Take self-administered ART on Day 0/1 and report result

Take self-administered ART on Day 5/6 and report result
NZ Travel Checklist
As a reminder, New Zealand reopens its borders to nationals of visa-waiver countries from 2 May 2022, with a general opening expected to take place from October 2022.
International travellers will need to satisfy the following requirements.
NZeTA
Singaporeans and nationals of other visa waiver countries must apply for an NZeTA before departing for New Zealand. APEC Business Travel Cardholders with "NZ" on the back of their card are exempt.
🇳🇿 New Zealand Visa-Waiver Countries

Andorra

Argentina

Austria

Bahrain

Belgium

Brazil

Brunei

Bulgaria

Canada

Chile

Croatia

Cyprus

Czech Republic

Denmark

Estonia1

Finland

France

Germany

Greece

Hong Kong2

Hungary

Iceland

Ireland

Israel

Italy

Japan

Korea, South

Kuwait

Latvia3

Liechtenstein

Lithuania4

Luxembourg

Macau5

Malaysia

Malta

Mauritius

Mexico

Monaco

Netherlands

Norway

Oman

Poland

Portugal6

Qatar

Romania

San Marino

Saudi Arabia

Seychelles

Singapore

Slovak Republic

Slovenia

Spain

Sweden

Switzerland

Taiwan7

United Arab Emirates

United Kingdom (UK)8
United States of America (USA)9

Uruguay

Vatican City

1. Citizens only
2. Residents with HKSAR or British National–Overseas passports only
3. Citizens only
4. Citizens only
5. Only if you have a Macau Special Administrative Region passport
6. If you have the right to live permanently in Portugal
7. If you are a permanent resident
8. If you are travelling on a UK or British passport that shows you have the right to reside permanently in the UK
9. Including USA nationals
An NZeTA is valid for unlimited entries over a two-year period, and costs:
On top of this, an International Visitor Conservation and Tourism Levy (IVL) of NZD$35 must be paid at the time of applying for an NZeTA, so the total cost will be at least NZD$44 (~S$40).
The NZeTA app is simple enough to use, and I was particularly impressed that when I scanned my passport, the system recognised that I had an APEC Business Travel Card. My records were updated automatically, and I didn't have to pay any fees.
The MileLioness does not have an APEC card, so she applied via the usual route. This involves scanning your passport, taking a selfie and confirming your personal details. Approval for her was instant, but YMMV.
AMEX, Mastercard and Visa are all accepted for payment, and be sure to pay with an AMEX-issued card if you want to earn points (since it's likely a government MCC).
NZ Traveller Declaration
All arrivals to New Zealand by air (regardless of age) must complete a New Zealand Traveller Declaration prior to check-in. This is free of charge; beware of lookalike websites that levy a fee!
Completing the declaration requires:
Flight number and date of arrival to New Zealand
Passport details
COVID-19 vaccination certificate or exemption
COVID-19 pre-departure test results
Contact details in New Zealand
Emergency contact
14-day travel history
You can start a Declaration 28 days before departure. However, since pre-departure test results must be provided, you won't be able to submit the Declaration until 24 hours before departure (assuming you're using an ART). Partial progress can be saved and continued later, via a code sent to your email.
We recommend you start your declaration as soon as possible and complete all steps except uploading your pre-departure test. Your declaration will be automatically saved and a link will be emailed to you.

-NZ Traveller Declaration
If you're like me, your declaration will look like this right up until your complete the pre-departure test.
Successful completion of the NZ Traveller Declaration generates a Traveller Pass with a QR code, which you'll need to show at check-in and upon arrival in New Zealand.
Pre-departure and on-arrival COVID-19 test
Travellers to New Zealand must present a negative result from one of the following COVID-19 tests:
A supervised rapid antigen test (ART/RAT) administered within 24 hours before your first international flight to New Zealand.
A polymerase chain reaction (PCR) test administered within 48 hours before your first international flight to New Zealand.
A supervised loop-mediated isothermal amplification (LAMP) test administered within 24 hours before your first international flight to New Zealand.
Supervised antigen tests are acceptable, which are available from S$12 (plus the cost of your own ART kit) in Singapore.
Cheapest pre-departure COVID-19 ART and PCR tests in Singapore
A list of approved ART kits in New Zealand can be found here. The following approved kits are sold in Singapore, so I'd recommend using one of these for your pre-departure test:
BD Kit for Rapid Detection of SARS-CoV-2
BIOCREDIT COVID-19 Ag Home Test
FlowFlex SARS-CoV-2 Antigen Rapid Test
PanBio COVID-19 Ag Rapid
Standard Q COVID-19 Ag Test
In addition to pre-departure testing, New Zealand requires visitors to conduct self-testing:
On arrival
On Day 5 or 6 (the day of arrival is Day 0)
Travellers will receive a pack of ART kits on arrival in New Zealand, free of charge.
No isolation is required before/after either test. Results from both tests (whether positive or negative) must be reported via a link that will be sent upon completing the Traveller Declaration.
You must report both RAT results, whether you test negative or positive.

You will receive an email from the New Zealand Ministry of Health after you complete your traveller declaration. Follow the instructions in the email and report your results using the link in the email.

You can also call the COVID-19 Test Results Line and leave a message with your result.

Call: 0800 432 010

-NZ Government
If your result is positive, you must take a confirmatory PCR test (free of charge) and isolate for seven days should that come back positive too.
Flights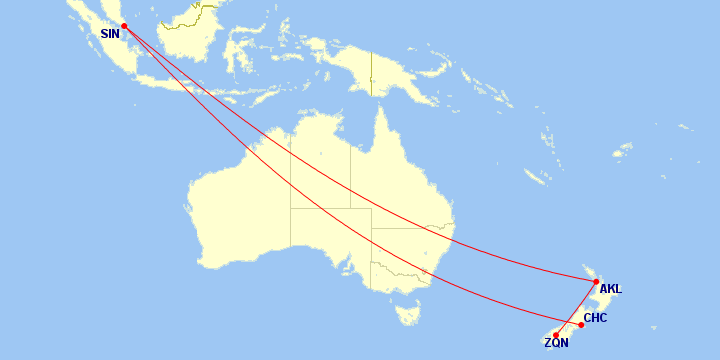 ✈

Journey to Middle Earth

: Flights
SIN-AKL
CHC-SIN
SQ285
Depart: 2245
Arrive: 1220 (+1)
Cabin: Business
SQ298


Depart:

1050




Arrive:

1740
Cabin: Business

Cost: 124,000 miles + S$142
While I'm only intending to explore South Island, I have to fly into Auckland first because the Christchurch flight doesn't operate daily.
From Auckland, I'll connect to an Air New Zealand flight to Queenstown (cash ticket), rent a car, drive up to Christchurch and fly home from there.
For the flights to and from Singapore, I paid 124,000 KrisFlyer miles and S$142 in taxes per person in Business Class. Those are Saver prices, mind you, and not easy to find. Advantage awards start from 90,000 miles per person, and even those are spotty for the next few months. Safe to say, we won't see New Zealand appearing on Spontaneous Escapes anytime soon…
SQ285/298 are operated by A350-900s; for a review of the Business Class experience on this aircraft, refer to the posts below:
Lounges
Singapore Airlines SilverKris Lounge Changi
I was hoping that the new SilverKris First Class and KrisFlyer Gold Lounges would have opened by the time I take this trip, but no luck. The latest intel says we're looking at a late May opening at best.
In the meantime, all the demand has to be soaked up by the SilverKris Business Class Lounge, and I understand the crowding situation has deteriorated significantly since my visit in November 2021. During peak periods, seats are impossible to find, showers have multi-hour waits, and guests are sometimes turned away at the door and sent to the neighbouring SATS Premier Lounge (which while decent is nowhere near the calibre of the SilverKris).
Review: Singapore Airlines' new SilverKris Lounge at Changi Airport Terminal 3
This will be my first visit to the SilverKris lounge during the evening rush (all my other visits so far have been in the morning), and I'll share some insights into the situation where possible.
Air New Zealand Domestic Lounge Auckland
When connecting from Auckland to Queenstown, I'll be able to visit the Air New Zealand Domestic Lounge, courtesy of my Star Gold status. This lounge was refurbished in early 2020, and looks pretty impressive for a domestic facility with a barista station, ample views of the runway and showers.
Air New Zealand Lounge Christchurch
Singapore Airlines uses the Air New Zealand Lounge at Christchurch Airport, which is surprisingly difficult to find reviews for online. I guess it's up to me to add to the body of knowledge on this!
Hotels
New Zealand doesn't have a lot of points options outside the major cities, so most of the hotels I booked are off-network (except Hotel St. Moritz, which is part of the Accor chain).
In case you're interested:
Queenstown: Kamana Lakehouse, Hotel St. Moritz
Te Anau: Aden Motel
Mount Cook: Aoraki Court Motel
Wanaka, Lake Tekapo: Airbnb
Christchurch: Airport Christchurch Motel
I don't intend to review any of those, but would be happy to give a one paragraph summary if anyone asks.
Car rental
I'm doing a one-way rental from Queenstown to Christchurch, and booked a mid-size SUV with Apex Car Rentals at NZ$587 (~S$533) for 10 days.
I wouldn't say Apex was my first choice, but the cost is significantly less than what other agencies were asking for (~NZ$900+ for one-way SUV rental), and the Queenstown outfit scores decent enough ratings on Google with an average of 4/5.
This rental comes with a NZ$2,000 excess, and since my Singlife travel insurance policy covers S$1,500 of rental car damage, I don't plan to purchase any additional coverage.
If your rental doesn't come with insurance, I'd recommend skipping the options offered by the agency and just buy a plan from a 3rd party insurer like Worldwide Insure.
COVID-19 Testing
⚕️ Testing: Singapore-New Zealand Travel

Location

Remarks

Price

🇸🇬 Singapore

24h before departure (ART)

From S$12


🇳🇿 New Zealand

On-arrival (ART)

FOC

🇳🇿 New Zealand

Day 5 or 6 (ART)

FOC
Singapore has scrapped pre-departure testing for all fully vaccinated travellers, effective 26 April, so all that's necessary is to comply with New Zealand's testing regime.
As mentioned earlier, this involves 3x ARTs, one of which (pre-departure) is supervised, and the other two (on-arrival, post arrival) unsupervised. Since New Zealand distributes test kits on arrival, the total testing costs will be less than S$20 for most people.
Returning to Singapore
Returning to Singapore is simpler than ever before, thanks to the launch of the Vaccinated Travel Framework (VTF) and the scrapping of pre-departure testing. All fully vaccinated travellers only need to complete an SG Arrival Card– that's it!
There is no need to take designated flights or apply for a Vaccinated Travel Pass.
For the full rundown, refer to the article below.
Complete Guide: Singapore's quarantine-free Vaccinated Travel Framework (VTF)
Conclusion
New Zealand will be opening its borders to Singaporeans and nationals of other visa-waiver countries from 2 May, and if you've been itching to visit, stay tuned for this series of reports!
Anything else you'd recommend seeing, given the itinerary I have?