Singapore Airlines has unveiled its new First Class Lounge and The Private Room, the capstone of a S$50 million renovation project first announced in July 2019. These will be its flagship lounges for the next decade or so, until Terminal 5 opens in the mid-2030s. 
If you ask me, it's about time. The existing lounges may have been cutting-edge when they opened in 2008, but now lack many modern amenities that passengers have come to expect. The First Class Lounge in particular looks tired and jaundiced, so dark in some places that one might mistake it for a nightclub catering to those with a serious marble fetish. 
I've already reviewed The Private Room, and found it to be a perfect encapsulation of the Singapore Airlines ethos: quietly elegant, instead of loud and brash. Every feature is backed by reams of of extensive customer research (as opposed to "we thought it'd look cool") and although it's not the flashiest or frilliest lounge out there, it's not really aiming to be. 
Now it's time to put the First Class Lounge under the microscope, and to clarify something upfront: despite the name, the First Class Lounge isn't primarily intended for Singapore Airlines Suites and First Class passengers. They're welcome to visit of course, but The Private Room will be their mainstay. 
Instead, the First Class Lounge is meant for Solitaire PPS Club members, as well as First Class passengers travelling on Star Alliance partners. It's an important distinction because it implies that by design, this lounge won't be the absolute best that Singapore Airlines has to offer. That doesn't make it a bad lounge by any means, but you might want to temper your expectations a little.
I personally found the new First Class Lounge to be evolutionary rather than revolutionary. It's comfortable, suitably luxe, and addresses a lot of the issues its predecessor faced while not necessarily reinventing the wheel.
Whether that's a good thing or not depends on where you stand. Fans will applaud the level-headed conservatism, detractors will bemoan a missed opportunity. If there's one thing the new Singapore Airlines lounges show us, it's that you can't please everyone. 
🍸 tl;dr: SilverKris First Class Lounge

The new First Class Lounge plays it safe by blending modern luxury and comfort, while demurring from redefining any paradigms.

👍 The Good

👎 The Bad

Enlarged dining hall with improved F&B

Day rooms provide a dedicated place to relax and unwind

Private shower suites with attached toilets

Productivity pods for working

Flagship bar experience feels underwhelming

Cheap-looking toiletries in the shower
🍸 A Day in The Private Room
Getting to the SilverKris First Class Lounge
How you get to the SilverKris Lounge depends on the type of passenger you are. 
If you're a Solitaire PPS Club member, you'll most likely check in at Singapore Airlines' exclusive First Class reception. Tell your driver to look out for the private driveway, located just before Door 1 on Terminal 3's departure level. 
Upon completing the check-in formalities, you'll exit the First Class reception and head straight to a dedicated immigration counter for Singapore Airlines Suites, First Class and Solitaire PPS passengers.
As soon as you pass through immigration, you'll see the SilverKris Lounge entrance ahead to your left. 
If you're flying on a Star Alliance partner like Lufthansa or SWISS (the only two airlines offering First Class out of Singapore), you'll clear regular immigration and turn left at the giant Louis Vuitton store. Walk towards the A Gates. 
You can either take the first escalator you see on the right, straight after the first Cosmetics & Perfumes by Shilla store…
…or walk slightly further and take the second escalator, next to the second Cosmetics & Perfumes by Shilla store. 
Take the escalator up, and pause to enjoy the beautiful batik glass wall commissioned especially for the new lounges. The 12m x 3.8m installation features SIA's signature batik motif styled with 105 hand-crafted art glass pieces, a play on the batik design screen that adorns SilverKris Lounges around the world. This was created by glass artist B. Jane Cowie, whose works can also be found at the Enchanted Garden in Terminal 2.
At the top of the escalator is The Oval, the unofficial name of the unified entrance for all three SilverKris Lounges (the KrisFlyer Gold Lounge is down the corridor outside, further affirming its outcast status).
The Oval is designed to engage your senses from the moment you enter: a custom-made 8K Sony Crystal LED curved wall displays an animation of the SIA's batik motif, SIA's sonic signature "The Sound of Singapore Airlines" plays softly in the background, while SIA's bespoke Batik Flora scent (created by Singapore artisan perfumer Scent by Six) lingers in the air. 
The staff will check your boarding pass and point you to the correct lounge. 
Access & Operating Hours
The First Class Lounge is open 24 hours a day.
Access is available to:
Solitaire PPS Club members arriving or departing on a Singapore Airlines flight (+1 guest)
Suites and First Class passengers arriving or departing on a Singapore Airlines flight (+1 guest)
First Class passengers departing on a Star Alliance flight (+1 guest)
Do note that arrivals access for Suites and First Class passengers on Singapore Airlines is not officially stated on the SIA website; it's something I've confirmed through personal experience and discussions with airline representatives.
As a reminder, Suites and First Class passengers departing or arriving on Singapore Airlines can also access The Private Room. 
Lounge Overview
The new SilverKris First Class Lounge has seating for 134 guests, roughly the same number as before. Floor space has been increased from 1,044 sqm to 1,080 sqm, so each guest gets ever-so-slightly more room.
Hospitality design firm Hirsch Bedner Associates (HBA, whose portfolio includes the Four Seasons Singapore, Address Sky View Dubai and Capella Bangkok) was tasked with transforming the 12-year old lounge into something befitting the current decade, and transform it they have. The new First Class Lounge is a sleek, modern living and dining space, with dedicated areas for productivity and resting. 
At the entrance to the First Class Lounge is the flagship bar, decorated with 119 Lalique crystals inspired by the Aquatic Ginger flower from SIA's batik motif. The shape of the structure is meant to evoke the gentle scattering of flowers by an upward plume of wind. 
Seven seats are available at the bar, with a further eight or so at an adjacent high table.
Additional spillover seating is located along the wall, with grey leather armchairs and green slipper chairs.
Near the lounge entrance is a meeting room with a total capacity for 12. This can be divided into two smaller rooms of six, depending on requirements. 
Past the bar is the dining hall, which has been significantly expanded. The old dining hall seated ~25 people at most, resulting in major congestion during peak hours.
It'll be much easier finding a seat in the new dining hall, which accommodates 50 guests- double the capacity from before. Most of the tables are two-tops, with a few four-tops thrown into the mix. Even if you're a group of four, however, it might be better to take 2x two-tops because the four-top table is only slightly larger.
Alternatively, larger groups can seat themselves in one of four family-style booths, with SIA's batik motif subtly embossed in the background.
Further on from the dining hall is the main living area, consisting of "modular seating" specially designed for Singapore Airlines by HBA.
What's a little strange is that the lounge's helpdesk is found in the living area too, plonked in the middle of nowhere! With all the sensitive information on those computer screens, you'd think they'd want to position them in a way that'd be harder for looky-loos to see. 
Chairs are laid out in pairs, each with their own power outlets and wireless charging pads. These seats are fine for relaxing with a drink while taking in a movie on your personal tablet or phone, but they won't be much good for work because of the awkward positioning and height of the tables. 
Fortunately, workaholics can seat themselves at six productivity pods- four near the day rooms, and two near the playroom. Compared to the pods in the Business Class Lounge, these have been given a darker, more luxurious tone, as well as a marble-patterned table.
Each pod has a reading light, wireless charging pad, as well as USB and universal charging outlets.
Near the living area is the children's playroom, with glass walls so parents can sit outside and still monitor their little ones within.
At the very rear of the lounge is a self-serve drinks station, as well as a soundproof room for taking phone calls. It could double up as a workspace in a pinch, though the tiny high chair seems designed to dissuade people from lingering too long.
Dining
The First Class Lounge has a buffet line and a small a la carte menu with selections that rotate through breakfast (5 a.m to 11 a.m), lunch (11 a.m to 6 p.m) and dinner (6 p.m onwards). 
The ordering process for a la carte items is rather haphazard, however. You need to find a member of the lounge staff, tell them what you'd like, and point in the general direction of where you're sitting (since tables aren't numbered). To their credit, they do a pretty good job of finding you when the food is ready- but I could see this getting very messy during peak periods. 
Personally, I'd much rather have a QR code ordering system. It makes everything less ambiguous — who ordered first, how long have they been waiting, which table are they at — and ensures passengers don't end up waiting for orders that have been lost in the ether. It also makes things so much easier for the staff; I have a bad case of face blindness myself, I can't imagine what it must be like for them. 
I tried the following a la carte items during my visit.
While I gather there are some who get triggered by the sight of hawker classics in a First Class Lounge (cue cries of "cost cutting!"), there's nothing wrong with some comfort food like Bak Chor Mee.
There is, however, something wrong when you put so much vinegar that it becomes borderline inedible. Furthermore, it was 90% noodles by volume, with the minced pork largely MIA. File this under "needs work".
No such issues with the roti prata, which arrived warm and crisp, delightfully paired with fish curry. Prata was always a popular breakfast item at the old First Class Lounge, and I'm glad they've maintained that standard here.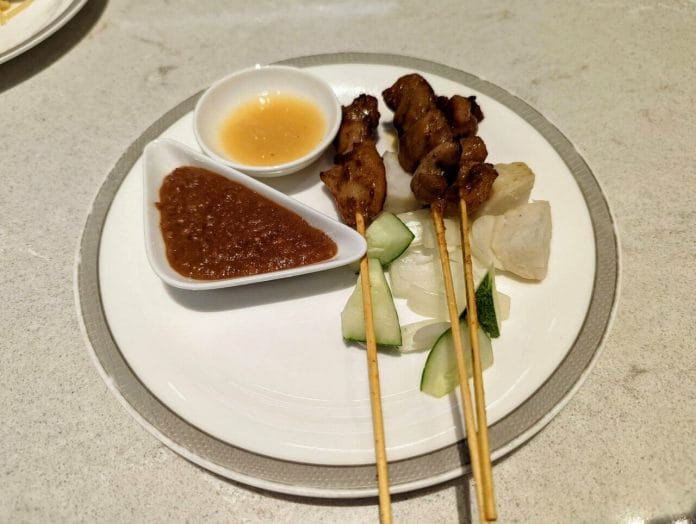 Satay is a staple of the Singapore Airlines inflight experience, and the on-ground rendition's not bad either. I don't know whether they grill it in the kitchen or whether it's prepared offsite and then reheated here, but there was a lovely charred flavour and a slight sweetness from the marinade.
Avoid the clam chowder. Let me quote Serious Eats on the subject:
When done right, clam chowder should be rich and filling, but not sludgy or stew-like. Its texture should be creamy without feeling leaden, like you're sipping on gravy. Tender chunks of potato should barely hold their shape, dissolving on your tongue, their soft texture contrasting with tender bites of salty pork and briny clam; god help the clam shack that dare serves rubbery clams in their chowder!
This clam chowder had a watery, unappealing consistency, with nary a potato chunk in sight. 
I'm something of a pasta snob, and was fully prepared to hate the Aglio Olio. But it was much better than expected; the pasta was cooked to a nice al dente texture with an aggressive serving of garlic and a generous coating of olive oil. Extra points for putting the cheese on the side, since not all of us want our pasta swimming in dairy. 
Japanese Curry Rice was one of those rare dishes that sounded promising on paper and delivered in real life. The ebi was crispy on the outside yet juicy on the inside, and the curry sauce could give ANA's signature curry a run for the money. And don't start lecturing me on empty carbs; the Japanese sticky rice was delicious. 
For those who want a more beefy option, the wagyu slider pairs a juicy patty with a charcoal bun and curly fries (the burger in The Private Room doesn't have fries!). You might need a few of these to satiate your appetite, but hey, it's not like you're limited to just one.
Surprisingly, the buffet line didn't change that much throughout the day, with the exception of a few items.
Dim sum was offered all day, and the siew mai and har gow were excellent. The filling was generous, the skins thin and delicate. Is it Summer Palace level? Of course not. Is it good for an airline lounge? Very much so. 
The metal tureens contained chicken porridge, mushroom soup and laksa gravy.
There were five food warmers on the main line. Laksa, tomato upma with vadai ee-fu noodles were available all day long.
Then there was one item which changed as the day went by. For breakfast, it was chwee kueh…
…nasi lemak appeared during lunch…
…and beef lasagne was served at dinner. 
Basically, out of the five food warmers, only one item rotated. I'd have really liked to see more variety, so hopefully that happens once the kitchen's found its feet. 
In addition to the food warmers, a few fried items could be found under heat lamps. Bacon, hash browns, croissants and beancurd rolls were offered during breakfast.
After the breakfast service finished, bacon and hash browns/croissants were replaced with truffle fries and spicy chicken ribs. I didn't get much truffle aroma from the fries, but the spicy chicken ribs were like mini-McSpicy patties (albeit with bones, be careful).
Next to the buffet line was a secondary area with light bites and drink options. 
Prior to COVID, Singapore Airlines would partner with selected brands to showcase their products in the lounge (past brands include Singleton whiskey and LG). It looks like Oatly is the latest partner, with a standee and a chocolate oat milk dispenser.
Inside the fridge were cheese, fresh fruit, cold sandwiches, yoghurt and a salad bar. 
There was also a diner-style heated rotating carousel with muffins. 
For those with a sweet tooth, there's a mini-fridge with vanilla, chocolate and strawberry Haagen-Dazs.
Guests can make a cup of coffee at one of the two Boncafe machines (or enjoy a barista-made brew from the bar in the mornings), or tea from TWG teabags.
Coca Cola (Classic, Light and Zero), various Schweppes, Sprite, boxed juices, Evian water and cans of Perrier were in the fridge.
If you're looking for the booze, it's not here (apart from Heineken in the fridge). Instead, head to the the rear of the lounge, where you'll find a self-service refreshment area with spirits, wines and draft beer (Tiger, of course).
In terms of wines, the First Class Lounge offers:
Champagne is available for self-pour, while still wines are dispensed from digital wine dispensers. These use resistive touchscreens, which you'll need to press hard to activate the flow.
First Class Lounge Champagne
Alternatively, head to the bar for barista-made coffee in the morning (6 a.m to 10 a.m), and cocktails in the evening (5.30 p.m to 1 a.m).
The flagship bar is meant to be the social epicentre of the lounge, but I found the experience rather underwhelming because the cocktail selection is paint-by-numbers stuff. There's nothing here (SilverKris Sling aside) you couldn't find in a hundred other bars.
What would really make it special is if they crafted a few drinks exclusive to the lounge, and offered a small bar bites menu during cocktail hours. That would generate more of a buzz and attract guests over, creating opportunities for mingling. As it is, the current setup feels like a missed opportunity to give the place a little more personality. 
Wi-Fi & Power
Wi-Fi speeds in the First Class Lounge clocked in at 26 Mbps down and 13 Mbps up, fast enough to stream HD Netflix and YouTube without any stuttering.
Universal power outlets are plentiful throughout the lounge, paired with USB Type-A charging ports. Wireless charging can also be found in the productivity pods and modular seats. 
Day Rooms
A total of four day rooms are available in the First Class Lounge.
Singapore Airlines has taken great pains to emphasise these are not hotel rooms, perhaps weary about overstayers. Instead, each guest gets two hours- ideal for napping, but those who need a full night's sleep should find a transit hotel.
Each room has a camera that's meant to scan a QR code to grant access, but the system is not yet operational. In the interim, you'll need to approach the lounge staff and have them manually unlock the door (it also means that every time you leave the room, you'll need to prop open the door or else get assistance to enter again).
Before anyone asks, rooms are single occupancy only. The airline isn't keen on any hanky panky, and to dissuade acts of wanton carnality, a see-through port has been placed in each door. 
Two of the rooms have adjustable recliners, and two of the rooms have beds.
Based on my experiences in The Private Room, the bed is extremely comfortable. This pairs a Tempur Zero G bed base with a Tempur Firm Supreme mattress, offering full-body support and a variety of massage options. The top and bottom of the bed can be electronically adjusted to take a range of positions, including a zero-gravity setting for weightless relaxation. 
Don't despair if your room has a recliner though. These Poltrona Frau upholstered seats still offer a very comfortable snooze, once you figure out how to adjust them (hint: fold down the leather around the right hand side pouch to reveal the controls). 
Each room has a small work table, as well as 2x universal power outlets and Type-A USB ports. 
For added relaxation, guests can request a diffuser with COMO Shambhala essential oils, as well as a yoga mat. 
Showers & Toilets
The previous First Class Lounge did not have individual shower suites. Instead, all showers were located inside the main toilet, creating a locker room sort of vibe. 
Fortunately, that's now been rectified. The new First Class Lounge has a total of five shower suites (plus one handicap-accessible unit), with attached GROHE Sensia Arena electric bidet toilets. 
Lalique Neroli hand cream and aftershave are provided, together with dental kits, shaving kits and hair brushes.
Guests can choose from either a hand shower or a generously-sized rain shower.
Unfortunately, First Class shower amenities come in generically-labelled bottles, which look cheap (that label might as well have been made in Powerpoint) and do a disservice to the otherwise luxurious interiors. No one's asking for Aesop, but some better presentation wouldn't go amiss. 
Male and female toilets with tall mirrors, Dyson hand-dryers and GROHE Sensia Arena bidet toilets are located near the shower suites.
Men's bathroom
A nursing and changing room is located next to the toilets. 
Conclusion
With the new SilverKris First Class Lounge, Singapore Airlines has finally addressed many recurring passenger complaints, most notably the lack of sleeping areas and private shower suites, as well as overcrowding in the dining hall. It may not tick every item on the wishlist, but at the very least brings the lounge up to code. 
While this isn't Singapore Airlines "true" First Class Lounge, it complements The Private Room in some ways thanks to its productivity pods and bar, as well as quick dining options for those in a rush. I ended up splitting my time equally between the two lounges, preferring The Private Room for dining and resting, and the First Class Lounge for productivity.
The new First Class Lounge plays it safe by blending modern luxury and comfort, while demurring to redefine any paradigms. That's no accident, but only time will tell if it's the right call. 
What do you make of the new First Class Lounge?