For my two nights in Taipei, I chose two very different hotels: Kimpton Da An and Grand Hyatt Taipei.
As the largest hotel in Taiwan, the 850-room Hyatt is about as "chainy" as you can get, the choice of dignitaries and celebrities (and even some unwanted guests, if you believe the stories), with a wide range of dining options and facilities. The Kimpton, in contrast, is a much more boutique option with a mere 129 rooms. Each will have its fans and detractors, and it really boils down to what vibe you prefer more.
For what it's worth, I thought the Kimpton was a breath of fresh air, and an excellent option for any IHG loyalist who wants a break from the cookie-cutter Crowne Plazas and InterContinentals.
🏨 tl;dr: Kimpton Da An Hotel

The Kimpton Da An is a stylish boutique option for those who value personalised service and uniqueness over facilities.

👍 The Good

👎 The Bad

Stylish design offers a welcome change from your usual chain hotels

Good IHG Diamond recognition

Daily social hour for all guests with free wine and canapes

Minimal facilities; small gym and no swimming pool or spa
🇹🇼 When You Wish Upon a STARLUX
Kimpton Da An: Arrival & Check-in
The Kimpton Da An Hotel is located, as you might have guessed, in the Da'an district of Taipei. This is approximately 50-60 minutes from Taoyuan Airport by car, depending on traffic. The nearest MRT is Zhongxiao Fuxing, a short walk away. 
Opened in 2019, this was Kimpton's first property in Asia. Kimpton has since opened hotels in Bangkok, Koh Samui and Tokyo, with Bali and Suzhou to follow. 
The lobby has a zen minimalist feel to it, with Architects Neri & Hu (whose portfolio also includes the Westin Xi'an and Alila Bangsar Kuala Lumpur) choosing white glossy tiles, concrete finishings and a soothing water feature. Windows near the rear look out to an immaculately-landscaped garden. 
Hotel lobby
At check-in, the friendly duty manager thanked me for being an IHG Diamond ("yes, I am most definitely an IHG Diamond with many nights stayed and definitely not from a status match I found online", I almost said), and informed me I'd been upgraded from the lead-in Essential category (32 sqm) to a Premium room (38 sqm). 
Breakfast is complimentary for IHG Diamonds, and all guests (regardless of room type or status) enjoy the following perks:
Morning Kick Start: Complimentary coffee and soymilk in The Living Room from 7 a.m to 10.30 a.m
Evening Social Hour: Enjoy select wines and canapes from 5.30 p.m to 6.30 p.m
It's rare to see a hotel offering free alcohol to non-status guests, so this was a very nice touch indeed.
Kimpton Da An: Premium Room
My room was on the 3rd floor of the 14 storey building, and I exited the elevator into a long white corridor. 
Premium Rooms are located at the corners of each floor, and are a bit unusual in that the door opens straight into the bathroom area. The first thing you see is literally bathroom tiles, so make sure your partner is decent before answering the door!
The Premium Room was spacious and attractively-decorated with a king-sized bed, crescent-shaped couch and coffee table, plus a work desk nestled into the carpentry around the window. 
Each bedside had two bottles of water, a universal power outlet, USB Type-A charging port and room lighting controls.
The room's work desk was located near the windows, with a pair of universal power outlets and USB Type-A outlets built into the carpentry. The chair wasn't great for prolonged sitting though, going for form over function.
Wi-Fi speeds clocked in at a zippy 39 Mbps down and 45 Mbps up, more than sufficient for any kind of video streaming.
Near the bathroom was a sitting area with a oval-shaped coffee table, full-length mirror and open-concept wardrobe. 
A small mini-bar area had a Nespresso coffee machine (sans capsules, for whatever reason), kettle, TWG and Emperor Love tea bags plus snacks available for purchase. IHG Diamond members are supposed to get a US$20 credit to spend at the restaurant or mini-bar during their stays, but I forgot all about this (if it's any consolation, the snacks didn't seem too inspired, mainly Pringles and instant noodles).
The bathroom had his and her sinks, and a, shall we say, liberal approach towards privacy. This definitely isn't a room you want to share with a coworker, given the half-height privacy screens and token attempts at modesty. There isn't even a door you can close to fully shut off the space from the bedroom. 
The bathing area has a separate rain shower and square-shaped tub, which I'm told is a traditional Japanese soaking tub. 
Bathroom amenities are by Atelier Bloem, and come in geranium, oolong tea and mandarin & citrus scents. If the bottle design looks vaguely familiar, that's because it's from the same team that did Malin + Goetz- see the resemblance now? If you like these, the entire set is available for purchase at US$144 (!) online. 
The toilet had a built-in TOTO bidet with heated seat and wall-mounted control panel, as do most washrooms in Taiwan.
Kimpton Da An: Facilities
The Kimpton does not have a swimming pool, but it does have a 24-hour fitness centre, accessible by key card. It's a small facility with just a couple of treadmills and a weights corner, but it gets the job done. 
Complimentary bottled water, bananas and towels are available. 
If exercising indoors isn't your thing, the hotel offers complimentary bike rentals for exploring the neighbourhood. 
Kimpton Da An: Breakfast
Breakfast is served at The Tavernist from 0700 to 1030 hours daily. Guests are requested to choose from one of three time slots during check-in:
0700 to 0800 hours
0810 to 0910 hours
0920 to 1020 hours
They're not super strict about the timings; it's just meant to spread out demand.
Breakfast is complimentary for IHG Diamond Elite members. Otherwise, a breakfast set (consisting of granola, yogurt, fruit, pastries, juice, coffee and any a la carte item) costs 748 NTD per adult (~S$33) and 638 NTD per child (~S$28).  
Tavernist is helmed by ex-Noma chef James Sharman, so expectations were high. I'll be honest- the presentation looked a little plain. However, the flavours were great, especially the pork sausage, made in-house from Taiwanese pork.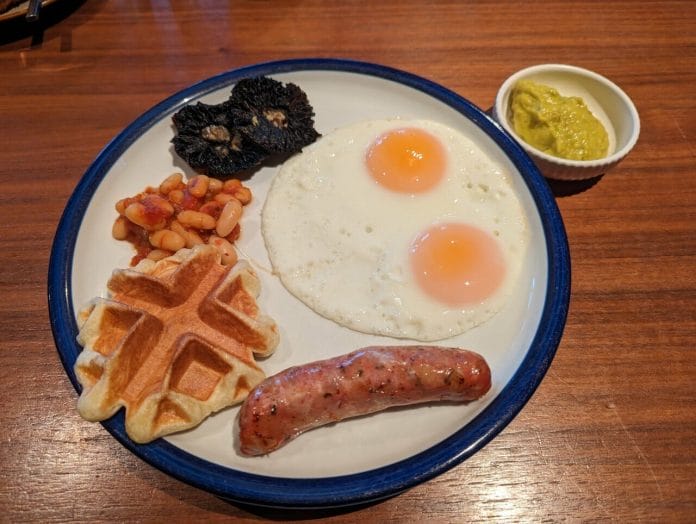 I was able to add on additional sides for free, but they may have closed one eye because I was an IHG Diamond having breakfast as a solo traveller (instead of my usual two person entitlement).
Conclusion
The Kimpton Da An may not be able to match larger hotels for facilities, but its stylish design and little perks like Social Hour might be enough to convince chain-weary travellers to make the switch. 
Don't forget to google the "Kimpton secret password" before checking in, which gets you surprise freebies like F&B credits or souvenirs. This promotion wasn't running during my visit, but a new offer has just launched for Winter 2022 ("the snuggle is real").