In November 2019, Qantas opened its first-ever First Lounge in Asia at Changi Terminal 1, cementing the importance of Singapore as a transit hub. Sadly, the lounge saw barely three months of action before COVID-19 forced its closure. In that short time, however, it quickly became a passenger favourite with its beautiful interiors, warm service, and excellent dining options.
The lounge finally reopened on 18 June 2022, and I managed to access it en route to Dubai by virtue of my Emirates First Class ticket. This is easily my favourite lounge in all of Changi, and an unmissable experience for anyone who has access. 
🍸 tl;dr: Qantas First Lounge Singapore

With excellent dining, beautiful décor and impeccable staff, the Qantas First Lounge is hands down my favourite in all of Changi Airport.

👍 The good
👎 The bad

Beautiful interior design and décor

Restaurant-quality dining and drinks

Warm, personable service that's second to none

Blazing fast Wi-Fi connectivity

Snooze areas would have been useful

Champagnes are business-class level
Getting to the Qantas First Lounge
The Qantas First Lounge is located after security at Changi Terminal 1. Once you clear immigration, turn right and head towards the D gates. Look for the first escalator near the Hermes store. 
Ride the escalator up to level 3, turn right, and you'll see the entrance to the lounge. 
Do note that the Qantas First Lounge (towards the D gates) is in the opposite direction as the Qantas Business Lounge (towards the C gates). That said, it shouldn't take you more than five minutes to walk between the two. 
Access and Operating Hours
The Qantas First Lounge is open from 3 p.m to midnight daily.
Access to is available to:
Qantas, Emirates or oneworld passengers departing in First Class 
Qantas Platinum One and Platinum members departing on a Qantas, Jetstar or oneworld flight, in any cabin
Emirates Skywards Platinum holders departing on a Qantas or Emirates flight, in any cabin
oneworld Emerald passengers departing on a oneworld flight, in any cabin 
Passengers arriving on an international long-haul (>5 hours) oneworld flight in First Class and connecting to another short-haul flight, in any cabin
First Class passengers, Qantas Platinum One, Platinum, Emirates Skywards Platinum  and oneworld Emerald members may bring one guest with them. 
Lounge Overview
The Qantas First Lounge measures in at 1,000 sqm, with seating for 240 guests. This is about half the size of the Qantas Business Lounge (2,220 sqm for 570 guests), albeit with more space per guest.
The entire lounge is actually one long rectangle, broken into relaxation and work spaces in the front, and dining in the rear. Turning left immediately after entering will take you to the shower and toilets. 
Qantas engaged David Caon to oversee the interior design for the Singapore First Lounge. Caon has tackled everything from tableware to cabin interiors, plus the Qantas Lounge in Hong Kong and the Chairman's Lounge in Brisbane. Suffice to say, this isn't his first rodeo. There's heavy use of Carrara marble and oak, white marble walls with gold trim, and a neutral colour tone to minimise any sense of busyness. 
Immediately inside the lounge is a semi-private seating enclave, with a dark yellow wraparound banquette sofa and a smattering of coffee tables.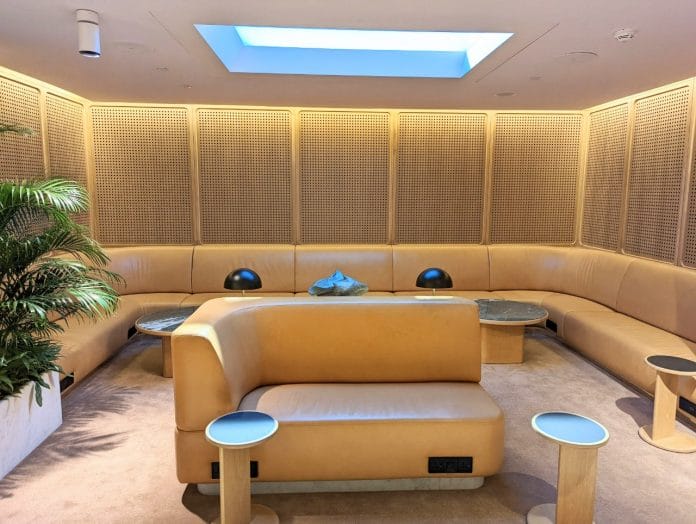 Adjacent to this is a pair of work desks and two black leather recliners, with perforated screens providing a modicum of isolation and privacy.
The lounge then opens up into a living area, with a mix of armchair and lounge seating. 
Most of the living room seating is set up for groups of four, though there are a few solo armchairs running along the side of the wall. 
If you didn't manage to snag one of the work desks near the entrance, there's a long communal table with planter boxes breaking eye contact between opposing guests. 
At around the halfway point of the lounge, you'll find the bar- always tended and serving up various libations or a barista-made coffee.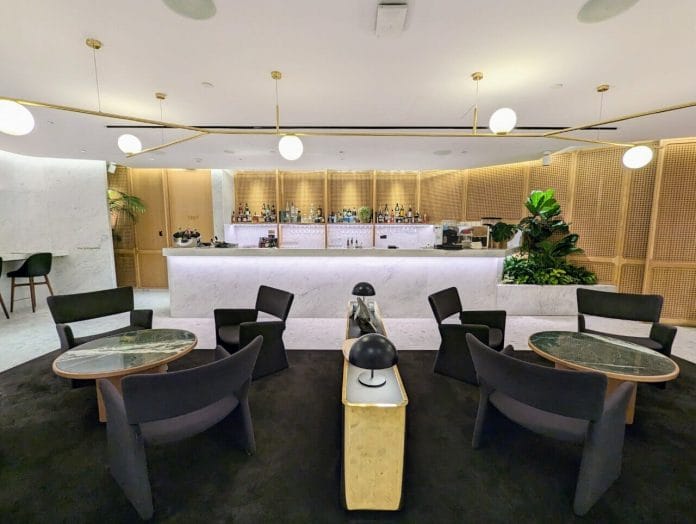 The bar signals the transition to the dining area, which makes up the majority of the seating (157 out of 240 seats). 
The dining area is itself bifurcated into two sections, with one adopting warmer wood and burnt orange tones…
…and the other a darker, more sophisticated palate. 
At the very rear is a bar counter with solo seating and partial views of the open kitchen.
Wi-Fi & Power
The Qantas Wi-Fi network is a beast. Even when the lounge was at its busiest, speeds still clocked in at 271 Mbps down and 257 Mbps up. That will handle almost anything you throw at it, whether video calls or HD streaming (or both at the same time).
Universal power outlets and Type-A USB ports are in plentiful supply throughout the lounge, built into most sofas and table tops. It would have been nice to see wireless charging pads too, but that's something which will have to wait till the next iteration.
Food & Beverage
The highlight of the Qantas First Lounge is, without a doubt, its dining experience.
There's no buffet here, with the exception of a small self-serve counter with nuts and canned drinks.
But who wants warmed-over buffet food when you can enjoy some of the finest dining Changi Airport has to offer? 
The menu is designed by Neil Perry of Rockpool Grill fame, who has been consulting for Qantas since 1997. What I love is that it's no mere facsimile of the offerings at Qantas' Australian lounges, but reads like a love letter to the hawker and haute cuisine of Singapore.
Let's get one thing straight: this isn't great-for-airport-lounge food. This is great food, period. It's the sort of thing I'd be happy to pay money for outside, and if given a choice between dining here or The Private Room, I'd take this any day of the week. The finesse, the elegance with which ingredients are selected and presented shows that it's not just about having hero ingredients like lobster or caviar- it's knowing how to get the most out of what you have. 
If you haven't had the salt and pepper squid, have you really been to a Qantas lounge? Apparently not, and there's no reason to start now. This classic has been a staple of the Qantas menu for donkey years, and with good reason. The green chilli dipping sauce adds an Asian flare to the dish, and don't be shy to ask for extra portions.
The prawn wantons with black vinegar and chili are another item that have survived the refresh, and their hot and tangy mix is an instant crowd pleaser.
Save room for the prawn paste chicken wings too. These pack a wallop of heat, but relief is at hand with the cooling smashed cucumber that accompanies it. 
I also tried the heirloom tomato and buffalo mozzarella salad, which to me was more average. I suppose vegetarians would appreciate this, but I could take it or leave it.
Qantas continues to knock it out of the park with their crayfish laksa (prepared with lor mee), which could easily go head-to-head with Singapore Airlines' (and probably win). 
Qantas used to serve an excellent grilled barramundi with sambal sauce…
….but that's been replaced by grilled barramundi with polenta. The cook on the fish is still perfect as ever, but I was less thrilled about the accompaniments. We don't need polenta, we need sambal and onions (it was even better when they served it with skate, aka stingray)!
Another new item is the chicken breast with sweet potato, broccolini, and burnt butter hazelnuts. Chicken breast is a tricky protein to get right, as its lack of fat makes it less forgiving. I found this to be on the dry side.
The final main I tried was stir-fried black pepper beef with fragrant jasmine rice. Solid, if unmemorable.
For dessert, pandan and kaya sponge remains a must-try item. I normally don't care for toasted coconut, but scrape that to the side and you'll find an intoxicating mix of champagne jelly and sponge cake. 
Chocolate and hazelnut cake is new to the menu, and an instant winner. Who doesn't love banana ice cream?
The extensive wine list is a thing to behold, with four choices of champagne (nothing vintage though, which is a bit of a miss for a First Class lounge), and more than a dozen red and white wines, heavily focused on Australian varietals. 
🍷 Qantas First Lounge SIN Wine List

Wine

Type

Vivino Rating

🇦🇺 Parker Coonawarra Estate Cabernet Sauvignon 2020 

Red

3.8/5

🇪🇸 Torres Altos Ibericos Crianza Tempranillo 2018 

Red

3.8/5

🇦🇺 Torbeck Old Vines GMS 2018

Red

4.0/5

🇦🇺 Wirra Wirra Catapult Shiraz 2020 

Red

3.9/5

🇦🇺 Yering Station Little Yering Pinot Noir 2021 

Red

3.7/5

🇦🇺 Pewsey Vale Riesling 2018

White

3.6/5

🇦🇺 Shaw + Smith Sauvignon Blanc 2022

White

4.0/5

🇦🇺 Vasse Felix Classic Sauvignon Blanc Blend 2021

White

3.8/5

🇦🇺 Voyager Estate Coastal Chardonnay 2022

White

4.0/5

🇳🇿 Wither Hills Pinot Gris 2022

White

3.7/5

🇫🇷 Gayda La Minutte Rose 2021

Rose

3.8/5

🇦🇺 Voyager Estate Project 2018 Cane Cut Semillion

Dessert

4.2/5

🇫🇷 Duval-Leory Brut NV

Champagne

3.8/5

🇫🇷 Joseph Perrier Brut NV 




Champagne

3.9/5

🇫🇷 Taittinger Brut Reserve NV

Champagne

4.1/5

🇫🇷 Taittinger Prestige Rose NV

Champagne

4.1/5
Don't forget to put the bartender through the paces either, with some specialty cocktails crafted exclusively for this bar: Calamansi Mojito (white rum, calamansi and mint) and the QF2 (gin and tonic, with a Qantas twist).
Showers & Toilets
The Qantas First Lounge has a total of nine shower suites in the lounge, each with an ensuite toilet. 
Each bathroom features an artificial "skylight", which Qantas says is meant to replicate natural daylight. This can be set to morning, noon or dusk, helping the body clock adjust as guests transition through multiple time zones.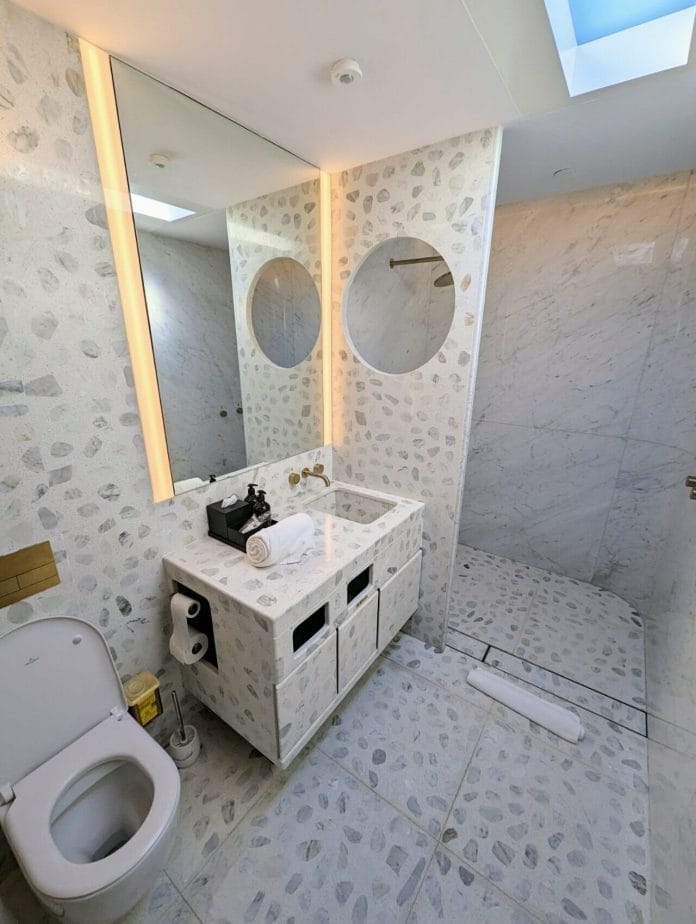 Showers forgo the usual glass cubicle for a more open layout, though the absence of a handheld shower is surprising. There's no bidet hose either, so washing your naughty bits will be rather tricky. Water pressure was decent, though not among the strongest I've had. 
One of the nine shower rooms is an oversized unit for handicapped guests, with grab bars and a roll-in shower. 
Bathroom amenities are by LaGaia, an Australian luxury brand. LaGaia, incidentally, also operates the Qantas First Lounge spas in Sydney and Melbourne.
Male and female toilets can also be found in the lounge, with an all-private cubicle layout. There's six cubicles in each toilet, with full-height doors to block out any ambient sounds. 
Service
Service in this lounge is absolutely top-notch. It's not just their efficiency or professionalism- the staff (seconded by Sofitel) have an uncanny way of remembering individual passengers. It's heart-warming to see them greeting long-time customers, especially those who they haven't seen since pre-COVID days. Many passengers even want to take selfies with the staff, who positively insist you try as much food and drink as your stomach can hold.
That's what makes the Qantas First Lounge more than a lounge, and a welcome change from the professional-yet-distant approach found over at the Singapore Airlines lounges. 
Conclusion
The Qantas First Lounge is hands down my favourite lounge in all of Changi (and no, I'm not forgetting The Private Room!). The food, the drinks, the décor and staff all make for a wonderful experience every time, and it makes me wish I could only qualify for oneworld Emerald. 
A must visit, for those eligible.