Emirates may have been second in line to receive the Airbus A380, but that didn't stop them from doing everything they could to upstage launch customer Singapore Airlines.
Singapore Airlines had wowed the world by introducing suites with doors, so naturally, when Emirates unveiled its A380 to the press in July 2008, it had suites with doors…and an onboard bar…and spa showers…and a heck of a lot of bling. While all that in-your-face ostentatiousness might cause doyens of good taste to shudder, it certainly made Singapore Airlines' cabins look pedestrian by comparison.
So much has happened in the aviation world since then. Emirates has eclipsed Singapore Airlines in terms of superjumbo operations, with 119 aircraft to Singapore's 12. The A380 programme has been sunset, with the final jet rolling off the Toulouse production line in 2021 (delivered to Emirates, who else?). And A6-EDA, Emirates' first-ever A380, has been scrapped and turned into keychains.
But before it flew off to the great boneyard in the sky, A6-EDA operated one final commercial voyage on the Singapore to Dubai route, an apt coincidence (?) given the two airlines' rivalry over A380 bragging rights. 
That turned out to be the staging ground for my first-ever Emirates First Class experience…
✈️ tl;dr: Emirates A380 First Class

Emirates A380 First Class goes for shock-and-awe, and while it won't be for everyone, it's certainly fun the first time round.

👍 The Good

👎 The Bad

All-you-can-eat caviar, Dom Perignon, Hennessy Paradis, 

Bvlgari amenities, and luxurious bedding make this an experience to remember

Showering at 40,000 feet is a novelty like none other

Onboard bar provides a pleasant change of scenery

No option for companion dining

Catering out of Singapore was average at best

Indifferent service that wasn't up to First Class standards
Emirates A380-800 First Class seat
Emirates has 14 First Class seats on its A380 aircraft, configured in a 1-2-1 layout. This represents one of the highest-density First Class cabins amongst A380 operators. 
| | |
| --- | --- |
| Airline | A380 First Class Seats |
| Emirates | 14 |
| British Airways | 14 |
| Qantas | 14 |
| Korean Airlines | 12 |
| THAI Airways | 12 |
| ANA | 8 |
| Etihad | 8 |
| Lufthansa | 8 |
| Qatar Airways | 8 |
| Singapore Airlines | 6 |
This doesn't mean it's unpleasantly cramped, but it's impossible not to notice when you first step into the cabin. The high density layout feels more at home in Business Class than First, though the gold trim and walnut burl panels will quickly remind you where you are.
I mean, look. Getting upset about Emirates for being gaudy is like getting mad at a cow for mooing. That's what they do, and while the 80s Vegas casino vibe isn't for everyone, you have to admire their commitment to the concept. 
Those travelling as a couple would naturally pick the 1 E/F, 2 E/F, or 3 E/F seats running down the middle, although if you're having one of those lovers' tiffs, a movable privacy divider ensures you won't see your seat mate. 
Solo travellers would prefer the 1 A/K, 2 A/K, 3 A/K or 4 A/K seats by the windows. I assigned myself seat 1K, on the starboard side of the aircraft.
As this was a night-time flight, plastic-wrapped blankets and comforters were already stowed behind each seat. It looked a little messy though, and I wish they'd thought of a better place to put it.
It might surprise you to know that Emirates' First Class seat measures only 22 inches between armrests, or 4 inches wider than Economy. That's significantly narrower than what you might find on airlines like Cathay Pacific (36 inches) or Singapore Airlines (35 inches), though you can gain an extra six inches (sounds like my email spam folder) by lowering the armrests. 
Directly in front of you is a 32-inch touch-sensitive IFE screen, with a Hollywood mirror popping up from the TV console and a table lamp with two brightness levels. A snack basket, amenities kit and eye mask were waiting here when I arrived.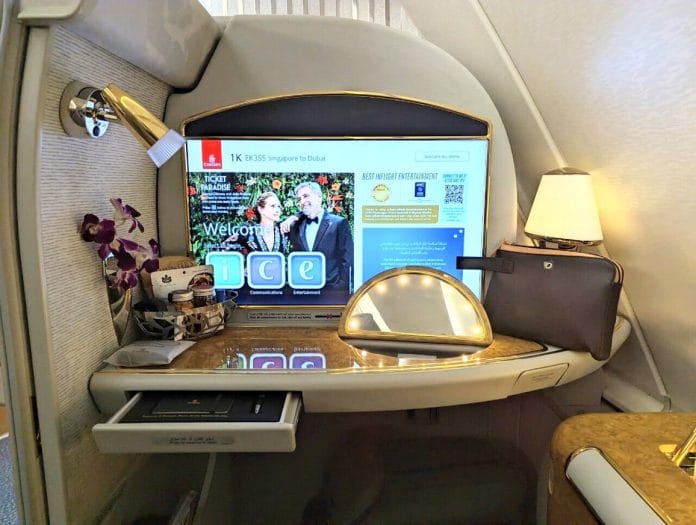 You may have noticed from the previous photos that the cabin has no overhead storage bins, in order to make it feel more spacious. If you have carry-on luggage, you'll find a large storage space beneath the TV console. 
A storage closet is provided for hanging clothes, although in reality it's not actually extra space. It opens up into the foot area of the seat, so if your legs are really long, you might end up kicking your own clothes. 
Additional storage for loose items such as passports or wallets can be found in a storage bin by the windows. There's also a much smaller compartment on the armrest near the aisle, that doesn't look like it'd fit anything beyond a pair of reading glasses. 
A sturdy, oversized tray table slides out from the side console. Unfortunately, it can't be further adjusted once deployed, so you'll need to lower the armrests if you want to pop in and out of the seat without stowing it.
On the armrest by the window is a touch-screen tablet, which forms the seat's central control system. Below that are dedicated buttons for the window shades, table light, attendant call, plus an air vent. 
The seat has seven different adjustable components, and the user interface is intuitive enough. However, what's annoying is that many of the options are nested. In other words, it takes multiple taps to adjust just one part of the seat- way more finnicky than it should be.
That said, on the armrest you can find some quick-access buttons for setting the seat to dining mode, full upright, and full flat, as well as opening or closing the suite doors. Don't forget about this button like I did, because the only alternative is to open the doors from the tablet, and no one wants to get blasted in the face with bright light when groggy.
Over your aisle-side shoulder is a secondary air vent, together with a reading light.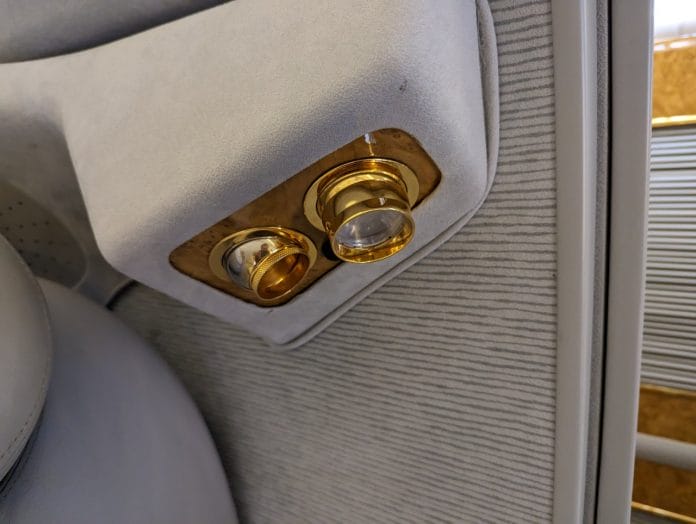 Even though the IFE can be controlled entirely through the tablet, you'll find an additional controller beneath the armrest. This provides an easier option for one-handed control, since the tablet is rather hefty. 
Built into the forward table and hidden behind a flap is a universal power outlet. 2x Type-A USB ports are also provisioned, but charge extremely slowly. As expected for an older generation seat, no wireless charging is available. 
The in-seat mini-bar is one of the cute little touches that Emirates First and Business Class passengers enjoy. Naturally, it's much more fully loaded in First, with Brookfarm Explorer Brothers Blend, Hunter's Gourmet vegetable chips, Butlers dark chocolate, Lakrids by Bulow salt & caramel liquorice, Bennett's Snacks (Thai spicy mix and Haribo gummy bears), and Smint mints. 
As it's not bolted down, the basket will be collected by the crew before take-off. Don't worry, it'll be brought back as soon as the seatbelt sign goes off. 
There's also a drinks compartment stocked with two bottles of Evian water, a bottle of Perrier, cans of Pepsi and 7-Up. It's more cosmetic than practical, since the drinks aren't actually chilled- I always appreciate having more water on hand in an airplane cabin, but who wants to drink warm Pepsi? Then again, this is the most Emirates thing I can think of. No one needs an open bar on an airplane, much less a shower, but Emirates offers it anyway just because. 
Full marks for how cool it looks though. Press a button, and an electric motor retracts the entire minibar into the armrest!
Each suite has a set of electrically-powered privacy doors. When closed, the suite is indeed very private. The walls are high and curved, so someone walking down the aisle would need to tip toe to look inside.
Emirates gets some things right with its First Class suites, but here's my main gripes.
First, it doesn't provide the option for companion dining, unlike Etihad Apartments or Cathay Pacific First Class. That's an interesting decision by the designers, and come to think of it, wasn't even rectified in Emirates' new First Class on the B777-300ER. Clearly, Emirates believes that luxury is a solo experience. 
Second, when the seat is fully reclined, there's nowhere to put your shoes. You either leave them in the aisle, where they're liable to trip other passengers and crew, or you place them on the side console, which is kind of gross. This really feels like the kind of thing that should have been spotted during the user testing phase. 
Third, once the seat is in full-flat mode, it's impossible to access anything in the storage area under the TV. Make sure you already have everything you need, or you'll have to mess up the bed to get to it.
Amenities
Shortly after boarding, the cabin crew came around to distribute pyjamas, to supplement the eye mask and slippers already placed at every seat. 
Emirates made headlines in 2016 when it launched the world's first moisturising pyjamas. Designed by Matrix, the "Hydra Active Microcapsule Technology" sees "billions of capsules applied to the fabric, which gently releases naturally-moisturising sea kelp during movement" (a similar version is available on the Emirates website for US$54).
I can't honestly say I noticed a difference, to be frank, and in fact I thought they trapped a little too much heat. I woke up in the middle of the night sweating from my legs because of the combined efforts of the pyjamas and blanket. In the end, I much preferred my own sleeping shorts, and changed back. 
First Class passengers receive a handsome leather Bvlgari amenities kit, which contains: 
7ml Bvlgari lip balm
30ml bottle of Bvlgari Le Gemme Tygar perfume
40ml bottle of Bvlgari hydrating body emulsion
40ml bottle of Bvlgari after shave balm
Bvlgari cleansing towel
50g can of Gillette shaving foam
Disposable Gillette shaving razor
A packet of facial tissue
25ml Rexona Men Ice Cool Anti-perspirant
Foldable plastic comb
Dental kit
I absolutely loved the perfume, a blend of Amberry citrus, grapefruit, deep wood and Ambrox. A 100ml bottle of this perfume retails at S$375, so enjoy it!
Do note that the amenities kit is reserved for overnight flights, or long-haul daytime flights. As such, First Class passengers on the morning EK349 won't receive a kit automatically, but you might be able to get one on request.
But that's not all. Open your Hollywood mirror, and inside you'll find a further sampler kit from Byredo. This contains:
10ml Byredo pillow mist
10ml Byredo facial toner
5ml Byredo eye cream
3ml Byredo sleep oil
Byredo towelette
Oh, you thought we were done? Open up the drawer beneath the counter top, and you'll find yet another gift: a leather-bound notebook and pen, yours to keep courtesy of Emirates (please don't remove the leather tray though, that one belongs to the airline).
Food & Beverage
Pre-departure drinks were offered as soon as I took my seat. I normally ask for champagne, but because of taxes, Emirates serves Moet & Chandon on the ground for flights to Dubai instead of Dom Perignon (you get on-ground Dom when departing from Dubai). I certainly didn't want to waste my 14 units a week on Moet, so I just asked for sparkling water. 
However, it's hard to say no to the other pre-departure beverage: Arabic coffee and dates. This packs a punch, so don't take too much if you're on a red-eye flight. 
Given that this was an overnight flight with sleep at a premium, I was surprised the crew did not take meal orders before take-off. Instead, menus were only distributed about 45 minutes into the flight. 
Dinner would be served on this flight, and in Emirates First Class, passengers can choose to dine whenever they wish. Menus can be viewed 30 days in advance on Emirates' website. 
First Class passengers also have an extensive wine list at their disposal, the fruits of Emirates' US$1 billion+ investment in its wine programme. The airline has a cellar in France with 6.5 million bottles of fine wines, some of which won't be ready for tasting until 2035!
| | | |
| --- | --- | --- |
| Wine | Type | Vivino |
| Dom Perignon 2012 | Champagne | 4.6/5 |
| Ermitage de l'Oree Michel Chapoutier 2013 | White | 4.5/5 |
| Howard Park Allingham Chardonnay 2017 | White | 4.2/5 |
| Ken Forrester 'The FMC' Chenin Blanc 2021 | White | 4.4/5 |
| Penfolds Bin 311 Chardonnay 2018 | White | 3.9/5 |
| Chateau Montviel Pomerol 2011 | Red | 4.1/5 |
| Chateau Pichon Longueville Lalande 2005 | Red | 4.4/5 |
| Tournon Shays Flat 2013 | Red | 3.7/5 |
We all know about the Dom, which has now become an Emirates exclusive (hence the removal from Singapore Airlines' First Class cabin). Unfortunately I didn't get to try the 2003 Dom Pérignon Plénitude 2, which was served in a limited run that ended before my flight. However, Dom 2012 isn't a bad consolation prize either!
This was served shortly after take-off, together with some (stale) nuts. The crew did not actively patrol the cabin, so all top-ups were on request only.
It was a long wait for food. By my count, 1 hour 40 minutes had elapsed before any food showed up (and for future late night flights, I would probably try sleeping first and eating later). 
The meal began with caviar service, and in what must be the most Emirates thing ever, First Class passengers are entitled to "unlimited caviar" (or at least as unlimited as onboard supplies permit). This was a party trick that Emirates introduced in August 2022, and apparently the airline loads three tins per passenger. In fact, I didn't even need to ask for extra; the crew came up with a plate and said "a double portion of caviar for you".
This was followed by butternut squash and sweetcorn chowder. Even if the presentation wasn't much to look at, the soup was sweet and hearty. 
I can't say the same about the tuna tataki though, since it was dry beyond belief and hard to chew. 
For the main course, I went for the seared beef tenderloin. This is generally foolhardy for two reasons:
(1) It's impossible to nail the cook on an inflight steak
(2) Tenderloin is quite possibly the most overrated cut of beef as it lacks fat, and therefore flavour
Nonetheless, I believe the mark of a great airline is the ability to spin gold out of straw, and to Emirates' credit, the steak did come out as close to medium rare as you could hope for in a pressurised cabin.
But even if the texture was right, the beef fundamentally lacked flavour. I wish airlines would stop trying to impress with tenderloin and just serve a good old ribeye instead- it'd be cheaper, and passengers would be happier too. Seriously, if anyone tells you they like tenderloin, they're just saying that because they know it's expensive. 
Dessert was a chocolate pistachio tart, which was passable.
A selection of chocolates were offered to round off the meal.
On the whole I thought the meal was average to below average, and was happy I did most of my eating at the Qantas First Lounge before the flight.
I mentioned that the crew didn't patrol the aisles very regularly, and this meant the meal service dragged. I eventually resorted to hitting the call button every time I was done with a course so the next one could brought. The lack of attention also meant that wine and water glasses weren't refilled regularly, and all in all it wasn't what you'd expect from a First Class experience.
In addition to the main menu, there was also a selection of movie snacks, including salted popcorn, prawn cocktail, wagyu sliders and edamame. Unfortunately, the flight was just too short to enjoy it.
Inflight Entertainment
Emirates' ICE (Information, Communications, Entertainment) is widely regarded as one of the best IFE systems out there, and with good reason. 
This packs a whopping 5,000 entertainment options, including full box sets, the latest Hollywood movies, classic movies, TV shows, music, and many options for the non-English speaking crowd. I'd go so far as to say it has the beating of KrisWorld too, in terms of sheer options.
Four channels of live TV are also available: Sport24, BBC World News, SKY News Arabia and CNN International. 
One cool feature of the ICE system is "Next Seat Share" (found under My Settings at the top right corner), which lets you sync your system with a neighbour and watch what they're watching at the same time. 
Passengers can also watch one of three externally-mounted cameras, though the image quality was disappointing. 
Noise-cancelling headphones by Bowers & Wilkins offered excellent performance and comfort.
Wi-Fi
Emirates offers free Wi-Fi, but not the way you might expect.
Whether or not you get free Wi-Fi depends on both your cabin class and whether or not you're a member of Emirates Skywards. For example, an Emirates First Class passenger would not enjoy free Wi-Fi, unless they also happen to be a member of Skywards.
 
Economy & Premium Economy
Business
First
Blue

Free chat-only

Free chat-only

Free Wi-Fi

Silver

Free chat-only

Free Wi-Fi

Gold

Free Wi-Fi

Platinum
There's no cost to join Skywards, but in order to get free Wi-Fi your membership number must be linked to your booking at least 24 hours before departure. Moreover, this means that if you wish to credit your Emirates flight to a different FFP, you won't get free Wi-Fi.
If you forget to add your Skywards number in time, you'll have to pay for access. On this flight, Wi-Fi cost:
US$3.99 for chat-only plan
US$9.99 for 30 minutes 
US$19.99 for full-flight Wi-Fi
I'm quite surprised that Emirates doesn't just make Wi-Fi free for all First and Business Class passengers, period, like what Singapore Airlines has done. Fortunately, my Skywards Blue number was attached to my booking, and I could login without any issues. 
Emirates uses SITA ONAIR, which is one of the slowest providers out there. I clocked a respectable 11.1 Mbps down and 3.66 Mbps up, though speeds will vary depending on route, location, and weather conditions.
Sleep Experience
When the time comes to sleep, the crew will turn down your seat into a 2-metre bed by putting it in full flat mode before adding a mattress topper, duvet and pillow set. As expected, this is a very luxurious sleep experience, with high thread count sheets and fluffy pillows.
However, the main issue was that the suite lacked ventilation. Even with both air vents open, I felt like I was overheating. I eventually concluded it was the pyjamas, so I switched to shorts and things got slightly better. 
Spa shower & toilets
The 14 First Class passengers have access to three toilets, two large ones at the front of the cabin, and one small one at the rear. 
The small one is really no different from any other airplane bathroom (well, with the exception of an overuse of walnut burl, and the presence of Bvlgari Aqva Divina fragrances). 
But you don't care about that, of course. You're here for the showers, the signature experience of the Emirates A380.
Here's the ground rules:
Showers are not available on flights below 2h 30 mins
Showers are available on flights between 2h 30 mins to 3h 29 mins on request
Showers are proactively offered on flights above 3h 30 mins
First Class passengers are entitled to one shower booking per flight. Bookings are taken by the dedicated shower attendant, who you can distinguish from the rest of the crew by their red vests. Be nice to them; they earn a fraction of the other crew members, and are sometimes treated as second-class citizens. 
Each slot is 30 minutes long, and the last slot is one hour before landing. You get five minutes of running water per shower booking, although if the take-up rate is low enough, I've heard some passengers get offered extra.
My advice is to book your appointment as soon as possible, and pick a slot close to landing. If you later decide you want to shower earlier, it's a lot easier moving your slot forward than pushing it back further. 
There are two shower suites located at the very front of the upper deck. Here's the one on the starboard side…
…and the one on the port side, which is slightly larger (the extra space goes to an extended settee area). Either way, they're comfortably large- bigger than the one I have at home, that's for sure!
Both suites can be used as regular lavatories when not booked for showers, which realistically speaking will be the first 70+% of the flight (most people choose to shower closer to landing). Hand soap from VOYA and Bvlgari fragrances are provided.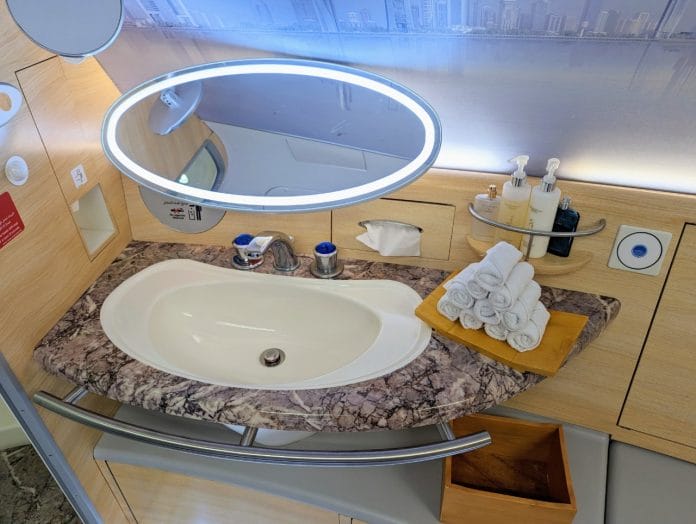 Each shower suite has an LCD screen to track the progress of the flight (hey, you'll want to know over which country or body of water you got naked, right?), a hairdyer (no Dyson? Absurd!), and a clothes hanger. 
In addition to this, there's a wooden tray loaded with disposable amenities like dental kits, nail files, cotton pads and shaving razors. VOYA shampoo, conditioner, body wash and soap are also available. 
And now the main event: showering. The cubicle is tight, as you might expect, but still finds room for a bench so you can sit and wash your feet. Don't expect a rain shower head or jets; there's only a simple Grohe handheld shower, fixed to an adjustable rail. The shower head can be detached if needed.
On the wall is an indicator showing how much of your 5-minute water allowance is left. This is your health bar. When it reaches zero, it's game over. There's no grace period, no extra lives, no "insert coin to play again". Run out of water, and you'll need to rinse off whatever's left using the basin (and to be fair, the water pressure from the basin is pretty good!).
To switch on the shower, press the flat button labelled shower (on/off). You will not be able to turn on the shower unless the door to the shower is completely closed (although opening the door does not deactivate the shower), so if it doesn't turn on this is probably why.
Water pressure is surprisingly good, and the five minutes of water need not be continuous. You can start and stop the flow as you please. However, once you turn off the water you'll get cold really fast, because the bathroom's air conditioning is very strong. 
What else can I say? For one whole minute I just stood under the water, beaming ear to ear like an idiot. I was showering…at 40,000 feet. 
After you're done showering, you step out onto the blissfully heated floor, dry off, and proceed outside where green tea and cut fruits are waiting. 
Onboard bar
We can't talk about an Emirates A380 without bringing up its onboard bar, the social epicentre of the aircraft. 
The bar is located at the rear of the A380's upper deck, and is accessible to both Business Class and First Class passengers on flights of at least 2h 30 mins. It opens shortly after take-off, and closes about one hour before landing. 
As you might expect, it's busiest just after take-off, as passengers gather for drinks and to gawk at the excessiveness of it all…
…but it empties out pretty fast when meal service begins. Since Emirates doesn't offer dine-on-demand in Business Class, passengers need to stick to the meal timings or miss eating altogether (though I'm sure if you get a nice enough crew they'll accommodate you regardless).
While there's no stools at the bar, you can take a seat on one of the two crescent-shaped couches by the sides, each of which has seatbelts for three passengers. 
Now, if you're travelling in First Class, you'll want to give the crew a heads up that you're headed to the bar so they can send a bottle of Dom or whatever tipple you prefer back with you. 
Naturally, this has the potential to create a bit of an awkward situation, since First Class passengers have access to a superior drinks list- I do wonder what happens if a Business Class passenger spots your bottle and asks if he can have some of that!
Help-yourself bar snacks can be found on a shelf beneath the bar's TV (I've heard they sometimes use these screens to show sports events, which must be pretty fun!)…
…while additional options are laid out on the bar counter itself.
You can also place an order from the First Class snack menu to enjoy here if you wish, though there aren't any tables unless you don't mind the bar counter. 
Some may dismiss the onboard bar as a gimmick, but I think there's real utility to be had here. Even if you're a misanthrope like me who wouldn't dream of making conversation with a stranger, the bar presents an opportunity for a change of scenery, an excuse to move around the aircraft and do something other than staring at your IFE screen or forcing yourself to sleep.
By the way, if you happen to get a newer A380, the bar area may look slightly different. Emirates has done away with the crescent-shaped sofas and added booth seating with tables, a layout that looks more practical to me.
By the way, First Class has a little bar of its own, in the staircase area outside the shower suites. There's no bartender here of course, but you can get a sense of what's available and ask the crew to prepare it for you to enjoy in your seat.
Service
The biggest let down of this flight was the service, which I found to be indifferent at best. The meal service was agonisingly slow, the crew didn't pay much attention to things like top-ups or clearing plates, and there was a lack of personal introductions or any kind of warmness. Moreover, I was unlucky enough to have a very inconsiderate passenger in my cabin, who insisted on watching movies on his personal tablet sans headphones. The crew did nothing beyond a cursory reminder, even after I complained to them. 
I'm not going to belabour the point since I've already laid out the issues in this post, so read it if you want more details.
Conclusion
Emirates' First Class on the A380 is all about shock-and-awe. From the moment you step into the cabin, you're assaulted on all sides by bright lights, shiny surfaces, gold-chrome trim, suede and burled walnut, almost as if someone's tugging your sleeve and saying "look at all this stuff!" It's a cabin that shouts rather than whispers. But like I said, that's just Emirates for you. Stuff like this is in their DNA, and if this strikes you as tacky, you're really on the wrong airline.
Besides, there's a ton of cool stuff too: the bar, the showers, the suites with doors. They make for a pretty memorable flight, and you won't find them in too many places.
The key weaknesses for me are catering (it was better out of Dubai, for what it's worth) as well as service, and from what I read online I'm not the only one to find issues with those. 
Definitely something to tick off your bucket list, although repeat viewing depends on your aesthetic preferences (and willingness to pay ridiculous fuel surcharges).
What do you make of Emirates' First Class on the A380?