After a good night's rest at the JW Marriott Marquis Dubai, an Emirates car picked me up and brought me back to DXB Terminal 3, where all Emirates flights depart from. I already had my boarding pass for DXB-GVA issued in Singapore, and since I had no check-in luggage, I headed straight to security and immigration.
Once through, it was time to check out Emirates' flagship lounge, or should I say, lounges…
🍸 tl;dr: Emirates First Class Lounge Dubai (Concourse A)

Emirates' gargantuan First Class lounge has excellent dining and every amenity you could ask for, yet severely lacks character- a prime example of how less can be more.

👍 The good

👎 The bad

Ludicrously oversized, and a bucket-list item for any miles chaser

Extremely private, to the point of having its own duty-free shops and boarding gates

Restaurant-quality dining offered all hours of the day

There are US$500+ bottles of wine just lying around

Can feel lonely and sterile due to sheer size

Quality of champagne does not match that served in the air

Underwhelming shower rooms with basic amenities
Which First Class lounge?
Emirates has three First Class lounges in Dubai Airport:
Concourse A
Concourse B
Concourse C
All three lounges are linked airside, so you can access whichever you wish (time permitting).
Concourse A is by far the largest; quite simply massive at more than 100,000 sq. ft, running the entire length of the concourse. It could quite possibly be the largest airport lounge in the world, excluding private facilities like the Lufthansa First Class Terminal in Frankfurt.
Concourse B is not as large, but feels more like a traditional lounge because there's less empty space. This is probably the nicest-looking of all three lounges. 
Concourse C is the smallest, and almost like an outpost. If this is your first time flying Emirates First Class, my advice is to spend more time in A/B, and almost no time here- you won't be very impressed.
On this trip, I visited A, B and C, but I'm going to focus on A because I think it's the lounge to visit. Here's a summary of the differences between the three lounges. 
 
Con. A
Con. B
Con. C

A la carte dining

✔

✔

✔

Business centre

✔

✔

✖

Cigar lounge

✔

✖

✖

Duty-free

✔

✔

✖

Kid's play room

✔

✔

✖

Sleep area

✔

✔

✔

Spa

✔

✔

✖

Showers

✔
Private
✔
Private
✔
Inside main toilet

Board flight from lounge?

✔

✔

✖
Access
All Emirates Lounges in Dubai are open 24 hours a day.
Access is available to passengers departing on an Emirates or Qantas flight in:
First Class (+1 guest)
Any cabin, with Emirates Skywards Platinum or Qantas Platinum, Platinum One and Chairman's Lounge (+1 guest)
All guests must be travelling on the same flight as the eligible passenger.
Economy Class and Business Special passengers can purchase access at US$250 (Skywards member) or US$300 (non-Skywards members).
Emirates First Class Lounge Concourse A Overview
Even though my flight was departing from Concourse C, I decided to do the Emirates Lounge trifecta, starting with A. The staff warned me it was a *very* long walk to C, and to leave enough time for the trip ("at least 45 minutes", they said. I walk super fast, and made it from A to B in 11 minutes, and B to C in 8 minutes). 
Normally when I do a lounge overview, I try to walk through the lounge systematically and talk about the different kinds of seating and where you'll find them. But it's just impossible to do here because the place is so darn huge. This lounge spans 24 gates, and you can board your flight directly from the lounge if you're so inclined, never once crossing paths with the unwashed masses. 
The best navigational advice I can offer is that the entrance to the lounge is at roughly the halfway point, so in one direction you have Gates A1-12, and in the other you have A13-24. The lounge kind of mirrors itself, as you can see from the map below.
So yes. There are seats. And yes, there is variety. And no, you won't have difficulty finding one. Whether you want to lounge, or work, or rest, or eat, there's a separate space carved out for each and every kind of activity. 
So colossal is the lounge, I never saw more than a handful of people at any time. I can't imagine how this place would ever get crowded, given how many nooks and corners there are to hide yourself away in.
In fact, in many ways it feels more like a private airport terminal, although the public area is just one floor below.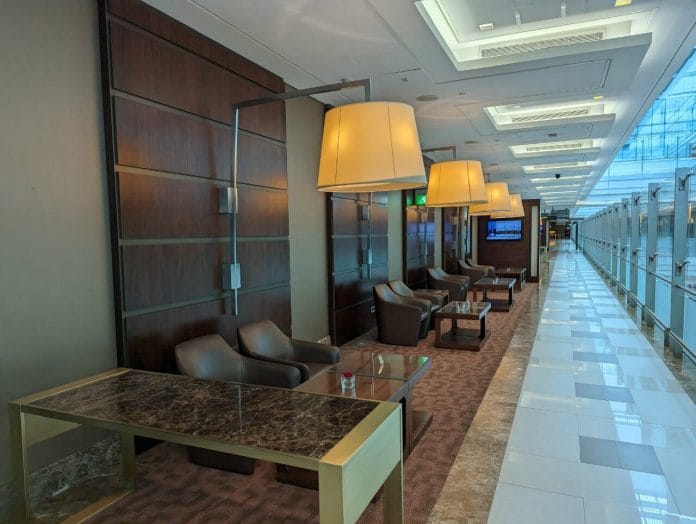 Here's the thing: even though the lounge wows you with its sheer size, the longer you stay, the more sterile you realise it truly is. It's almost as if the designers were so overwhelmed by the real estate at their disposal that they simply didn't know what to do with it.
Before long, you'll be walking through the lounge and going "OK, it's…another seating area". This gets old fast, and I wouldn't describe the interiors as particularly luxurious, much less homely. 
Duty-free shopping
When I say the Emirates First Class lounge can be a private terminal, I really mean it. You don't even need to leave for duty-free shopping, since there are outlets right inside the lounge selling wines, perfumes, jewellery, watches, and other earthly treasures. 
Needless to say, the vast majority of the stuff here falls under the "if you have to ask the price…" category. 
Dining
When you're done with your walkthrough, head to one of the two dining areas in the lounge. The one I chose was located on the A1-12 side, which sits under pleasant skylights. 
There is also a private dining room with two tables, presumably reserved for VIPs. 
I took a seat near the entrance, and the staff immediately came over to take drinks orders and explain how the menu worked.
The dining area serves breakfast from 4-11 a.m, and then lunch and dinner from 11-4 a.m. The full menu can be found via this link, and lunch was being served during my visit. 
Orders were taken and bread served- Emirates serves Isigny Sainte-Mere butter, which I hold to be among the best butter out there. Evian water (in glass bottles) is the standard here. 
The only bad thing I'll say about Emirates First Class Lounge catering is that they don't pour the good champagne on the ground. Unlike the wines (more on that later), the champagne is decidedly garden-variety Moet & Chandon. It's nothing compared to the Dom waiting onboard, and unless you like getting sloshed, I'd limit myself to a token glass.
In addition to the a la carte selection, there's also a full buffet spread for those who don't have time to wait.
It's tempting to ignore the buffet and just order off the menu, and I agree- where the mains are concerned. But don't skip it entirely, because the appetisers have some gems like salmon sashimi and a lobster tail salad with a full lobster tail! Such is the abundance here that you can eat lobster tails till they come out of your nose. 
For the appetisers, I tried the pan-seared scallops and aburi salmon. The scallops came with a delicious miso and black garlic marinade, and the chef had gotten the sear just right. This suggested that they were fresh, not frozen scallops, since it's almost impossible to get a good sear on frozen scallops on account of how much water they're pumped with.
My eyes were immediately drawn to the seafood risotto from the mains, and it didn't disappoint. This was an amazing dish, served with Obsiblue prawns (apparently the only French shrimp recognised as quality enough for sashimi in Japan), squid, octopus, celery and dill. I had to hold myself back from finishing all the rice, since I knew there was more food to come onboard. 
For dessert, I had the chocolate and pecan gateaux, served with abinao chocolate cremeus, pecan praline, Sacher sponge and spiced milk ice cream. This was delicious, and surprisingly dainty too.
Elsewhere around the lounge are some self-serve areas focused on providing light bites. 
You can find cold salads, cheese, pastries, fruits, and (rather mediocre) sushi. Unless you're not hungry enough for sit-down dining, I'd give these a miss. 
The Great Emirates Wine Hunt
One of the most fun things you can do at the Emirates First Class lounge in Dubai is to play The Great Emirates Wine Hunt. Emirates has some incredibly expensive bottles of wine just lying around its lounge, and doesn't make a big deal about it (which, if you think about it, is the ultimate kind of flex).
It's almost laughable how casual they are about this; you can be walking past a random self-serve food and beverage station and encounter a bottle that would cost you silly money at a restaurant. If this is their idea of surprise and delight, well, I'm surprised and delighted. 
Wandering through the First Class Lounge in Concourse A, I found the following:
| | | |
| --- | --- | --- |
| Wine | Vivino Rating | RRP |
| Chateau Lafite Rothschild Carruades de Lafite Pauillac 2006 | 4.4/5 | S$483 |
| Chateau Pichon Baron Pauillac (Grand Cru Classe) 2006 | 4.4/5 | S$394 |
| Chateau Pichon Longueville Comtesse de Lalande Pauillac (Grand Cru Classe) 2005 | 4.4/5 | S$393 |
| Le Petit Cheval Saint-Emilion Grand Cru | 4.4/5 | S$355 |
| Penfolds RWT Shiraz 2006 | 4.5/5 | S$205 |
Yes, there's cheap stuff too, but take the time to look and you'll find some absolute gems. I was running around Vivino-ing every bottle I could find. 
Later in the Concourse C lounge, I found everything together in one fridge!
Power and Productivity
The Emirates Lounge's Wi-Fi network clocked triple-digit upload and download speeds, and will be more than adequate for your needs. 
Universal power outlets are abundantly located throughout the lounge, but there's a notable absence of USB ports or wireless charging pads. 
Two business centres can be found in the lounge, with desktop computers and printing facilities. There are also empty workstations for those who bring their own devices (i.e. everyone), and a few meeting rooms.
Sleeping Area
For those who want to catch up on some sleep, the lounge has a quiet area with day beds, blankets and eyeshades. Given all the space they had to work with, I do wonder why Emirates didn't consider building proper hotel rooms. The idea isn't that far-fetched; Qatar offers it in the Al Safwa lounge, as does SWISS in Zurich. 
Don't forget that if your layover is longer, you may be eligible for Dubai Connect, Emirates' stopover programme. This offers a complimentary hotel room, meals and two-way airport transfers for passengers with 8-26 hour layovers. 
Cigar Lounge
I don't smoke (in case my insurer is listening), but for those of you who do, the Emirates First Class Lounge has a cigar room. 
The interior is actually rather tastefully decorated (and not nearly as smoky as I feared), with beautiful stained glass panels and plenty of natural light. 
The lounge has its own bar with coffee, teas, wines and of course, liquors. What's a cigar without a glass of brandy?
It's unclear to me whether the cigars are complimentary- a 2015 trip report says no, but things may have changed since then. I'm going to let someone more well-versed than me comment on the quality of the selection.
Kid's room
Travellers with children can keep them amused in the kids' room, which has padded floors, toys, activities as well as a PS4. A PS4, you say? That just goes to show where the real wealth is in the Middle East- Gulf Air's Bahrain lounge has PS5s!
Showers
You'll never have to wait for a shower at the Emirates First Lounge, with so many available I didn't even bother to count. 
That said, the shower rooms were not what I was expecting at all. I've seen some fantastic First Class showers in my time: the cabanas at Cathay Pacific's The Wing, the bathtubs in the Lufthansa First Class terminal (complete with collectible rubber duckie), the shower-cum-treatment rooms at the THAI Airways Royal Orchid Spa. Given this was Emirates, I was half-expecting a blinged out bathroom with enough gold taps to make TT Durai weep. 
Instead, the showers are extremely basic, like what you might find in a turn-of-the-century hotel. 
They each come with an attached toilet, overhead and hand shower, and disposable amenities, and were spotlessly clean, but it was just so underwhelming compared to what I had in mind. 
Spa
First Class passengers are entitled to a complimentary 15-minute treatment by Timeless Spa, located just outside the Concourse A lounge. 
The treatment can be upgraded to a 30-minute aromatherapy massage for AED200 (S$73).
Bookings are essential, and slots are limited, so the first thing you should do upon arrival is secure your timing. The spa at Concourse A didn't have any slots before my flight, but the staff member managed to book me a slot over at Concourse B, where the photos below come from. 
The spa is…put it this way, it's not luxe. It's like something you might find in your average roadside spa in Bangkok. This isn't a place for those fussy about ambiance, that's for sure.
I had a 15-minutes leg and feet massage, which was an excellent way of relaxing after all that walking (Concourse A is a long way from B, be advised). 
Conclusion
If I were to sum up Emirates' mega First Class lounge in Concourse A in one sentence, it'd be "less can be more".
This is a lounge that sets out to impress with size, and impress with size it does. But once you get over the initial shock, you'll quickly realise it lacks any sort of character. The design is bland, the corridors empty, and you keep thinking of other things they might have done with all that space, like hotel rooms or more luxurious shower suites. 
There's fun stuff, to be sure. The a la carte dining is excellent, and the wine hunt will thrill any oenophile. But is it the sort of place I could hang out for hours and not get bored? Probably not. 
Let's hope Emirates has big things in store for the Dubai World Central airport, when they eventually move.
What do you make of the Emirates First Class Lounge in Concourse A?