Who doesn't love a golden shower? 
Yes, a golden shower, the commonly-used term to describe a luxurious bath taken amidst an ornate setting like say, an Emirates Airbus A380. That is the only thing it means, and absolutely nothing else, period.
I've long dreamed of being on the receiving end of a golden shower, but it's a fantasy that has thus far eluded me.
Till now. 
Flights
✈️

 Golden Showers: Flights
✈ SIN-DXB
✈ DXB-GVA
EK355
Depart: 2100
Arrive: 0100 (+1)
Cabin: First

EK83
Depart: 1440
Arrive: 1845
Cabin: First

Cost: 141,250 Skywards miles + S$1,172
✈ MXP-DOH
✈ DOH-SIN
QR124
Depart: 0930
Arrive: 1720
Cabin: Business

QR942
Depart: 2040
Arrive: 0915 (+1)
Cabin: Business

Cost: 75,000 Avios + S$280
For the outbound flight, I grit my teeth and redeemed 141,250 Skywards miles + S$1,172 for an Emirates First Class award from SIN-DXB-GVA. You don't need to tell me that's ridiculous. It's actually not so much the miles as it is the surcharges- of that S$1,172 cash payment, S$1,098 is fuel surcharges!
Why does Emirates have ridiculous fuel surcharges on awards? Because it can. Gone are the days where you could avoid this by booking through Alaska Mileage Plan, so that's just the price I'm paying for not reviewing it years ago.
At least I won't get gouged on the return leg, since I managed to find Qatar Airways Business Saver space (not the dreaded "Q2" awards, which cost double the usual miles) from MXP-DOH-SIN. Booking this through Qatar Privilege Club also allowed me to avoid the hefty surcharges that partner programmes would otherwise have to pay, and all in all the damage was 75,000 Avios + S$280.
I am, to put it mildly, giddily excited about all these flights. 
The fun kicks off from Singapore to Dubai, with my first-ever flight on an Emirates A380. First Class consists of 14 suites with sliding doors and unapologetic bling, 27″ entertainment screens, Hollywood vanity mirrors, a personal mini-bar, Byredo skincare products, Bvlgari amenities kits, and Bowers & Wilkins headphones. Say what you will about Emirates, but they know how to throw a party.
While I'll certainly spend a good amount of time at the onboard bar…
…it's the golden shower I'm really looking forward to. Is there a term that adequately describes the novelty of bathing at 35,000 feet with heated floors, plush towels and revitalising scents?
I'll share the full details of how everything works in the review, but you basically get five minutes of water (which isn't as bad as it sounds, since you can pause the flow when not in use) and 30 minutes of shower suite usage. There's a total of two showers on the aircraft, so every First Class passenger will get their turn.
As fun as that promises to be, the second leg should be just as memorable.
From Dubai to Geneva, I'll be flying one of only nine Emirates B777-300ERs with its new First Class product. Although this debuted back in December 2018 (and perhaps shouldn't be called "new" anymore), it's exceedingly rare because of Emirates' unwillingness to retrofit its fleet . The long term plan is to install them on the perpetually-delayed B777X which will replace the B777-300ER.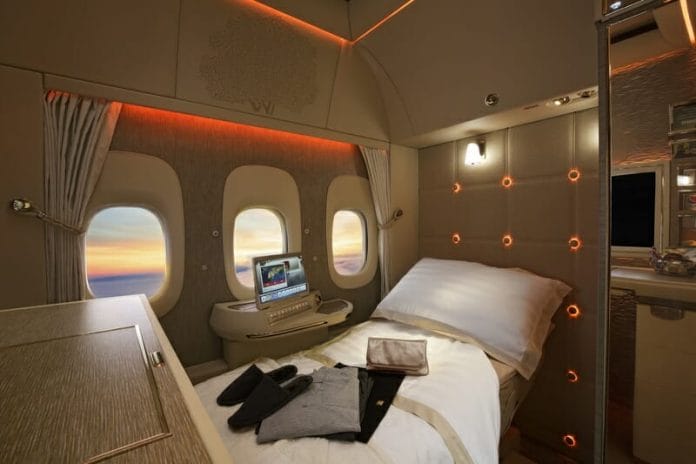 Imagine a fully-enclosed suite with floor-to-ceiling walls, equipped with all sorts of gadgets such as individual temperature controls, mood lighting, a video call tablet, virtual windows (for the middle seats), and zero-gravity loungers. It's enough to make me forget that Emirates no longer serves Dom Perignon Plenitude 2 in First Class anymore (back to pedestrian Dom 2012 for now!).
From Geneva, I'll catch a train to Milan, where it's Qatar Airways back home. 
Qatar Airways has a rather unique cabin product on its B787-9s. While it originally intended to fit them with Qsuites, it later realised the fuselage would not permit a four-across configuration. Therefore, the airline went with a customised version of the Adient Ascent seat, which is currently only found on this aircraft type. 
These seats are 20% lighter than the existing Qsuites, featuring a privacy door, double beds for centre seat passengers (although "double beds" is a bit of a stretch, since you're lying away from each other with only your heads joined), Bluetooth audio and wireless charging.
And finally, Qsuites. Long-time readers will know that this product has been on my to-do list for years (I was all set to try it back in September 2019, only for a last-minute aircraft swap to land me with the regular reverse-herringbone configured A350-900). Now, at the risk of jinxing it, it's finally happening.
Qsuites needs little introduction, with its unprecedented level of privacy and innovation (too bad I can't book the quad!). It may not be all that new anymore, but I'm still excited about the opportunity to finally experience it. 
Hotels
🏨 Golden Showers: Hotels

Night
Hotel
Per Night Cost (Nett)
0.5

JW Marriott Marquis Dubai

Free

1

ibis Geneve Aeroport

US$120

2

Hilton Milan

70,000 points
You may have noticed from the flights section that I have a 13 hour 40 minute layover in Dubai. That'd normally be a bummer, even with First Class lounge access, but thankfully there's Dubai Connect.
In short, this is Emirates' STPC programme (stopover paid by carrier), available to all passengers with connections of 8-26 hours. In addition to a hotel room, meal vouchers and two-way transfers to the airport are provided. 
The hotel you get depends on your cabin. First Class passengers get the JW Marriott Marquis Dubai, Business Class passengers the Le Meridien Dubai, and Premium Economy/Economy the Copthorne Hotel Dubai. The JW Marriott is supposed to be the most premium, but it's also 15 minutes away from the airport, compared to less than five minutes for the Le Meridien/Copthorne. Quite frankly, I'd prefer to be closer!
I'm spending roughly 12 hours in Geneva before I catch a train for Milan (no disrespect to the Swiss, but Italy's culinary charms are impossible to resist), so all I need is a bed and a desk. That comes in the form of the ibis Geneve Aeroport, booked for US$120, and offset with ALL points. I'm pretty sure you wouldn't be interested in reading a review of this, so I'll skip it.
In Milan, I'm choosing the Hilton Milan because of its convenient location just next to the train station (the fact I get free breakfast doesn't hurt either). The asking price of 70,000 points is steep, but I happen to be visiting in the middle of Milan Fashion Week so I don't have many alternatives.
Lounges
🍸 Golden Showers: Lounges

Airport
Lounge
SIN

Emirates Lounge, Qantas First Lounge

DXB

Emirates First Class Lounge

MXP

Sala Montale Lounge

DOH

Qatar Al Mourjan North Lounge
The Emirates Lounge at Changi Airport is a combined facility for both First and Business Class passengers. It's one of the few lounges at Changi I've yet to visit, so I'm going to take this opportunity to scratch it off.  Fair warning: I don't believe this lounge has much of an X-factor, although it is popular among Qantas travellers who find the Qantas Business Lounge too noisy.
But if your job isn't to review lounges, I'd reckon you'd be much happier heading straight to the Qantas First Lounge, which is open to Emirates First Class passengers. This is always pure joy to visit. 
I reviewed the lounge when it first reopened in 2022, but there's no harm in updating that post, if only to cover the new menu items. I swear, the food there is next level good (superior to The Private Room even), the sort I'd happily pay money for outside. 
Emirates may be luxurious in the air, but its lounges in Dubai are a different matter entirely. I've read the reviews of the three Emirates First Class Lounges in Concourse A, B and C, and is it just me, or do they look rather…ordinary?
If you showed me these photos without context, I'd guess they came from a generic contract lounge, rather than one of the most premium carriers in the world! I guess I shouldn't knock it till I've tried it, but I see very little here to get me excited.
In Milan I'll be reviewing the Sala Montale contract lounge that Qatar Airways and many other carriers (including Singapore Airlines) use. 
Then it's on to Doha, where the Qatar Airways lounge situation is…complicated. 
The "old" lounge is now known as the Al Mourjan South, and by all reports it's still the same as when I last visited in 2019. 
Review: Qatar Airways Al Mourjan Business Class Lounge Doha Airport
But there's a new lounge open at Hamad Airport's The Orchard, a 65,000 sq. ft. rainforest atrium that will invariably evoke comparisons with Changi Airport's Jewel. 
This is known as the Al Mourjan North lounge, but here's the thing: it's not Qatar's new flagship lounge. This is a temporary facility until the real deal (called Al Mourjan Garden) opens at a yet-to-be-determined date. Not much is known about the new lounge, except that it'll have a gym (which come to think of it is a really useful feature if you're a transit hub), but a recent teaser by Head for Points has got everyone excited. 
There are two elements in this lounge which will be a world first. One of them genuinely stunned me. Two of the biggest brands in the world will be opening 'brand extensions' here.

When I say 'world first' I don't mean 'first in an airport lounge'. I mean that the airport has persuaded two huge brands to do something totally different for the first time anywhere.

I can't say any more. However, I can say without a doubt that some people – admittedly probably not HfP readers – will rearrange their travel plans purely to travel through Hamad in order to visit one or both of these facilities. Interestingly, neither will be free – in fact, the total opposite. Deep pockets will be required.

I fully expect that many people will stop using the Al Safwa First Class lounge and move to the new Al Mourjan lounge purely to try out these two facilities.

-HFP
Two "world first" elements? Speculation is running rampant, with full motion flight simulators and race car tracks among the more outlandish suggestions I've read.
The new lounge certainly won't be ready by the time I visit, but the temporary facility will still be worth a review because once the Al Mourjan Garden opens, it'll become Platinum North, a place for oneworld Emerald members flying in Economy or Premium Economy. 
Conclusion
So that's the plan for my first trip report of 2023- and did I mention the whole thing takes place over a grand total of 80 hours? It'll be frantic, it'll be a whirlwind, but it'll also be a whole deal of fun. 
Golden showers ahoy!