Emirates has one of the largest international lounge networks of any airline (7 in Dubai, plus 32 more worldwide), and Singapore is deemed important enough a destination to warrant one of its own. While all overseas lounges were shuttered at the start of COVID, the majority of them have since reopened, including Singapore in April 2022.
I visited this lounge on my way to Dubai, and have, shall we say, mixed feelings. It works fine as a Business Class lounge, but it's a very underwhelming First Class one. And given the alternatives on offer, I'd go so far as to say that most eligible passengers would be better off elsewhere. 
🍸 tl;dr: Emirates Lounge Singapore

The Emirates Lounge Singapore is a decent Business Class lounge, but a rather disappointing Frist Class one. Eligible passengers would be well-advised to consider their alternatives!

👍 The good

👎 The bad

Excellent tarmac views with plenty of natural light

Champagne for all guests

Staff are warm and friendly

No separate section for First Class passengers

Quality of catering and drinks is closer to a Business Class lounge than First Class

Slow Wi-Fi speeds

No private shower rooms
Getting to the Emirates Lounge
The Emirates Lounge is located in Changi Terminal 1, near the C gates. If you've visited the Qatar Premium Lounge or Plaza Premium Lounge before, you should be familiar with the way, since the Emirates Lounge forms part of the same cluster.
Simply turn left after immigration and keep walking towards Transfer C. Look out for the escalator near the Irvins Salted Egg and Lotte Duty Free Wines & Spirits booths. 
Head up to level 3, and you'll see the Emirates Lounge right next to the Qatar Premium Lounge, with the Plaza Premium Lounge just opposite. 
Access and Operating Hours
The Emirates Lounge Singapore is open from 7.10 a.m to 10.10 a.m and 5 p.m to 12.30 a.m daily. This allows it to cater to passengers on the morning EK349 flight, as well as the evening EK355 and 353 flights. 
Access is available to passengers departing on an Emirates or Qantas flight in:
First Class (+1 guest)
Business Class (excluding passengers on Emirates Business Special fares)
Any cabin, with Emirates Skywards Platinum, Skywards Gold, or Qantas Gold, Platinum, Platinum One and Chairman's Lounge (+1 guest)
All guests must be travelling on the same flight as the eligible passenger.
Economy Class and Business Special passengers can purchase access at US$100 (Skywards member) or US$130 (non-Skywards members). Local taxes (8% in the case of Singapore) apply. 
Overview: Emirates Lounge Singapore
The Emirates Lounge completed an extensive refurbishment in April 2017, which combined the First and Business Class areas into one. This increased the lounge's capacity from 179 to 222, though it's obviously a downgrade for First Class passengers in terms of privacy and exclusivity.
The lounge is laid out in an L-shape. Just inside the reception area is a TV zone that's also designated a family area; a sensible arrangement, since it ensures that any noise leaks outside the lounge rather than inside. 
Further inside are five pairs of armchair seats, each with a low coffee table. Running along the back wall is a self-serve drinks counter. 
Around the bend of the L, the lounge then opens up into a living area, with numerous rows of armchair seats arranged in pods of four. Furniture is a mix of tan and cream with Emirates-red throw pillows, while blue carpets provide a striking contrast.
A water feature provides a zen-like atmosphere, while five Rolex clocks track the times in New York, GMT, Singapore, Dubai and Sydney. 
One thing I will say about this lounge is that it has some serious #avgeek cred, due to its windows facing the tarmac and runway 02L/20R. This also allows natural light to stream in during the day, making the already large lounge feel even more spacious.
Opposite the windows are a line of magazine racks, where unlike other lounges, reading materials have made a return (one wonders if the reluctance of airlines to bring back physical reading materials has more to do with cost-cutting and less to do with hygiene concerns). 
At the very rear of the lounge is the dining area, which like the living area also has runway views. 
Food & Beverage
The dining area is a mix of two and four-tops, with booth seating available along the rear wall, and a communal table on the opposite side. 
After I chose a seat, the friendly staff came over to take drinks orders. There's no way of saying this without coming off as a snob, but given how brand-obsessed Emirates normally is, it was rather strange to get Cactus brand mineral water (especially when Qatar Airways is offering Acqua Panna and San Pellegrino next door!).
In one corner of the dining area is a circular buffet display with chilled items such as Arabic mezze, smoked duck breast salad, poached prawn salad, cakes and macaroons, and fresh fruit.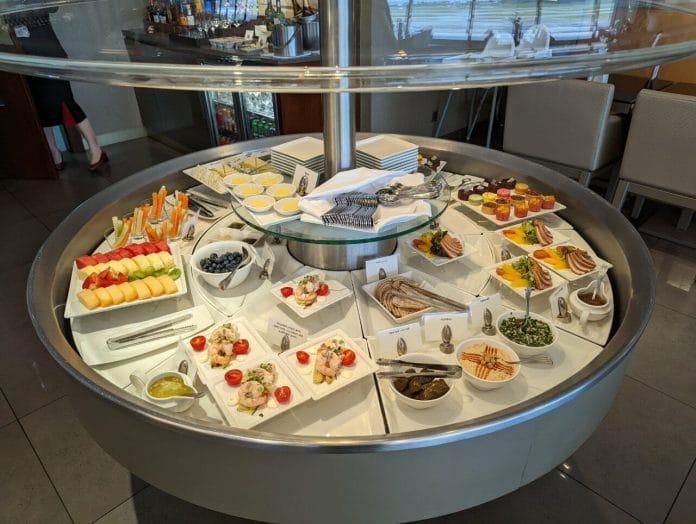 The main buffet line opened at 5.30 p.m, and consisted of items like:
Grilled satay
Pan seared garoupa fillet with tomato & basil coulis
Roasted corn-fed chicken breast
Stir-fried beef with ginger & spring onion
Country potatoes
Butter carrots & green beans
Buttered broccolini
Mughlai malai kofta
Saffron pilaf rice
As expected, all food items in this lounge are halal. 
Even though there was nothing wrong with the food per se, it felt more like what you'd find in a Business Class lounge than a First Class one. Again, that's an inevitable consequence of running a combined First and Business Class facility: it becomes logistically difficult to offer First Class amenities such as a la carte dining, short of fencing off a separate area. If you're flying in Emirates First, you should really save your stomach for the feast that awaits you onboard- or even better, fill up at the Qantas First Lounge instead.
In terms of drinks, guests can find Coca-Cola (regular and diet), Fanta Orange, 7-Up, tomato juice, Schweppes mixers, Heineken, Tiger, Carlsberg and Asahi beer in the fridges, together with chilled glass. One self-serve drinks station is located near the entrance, the other in the dining area.
A wide selection of more than one dozen spirits were available for self-pour, including the usual suspects like Barcadi White Rum, Bombay Sapphire Gin, Jack Daniels, Hennessy VSOP, and Absolut Vodka. First Class passengers will need to wait for the flight to enjoy Hennessy Paradis!
As for the wines, guests can choose between two reds, two whites and a champagne. 
🍷 Emirates Lounge SIN Wine List

Wine

Type

Vivino Rating

🇨🇱 Errazuriz Estate Reserva Merlot 2021

Red

3.7/5

🇮🇹 Conti Serristori Chianti Classico 2020

Red

3.7/5

🇮🇹 Lamberti Pinot Grigio 2021

White

3.6/5

🇦🇷 Zuccardi Brazos De Los Andes Chardonnay 2020

White

3.4/5

🇫🇷 Moet & Chandon Imperial Brut NV*

Champagne

4.1/5

*Sometimes substituted with Veuve Clicquot



While it's commendable that the lounge serves Moet champagne (I personally don't think Moet is anything great, but I know its branding comes at a premium) the rest are nothing to get excited about. These might be charitably described as table wines, with retail prices hovering around the S$20-25 mark.
These wines would be acceptable in a Business Class lounge, but do no credit to the US$1 billion that Emirates has invested in its wine programme over the past 16 years. If you're travelling in Emirates First, it seems almost criminal to waste your alcohol allowance here given the incredible selection offered onboard.
Non-alcoholic drink options include Dilmah tea and a coffee machine.
Power & Productivity
Wi-Fi speeds at the Emirates Lounge clocked in at an anaemic 9.4 Mbps down and 6.7 Mbps up. It's passable, but no match for the triple-digit speeds at the Qantas First or Business Lounges.
Most seats in the living room area have universal power outlets and USB Type-A ports readily available, though these are notably absent in the dining area- either an oversight, or a deliberate design decision to keep work out of the dining room. 
Three desktop computers can be found in a corner of the lounge, together with printing facilities. Given how most travellers carry their own laptops, I'd rather they have removed the desktop computers and provided workstations or productivity pods instead. 
Restrooms & Showers
The Emirates Lounge has its own gender-segregated restrooms. They were kept clean throughout my visit, and all toilets are equipped with manual bidet hoses.
Showers are available, but they're not particularly private or luxurious. Four shower rooms are located inside each of the restrooms, without attached toilets of their own. They're extremely basic, with a hand shower, bench, and little else.
Wall-mounted shower amenities are by VOYA.
Then again, I think luxurious bathrooms are (surprisingly) something Emirates doesn't really do. Even in its flagship lounge in Dubai, the shower rooms are extremely simple. It's a far cry from the Cathay Pacific First Class cabanas, that's for sure!
Conclusion
Here's the thing about the Emirates Lounge Singapore: I'm struggling to think who it's best suited for.
If you're an Emirates Business Class or Skywards Gold passenger, the Qantas Business Lounge offers a tended bar, private shower rooms, and much faster Wi-Fi (although to be fair, there's no champagne, and it gets significantly more crowded in the evenings)
If you're an Emirates First Class or Skywards Platinum passenger, a much superior experience awaits at the Qantas First Lounge, with private shower suites, a wide range of wines, and excellent a la carte dining. You'd be mad not to go.
Therefore, it's hard to see who would use this lounge, except perhaps people who didn't know they had alternatives.
Again, I need to emphasise that this isn't a bad lounge by any means: it's comfortable, clean, and quieter than the Qantas lounges in the evening. I should also stress that the staff were excellent. They may not have the best of hardware to work with, but were extremely personable and didn't put a foot wrong the whole time. 
It's just that much superior options exist for working, showering and dining, and at the end of the day, it's good to have choices, isn't it?
What do you think of the Emirates Lounge Singapore?