After arriving in London, I spent the first night at the Premier Inn Heathrow T4, which did all you could ask for S$77 a night. The following morning I packed up and headed straight to London proper, where I'd be spending three nights at the Conrad London St. James.
Some brief background about this hotel: it started life as the InterContinental London Westminster in 2012 before being reflagged as a Conrad in September 2014. This ended a seven-year absence for the brand in London, after the previous Conrad Chelsea Harbour was reflagged as a Wyndham in 2007 (today it's part of the Millennium Hotels & Resorts group).
The Conrad London St. James underwent some renovations to the lobby and rooms during COVID, and I can safely say it looks much nicer compared to the "before" photos. And while it's probably not the best hotel that London has to offer, the prime location and friendly service made this a very pleasant stay.
🏨 tl;dr: Conrad London St. James

A prime location and recently-renovated rooms make the Conrad London St. James a solid choice, even if the lounge F&B isn't much to shout about.

👍 The Good

👎 The Bad

Excellent location for exploring London, just across the road from a Tube station

Rooms have been recently renovated

Friendly service from the staff

Breakfast spread was good, not great; some cooked items entail an upcharge

Executive lounge's afternoon tea and evening canapes spread is very basic
👑 Monarchy in the UK
Conrad London St. James

Qatar Airways Premium Lounge LHR

Qatar Airways B777-300ER Qsuites Business Class LHR-DOH

Qatar Airways Premium Arrival Lounge DOH

Qatar Airways Al Mourjan Garden Lounge DOH

Qatar Airways A350-1000 Qsuites Business Class DOH-SIN
Conrad London St. James: Arrival & Check-in
The Conrad London St. James is located in Westminster, just a short walk from Westminster Abbey, Big Ben, and Buckingham Palace. The closest Tube station is St. James Park, on the District and Circle lines. In fact, the exit is just opposite the hotel, making this an excellent location for exploring London.
I arrived at the hotel around 8.30 a.m, fully expecting to deposit my bag and explore the surrounding neighbourhood until my room was ready in the afternoon.
So imagine my surprise when the cheerful front desk manager told me that not only was my room upgraded to a Junior Suite due to my Hilton Diamond status (I could see this on the app already), it was already waiting for me. She even invited me to visit the executive lounge for breakfast, even though I technically wasn't entitled to this on the day of arrival.
Now, you can argue that I just got lucky, but lucky or not, that really made for a fantastic first impression.
Conrad London St. James: Junior Suite
Conrad London has a total of 256 rooms and suites, split into the following categories: 
Room Type

Room Size

No. of Rooms

Superior Room

26 sqm

241

Deluxe Room

28 sqm

Family Room

36 sqm

Executive Room

36 sqm

Junior Suite

40 sqm

15

Duplex Suite

45 sqm

1-BR Suite

54 sqm

1-BR Deluxe Suite

58 sqm

2-BR Suite

82 sqm

Conrad Suite

123 sqm
As there are only 15 suites available, Hilton Diamond members might want to temper their expectations of a suite upgrade. That said, this property seems to process its upgrades unusually early. Normally you can only see upgrades via the Hilton website/app one day before arrival or on the day itself; in my case I could see it about 2-3 days prior. 
Junior Suites measure in at 40 sqm, and while the living and sleeping areas aren't separated by a wall (as the name implies), there's still a good amount of space to stretch out.
The room is laid out in an L-shape, with the wardrobe to the left of the entrance way. It then opens out into the living and bedroom area, partially segmented by a desk and TV. 
One interesting feature of the room was that the TV was mounted on a swivel, which allowed you to watch from either the living room or the bed.
The king-sized mattress was firm but comfortable, and all rooms offer 400 thread count sheets. However, I did notice that in my original room 141, the noise from the Tube running below the streets was very audible. I later requested a switch, and they put me in 641 instead- the same stack on the 6th floor.  It was a lot better, but you could still hear the Tube if you listened real hard. If you're sensitive to sound, you might want to ask to be placed on the other side of the building.
Power outlets (Singapore/UK style Type G plugs) were located at each bedside, plus master switches. There were no USB charging ports nor wireless charging pads.
A pair of chairs (one with an ottoman) were placed in the living area, although given the lack of back support they were better used for wearing shoes and not much else.
The mini-bar had complimentary Nespresso coffee and still and sparkling mineral water, all in glass bottles. I have my doubts as to whether that's actually more environmentally friendly (since the heavier glass bottles require more energy to transport), but one thing's for sure- they're not portable. You should bring your own lightweight reusable bottle for getting around.
Inside the wardrobe was a safe, an ironing set, an umbrella and bathrobe.
While the bedroom and living areas were renovated during COVID, the bathrooms are more or less similar to when the hotel first opened. It's still presentable enough with brown marble finishings, though its vintage is hard to hide. It reminds me of what you'd find in an old-style condominium.
The single vanity area offers plenty of countertop storage space, plus Byredo Mojave Ghost amenities, slippers, and a dental kit.
A separate shower area and tub were available, which I really appreciate because a bathtub/shower combination does both jobs poorly. Water pressure from the rain shower head was excellent, and additional wall-mounted Byredo bulk-sized shampoo, conditioner and body wash were provided. 
The toilet lacked a bidet seat or hose, the surest sign of Anarchy in the UK.
Turndown service was automatically provided each evening, during which the room was cleaned, trash was emptied, new towels provided, and a small box of chocolates placed on the table.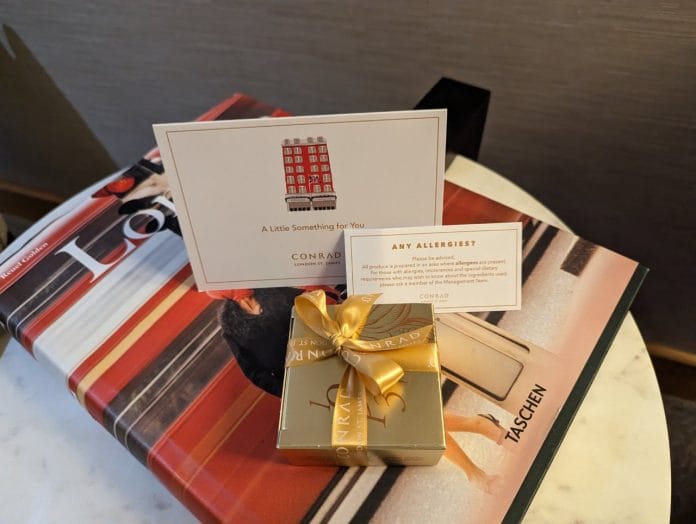 Conrad London St. James: Breakfast
Breakfast is served at The Pem from 6.30 a.m to 10.30 a.m daily (11 a.m on weekends), and is complimentary for Hilton Gold and Diamond members- the latter can choose to take breakfast in the lounge or restaurant (or both, really). 
Otherwise, it costs £30, which truth be told is on the steep side considering the spread. It's not bad by any means, just not quite hitting the highs of other Conrads I've been to like Bangkok or Osaka.
Breakfast was served buffet-style, with a limited a la carte menu. 
Cold options included yoghurt, smoothies, cut fruits and granola, plus cheese, cold cuts and salad.
On an adjacent table was a good selection of pastries (no toaster, but the staff will heat it up for you on request), cereals and spreads.
Carrot, tomato, pink grapefruit, cranberry, pineapple, apple and orange juice were available.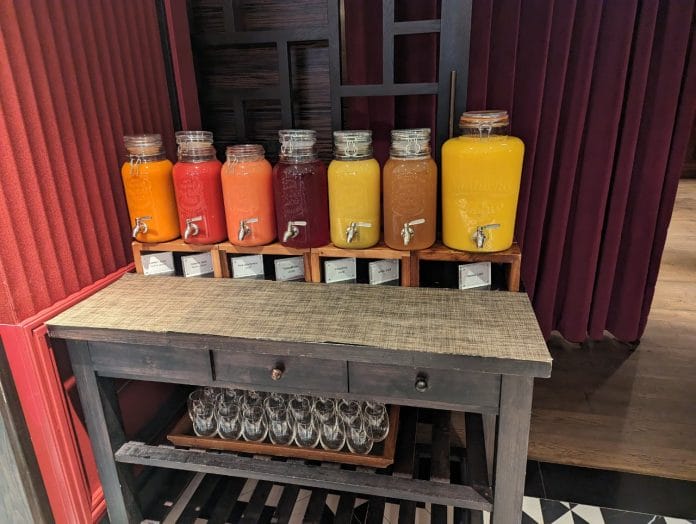 Hot items included hash browns, mushrooms, steamed tomatoes, bacon, sausages, and scrambled eggs with wayyyyy too much butter and cream. 
Fortunately, you could request for eggs your way from an a la carte menu. Additional items like a three-egg omelette, steel cut Scottish oatmeal and buttermilk pancakes were also complimentary, though avocado on toast, Scottish smoked salmon and scrambled eggs and eggs benedict would cost you more.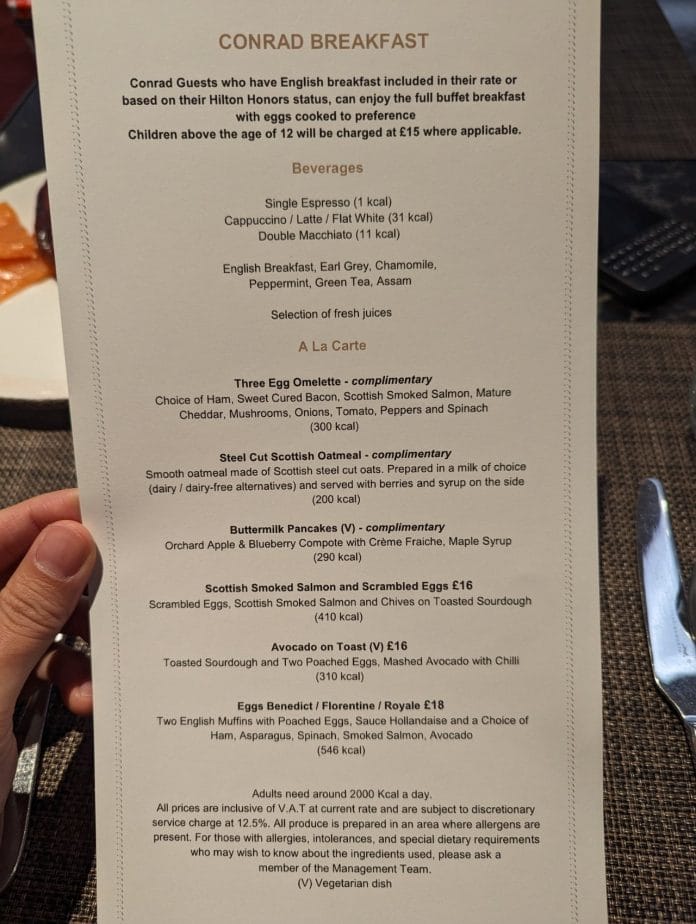 The egg dishes and pancakes were good, though I didn't like the idea of paying a further upcharge especially when the ingredients involved weren't what I'd call premium.
All in all, I'd say this was a passable breakfast spread, though if breakfast isn't included in your rate I'm quite certain you could find much better nosh for the price.
Conrad London St. James: Executive Lounge
The Conrad London's executive lounge is open from 6.30 a.m to 11 p.m daily, and access is open to executive floor and Hilton Diamond members. Like the rest of the hotel, the lounge was also renovated during COVID, and the resulting interior is easy on the eye. There's even an overhead skylight to let in the sun, or as much sun as you can imagine in London.
The lounge has a meeting room that accommodates up to eight guests. One hour of free use is provided for Diamond guests, otherwise the cost is £75 for the first hour and £50 per hour after.
The rear of the lounge has additional seating, plus a computer with printing facilities.
The lounge has a couple of restrooms with attached showers. This would be useful for checked-out guests who want to bathe before heading to the airport.
The lounge serves three meal presentations per day:
Breakfast
Breakfast is served in the lounge from 7 a.m to 10.30 a.m on weekdays, and 7 a.m to 11 a.m on weekends. 
In terms of spread, I'd say this is about 70% of what is served in the main restaurant. The main restaurant has a few additional hot dishes plus made-to-order items, though the trade-off is less privacy. 
Afternoon Treats (2 p.m to 4 p.m)
The lounge offers an afternoon tea from 2 p.m to 4 p.m daily. It's no substitute for Harrods or Fortnum & Mason, but if all you want is to try some scones, well, scones are what you get. 
Two types of sandwiches and a cake were also catered. Neither was mindblowing.
Evening Canapes & Drinks
The evening cocktail session runs from 5.15 p.m to 7.15 p.m daily, and let's just say it's not a dinner replacement.
Standard offerings each night were cold cuts, cheese and titbits like mixed nuts and potato chips.
In addition to this, there was a choice of two cold and two hot canapes daily. I apologise for the quality of the photos below, but every time the canapes were replenished they disappeared almost as fast. 
Frankly speaking, none of these were great, certainly not worth disrupting your plans and returning to the hotel for.
In terms of drinks, there was a good mix of spirits, various wines (including Bolla prosecco), and beer.
On the whole I felt the lounge F&B was rather underpowered, but that's probably because Hilton's been so liberal with giving away Diamond status (through status challenges and credit cards). It's not hard to see why Hilton properties are reluctant to invest in their lounges, since the place runs close to full most nights.
Conrad London St. James: Gym
The Conrad London's gym is located in the basement, accessed via room keycard. It's open 24 hours a day, and there's no attendant on duty. 
It's a fairly basic gym, and the intimate confines means that some, shall we say, odour retention is inevitable. Still, it gets the job done, with treadmills, elliptical machines, free weights, and a few strength training stations.
Conrad London St. James: Service
I generally temper my expectations for service when I'm outside of Asia, but the team at the Conrad London really delivered. 
Apart from the warm welcome on arrival, there were small signs that the staff made an effort to recognise guests. For example, every Conrad has a stuffed animal mascot (at the Conrad London it's a bulldog, a tip of the hat to Winston Churchill). I requested one through the chat feature on the app, and the next time I headed through the lobby, one of the staff members recognised me and handed it to me personally. 
When I initially requested a room change because of the Tube noise, I was told that I'd have to give up the suite upgrade and shift to a regular room (which was fine with me because I'd much rather have proper sleep). And yet when I returned later that afternoon I found that they managed to find me an alternative suite, and had already moved my packed bags over. 
Conclusion
I had an enjoyable stay at the Conrad London St. James, thanks to a nice suite upgrade and the friendly service. The executive lounge was a good place for getting work done, although the F&B spread left something to be desired. Breakfast was so-so; while I can't complain about free (thank god the breakfast credit idea has been quarantined to the USA thus far), this isn't something I'd pay for otherwise. 
Still, the location is top notch, with many tourist attractions within walking distance. One to consider for your next London stay, assuming the sticker price isn't a turn-off.