In April 2023, Qatar Airways opened its new flagship lounge at Doha Hamad Airport, known officially as the Al Mourjan Business Lounge- The Garden (which I'll call the Al Mourjan Garden for simplicity's sake).
As the name suggests, this lounge is set amidst The Orchard, a massive indoor tropical garden with a curved glass roof and greenery galore. Singaporeans might find it looks familiar!
The Al Mourjan Garden complements the existing Al Mourjan Business Lounge- South (aka Al Mourjan South), which remains open at the southern end of Hamad Airport. 
Combined, the two lounges offer more than 17,000 square metres of space, and host more than 1,600 guests. Even for a heavily-banked hub like Doha, that's plenty- especially considering the fact that Qatar Airways has built separate lounges for frequent flyer elites travelling in Economy.
I had an extended visit to the Al Mourjan Garden Lounge last month, during a 20-hour layover in Doha. My verdict? While it's hard not to like something so new and shiny, there are a few annoying flaws in this lounge that keep it from being all it can be.
🍸 tl;dr: Qatar Airways Al Mourjan Garden Lounge

Qatar's new flagship lounge is stunning and offers facilities galore, but lurking beneath the glossy exterior are some poorly-designed features.

👍 The Good

👎 The Bad

Plenty of natural light with stunning views of the Orchard

A la carte dining for all guests

Every facility you could need (and then some), including a gym, nursery, games room, spa, and nap rooms

Poorly-designed shower rooms with automatic taps and no attached toilets

Sleeping rooms have very uncomfortable furniture

Louis Vuitton Lounge and Dior Spa are thinly-veiled upsells
👑 Monarchy in the UK
Qatar Airways A350-1000 Qsuites Business Class DOH-SIN
Getting there
As mentioned, Qatar Airways now has two Al Mourjan lounges in Doha Airport:
Al Mourjan South 
Al Mourjan Garden
The Al Mourjan South is located near Concourse A, where the famous "Lamp Bear" is located. If you're looking for the Al Mourjan Garden, you'll need to head in the direction of the C, D and E gates, behind the bear.
The journey between the two is not as arduous as you might think. Thanks to the internal monorail connecting Concourse A and C, the transit time can be as little as 10-15 minutes. If you have a long enough layover, I'd highly recommend visiting both lounges, because each has its own advantages. For example, Al Mourjan Garden has proper sleeping rooms, but the shower rooms at the Al Mourjan South are way superior (more on that later).
In any case, should you be transiting through Doha, it's highly likely you'll end up nearer to the Al Mourjan Garden Lounge, because most transit passengers are funnelled to Concourse C  and The Orchard immediately after re-clearing security.
Signage in the airport has been updated with directions for the Al Mourjan Lounge Garden (yes, they mixed up the order of the words). You'll know you've reached when you see the cordoned-off lift lobby behind the LV store. 
Opening Hours & Access
The Al Mourjan Garden Lounge is open 24 hours a day.
Access is available to passengers departing on a Qatar Airways or oneworld-operated flight:
In First Class (+1 guest)
In Business Class (except Business Class Lite fares)
In Premium Economy or Economy, provided you're arriving on a ≥5 hours First/Business Class oneworld flight, with a connection on the same day or before 6 a.m the following day
This lounge cannot be accessed by passengers who have upgraded from Economy to Business Class using Avios (though full redemptions via Avios or any other frequent flyer programme will get entry), or oneworld Sapphire or Emerald members flying in Premium Economy or Economy Class.
❓ Paid Access?
Qatar Airways passengers have historically been able to buy access to the Al Mourjan South Lounge for US$120 for 6 hours. However, it seems like this policy does not extend to the Al Mourjan Garden for the moment.
Instead, such passengers will be sent to the Qatar Airways Platinum and Gold Lounge North. I previously reviewed this lounge in March 2023, when it was serving as the temporary Al Mourjan North Lounge (Qatar's naming conventions can be very confusing). 
Lounge Overview
After having your boarding pass checked on the ground floor, you'll be ushered into an elevator that brings you up to the lounge proper.
This opens out into an extremely spacious reception area, with high ceilings and minimalist sandstone walls. It's subtly luxurious, and a world away from the garishness of Emirates. 
Back in February 2023, UK blog Head for Points received a hard hat tour of the then under-construction Al Mourjan Garden, and got the community buzzing by teasing two "world first" elements.
There are two elements in this lounge which will be a world first. One of them genuinely stunned me. Two of the biggest brands in the world will be opening 'brand extensions' here.
These turned out to be a Louis Vuitton Lounge and a Dior Spa, and before you ask, neither is free. Quite frankly, the average miles and points travellers will see these as a damp squib, but you can't deny that bringing in big guns like this is very on brand for Qatar, quite literally.
The Louis Vuitton Lounge by Yannick Alleno forms the unofficial centrepiece of the lounge, located right at the reception area.
This was still closed at the time of my visit, but is now open- at least to certain individuals. Here's the key details:
Open 24 hours a day
Access is available to Louis Vuitton VIPs, Qatar Privilege Club Platinum and Gold members only
The restaurant is helmed by Chef Yannick Alléno, who who oversees numerous Michelin-star restaurants around the globe, including Alléno Paris at the Pavillon Ledoyen and Le 1947 at Cheval Blanc Courchevel, both awarded three Michelin stars
An a la carte menu is served, together with a degustation menu priced at QR1,500 (~S$553)
Cocktails at the bar feature LVMH brands like Veuve Clicquot and Dom Perignon- noteworthy because Emirates otherwise reserves all rights to serve Dom in the sky or on the ground
Executive Traveller has written a brief review, which can be found here. For photos of the food, refer to OMAAT's post.
The Louis Vuitton Lounge splits the Al Mourjan Garden Lounge into two wings: West (turn left) and East (turn right).
The West Wing is where the sleep rooms, showers, toilets and a refreshment area are located.
En route, you'll pass the future site of the gym and Dior Spa. The spa won't be free, but the gym will, per my understanding. Expect equipment like treadmills and elliptical exercise bikes when it opens in the near future.
Beyond the spa and gym is a decorative wooden bench in the shape of an infinity symbol, meant to symbolise the number of attempts required to actually fly Qsuites.
Further in is a large seating area, filled with paired and single armchairs and side tables. 
After that is a refreshments area with alcoholic and non-alcoholic drinks, coffee machines, juices and light snacks. I'll talk about this more in the section on Food & Beverage.
Additional seating can be found here, some of which flanks an oblong reflecting pool. Again, it's hard to overstate how visually stunning this lounge is. The airy design, the natural light coming in from The Orchard's glass ceiling, and the birdsong (albeit pre-recorded) give it a sense of otherworld calm, a world away from the more solemn Al Mourjan South. 
You may have noticed that the vast majority of seating is exposed. While this makes the lounge feel spacious, it might not be best suited for those who want privacy. However, towards the rear of the lounge are 11 semi-private pods, each with an armchair and side table.
For those travelling with a companion, two pods in a couple configuration can be found by the side wall.
If these are all occupied, at the very rear of the lounge is a partitioned-off area that lends a modicum of privacy, out of eyeshot of other passengers.
Near the back of the lounge was a mysterious boarded up wall. I'm pretty certain this isn't the entrance to the Dior Spa, since we saw that earlier on with the gym. In all likelihood, this will either be a space used for a Dior boutique, or linked to the main Dior store perhaps?
Backtracking to the Louis Vuitton Lounge again, and had we turned right, we'd be on the way to the East Wing and its dining areas. En route, I noticed another sign for a gym and spa, so it seems to me like these will be gender-segregated facilities (i.e. there probably won't be opportunities for couple workouts or treatments).
You'll also pass by the games room, and while it isn't as elaborate as the one in the Al Mourjan South (no F1 simulator), it'll do a good job of keeping teens, children and adult children occupied. Inside is a foosball table, pool table, and gaming consoles.
Before you reach the main dining area, there'll be another seating enclave, which mirrors the one on the West side of the lounge.
Some semi-private seating can be found on the other side of a partition, overlooking The Orchard. It does make for a lovely spot to relax with a glass of wine during the evening, as the transparent roof panels let you witness day turning into night. 
As an added bonus, the decorative lattices adorning the lounge pillars create a beautiful effect when the sun hits at just the right angle. 
At the far end of the East Wing is the dining area, which is split into a coffee and patisserie bar, as well as a more formal dining area. At the Al Mourjan South, these were located on opposite ends of the lounge, but at the Al Mourjan Garden they're next to each other (though there is another coffee and patisserie bar on the West side).
Table, booth and bar counter seating is available. Even during peak hour, I never saw the dining area get more than 50% full, which suggests I was either just lucky, or passengers are still gravitating to the Al Mourjan South Lounge out of habit.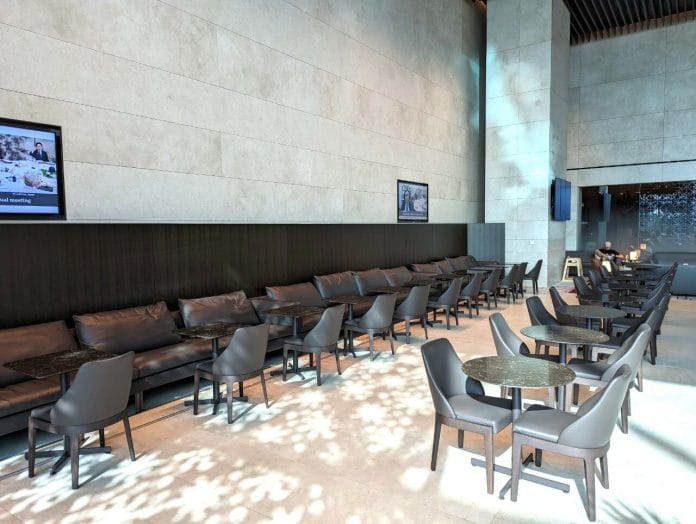 Food & Beverage
Qatar Airways offers the following dining options at the Al Mourjan Lounge:
Extensive variety of international and local cuisine, including soups, appetisers and entrees
Fresh bakery selection
Cake and desserts selection
Sushi station
Made to order salads, breakfast bowls and poke bowls
Coffee and Patisserie Bar:
Fresh fruits, juices and smoothies
Selection of pastries
Made to order sandwiches
Barista prepared hot and cold beverages
Gelato and ice cream station
Savoury bites and appetisers
Wine, spirits, beer, cocktails and mocktails
The buffet area features a salad bar and sushi bar, together with assorted Middle Eastern appetisers like hummus and tabbouleh.
Hot options included penne arrabiata, roast vegetables, rosemary chicken, lemon cream dory and stewed beef. 
A selection of cakes and individually plated-desserts was also available.
Rounding out the buffet was a small section of self-serve beverages, including soft drinks, San Pellegrino sparkling water, Stella Artois and Budweiser beer, plus assorted wines (see below for the full list).
If you have more time before your flight, you might prefer one of the sit-down options. The coffee and patisserie bar has made-to-order sandwiches, cheese platters, fruits and pastries (there's supposedly a gelato station, but either I missed it or it's still a work in progress).
Over in the main dining area, you can enjoy a selection of cooked-to-order mains. It's a surprisingly brief menu, however, with no appetisers or desserts (I guess you're supposed to get these from the buffet).
I began my meal with an assortment of sushi rolls. Sushi is a fixture at Qatar Airways lounges worldwide, but I can't quite figure out why. It's not terrible or anything, but neither is it particularly well made. If you like convenience store sushi then this is par the course, but otherwise it's rather forgettable. 
Grilled salmon with fennel, leeks and wild rice is one of my favourite dishes at the Al Morjan Lounge (because it lets me feel mildly healthy on trips otherwise filled with alcohol and multiple desserts), and the salmon was cooked nicely. 
I'm less of a fan of the steak, because Qatar Airways insists on using tenderloin cuts throughout its lounge network. These are pricier for sure, but tenderloin doesn't have a lot of flavour since it's a lean cut. I would much prefer they use ribeye, or even sirloin.
Can't complain about the cook though, because that's a perfect medium rare.
The tagliatelle pasta with tomato sauce was alright (they use fresh pasta instead of dry- not that one is better or worse, just that the texture is different), though even better when supplemented with some chicken from the buffet.
I also tried the chicken biryani, which is one of Qatar Airway's specialties. The little sprinkle of fried onions on top is what makes the dish.
The only dessert on the menu was ice cream, which to its credit was good quality (see the small black specs; that's evidence of real vanilla). There are additional options on the buffet of course, but what I'd give to have a nice warm chocolate fondant!
I wouldn't call this the best Business Class lounge dining- that title would still go to the United Polaris Lounge in San Francisco, but it's nice to see them offering this feature even in a mega transit hub.
The West Wing has another coffee and patisserie bar, as well as refreshment station serving Arabic sweets and light pastries.
A good-sized range of white, red and sparkling wines were available for self-pour, including a highly-rated Chateau Batailley Pauillac 2015. Qatar Airways serves Laurent Perrier Brut and Philipponnat Brut Rose champagne in its lounges; I'm not a fan of the former, but the latter is worth a glass (or three).
🍷 Al Mourjan Garden Lounge Wine List

Wine

Type

Vivino

🇫🇷 Laurent-Perrier Brut

Champagne

4.1/5

🇫🇷 Philipponnat Royale Reserve Rose

Champagne

4.1/5

🇦🇺 Vasse Felix Filius Chardonnay 2020

White

3.9/5

🇪🇸 Oro De Castilla Sauvignon Blanc 2021

White

3.7/5

🇩🇪 Julian Haart Goldtrofchen Kabinett Riesling 2021

White

4.2/5

🇫🇷 Chateau Batailley Pauillac 2015

Red

4.2/5

🇮🇹 Caranti Cascina Garitina 2016

Red

3.8/5

🇦🇺 Two Hands Bella's Garden Shiraz 2020

Red

4.2/5

🇪🇸 Jorge Ordonez Malaga Victoria 2016

Dessert

4.4/5
If you don't drink alcohol, you should really try Qatar's non-alcoholic bubbly So Jennie. This is a cut above your usual zero-alcohol wines (most of which are rubbish), and is served in Michelin-starred restaurants as an alternative for those who want bubbles but not booze.
The full list of drinks can be found below.
Power & Productivity
The Al Mourjan Garden Lounge's Wi-Fi network clocked in at 90 Mbps down and 212 Mbps up, excellent speeds considering how much traffic it gets.
If you need to juice up your devices, you'll never have to fight over an outlet, given the abundance of universal sockets and Type-A USB ports scattered throughout the lounge. I was a bit surprised to see they hadn't future-proofed by adding Type-C connectivity, however. With more devices switching to this standard, fewer people will be carrying traditional Type-A USB cables in the years to come.
Wireless charging pads can be found on most of the side tables. These provide a slow trickle charge, so if you only have a short transit, wired charging is still the way to go.
Showers & Toilets
Bathrooms were kept spotless throughout my visit, with an attendant consistently around to tidy up and offer towels after hand washing.
A total of 24 shower rooms are available in each of the male and female sections. That's more than adequate even for a major transit hub like Doha, and there was no wait for a shower during the evening rush.
Shower rooms are relatively cramped. They have a luggage rack, but, for whatever reason, lack a clothes rail and hangers. It means you'll have to scrunch up your shirt and pants in a pile while you bathe, and it really feels like something the designers should have thought about. 
But that's not even the biggest omission, because shower rooms don't have attached toilets! If you want to do your business, you'll have to head to the main bathroom. I'm sure that excluding toilets allowed them to build more showers, yet this is a glaring oversight for what's supposed to be a flagship lounge.
The bathing area had both an overhead and hand shower, though I did think it was strange that single-use toiletries were provided instead of the usual wall-mounted Diptyque bottles. 
And no, I'm not done criticising the shower rooms just yet, because the vanity area contains another puzzlement: instead of levers, the taps are sensor-operated. This means that not only can you not adjust the temperature, you only get a short trickle of water per "activation". This makes it extremely impractical for washing your face or shaving; who on earth thought this was a good idea?
It's for these reasons that I recommend you visit the Al Mourjan South Lounge instead if you wish to shower. The shower rooms here all have attached toilets and, gasp, regular taps!
Sleep rooms
The Al Mourjan Garden Lounge has 24 quiet rooms, available for six hours of usage per passenger. For those with a long layover in Doha, these could provide a more economical alternative to a hotel room.
Rooms are available on a first-come-first-serve basis, with a 18 rooms for singles and six rooms for couples. Each room has a writing desk, wardrobe area, and mini-fridge stocked with still and sparkling water.
Unfortunately, these rooms are ergonomic nightmares. There's clearly enough space to put a single bed (and with six hours usage per person, more than enough time for a good long rest), yet Qatar has decided to install non-adjustable loungers. These contort your body in a very uncomfortable position, and after a fruitless hour of trying to fall asleep, I eventually spread out the blanket and slept on the floor. 
Moreover, instead of a proper chair with a back, the room has a stool at the writing desk instead, making it unsuitable for prolonged sitting.
Rooms also lack individual temperature controls, and the ones at the rear had close to no ventilation at all. 
While I was really excited to read about the sleeping rooms, these turned out to be a swing and a miss for Qatar. Hopefully they'll remove the recliners and provide real beds, because these just don't cut it. 
Conclusion
The Al Mourjan Garden Lounge is a looker, no two ways about it. Qatar Airways has clearly spared no expense when it comes to aesthetics, and with the picturesque Orchard forming the backdrop, this lounge will clog Instagram feeds for years to come.
What's frustrating is that they've cut corners in places that aren't immediately apparent in glossy publicity photos, but will definitely be noticed by people actually using the lounge. Shower rooms with automatic basins and without attached toilets are decidedly impractical, and while I love the idea of nap rooms, what's the point when the furniture is bizarrely uncomfortable?
As for the Louis Vuitton Lounge and Dior Spa, I'm rather indifferent. For me, it's not nearly worth all the hype and secrecy it received pre-launch, because at the end of the day I'm not the sort who goes to an airline lounge looking to spend more money. But there'll be people who are into that sort of thing, and I'm not going to begrudge them the enjoyment. 
On the positive side, a gym is a definite killer app, the sort of facility that jetlagged and achy transit passengers would appreciate. It's also commendable that Qatar offers a la carte dining to all of its passengers, and their variety of light bites and drinks is right up there with the best of them.
If I had an extended layover, my recommendation would be to visit the Al Mourjan South Lounge first to use its superior shower rooms, then head on over to the Al Mourjan Garden Lounge to enjoy its views and facilities.
What do you make of the new Qatar Airways Al Mourjan Garden Lounge?