The future of ANZ's retail banking operations in Singapore is still up in the air after their recent sale to DBS. Currently, it is still unclear what DBS will do. Will they leave everything intact and operate ANZ as a separate unit? Will they absorb ANZ entirely? And what does that mean for ANZ's line of credit cards?
I'll let the fortune tellers sort that one out, but in the meantime, ANZ has taken the step of "re-enhancing" its Travel Visa Signature card by adding back limo services.
ANZ's limo service has undergone a series of enhancements in recent memory. When the card was first launched, you needed to spend $1,500 within 30 days of travel to book a limo. Then sometime in 2015 the amount was increased to $2,500. And then in June 2016 that benefit was enhanced away altogether, in order to serve you better. Instead, you could now redeem a limo at the following attractive rates!
One way-3,400 Travel$
Return- 6,400 Travel$
(in other words, your spending used to earn you both miles and limo before, but now ANZ was asking you to pick between one or the other- you could keep the miles, or you could use them to redeem a limo pickup but not both)
Well it seems that in the spirit of Christmas (and probably a lot of angry calls) ANZ has had a change of heart because I got this message from them yesterday
For whatever reason, ANZ has decided to make this a limited time offer only. I suspect they want to see how many people are willing to hit the minimum spend before deciding whether to make this a permanent thing.
Here's how you qualify for airport limo service-
The main difference is you need to spend $7,000 per quarter to get limo service now, or $2,333 per month. This is as opposed to $2,500 in a 30 day period before travel under the old system.
The threshold is definitely a lot higher now, even if the equivalent per month spend ($2,333) is lower than the old figure ($2,500). You're basically committing to spend $7,000 with ANZ. If this is all non-category, non-bonused spend, then the ANZ Travel Visa Signature is probably as good as they come, as its 1.4 miles per $1 earning rate is on par with the UOB PRVI Miles card. But given the wide variety of bonus categories that can earn 4 mpd, it's highly probable that you'd need to sacrifice some of that bonus in order to hit a $7,000 figure within a quarter with ANZ.
The limo isn't the only thing they give you when you hit the threshold though, you also get 2 lounge passes. You'll also remember that ANZ enhanced away its unlimited lounge access (which was one of the strongest reasons for getting this card) which didn't require any spend at all and replaced it with Dragonpass instead. In order to get lounge access, you need to spend $10,000 per quarter to get 2 lounge passes, which is just ridiculous considering the fact that other cards give you a priority pass for free.
So is this move enough to save the ANZ Travel Visa Signature card? Hardly.  I personally can't recommend this card (unless you think you'll be spending a lot in Australia/NZ), but if for whatever reason you still feel inclined to apply you might be keen to know they have a sign up bonus that gives up to 25,000 miles when you spend $3,000 in the first month and pay the first year annual fee.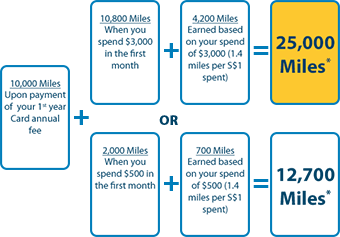 Remember that you have options when it comes to picking a credit card with limo service. Why not have a read of this article for more information?