The Milelion's RTW Trip 2016: Trip Planning
Introduction: Around the world in 28 days
EVA Air B77W Business Class Singapore to Taipei
EVA Air B77W Business Class Taipei to Los Angeles
Silvercar LAX
Avenue of the Arts Costa Mesa
Sheraton Gateway Los Angeles
United A319 First Class Los Angeles to Mexico City
Le Meridien Mexico City
United A319 First Class Mexico City to Houston
United B767 Business Class Houston to Sao Paulo
Sheraton Sao Paulo WTC
South African Airways A330  Business Class Sao Paulo to Johannesburg
Hilton Sandton
Ten Bompas Johannesburg
Turkish Airlines A330 Business Class Johannesburg to Istanbul
Turkish Airlines A319 Business Class Istanbul to Zagreb
Westin Zagreb
Croatia Airlines A319 Business Class Zagreb to Frankfurt
Lufthansa First Class Terminal Frankfurt
Lufthansa A330 First Class Frankfurt to Riyadh
Four Points Riyadh
Air India B77W Business Class Riyadh to Mumbai
St Regis Mumbai
ANA B787 Business Class Mumbai to Tokyo
Asiana A330 Business Class Tokyo to Seoul
Westin Chosun Seoul
W Walkerhill Seoul
Asiana B744 Business Class Seoul to Tokyo
ANA B787 Business Class Tokyo to Singapore
---
I worked for about two years in Mumbai before moving back to Singapore. During my time there, every single one of my Indian colleagues always told me they would never fly with Air India. They'd take Jet Airways, Kingfisher (when it was still around), Spicejet, Indigo. They'd wait till the next day if any of those options wasn't available at the moment. Hell, they'd even drive to their destination. Just never ever put them on an Air India plane.  In fact, our office travel policy explicitly said that Air India should never be flown unless it was absolutely unavoidable.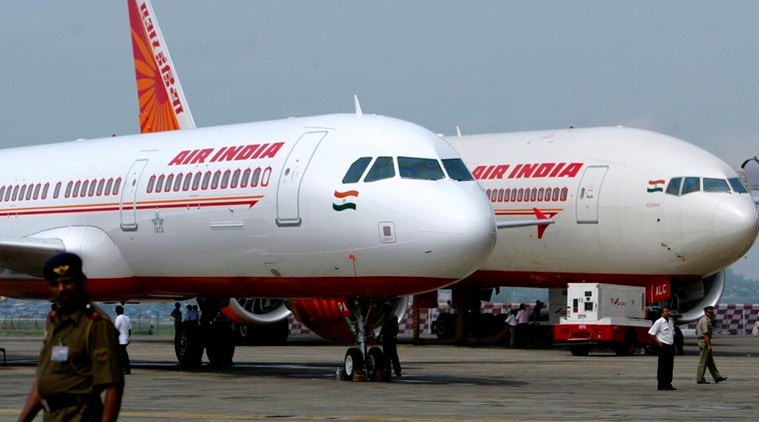 I thought this was pure hyperbole. I mean, the last fatal accident to befall Air India was in 1985, and that was caused by a terrorist bomb, not something you can really legislate for. You'd have to go back to 1982 to find the last time Air India had a fatal accident caused by pilot error.
That said, just because no one's died doesn't mean everything's hunky dory. The airline has become something of the class clown in recent times, giving us such delightful headlines as
The comments on these articles are rather good.
Anecdotal stories not doing it for you? How about some stats then- according to Flight Stats for the month of January this year, less than 50% of Air India flights were on-time, with the average delay just under 80 minutes. The only airline that performed worse in their stats was Pakistan International Airlines (score one for the home team, I guess)
No wonder the Maharajah, Air India's mascot, always looks like he's apologizing for something.
But you know how you have that feeling that "these things only happen to other people"? That's exactly the feeling I had when I decided to lock in the RUH-BOM leg on Air India. Yes, I didn't really have a choice because that's the only direct flight operated by a Star Alliance carrier between the two cities (your next best option involves flying RUH-DEL-BOM, also on Air India), but if I could do it all over again I'd simply declare RUH-BOM to be a ground leg and buy a separate Saudia ticket. I'm not kidding, their new cabin products look super sweet.
So that's how I ended up booked on AI922 from Riyadh to Mumbai. Our flight was due to depart at 0645 so we left the hotel at the very earthly hour of 0430.  It took just under an hour to arrive at King Khalid International Airport.
Honestly, I was excited for my first Air India flight. I knew it wouldn't be the best of hard products but it was a short flight and a chance to add an "exotic"  (or at least less travelled, from a Singaporean point of view) airline to my trip report collection.  Could it possibly be anywhere as awesome as the advertisements? (I love that awkward pause at 00:10 after the white guy asks "Are you Indian?")
King Khalid International Airport is clearly under equipped to handle the volume of traffic it currently moves and lines were spilling out of the terminal. But with much pushing and polite shoving, my colleague and I managed to get to the Air India counter.  Where we saw this.
I turned to my colleague. "Don't worry," I said. "I'm sure that's just a grammatical error. They mean "11th Hour Delay". Like, a last minute delay. There is no way a reputable national carrier would have an 11 hour delay without giving the passengers some sort of notice or call beforehand."
I confidently strolled up to the counter. "So, what's going on?"
The taciturn check-in associate pointed to the sign at the counter.
It was then I glanced up at the screens. Flight AI922 from RUH to BOM was now scheduled to depart at 1800 instead of 0645.
A quick Google search revealed the same
"Why weren't we told beforehand?" I demanded of the associate, who had gone back to watching a movie on his phone.
"Yes you were," he said, single handedly destroying my argument.
Well, apparently no one else got the memo because there were about a hundred other people queued up at the other desks all having conversations similar to mine.
I called up the Star Alliance sales center (which had issued the RTW ticket) but like I said before, the only airline that flies direct from RUH to BOM was Air India. There was no other option but to (1) book a flight on a different airline (2) wait. "You can raise a complaint with the operating airline," they said helpfully.
Perhaps it's because my home airline is Singapore Airlines and I'm naive about how customer service works elsewhere, but I was shocked at the complete indifference of the ground staff. No offer to rebook us on another airline, no organization, no proactive step to call up the customers beforehand (and before anyone ventures to say it was a last minute delay, I discovered later on the flight that the flight crew didn't even show up that morning having learned the night before there was a problem with the aircraft).
I decided to leave my new friend to his movie and looked around for the person exuding the most authority. In other words, anyone in a suit.
"Are you the station manager?"
"No sir, I am the duty manger"
I was too flustered now to squabble over semantics.
"What are we supposed to do now?"
"Do not worry Sir, we have arranged a hotel for you"
Ah! Service recovery. I imagined luxuriating at the Ritz Carlton Riyadh, or perhaps the Four Seasons. I would finally have the experience that Alain de Botton longed for in A Heathrow Diary, of a delay so dramatic it warranted a hotel stay at the airline's expense.
"What hotel is that?"
"The Al Safir"
"What?"
He spelled it out for me. I quickly googled it.
"This one?"
"Yes sir"
"You've got to be kidding"
"Most assuredly not sir"
I mean, you'd think a well established airline would have an agreement with a high quality chain. Sheraton, Holiday Inn, Carlton, whatever. For an airline to use a hotel that doesn't even have its own website is, well, dodgy. On the plus side, the one person who had reviewed the hotel gave it 3/5.
The duty manager directed us out to the kerbside and promised us that a bus would be around in 5-10 minutes to take us to the hotel.
I was busy on my phone trying to look for alternatives. My Indian colleagues were unsympathetic.
I then called my office manager and explained the situation to her, asking if our travel insurance could help us out.
"What airline were you flying?"
"Air India"
A pause. "I don't think our travel insurance covers self-inflicted problems"
20 minutes passed and no bus had shown up. By this time I had decided that I was not going to spend the next 11 hours staying at the Bates Motel. My colleague and I booked the Sheraton Riyadh and I went to find the duty manager to let him know.
"Sir, if you just wait 5-10 minutes the bus will be here to bring you to the hotel"
I gently explained to him that while the protracted wait for the bus was certainly an issue, the larger issue had to do with the fact that they were sending us to Hotel California. I explained in my calmest voice possible that the offered accommodations weren't acceptable for anyone, let alone for premium cabin travelers.
So moved was he by my speech that he asked if we could wait another 15 minutes and he'd see if he could get the Holiday Inn. But I was very weary about their perception of time and didn't fancy waiting a long while more for them to sort this out. I mean, they couldn't even get their systems to automatically call/SMS all the passengers to tell them about a delay they knew about the night before. Having lost all faith in their delay management process, I said thanks I'll see you in 11 hours.
The Sheraton Riyadh is somewhat closer to the airport but still at least a 30-40 minute drive away. It was now 0630 and already the sun was out in full force. We headed down to the arrivals area and got an Uber.
Our Uber driver to the Sheraton was Indian. I told him about our experience with Air India. He laughed and asked us what we expected to happen. Sympathy was in short supply today but comedy was not.
The Sheraton Riyadh was an altogether pleasant experience, much nicer than the Four Points. Unfortunately they still insisted on billing the full day rate for a 10 hour stay.
Here are 5 quick photos so I can get back to reviewing the excellence that is Air India.
We were told by the duty manager that we'd need to be back 4 hours before the flight to clear security. I frankly thought this was a ridiculous amount of time. We showed up 2 hours before and cleared security in 10 minutes. Maybe we got lucky, but even if things were bad I doubt it could be 4 hours bad. In any case when we showed up we found out our departure had been delayed by another hour. It's the airline that keeps giving!
There is one large lounge in the Riyadh airport that all the airlines use. I think this photo pretty much sums up my experience with Air India.
The lounge is pretty good sized but catering was limited, presumably because of Ramadan. It was also deserted.
There was no hot food available, only drinks, fruit and prepackaged snacks.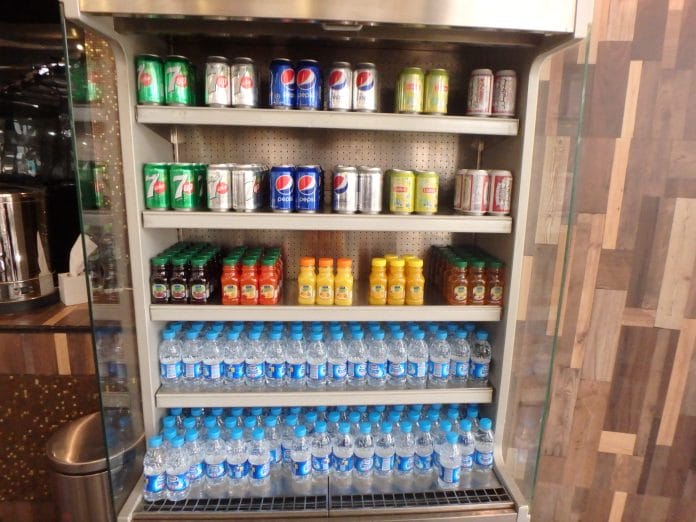 The lounge had a great view of the chaos below in the terminal. It's really scenes like this that remind you how lucky you are to come back to Changi Airport every time.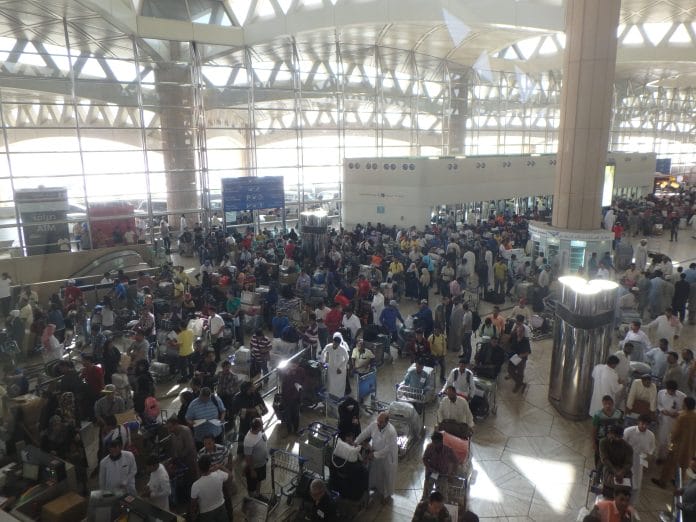 I anxiously paced up and down the lounge waiting for the replacement aircraft to arrive. In my head I was already half expecting another delay, or a cancellation. I had scouted out options with Jet Airways and Saudia. Surprisingly, a one-way business class ticket from Riyadh to Bombay could be had for less than US$500. Eventually an Air India 777 landed and taxiied to the gate. Never before, I suspected, has one been so happy to see an Air India jet.
My colleague and I were the only 2 passengers in business class which allowed me to take all the photos I wanted.
Air India operates a 2-3-2 configuration in business class on its 777 aircraft. I'm not a big fan of the color palate, it just makes the seats look dirty. The seats are angled flat and several generations behind the market standard. For what it's worth, Air India has a new generation full flat business class seat on its 787s, albeit still with an absolutely horrid color scheme.
I managed to get a quick peek into the first class cabin, which has only 4 seats. There is a full flat bed here, but there were so many stains on the fabric you really didn't fancy lying down.
Privacy wasn't an issue because we were the only two passengers in the cabin, but I can imagine this level of visibility (and no privacy divider) might be an issue on a fully-loaded long haul flight.
I'm not sure if the buttons on the seat started off as white and gradually became yellow over time but either way I didn't want to think about it.
There was a power plug and USB outlet available, with a fair amount of dirt around the power plug.
I was fascinated by the controller. It had a small LCD screen that was so tiny I wondered what the purpose was. The design of the controller reminded me of one of those early 2000s gaming devices.
A pair of headphones was provided. You won't be ditching your QC-15s/25s/35s anytime soon for these.
Eyeshades and socks were provided in a paper envelope. I really don't expect much on a 3 h 45 min flight, and Air India happily obliged.
After takeoff drinks and nuts were served. By which I mean we got a choice of 3 different packets of nuts, served on a plate. Again, given that there were only 2 passengers in the cabin how difficult would it be to plate them in a small bowl?
The flight was catered with alcohol despite departing from Saudi Arabia, and the champagne on offer is H Blin. Not bad, but definitely below the standard that other airlines serve in business class.
So what did I like? The service was actually very good. I would expect the cabin crew to address you by name when there are only 2 passengers in business class, but otherwise the lady who served me was very pleasant and clearly trying to make the best of a very bad situation. It's always sad to see good service let down by a bad hard product, because it's so demoralizing for the crew to know that whatever they do, those seats still have stains on them, or dirt, or just aren't very comfortable. SQ crew can be proud of their hard product because it's excellent, and that confidence can be seen in the service they deliver. Same goes for any other top airline.
We talked about her experience working at Air India. She expressed a mixture of pride and resignation- pride that she was showing the face of India to the world, and resignation that the face wasn't always pleasant. The more I spoke to her the more sympathetic I became. It wasn't her first time seeing an 11 hour delay, there had been far worse things that she'd seen in her 10+ years of service. She knew that Air India could never hope to be a world class carrier and had accepted that in her heart, she just wanted to do the best she could with the product she had. And I could respect that, really.
There was no menu for this flight. I'm not sure if it's because the original menu would have been for breakfast service and it was now time for dinner, or whether they just don't do menus in Air India business class.  In any case, I was starving at this point in time and eager to see what was being served.
Dinner opened with a mix of smoked salmon, salad leaves and chicken.
Followed by a main course of chicken, rice and cauliflower. This was really good, although that could be also because I'd not eaten the entire day. One of the few redeeming graces that other trip reports have mentioned about Air India is the catering, and I can certainly see why.
Chocolates were served after the meal
On to the bathroom, which hadn't been replenished properly- there was a squeezed out tube of toothpaste and a soap bar in the corner. That got me nervous because it made me start to think the toilet hadn't been cleaned properly. No other amenities were available.
Air India has a limited selection of movies in their IFE, but at least they were fairly recent. Deadpool, Kung Fun Panda 3 and Spotlight were among the recently released titles.
The audio kept cutting in and out. I suppose I could have swapped to any of the other vacant seats in the cabin but decided to take a nap instead. The seat goes flat at an angle to the ground, which makes it comfortable enough for lounging but certainly not for sleeping. I still couldn't shake the feeling that the fabric on the seat hadn't been cleaned in a long while, so I laid a blanket over the seat before lying down.
We finally landed in Mumbai more than 12 hours behind schedule in total.
We taxied to a remote gate. The sole passenger in first class was engaged in a heated discussion with the ground staff when the airplane doors opened. Eventually they loaded the three of us onto a separate bus to take us to the terminal first. The first class passenger turned to me and said "I had to fight for this. They wanted to fill up both buses before heading out but I said they've already delayed us by 12 hours and I'm not going to wait anymore."
I'd be hypocritical to call it a dick move, even if it did seem entitled, because I genuinely wanted to get to the hotel as soon as possible. But the SOP for remote gates should in any case be to have a separate bus for premium cabin travellers. I was suprised that couldn't be arranged even in one of their big hubs.
Conclusion
I wrote a detailed email to Air India afterwards asking them for compensation for the 11 hour delay. However, they said that since I had rejected their offer of hotel accommodation, I was not entitled to further compensation. I was confused- wasn't the purpose of the hotel to tide the customers over until the flight and wasn't compensation supposed to be something above and beyond that to recognise the inconvenience the customer endured?
Apparently not. After numerous back and forths with Air India it became apparent they viewed the hotel as the "compensation" for the delay.
Air India has never reported an annual profit ever since it merged with Indian Airlines in 2007. It holds a 5/10 customer satisfaction rating on Skytrax. It has the most complaints of all airlines in India. In retrospect, I probably should have been more surprised that nothing else went wrong.
Indians deserve so much better from their national carrier. A week later I flew with Indigo from Mumbai to Varanasi. I got an automated SMS informing me of a 30 minute delay in departure. The plane was spotless. The attendants were excellent. If they can do that for a price a fraction of Air India's, why can't Air India?
My colleague rang me after I landed in Mumbai
"So, what have we learned today?" he said
"State run enterprises will never be able to thrive in the competitive dynamics of the modern aviation market?"
"No, next time you'd be better off driving"
"I believe the ground route from Saudi to India passes through the tribal regions of Pakistan"
"Still better than Air India"
He had a point.