Miami, no vice: Trip planning
EVA Air B77W Hello Kitty Business Class SIN-TPE
Decoding the lounge situation in Taipei
EVA Air B77W Business Class TPE-IAH
Red Roof Inn IAH Airport
United A320 Economy IAH-MIA
Renting with Sixt Miami
Element Miami International Airport
Miami, the Keys and everything inbetween
Jetblue A320 Economy MCO-JFK
Revisiting the EVA Air and SQ Taipei lounges
---
My return flight to Singapore would be leaving from JFK, so I needed to position myself from Orlando. I found a Jetblue flight for US$154 and jumped on it.
It's kind of funny when you think about the US airline industry today and how the budget carriers have become more full service than the full service ones. I mean, Southwest and Jetblue (until recently, at least) don't charge bag fees. Jetblue has a fantastic selection of IFE via DirectTV and satellite radio, all for free. It has Wifi for free. It also offers free snacks and a lot friendlier service than the legacy carriers, occasional runway excursions aside.
Orlando's airport is interesting in the sense that it's got this big inner courtyard where, wait for it, there's a hotel. In the airport. Not a 5 minute drive from the airport, not connected to the airport. In the airport.
You can step out from your room and look down into the airport courtyard departures area. I don't think I've ever seen a concept quite like this anywhere else in the world, and if you're interested in what staying here is like you can read Ben's report over here.
Jetblue (and all domestic US carriers for that matter) limit you to 1 carry on and 1 personal item. I already had a backpack and a roller bag, and was worried that my additional handcarry item wouldn't pass muster, given how strict some airlines have a reputation for being. But even though they made a pre-boarding announcement that the flight was full and some bags would have to be gate-checked, they never said anything about my (very fetching) Hello Kitty tote bag. Maybe it's so garish that it simply blinds everyone who looks at it, rendering it invisible.
Unfortunately, this route isn't serviced by one of the Mint-equipped planes, because it'd be quite cool to take firsthand photos of that. That's another thing that amazes me, in that a budget carrier offers the most luxurious transcontinental hard product available on any US carrier.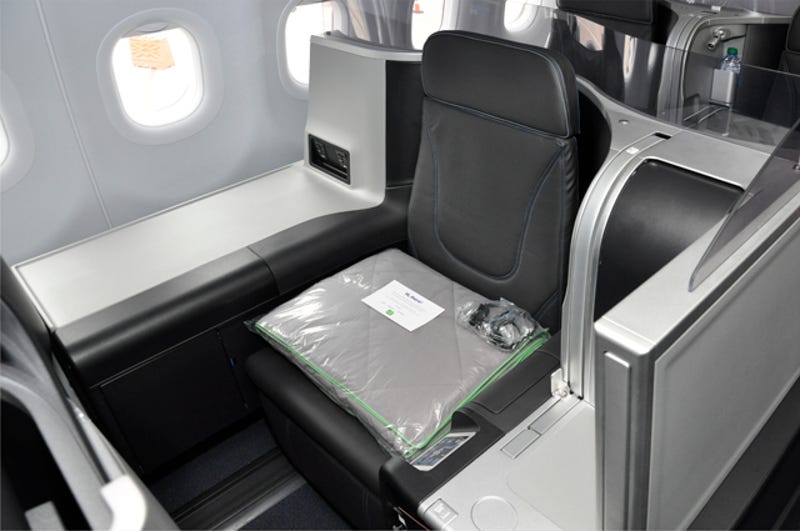 This was just your run-of-the-mill A320 aircraft with 3-3 seating throughout the cabin. Here's a much better file photo than the one I got.
The best thing about this flight for me was the entertainment options. It's all on the seatback monitor, which is controlled either by touch or with your armrest.
Jetblue has a partnership with DirectTV that provides you with all the American TV crap you could care to watch. It's all live, so you could even be watching the Miami Masters while you fly.
If TV isn't your thing, why not movies? The selection of movies rivaled that on my EVA flight over.
Or TV shows. I like that we live in a post-racial America where we can have shows like this.
They also have more than a hundred channels of satellite radio thanks to SiriusXM (read about getting free Sirius XM in your rental car here)
And there's free Wifi on the plane. For everyone. All you need to do is register and get a Jetblue frequent flyer number. Speeds will obviously not be the best because everyone's using it, but it's fine for email and Whatsapp.
Did I mention the snack basket? Jetblue has a complimentary snack basket brought around mid-flight that features artery-clogging goodness
Cheez-It® crackers
Craisins® dried cranberries
PopCorners® popcorn chips
Skeeter™ Nut-Free chocolate chip cookies
TERRA® Sweets & Blues™ potato chips
You can help yourself to as much or as little as you want- I went for the classic Terra chips which was a really nice mix of sweet potato and purple potato goodness, and the no-nut chocolate chip cookies which are still sitting around my home uneaten.
All these distractions helped the 2.5 hour flight pass really fast and before I knew it we were queuing up to land in JFK.
Jetblue is an accrual partner with Krisflyer and you can credit your miles flown to them as per the matrix below. So if you're in the US and thinking about a domestic flight, don't always jump straight to UA, consider giving Jetblue a try.
Edit: One additional useful thing about Jetblue is that they have an interline baggage agreement with SQ. So if you're flying Jetblue and connecting to an SQ flight out of the States, you can check your bag through from your first departure point through to Singapore. Note that if you're flying SQ into the States and connecting to a Jetblue flight, you'll need to reclaim your luggage and clear customs before rechecking it (literally just dumping it on another belt). Thanks Marcel for the reminder.