Miami, no vice: Trip planning
EVA Air B77W Hello Kitty Business Class SIN-TPE
Decoding the lounge situation in Taipei
EVA Air B77W Business Class TPE-IAH
Red Roof Inn IAH Airport
United A320 Economy IAH-MIA
Renting with Sixt Miami
Element Miami International Airport
Miami, the Keys and everything inbetween
Jetblue A320 Economy MCO-JFK
Revisiting the EVA Air and SQ Taipei lounges
---
I had never been to Miami before, and now I had about 6 days to take in all the city had to offer.
You know, when I think of Miami, I used to think of this-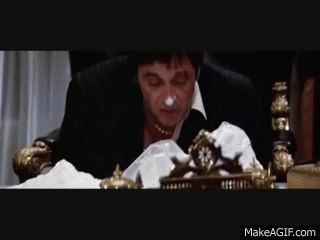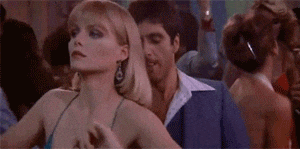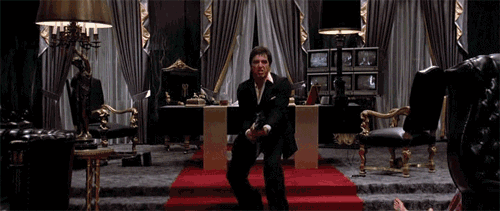 But, not necessarily in that order.
Fortunately, there is more to Miami than cocaine, 1980s dancing and M203s. I don't really think there's a neat way of doing this, so I'm going to give you a rundown of my favourite things to do, eat and see in Miami, in the hope that if you head there in the future you'll have something to build your itinerary on.
To See
Ocean Drive Art Deco Neighbourhood
I love Art Deco. I can't describe to you what it is, but it makes me remember my fond days playing the Bioshock series. If you're a gamer who actually likes story (I know, right) instead of faceless space grunts shooting other faceless space grunts, you owe it to yourself to play this game.
Art deco, as defined by Wikipedia, is
the predominant decorative art style of the 1920s and 1930s, characterized by precise and boldly delineated geometric shapes and strong colours and used most notably in household objects and in architecture.
Miami's art deco district has the largest concentration of art deco buildings in the world, and walking down Ocean Drive is an architectural student's wet dream.
There is a walking tour run by the Miami Design Preservation League that starts from the Art Deco Welcome Centre. It's $25 for a 90 minute tour that takes you past some of the most famous hotels (and even into a few). Advance reservations are possible but really not needed (plus, you pay a small processing fee if you book online). Just show up 10 minutes before the tour starts at 10.30am.
The guide will take you on a walking tour of the neighbourhood and tell you the history of each of the hotels, the famous people who visited them and what they've become today.
When you're done with that, why not check out the beach? Ocean Drive is just off the famous Miami Beach stretch. I really couldn't tell you if there's a "better" stretch of beach, but great views are guaranteed everywhere.
To Eat
Joe's Stone Crab is a Miami legend, although some locals will whisper (very quietly) that it's become way too touristy.  I'm a sucker for seafood, so I had to try it out.
Protip: don't bother with the queues or prices of Joe's Stone Crab. Go nextdoor to Joe's Takeaway, where you get pretty much the same menu, but with seat yourself ease.
The interior is cafeteria style serve yourself.
The cakes look great and all, but you'll really want to make a beeline for the crab claws.
Everyone said the stone crab was what you absolutely need to have, so I ordered the large claws, which cost the princely sum of $56.95 for 5. You also get some bread and all the butter you care for.
And of course I had to try a slice of their famous key lime pie ($8.95)
I found myself a table to tuck in
And found the crab to be exceedingly average. It was fresh, sure. But it was tasteless. Maybe those among you who like cold crab will enjoy this. But I'm used to my crabs being slathered in black pepper or chilli crab sauce, or seared in that amazing crack-like substance they have at Sin Huat. These just tasted really plain.
Michael's Genuine Food & Drink
I had much better pickings at Michael's Genuine Food & Drink, tucked away in the Design District.
Michael's is one of those neighbourhood joints that loves to trot out phrases like "farm to table". Normally I tune such things out, but I think I'll give them a pass. The cuisine is best described as "Modern American", something I can't describe but will know when I see.
I had the swordfish with a side of grilled corn, both of which were excellent. It reminded me of my meals in Portland, which I still hold to have the best food in the whole of the continental USA.
Other places I visited that were highly recommended included La Camaronera (fried fish sandwich) and El Mago De Las Fritas (if Obama went there it can't be bad. Socialized, maybe, but not bad)
To Do
I booked a Wynwood Food & Street Art tour with Miami Culinary Tours which took me on a 2.5 hour walking tour of the Wynwood Walls area and restaurants.
From Miami-History.com
In October of 2009, Tony Goldman dreamed up an open air gallery of murals called Wynwood Walls. The gallery opened a couple months later to coincide with Art Basel. Goldman's vision was that the entire Wynwood neighborhood would become a canvas for urban street art. It is a neighborhood that provides a monthly art showing called the Wynwood Art Walk, which takes place on the second Saturday of every month.
Wynwood Walls is a homage to Miami street art, featuring murals done by artists both local and foreign.
The highlight for me, being the uncultured philistine that I am, was the food. The tour takes you to several restaurants.
Wynwood Kitchen & Bar– we had a tasting plate that consisted of  Ropa Vieja Empanadas, tequenos (cheese sticks) and a fried banana
GK Bistronomie Restaurant– where we had Peruvian ceviche. Ceviche is raw fish with citrius nd spices.
Mister Block Cafe– where we had an Empanada. It's like a spanish curry puff.
Zak the Baker- where we had lovely chocolate chip cookies
Dr Smood served a vegan sandwich. I have strong opinions about vegans, but their flatbreads (spelt, no wheat) are alright with me.
Miami Masters
The Miami Masters was in full swing by the time I got to Miami and although Murray and Djokovic were not in attendance, there were still plenty of big names like Nadal, Federer and Wawrinka.
I didn't think Miami would be hot during the time I went, and it wasn't hot per se. It was just that the sun was merciless, beating down unfiltered on everyone and everything. My afternoon became a big shade hunting exercise.
It got slightly better as the day went on though.
The biggest stadium at Crandon Park is tiny in comparison to Arthur Ashe. Here's the view from the absolute top row of the stadium. Note how you can actually see the players, unlike in Ashe where everything below you is just a speck.
And I got to see Rafa. Like all great men, he is balding.
Visiting the Miami Keys
If you're bored with Miami, why not drive an hour south where you'll find the Overseas Highway, your starting point for the picturesque Miami keys?
I ended up in Islamorada (pronounced Isla-morada), a lovely little town about an hour or so from Miami.
Despite my rugged, chiseled exterior, I'm not much of an outdoors person, so I think I surprised even myself when I signed up for one of Key Dives' snorkeling trips.
These guys are great- they take you out on a boat to several nearby reefs where you can see fish and corals, and more fish (I'm not a marine biologist).
I bought one of those full face snorkel masks because the regular ones trigger my gag reflex (yes, laugh.)
What's that you say? You want a shirtless photo? Well, never let it be said I don't aim to please.
Or maybe you want to see the fish.
I know, they're not nearly as ripped as I am.
Dinner at the Keys was at The Green Turtle Inn.
I thought the fish was disappointing considering where we were, but the desert was spot on. I've read good things about Lazy Days, which is the other restaurant you may want to try if in Islamorada.
And finally, some bonus material for Bloodline fans. No explanation needed.
Conclusion
I hope this gives you an idea of some of the things you can look out for when you visit Miami. I'm sure there must be many great things I've missed/was too lazy to write about, so feel free to chip in.