Miami, no vice: Trip planning
EVA Air B77W Hello Kitty Business Class SIN-TPE
Decoding the lounge situation in Taipei
EVA Air B77W Business Class TPE-IAH
Red Roof Inn IAH Airport
United A320 Economy IAH-MIA
Renting with Sixt Miami
Element Miami International Airport
Miami, the Keys and everything inbetween
Jetblue A320 Economy MCO-JFK
Revisiting the EVA Air and SQ Taipei lounges
---
The first thing you need to understand about The Milelion is that he is a prime specimen of male masculinity. Where he walks, women swoon and men shake their fists in envious grief. He causes mass hysteria in the countries he visits. His bodily fluids have been incorporated into TCM as a remedy for many ailments. Indeed, centuries from now, historians will be unable to reference any epoch without doing so in standard units of Milelions.
It is because of this rampant surplus of masculinity that The Milelion saw no issue with booking a trip to Miami via Houston and Taipei on one of EVA Air's Hello Kitty services.
I was gushing (in a manly way, of course) to my colleague about the upcoming Miami trip and the many manly exploits I would do while I was there. I would boldly stare down brightly-colored fish while snorkeling, hurl obscenities at Florida gators from a covered walkway, shop for torso-hugging v-neck shirts at the premium outlets and take limited public transportation where necessary.
"Don't real men fly long haul economy?" he asked.
I ignored his question. It really wasn't my job to answer the questions of men less manly than me.
---
EVA launched its first Hello Kitty jet back in October 2005 in a marketing tie-up with Sanrio. The first aircraft, an A330-200, was described as follows-
On the right side of the aircraft, identified with "Hello Kitty EVA Air," Kitty and her friends greet passengers with welcoming smiles. Daniel Star, his aviator glasses perched on his forehead, stands nearest the cockpit with Kitty by his side. Tim and Tammy, the mischievous monkeys, sit over the wing. Joy, the blue mouse, is poised on the engine. And Mimmy White, Kitty's sister, joins parents Mary and George White, near the back of the aircraft. On the left of the aircraft under "EVA Air Hello Kitty," Kitty stands nearest the cockpit beside her friend Kathy, the white rabbit. Rory, the yellow squirrel, frolics on the engine. Tim and Tammy and Kitty's family are featured in the same positions as on the other side of the aircraft.
EVA currently services Cebu, Narita, Houston, Singapore, Paris, Haeda, Fukuoka, Seoul and Shanghai with Hello Kitty jets. The jets have names such as
Gudetama Comfort Flight
Sanrio Characters Shining Star
Sanrio Family Hand in Hand
Hello Kitty Loves Apples
Bad Badtz-Maru Travel Fun
The Hello Kitty planes get moved around ever so often, and the Singapore route will no longer be operated with a Hello Kitty jet come 31 May. No time like the present.
---
I had booked a complimentary airport transfer through the UOB PRVI card, thanks to my overseas spending in well-known masculine business destination Rio de Janeiro the month before.
In theory the limo booking covers a 4 seater vehicle like a Mercedes E Class. However, the agency had sent over a 7 seater van instead. This usually entails a $10 upcharge if specifically requested for, but it was pretty obvious they sent the larger vehicle due to the masculine way in which I entered my credit card details.
"This is logical", I thought. "My selected mode of transportation needs plenty of room for my outsized biceps"
I arrived at Terminal 3 around 2pm for a 3.45pm departure. Eva Air's desks are located at Row 6, next to SQ's premium economy check in. There were no queues when I arrived, and even if there were I'm sure they would have parted like the Red Sea. Such are the perks of well-toned delts, I thought as I pulled my abductor muscle lifting my bag onto the belt.
"Where are you headed today sir?" the agent inquired with a slight tremble in her voice as she beheld the Adonis before her. This is a normal response for women when they see The Milelion.
"Houston." I grunted (manly men always grunt. It's a mixture of muscle mass and constipation). Houston seemed a suitably masculine destination, what with its association with the oil and gas industry and all. Renewable energy is so for whimps.
She weighed and tagged my bag to IAH, probably entertaining daydreams about my life on the oil rigs (bodybuilding oil comes from oil rigs right?) where my bulging muscles would be used to turn giant valves, lift massive pipes, and fix the occasional IT problem because Renaissance man. I was disappointed to learn that my bag weighed a puny 13kg because this represented a wasted opportunity for tricep and forearm development.
"This is the Hello Kitty flight, yes?" I clarified as I dropped to the floor to do some one-handed pushups. I managed to do about three or four before my arms started hurting so I stopped. Circuit training is all about knowing your limits.
She confirmed that it was. I was relieved. Although BR215/216 should be operated by the Hello Kitty jet, there's no accounting for last minute equipment swaps.
I've never understood the ritualistic defacing of boarding passes that happens at check-in. It's almost as if the ground staff believe that your ability to locate your boarding jet or remember your legal name will be enhanced through a liberal application of blue pen to the boarding pass. Fortunately, there was nothing of that sort this time and I received unadulterated boarding passes. Formalities complete, she bade me a good trip.
I had about an hour to kill before boarding so I headed off to the SilverKris lounge, which I've reviewed several times before so will only give you the highlights.
I was looking for raw eggs, cottage cheese, Greek yogurt and other protein-rich foods for my physique. Instead, I only found a selection of fruits, salad, simple carbohydrates and sugary drinks. SQ's lounge food is so unconducive to bodybuilding it makes my hamstrings hurt.
Real men also down copious amounts of alcohol, of course, and I was hoping that SQ might have added a tavern or some sort of alehouse to the lounge since my last visit. It would be an appropriate place to mount a table and tell stories about my many epic (cyber) battles while fair wenches pour libations freely.
Unfortunately, I only found a selection of nancy wines.
Wines aside, I'd like to call out SQ for this latest cost cutting measure of hide the bubbly.
When I first saw this sign it was during a morning departure slot. I assumed that the timing had something to do with it. It now appears, however, that SOP is to keep the champagne under lock and key, only attainable through social interaction. How nefarious. They know my one weakness.
Because I could not find anyone in the lounge willing to engage in arm-wrestling combat and/or hot oil wrestling, I decided to leave early for the plane.
BR216 was departing from Gate B5 today. Security clearance took longer than usual. The uninitiated may think that this was because there was a large student group reaching before me, but everyone knows it was because my abs of steel kept on setting off the metal detector. Even from the end of the queue.
From the gate I could make out the rear end of the Hello Kitty jet. Alas, this was one of those gates that didn't give great tarmac views.
I positioned myself at the entrance so I could be the first on board. I knew the rest of the passengers would respect the Alpha male's right to first boarding, but I didn't want to make them wait too long.
Boarding started and I gracefully bounded down the jetway, reaching the aircraft slightly winded. These jetways were longer than I remember. Catching my breath, I took in the 77W cabin.
There is no question in my mind that EVA totally kicks SQ's ass on SIN-TPE routes. SQ's flights are operated by A330s which have its regional angled-flat business product.
EVA, on the other hand, operates 77Ws with its latest reverse-herringbone flatbed seat installed in a 1-2-1 configuration.
With the recent Krisflyer devaluation, it costs the same number of miles (27,500 one way) to fly in Business Class to Taipei on SQ as it does on Star Alliance partners. Therefore I'd encourage anyone who is considering redeeming tickets on this route to opt for the EVA option, given the superior hard product. EVA is quite generous in releasing partner award space on this route too.
Do you really need a flatbed seat on a 4.5 hour flight? No. But do I really need all these Arnold Schwarzenegger workout videos and free weights? Sometimes, we just feel like treating ourselves.
I was bracing myself for a full-fledged assault of Hello Kitty from the moment I boarded the plane, but was surprised that the cabin looked identical to that of every other EVA flight I'd flown so far.
On first glance, there were only two immediately noticeable features that identified this as a Kitty flight.
First, there was a framed painting at the front of the cabin. The painting in each aircraft is unique.
Second there was a Hello Kitty pillow at each seat. Of course, there were many more cobranded items, as I'd soon discover.
I settled into my seat and, with much effort, finally managed to hoist my handcarry bag in the overhead compartment. This was totally not due to any weakness in my upper body but more because of the poor UX design of airplane overhead compartments. Why must they involve lifting weights above shoulder level? Preposterous.
Besides, I had a more pressing task- getting my hair tonic to cold storage asap. I would like to remind everyone it is well documented that male pattern hair loss is caused by an excess of testosterone. It's true. Testosterone is converted to dihydrotestosterone which in turn causes hair loss. It speaks volumes to my masculinity and excess testosterone production that I have attained such illustrious male pattern balding at the young age of 29, and I challenge anyone else to do better. Bruce Willis, Andre Agassi and Gandhi would be proud.
"Would you be able to store this in your cooler?" I asked of a passing flight attendant.
"Of course sir. Is this medicine?" she asked.
It most certainly was not. I bristled at the suggestion that a man such as I would require anything of the sort.  "It's a supplement," I said, in a prickly tone. Manly men do not use medicine. They merely require an abundance of supplements. Properly chastised, she took my supplement and disappeared into the galley.
Pre-departure drink orders were taken. I enquired if they had any protein powder milkshakes, failing which I would gladly have a glass of Rose. Unfortunately, EVA has joined the ranks of airlines which do not serve champagne on the ground, for duty reasons. They do serve sparkling wine thoughs (and I was very glad that the crew drew a distinction between sparkling wine and champagne)
As I sipped my cava I took stock of the Hello Kitty situation so far.  The flight wasn't even 10 minutes old and I had a Hello Kitty pillow, slippers, menu and air sickness bag. They even had Hello Kitty safety cards.
I unwrapped the slippers and put them on. Was this too girly? I asked myself.
No, I decided. It was not. I had big feet. And you know what they say about men with big feet.
Besides, I was wearing said slippers while reading hypermasculine broadsheet The New York Times. And the guy on the front page was bald. This surely more than compensated for things.
The aircraft taxied and took off in unspectacular fashion. I was half expecting Hello Kitty's voice to appear on the PA as he/she/it willed the dual engines to full throttle through the power of audible kawaii. This did not happen.
Soon after takeoff I got my glass of Rose. I realise there are some people out there who would dismiss Rose as girly. But rose is fine and totally not girly to drink because the red reminds me of the blood of my enemies that I shed so freely.
I had a look at the menu while waiting for my lunch order to be taken.
It was very disappointing to note that there wasn't any game meat on the menu. After all, I was by now used to dining on freshly slaughtered elk, caribou and the occasional Bambi's mom.
While waiting for the food, I scanned the IFE system, looking for programs on weightlifting, polar bear wrestling or steel manufacturing/other metallurgy (all of which are hobbies of mine). I ended up watching Gilmore Girls because my fingers accidentally bumped  the icon and my hands accidentally put the headphones on.
The crew came around to dress the table. As you might expect, the tablecloths on the flight are Hello Kitty branded too.
The first course was a sweet and savory salad with smoked salmon, mini-apple cubes and capsicum.
I would like to point out that the capsicum had been cut into tiny stars, because Hello Kitty is all about stars. You gotta admire the folks at SATS catering who do this. Perhaps it's automated, but I think it is safe to say no other airline has star-shaped capsicum.
I went with the prawn noodle soup for the main. I'm not quite sure what I was expecting, but it certainly wasn't Wah Kee standard. The prawns were tiny and the deshelled frozen type, the veggies were soggy and there was an overabundance of fishcake.
Desert was an excellent double chocolate mousse.
A byproduct of manliness is a super efficient digestive system. Hence I required the bathroom soon after my meal.
But even the loo isn't safe from cobranding. There is Hello Kitty toilet paper. Yes, you heard me right. Anyone who needs to go number two can relish in the fact that they are. shall we say, browning the kitty.
The hand soaps and lotions have special branding too.
However, the toilet seat is stock. Would it really be so hard/disturbing to have a Hello Kitty bidet? It could play happy star music while cleansing your unspeakable regions.
I normally don't pay much attention to the inflight duty free catalogue, but this one was a thing of beauty. It was chock full of Hello Kitty merchandise.
I was partial to the apron, which would let me live out my iron chef man fantasies.
But the other items weren't bad too.
In the end, I settled for two decks of free playing cards and a complimentary bag.
Before long, our flight started its descent into Taipei.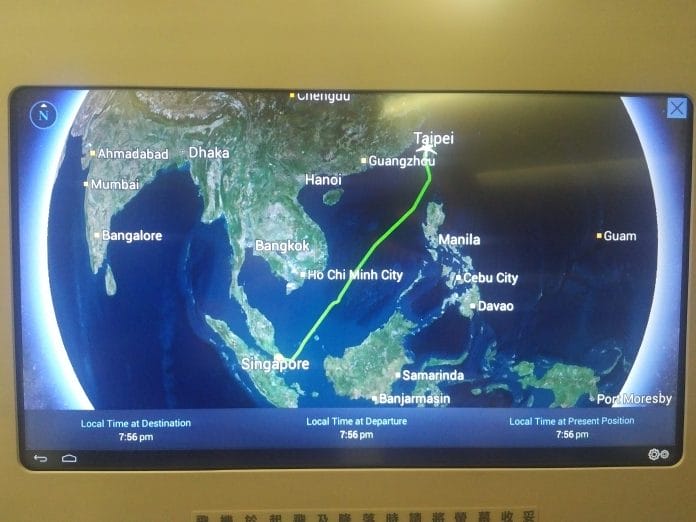 Did the Hello Kitty service live up to expectations? Although the flight crew did not break out into a song and dance number midway through service, I still think this has to go down as one of the most kitsch things to do in the world. And some people just like that. I can imagine a whole planeload of hipsters doing the flight ironically, for example .
I disembarked the aircraft, manliness still intact. Now it was time to figure out which of EVA's 4 lounges I should use…