Miami, no vice: Trip planning
EVA Air B77W Hello Kitty Business Class SIN-TPE
Decoding the lounge situation in Taipei
EVA Air B77W Business Class TPE-IAH
Red Roof Inn IAH Airport
United A320 Economy IAH-MIA
Renting with Sixt Miami
Element Miami International Airport
Miami, the Keys and everything inbetween
Jetblue A320 Economy MCO-JFK
Revisiting the EVA Air and SQ Taipei lounges
---
When I first told my colleagues I was headed to Miami during Spring Break, questions were asked.
"Are you going to party on the beach?"
"No"
"Are you going to party on the beach with booze?"
"No"
"Are you going to party on the beach with booze and drugs?"
"No"
"Are you going to party on the beach with booze and drugs and topless college girls who have not learned the value of true self-worth?"
"No. Although I might drop by to pass out bottles of water to ensure no one gets dehydrated and everyone gets home safely"
It's normally around this point that people lose interest in the conversation and ask me to ensure my files are handed over properly.
The thing is, the Milelion is a paragon of virtue, and such concepts are strange and foreign to him. Miami might be the town of Tony Montana (paraphrase: this whole town is akin to a bride awaiting consummation), but the Milelion is determined to take a walk on the mild side.
---
I first put together my Miami plan back in December last year when March seemed so far away. But now March is here, and even though I'd painstakingly put together v1 of the Miami plan, I've spent the past 48 hours taking it apart and reassembling it because of some interesting opportunities that have come up.
The Flights and Hotels
My original plan was to try out SQ's new A350 aircraft with its 2013-edition business class seats on SQ52 from SIN-MAN-IAH, before transiting to a cheap American Airlines flight to finish off the journey to MIA.
The problem? SQ52 departs at 0215 from Singapore on Saturday. By the time I arrive in Miami, it'd be close to 9pm on Saturday. No time to do anything but check into the hotel and try to fall asleep. And it's not like I have a lot of leave this time round- my trip, sans travelling time, is only 8 days.
I always thought that you gain a day when you fly to the States, but what was happening in my case is that I'm actually overshooting Miami by going to Houston. Then add in a 2 hour layover and a 2.5 hour flight back, and there goes your Saturday.
And besides, SQ's A350 business class product is more or less the same as the one you'll find on the newest 77Ws, which I reviewed recently (I know there have been some complaints that the cabin's a bit too narrow however). And I've already reviewed an A350…
So I was looking for a way to depart from Singapore earlier on Friday. And lo and behold, I found a business class seat on BR216 for a 4pm departure to TPE before connecting on BR52 to IAH and arriving at 10.40pm on Friday.
But haven't you already reviewed EVA? you ask. Yes, I have. But I've not reviewed BR216 before.
BR216, you say? Why does that sound familiar…
It sounds familiar because BR215/216 is the flight pairing of the Hello Kitty  777 that is operated between SIN and TPE (and will be until 31 May 2017).
So yes, I am going to review the Eva Air Hello Kitty jet. Fortunately, I have such a surplus of rampant manliness that I think we're all gonna be just fine.
I ended up booking this flight through Krisflyer for 97,500 miles and about S$370 in surcharges and taxes. The surcharges and taxes ended up being quite a bit more than I expected (SQ charged S$411), owing to the fact that EVA levies fuel surcharges (S$285) on redemptions.
I know I could have used Lifemiles and avoided the fuel surcharges, but I'm currently empty and would rather use some of my "free" Krisflyer miles than Lifemiles that I shelled out actual money for. Was this the best use of miles? Well, I spent 25K additional miles to start my vacation a bit earlier and review a new cabin product. I know there will be those who disagree with that assessment, but in my current situation I value time over miles, so this was an acceptable trade off for me.
Unfortunately, I arrive too late in Houston to catch an immediate connection to Miami. So I'm going to overnight at a dumpy Red Roof Inn near the airport for a grand total of S$88 (less 10% cashback with Shopback- there's a special sale going on now with Expedia that upsizes the regular 6.5% cashback on hotels to 10% till 23 March).
I mean, the official photos look ok, but we all know that this is going to be a graceless airport property. That said, this seems to be one of the better ones in the area (the other budget motels have reviews that would make your skin crawl)
The next morning I'll be taking an early flight out to Miami on United and reaching at 1040am. This one is the real pain point- the flight cost me S$335, and there wasn't any award space that I could redeem a cheap Krisflyer Star Alliance award for. I played with many different permutations (including flying with legendary Spirit Airlines to FLL), but in the end the additional time and bag fees just didn't make sense.
Now I suppose you could say that the net net effect is I'm paying just over S$400 for an additional 12 hours of vacation. I'd argue that it's more like 24, because if nothing else, getting into Houston earlier allows me an additional evening in a proper bed to try to acclimatize to the time change. It's definitely not a trade off I'd recommend for everyone, however.
Once in Miami, I've booked the Element Miami International Airport. An airport hotel isn't the most intuitive of places to stay, but I'm going to have a car, so the distances don't bother me that much
Besides, the property is a mere 7,000 points a night with the 5th night free. So I'm paying 28,000 points for 5 nights, and getting a room that's significantly bigger than what I'd have in downtown Miami. And it has a kitchen. If I'm feeling creative.
After Miami I'm heading to Orlando, where I'll be staying in an AirBnB property. I've been buying more than a few AirBnB gift cards with the 20% off promotions that we've seen recently, and combining this with referral credit (thanks guys-here's S$50 in credit for you if it's your first stay) means I'm paying about S$82 in total for 3 nights.
From Orlando it's a S$214 Jetblue flight to JFK, and from JFK I've booked myself back home with EVA again (really racking up those Rimowa amenities kits!). The cost: 78,000 Lifemiles and US$6 of taxes.
(random thought: should I be crediting my miles from Star Alliance flights to Lifemiles, since the non-existent surcharges mean that it's going to be better value than Krisflyer post the devaluation? Of course there's the whole issue of not being able to book SQ award space but hmmm…..)
The Ground Transportation
I mentioned I had a car for the trip. And indeed, I have. But I'm deeply suspicious because the deal I got sounds too good to be true.
That's right, Sixt Miami (who have some rather dodgy Yelp reviews, although the majority of those seem to be from people who are incapable of reading fine print) is offering me a rate of about US$48 a day for this. It even includes SLI and CDW with a $0 deductible (if you're thinking about rental car insurance beyond that covered by travel insurance, try this)
Now I get that it's a "or similar" dealie, but this isn't the base level convertible where they could easily substitute a Ford Mustang or a Chevy Camaro for a continental car. This is the premium level convertible, where "or similar" means a 4 series BMW convertible or an Audi A5 convertible.
General rule: if a deal sounds too good to be true, it is. So I've made a backup reservation with National for a rather pedestrian full sized car.
Let's see how this plays out…
The Sights
I've put together a litany of things to see and do in Miami, which I won't spoil here but will try to write about in as much detail as possible as this trip report goes on. I hope that if any of you are headed to Florida in the future, you might find the things here useful.
Some highlights in Miami will include visiting the famous South Beach area with its Ocean Drive Art Deco buildings, the Design District, Wynwood, Coral Gables, the Everglades and the Keys (please tell me some of you watch Bloodline). Thanks to those of you who have reached out with travel suggestions, really appreciate it!
And, of course, who can forget the Miami Masters tennis, which I'll use to fill evening time when all the cool kids are partying on the beach (did I tell you I'm going during Spring Break?)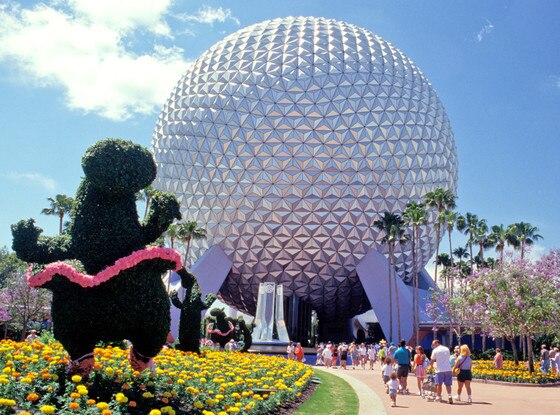 In Orlando it's all about Mickey as Walt and friends bend me over and charge me US$212 for a 2 day pass. Who'd have thought that the happiest place on earth could also be the most expensive? They want a further US$20 a day for parking, but I believe I might have found a way around that. I'll report back on this. But, perhaps more interestingly, Orlando is 1 hour away from the Kennedy Space Center on the Florida coast. You can bet I'm heading there (they even offer the chance to see a launch on certain days!)
Conclusion
All in all this is shaping up to be a fantastic trip. I'll try to keep the articles and updates flowing. Remember, you can follow The Milelion on Instantgram and be the first to see his photos of relaxing at 8pm in the hotel and avoiding a potentially interesting neighbourhood because scary.