Miami, no vice: Trip planning
EVA Air B77W Hello Kitty Business Class SIN-TPE
Decoding the lounge situation in Taipei
EVA Air B77W Business Class TPE-IAH
Red Roof Inn IAH Airport
United A320 Economy IAH-MIA
Renting with Sixt Miami
Element Miami International Airport
Miami, the Keys and everything inbetween
Jetblue A320 Economy MCO-JFK
Revisiting the EVA Air and SQ Taipei lounges
---
I suppose the warning signs were there when I left the lounge and headed towards the gate for BR52 onwards to Houston.
Certain parts of the Taipei airport have been converted into Hello Kitty-themed areas. Like these payphones. Who still uses a payphone?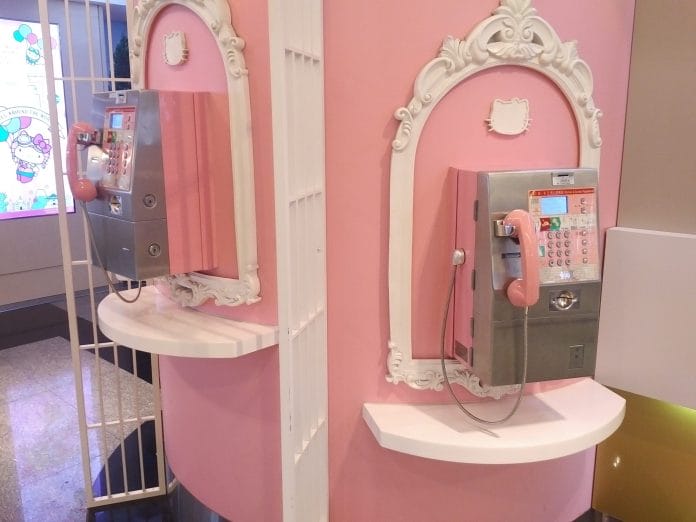 And this non-descript Hello Kitty house. I wondered why everyone was staring at me as I took photos of it. Later I discovered it was, in fact, the lactation room.
I supposed that served as a bit of an omen (the Hello Kitty, not the lactation. Although I've got nothing against public lactation) for the upcoming flight.
When I booked my SIN-TPE-IAH flight, I was only aware that the SIN-TPE leg on BR215/216 was operated by a Hello Kitty jet. Had I bothered to do a little bit more digging (you know, like a proper writer), I would have seen that BR51/52 was also a Kitty jet. Not just that, it was the same jet that takes you from SIN-TPE.
Fortunately/unfortunately, I had exhausted my manliness quota for the week/year on the first leg, so I decided to just give in and let whatever happens happen.
The seat had the same Hello Kitty pillow waiting for me
The same familiar painting was at the front of the cabin
The menu had the same cover (the contents, of course, were different as I'll show you in a bit)
And I got the usual slippers, air sickness bag and sense of kitsch.
What was different was that passengers on this long haul flight got an amenities kit and PJs.
I love the Rimowa kit that EVA gives out (and evidently my colleagues do too, from the amount of snide remarks I get when I whip it out (the amenities kit))
The kit has socks, eyeshades, earplugs, lip balm, a toothbrush kit, moisturizing lotion, a comb, and a glasses cleaning cloth (I'm trying out the Oxford comma, lemme know if you like it)
In a time where SQ still refuses to give an amenities kit or PJs to business class passengers (I'm talking more about the amenities kit because PJs in business aren' the norm yet), EVA's offering of a high-quality amenities kit really sets it above the competition for me.
"I ask myself, 'Do I want to spend $6-8 million just on an amenity kit?"' poses Mr Tan Pee Teck, Singapore Airlines' Senior Vice President for Product & Services

"At last count, I think there were 38 airlines with business class that gave amenity kits (but) you can't really differentiate yourself through an amenity kit" Tan explains to Australian Business Traveller.

"And if you travel very often, this thing is just left behind. So we decided to pump the money into other things for business class, and just make sure that our bathroom is stocked properly."
Dude. If the cost is just $6-8M you should totally go for it. Can't the cost be defrayed through intelligent marketing tie ups with cosmetics companies which would kill to have travel sized samples given out to HNWIs in business class (plus us freeloaders who redeem miles?) You can't differentiate yourself through an amenities kit if your hard product is crap and you give out TUMI stuff, but if you have a competitive hard product and good service, it really comes down to the little things. And I have yet to see anyone leave behind a Rimowa amenities kit btw.
The PJs are very comfortable indeed. They're ApuJan, a fashion label I've never heard about before but then again my idea of Summer Chic is t-shirt with holes and high shorts so I'm not the best guy to ask.
The other difference between the SIN-TPE leg and this one was that a pre-departure Godiva chocolate was served prior to take off.
A full bottle of Fiji water was also distributed to passengers. I know it's all the same, but it's nice to see EVA sticking with branded water (SQ downgraded their business class water to house brand stuff a long while ago)
Here's the menu for this leg
The champagne for this long haul flight got a bit of an upgrade as well- Krug Rose was served on this flight (SIN-TPE had a Collet Rose. The price difference is significant), along with a small amuse bouche of salmon and a tiny dollop of caviar.
For the main I opted for the Star Special. It's a meal created by Din Tai Fung featuring steamed beef soup and noodles with spicy shrimp and pork wonton. I thought this was an excellent meal- the beef was tender and the soup had a lot of kick (almost like bak ku teh). The wantons and noodles still retained some springiness.
Now by right if you pick this Star Special option you don't get any of the other dishes, but I requested for them and the crew obliged.
The  hors d'oeuvre is pan seared prawn and grilled asparagus, layers of crepe with truffle mushroom, goose liver moussee and colorful vegetable filling.
I also got a side of bread. The bread is served with Echire butter. That's atas butter.
Another thing I really liked about the meal was the garlic bread? Why? Because it had raw garlic on it
Now I don't care what you and every single one of my dates thinks. Raw garlic is awesome. There is a certain joy to taking a bite into a sliver of garlic and getting that kick of flavor. Let it be known that I am totally #teamjacob
The crew set up an additional toiletries holder in the loo as well with mouthwash, earplugs and toothbrushes. I appreciated this since it meant I didn't need to break out the contents of my amenities kit.
They also set up a limited snack basket in the galley. Water, crackers and cookies mainly.
EVA's bed may not be as wide as SQ's, but it does offer a lot of privacy and a greater choice of angles (as I've said before I'm one of those weirdos who doesn't like full flat- 170 degrees of recline seems to be the magic number for me)
I slept a solid 5 or 6 hours. It helped that we had a very quiet cabin. I think I completely lucked out in that there were no loud snorers on this flight.
I ordered some fried noodles from the snack menu which weren't really appetizing. It was like soggy udon. I also watched Arrival on the IFE system. I was really looking forward to that movie but I felt strangely disappointed after watching it. I thought it was trying to be a bit too clever. But then again I'm a bit of a Philistine that way.
Breakfast was a simpler affair and just a single tray. I went for the Asian option  of prawn paste soup. This isn't catered by Din Tai Fung and I thought the taste was pretty average.
The only other drama happened close to landing. I was swapping out my Singapore sim card to put in my US sim when the unthinkable happened- my sim tray dropped beneath my seat. Not just beneath, but into some small crack. I took apart half the seat just trying to find it- no dice.
I got worried beyond belief. Without the sim card tray, my phone was just an expensive paperweight. I was relying on my phone for navigation, for my reservation records, for being antisocial. The only thing I could do was ask the crew to get the ground team on standby to help me dismantle the seat.
Upon landing, the ground team showed up and were extremely helpful. The engineering dude was down on his hands and knees with a flashlight dismantling the legrest and other components to get beneath the upholstery. I felt really bad because the hypochondriac in me was seeing all the gunk under the seat and getting really squeamish. This went on for 30 minutes and I was praying that we'd be able to find it.
And in the end, God answered my prayers because just before I was going to give up, I asked the engineer to pass me the flashlight and let me dig a bit. And then I realised the sim tray was on a small ledge beneath the seat. Technically, I found it, but the engineer from the ground team was so diligent about the task. The poor guy was sweating like mad and cramming his hands into every nook and cranny just trying to find it. I did send a note to EVA commending him.
Immigration in Houston was thankfully not dramatic at all. My global entry worked like a charm, and I didn't have to interact with any surly CBP officials. Just scan your passport, scan your fingerprints and you're into the country.
I was all the time looking out for that portrait in the arrival hall of the president welcoming you to the country but for some reason I didn't see it. I remember when I wrote this trip report I joked that one day you might see Donald Trump's photo welcoming you to the States. Ah, my naive younger self.
I now had a 8 hour layover before my next flight. Time to head to the Bates Motel…