Lifemiles gave us all a scare recently when they revamped their online booking engine and it was missing a whole lot of Star Alliance award space. Travel hackers are a paranoid bunch, but perhaps it speaks more to the distrust that exists between flyers and frequent flyer programs that the immediate worry when such things happen is "it's a feature, not a bug".
Well, I'm happy to report that the Lifemiles engine is up and purring again and showing abundant Star Alliance partner space. Anecdotally, I've found Lifemiles to be a great engine for booking awards on ANA and EVA, which seem to release a lot of award space to the USA. I'm pleased to see that has returned, especially in business class.
Quirks with the new engine
Of course, it wouldn't be Lifemiles if the engine didn't have strange, unexplainable quirks that unintentionally threw up great opportunities for value. Here's a couple of things I found after playing around…
Mixed class award bookings…for less?
Consider the following SIN-NRT-HNL itinerary for example. I've booked SIN-NRT on ANA business class, and NRT-HNL on United first class. Based on what I know, when one leg in an itinerary contains first class, the entire itinerary should price as first class and cost 75,000 miles. Not so in this case- by combining the ANA flight with the United award I was able to price the booking at 58,020 miles!
It was the same for this mixed class economy and business class routing to HNL. By selecting business on ANA and economy on United, the award priced at 38,140 miles (instead of the 51,000 miles it by right should price at).
I didn't actually ticket any of these awards so I have no idea whether it will actually work, but it wouldn't be unlike Lifemiles for something like this to happen. You're welcome to try your luck with other routes though.
Long way round routings
The engine is also offering some very nonsensical routings. I tried searching for SIN-SYD and it gave me a SIN-NRT-HND-SYD itinerary, all on ANA. I'll need to change airports in Tokyo, but if I really enjoyed ANA's business class then well…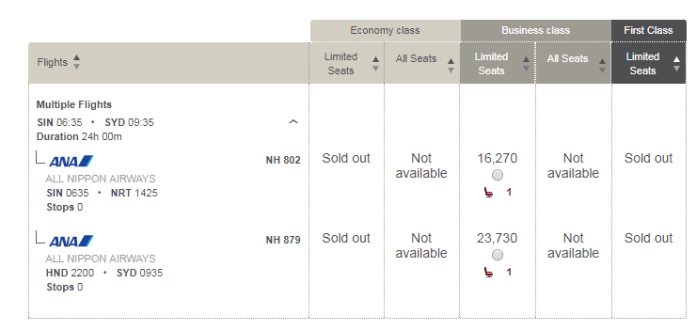 So try out the new Lifemiles engine this weekend and let me know if you see anything interesting.