A few months ago I posted an article about how anyone with a World Mastercard could get free Hertz President's Circle status. That opportunity is since gone, but hopefully more than a few of you were able to get in on it while it lasted.
I certainly did, and was very excited to field test my newly-minted PC status on my RTW trip at BOS and SFO. Now, it's important to note that your experience as an elite member will be very, very different depending on where you rent from. Even within the States, the experience renting at a neighbourhood Hertz  will be different from renting from an airport (neighbourhood locations tend to be run by franchisees who mostly don't give a hoot about elite status, airport locations are corporate-owned and do better with elite recognition). And don't get me started on Europe vs the States, or Asia vs Europe. Long story short, YMWV
But back to the US airport experience- Hertz has introduced a pick-your-own-car concept called Ultimate Choice at certain airports, similar to that pioneered by National. It's very simple- all you have to do is book an intermediate car (Class 'C', ICAR) and when you arrive at the airport you go straight to the Ultimate Choice aisle and pick whatever car you want.
There are special areas for Five Star and President's Circle members, and these areas will in theory have nicer cars that you won't find in the regular Gold aisle.
Why this is awesome is that you can find the lowest mileage, shiniest vehicle on the lot and drive off with it, instead of being at the mercy of some random algorithm that assigns you a 50,000 mile Toyota Corolla with a funny smell coming from the trunk. Moreover, you're almost guaranteed to find at least a compact or mid-sized SUV on the aisle, meaning it very rarely makes sense to pay outright for a guaranteed SUV if that's what you want. You might get lucky and snag a convertible or premium vehicle from time to time. Remember, so long as it's in the Ultimate Choice area, you can drive off with it for the cost of an intermediate car rental.
Boston Airport
All rental car companies at BOS are located at the consolidated rental car center, which  can be accessed through a complimentary shuttle bus from the airport. Hertz occupies the first floor.
Look out for the LCD screens that tell you which area to go to- honestly, you don't need it because you should already know which part of the Ultimate Choice aisle you're entitled to, but it's always nice to see your name up in lights. I was quite surprised they didn't use initials instead of full names.
Just next to the directory is the "upsell area". This is where they parade the nicer vehicles which you can get for an upcharge. It's a flat US$25 per day for President's Club members, and depending on what's available and your base rate, it might actually be worth taking a gander. The best thing on offer was an Infiniti QX60.
I explored both the Five Star and President's Circle areas (if you're a President's Circle member you can of course take from the Five Star aisle if you're so inclined). The Five Star aisle had a couple of SUVs (Ford Edge, Jeep Compass) and a lot of Japanese and Korean sedans. In general, rental car companies in the States have an unhealthy surplus of Toyota Corollas, Hyundai Elantras, Kia Fortes and Nissan Sentras. These cars may go by different names in Singapore (eg the Nissan Sentra is sold as the Sylphy here), but all you need to know is that none of these will be the ride of your life.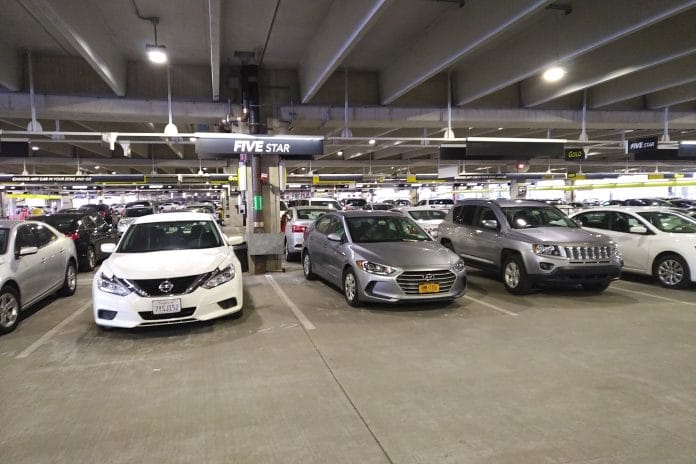 The President's Circle area wasn't a whole lot better. It seemed to have all the same Kias/Hyundais/Toyotas that adorned the 5 Star area, but also had full-sized vehicles like Toyota Camrys, Nissan Altimas, Ford Fusions and Kia Optimas. The highlight was a Ford Mustang convertible, but come on, it was sub zero in Boston. Hardly top-down weather.
I settled for an Infiniti M37, which had Maryland plates and about 20K miles on the odometer. The M37 is usually classified as a premium rental, but it's SOP to throw in a couple of premium vehicles into the PC aisle just to keep elite members happy. The deciding factor for me was that it had working Satellite Radio, which anyone who has driven in the States will tell you is awesome. It also had other modern conveniences like keyless entry and go, heated power seats and a reversing camera, features which might not be standard in the other cars you'll find in the PC area. There was no hiding that the car wasn't the newest though- some of the interior was worn and faded.
All in all, I wasn't really impressed by the PC experience at BOS. The cars on offer were average, and it seemed almost mean-spirited not to throw in a few more newer, premium cars into the mix (the three Infiniti M37s I found on the aisle all had 20K+ miles on them).
San Francisco Airport
There are two types of rental car companies at SFO- on airport and off airport. All the big boys are on airport, but you still need to take a train to the rental car facility (off airport means taking a shuttle bus). Once again I saw my name on the board, with my hard-earned President's Circle status there for the world to see…
This location had a bright digital map highlighting the different areas.
The selection here was miles better than at BOS. I saw Chrysler 300s, Infiniti M37s, Dodge Chargers (can someone explain to me why people like this car? It looks like a Hot Wheels vehicle) amidst the usual garden variety Toyotas and Kias.
But parked away in a corner of the PC area, I found these two gems…
Yup, that's a Buick Encore and, more importantly, an Infiniti QX60, which is supposed to be part of the Prestige Collection. I was shocked to see it available for free in the PC section and at first thought it had been wrongly placed. But check out went without a hitch (once you've chosen your vehicle, simply drive to the exit and give them your credit card and driver's license. Singapore drivers license holders do not need an international driving permit to drive in the US) and I was now the proud temporary owner of a luxurious SUV, all for the princely sum of US$60 a day.
It was the perfect vehicle to take down the Pacific Coast Highway on a gloriously clear day. The high seating position and sunroof made the views that much better.
Conclusion
I found the Hertz Ultimate Choice experience no better/worse than National's Executive Aisle. Again, it's important to emphasize that your experience will vary tremendously depending where you rent from. Hopefully this gives you an idea of what you can expect as an elite member, and even if you're just a basic tier customer there's no reason why you should ever have to put up with an old gas guzzler anymore.