There's very little doubt in my mind that few airlines can match up to Singapore Airlines' First and Business Class products, at least where in-flight experience is concerned. Even back in 2000 when the airline first joined Star Alliance, members of partner frequent flyer programs were licking their lips at the prospect of using their miles to experience the award winning SQ seats and service.
And then, in the mid 2000s, something happened. Partner FFPs could no longer access certain SQ First and Business class products. In a sense, it's good that SQ restricts the release of premium cabin space to Star Alliance partners. Yes, it goes against the spirit of being part of an alliance, and yes, if other airlines do the same it's not going to be good for us KrisFlyer members either. But dammit, it benefits me right now, so I'm not complaining. Can you imagine the competition for awards if Mileage Plus, Aeroplan, Royal Orchid Plus and every other *A FFP member out there started trying to get their hands on Suite Savers?
But partner award blocking also has implications for those of us whose primary FFP is KrisFlyer, and it's important we understand what can and cannot be booked by partners.
To do that, we need a short history lesson.
Why can't partner airlines see SQ award space?
It's October 2006. SQ has just unveiled its brand new cabin products on its new 777-300ER (aka 77W) aircraft. The new Business Class is, quite simply, amazing. It's full flat, it's wider than many other airlines' First Class, it is a quantum leap forward from their old angled flat Spacebeds.
The new First Class is similarly stunning, adding a whole new level of privacy and luxury that surpasses the flagship Sky Suites product on SQ's existing B747s.
KrisFlyer members are delighted at the idea of redeeming their miles on this, but in late November, before the new cabin products can even enter service in December on the SIN-CDG route, the other shoe drops. KrisFlyer announces that it will devalue its award chart from February 2007, and sends out the following circular (emphasis mine):
"Members can continue to redeem award tickets in Economy Class (for both Saver and Unrestricted awards) on the B777-300 ER aircraft. Only Unrestricted awards will be available for redemption in First and Business Class"
When the A380 is unveiled the following year, the 2006 Business Class seat is selected for this aircraft along with the first-of-its-kind Suite. The award chart is updated accordingly to block Saver redemptions on this aircraft, and KrisFlyer members who want to enjoy Saver First and Business Class rates can only redeem their miles for SQ's older cabin products.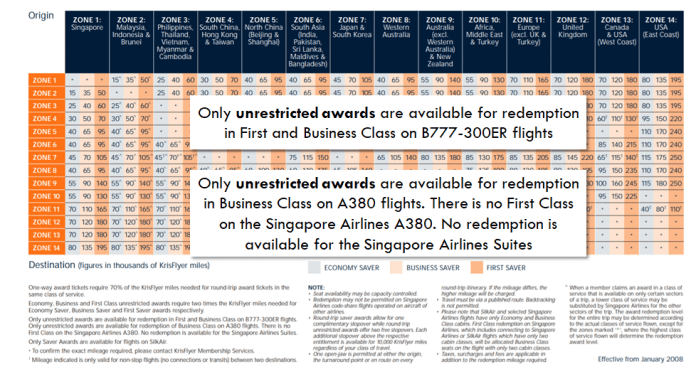 Unrestricted awards, for those of you who don't know, are basically the equivalent of today's Advantage awards. They cost double the price of Saver awards. For example, a round trip Business Class award from Singapore to San Francisco would cost 120,000 miles for Saver, and a whopping 240,000 miles for Unrestricted.
Needless to say, KrisFlyer members are outraged. SQ has dangled a carrot, then in the same motion yanked the carrot higher. "I'll never fly SQ again," say some aggrieved keyboard warriors (how's that workin' out for ya?). Other, more optimistic members believe that Saver awards will become available '"in six months" with one member putting money on 2010.
As it turns out, it took five years for those awards to become available at Saver rates. Five. Years. It was only in March 2012 (as the silver lining in another KrisFlyer devaluation) that SQ finally allowed KrisFlyer members to redeem these new First and Business class products at Saver rate. Suites were later made available for Saver redemptions in November 2012.
But the initial restriction on Saver awards imposed back in February 2007 had a lasting implication for partner FFPs.
Remember that Unrestricted awards, like Advantage awards today, are only visible to KrisFlyer members. That means that members of partner FFPS were effectively blocked from booking the new Business and First Class cabins, period. If they wanted to redeem those seats, they needed to be KrisFlyer members, with KrisFlyer miles.
When Saver awards on the new cabin products were made available to KrisFlyer members in 2012, that restriction continued to hold for partner airlines. It's my guess that somewhere along the way SQ managed to configure their IT systems to block the release of such seats to partners, much in the same way as SWISS blocks all First Class awards to partner airlines.
The one exception to this rule is Lufthansa's Miles and More program, which has a special arrangement with KrisFlyer that allows their members to redeem premium cabin space as per normal.
Why should I as a KrisFlyer member care?
Cool story bro, you say. But that's their loss. Why do I care what other Star Alliance members can and can't redeem with their miles?
That's a good question. You need to be aware of this restriction because it has implications for us in Singapore too. Suppose you like to buy Lifemiles or Mileage Plus miles when they go on sale. You need to remember that these award restrictions mean buying such miles isn't a way of enjoying SQ Suites on the cheap, or any long haul SQ Business or First class product for that matter (2006 J on the 777-200ER aside). At best, you'll be limited to the regional J product on the A330/B777-200 on runs to Bangkok or Taipei, where you can connect to other Star Alliance partners like Thai or EVA for the long haul segment of your flight. 
Even if you don't dabble in buying miles, this restriction can impact your own award planning. Suppose you want to fly business class from Singapore to Oslo. One possible routing is SIN-CPH-OSL, with SIN-CPH on SQ's A350 and CPH-OSL on an SAS flight.
The problem is, Star Alliance partner searching on the SQ site is still a mess (albeit not as bad as it was when it first launched). If the very buggy Singapore Airlines website doesn't display this option, you might not even know it exists. United.com won't show you this combination, because it can't access SIN-CPH in SQ's A350 business class. Same goes for Aeroplan, and ANA, and Lifemiles. Couldn't I use Miles and More, you ask? Yes, but you need a minimum balance of 7,000 miles in your M&M account to even search, which makes this an impractical solution if you want to use the M&M engine to search for SQ award space.
That's why knowing these restrictions exist is important. If I know that SIN-CPH-OSL is possible (because I see SIN-CPH space on SQ and CPH-OSL space on Aeroplan/ ANA/ United.com), I can call up KrisFlyer membership services and get them to piece that award together for me, even when the SQ website is throwing up no options.
Contrary to popular belief, you
can

book selected SQ Business and First Class awards through partner FFPs

So, with all that said, which SQ Business and First class awards can and can't be booked through partner FFPs? The table below summarizes the availability situation.
In general, Economy Class seats on SQ flights are always open to partners, as are the regional Business Class products on the A330 and new 787-10 (which serves Perth and Osaka)
You can even redeem First Class awards, albeit on a single aircraft type (777-300). These aircraft regularly ply the CGK, MNL, BOM and occasionally PVG and BWN routes.
You might be surprised to see the 2006 J seat is available to partners, given it's the reason this whole blocking started happening in the first place.
The reason is simple: at the time the 2006 cabin products were unveiled, the 777-200ERs were outfitted with SQ's angled-flat spacebed seats. These seats, introduced way back in 2002, were far from cutting edge and SQ didn't mind opening them up for partner redemptions.
Of course, the fact that they were far from cutting edge meant they were far from competitive. So as time went by, the 777-200ERs were either retired or retrofitted with the 2006 J seat, but SQ still kept Business Class seats on this particular aircraft type open to partners. Today, you can find this aircraft plying routes like Christchurch, Mumbai and Istanbul.
Conclusion
Fortunately for us in Singapore, KrisFlyer miles are easy to come by and we don't need to worry about restrictions on redeeming SQ's latest cabin products (well, maybe the new Suites). That said, I'd still think it worthwhile to get familiar with the restrictions facing redemptions via other partner award sites, as it will impact the results I see when I use the Aeroplan or United.com engines to search for Star Alliance partner award space. 
The more you know.