UOB has just launched a 10,000 miles sign up offer on its PRVI Miles cards for new-to-bank customers, valid for approvals from 1 November 2019 to 31 December 2019. The T&C can be found here.
UOB defines existing customers as those who currently hold UOB cards, or who have cancelled a PRVI Miles card in the last 6 months. In other words, if you don't hold any UOB card now, but cancelled a non-PRVI Miles card in the last 6 months, you're still eligible.
This offer applies to all three versions of the PRVI Miles card, although the Visa and Mastercard offers have (as expected with UOB) a major caveat.
The sign up bonus, in and of itself, is unremarkable- it's similar to what we've seen offered before. What is a bit more interesting slash concerning is that UOB has added some new exclusion categories for qualifying spending which haven't featured before.
We'll cover that in a bit, but first, the brass tacks.
UOB PRVI Miles AMEX: Spend S$6K in 90 days
The AMEX offer is pretty straightforward- spend S$6K in 90 days to get 10,000 bonus miles. Assuming you spend this locally, you'll have a total haul of 18,400 miles (10,000 bonus + 6,000 *1.4 base).
Signing up through SingSaver will get you an additional S$20 cash, whether you're new-to-bank or existing.
Get S$20 cash when approved for the UOB PRVI Miles AMEX
UOB PRVI Miles Visa/Mastercard: Be the first 300 to spend S$6K in 90 days
Well, it wouldn't be a UOB sign up bonus without a catch. If you want a Visa or Mastercard version, you'll need to spend the same S$6K in 90 days, and be among the first 300 cardholders to do so (the cap is shared by both Visa and Mastercard applicants).
I'll let you decide your odds of being among the first 300 cardholders, but if you're going to spend S$6K, why not do it with a card that doesn't force you to play Russian Roulette?
DBS Altitude Visa/AMEX: Spend S$6K in first 3 months to get 10,000 bonus miles [New-to-bank only, expires 31 Mar 2020]
KrisFlyer UOB Card: Spend S$6K in first 90 days to get 10,000 bonus miles [New-to-bank only, expires 31 Dec 2019]
SCB X Card: Spend S$6K in first 60 days to get 60,000 bonus miles, must pay S$695.50 annual fee [Both new and existing ,expires 31 Dec 2019]
If you fancy rolling the dice anyway, signing up through SingSaver will get you an additional S$20 cash, whether you're new-to-bank or existing.
Get S$20 cash when approved for the UOB PRVI Miles Visa
Get S$20 cash when approved for the UOB PRVI Miles Mastercard
Which version should you get?
The main difference between the AMEX and Visa/Mastercard versions is that the AMEX has:
20,000 bonus miles when you spend S$50,000 in a membership year
Up to 8 complimentary airport transfers to Changi airport per calendar year
Surprisingly enough, the UOB PRVI Miles AMEX has the most generous limo benefit on the market right now, in the sense that it has the lowest spending requirement. You just need to spend S$1K overseas in a quarter to get a free ride, versus up to S$20K on certain other cards.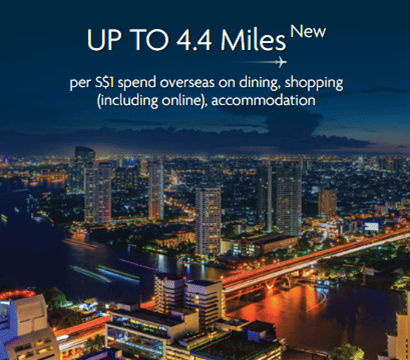 All three versions of the card are eligible to register for UOB's ongoing 4.4 mpd on selected overseas spending (dining, shopping and accommodation), but only the Visa/Mastercard versions can earn the bonus 4.4 mpd on public transport, as AMEX is not supported by SimplyGo.
Supplementary cardholder spend is included
It's kind of insane that I need to mention this explicitly, but given UOB's recent pattern of behavior, it'd be wise to take note. Supplementary cardholder spending will be pooled with principal cardholder spending in the calculation of eligible spend. In other words, if you spend S$5K and your partner spends S$1K, it'll be taken as if you spent S$6K.
Exclusion categories include CardUp, ipaymy, Grabpay top ups
As you might expect, UOB is excluding the usual suspects such as education, government, gambling, and charitable donations from counting towards the S$6K spend.
But what you might not expect is that they've excluded a whole load of "prepaid accounts" from qualifying too. Grab wallet top ups don't count, nor does YouTrip.
That's fair enough, I suppose, but CardUp and ipaymy also feature on the list and I can't for the life of me understand why. It's absurd to call them "prepaid accounts"- you don't store any money there; they're basically passthroughs for your funds en route to the ultimate receiver.
UOB is not the first to exclude CardUp/ipaymy from sign up bonuses; SCB started the trend when they launched the X Card in July this year. That said, I find this a concerning development, because in my mind there's absolutely nothing "shady" or "grey" about these transactions.
For what it's worth, UOB's other ongoing sign up bonuses on the KrisFlyer UOB and UOB Visa Infinite Metal Card do not exclude CardUp/ipaymy, so it remains to be seen if this is a regular thing from now on.
Let's also not forget that UOB even used to play nice with CardUp, with PRVI Miles cards earning an upsized 2.4 mpd on CardUp transactions back in 2017. Something's obviously changed since then, and I think we'll need to watch the sign up bonus T&Cs of other banks in the months to come.
Although I disagree with the exclusion of Cardup/ipaymy, you can't accuse UOB of playing favourites- PRVI Pay transactions also don't count.
Funnily enough, Mileslife is also featured on the exclusion list. Guess UOB didn't get the memo…
Bonus miles credited in May or June 2020
Your base miles (1.4 mpd on local spend, 2.4 mpd on overseas spend) will be credited when the transaction posts, but your bonus miles will be awarded based on your card approval date:
| | |
| --- | --- |
| Approval Date | 5,000 UNI$ credited by |
| 1-30 Nov 2019 | 31 May 2020 |
| 1-31 Dec 2019 | 30 June 2020 |
Remember: your bonus is technically credited in UNI$, not miles. This means you could transfer your UNI$ into Asia Miles or KrisFlyer, depending on your preference.
Conclusion
A "Spend S$6K Get 10K miles" sign up bonus is on par with what we're seeing on other cards like the DBS Altitude and KrisFlyer UOB. That said, those cards don't have the restrictive 300 cap, so if I were in the market for a Visa/Mastercard, I'd probably go for those instead.
More concerning is that we're starting to see CardUp/ipaymy excluded from more sign up bonuses, something that wasn't the case until recently.
You can see a summary of all the credit card sign up bonuses at this dedicated page below