Introduction: Roman Holiday
Qatar Airways A350-900 Business Class KUL-DOH
Qatar Airways A320 Business Class DOH-KBP
Waldorf Astoria Rome Cavalieri
St Regis Florence
Interlude: When interlining goes wrong
Cathay Pacific A350-1000 Business Class FCO-HKG
---
The St Regis Florence is widely held to be one of the best properties in Marriott's portfolio. At least that's according to Flyertalk and Tripadvisor, where post after post raves about the exceptional service, luxurious rooms, exquisite dining, and unbeatable location.
After the disappointment of Waldorf Astoria Rome Cavalieri's tired rooms and indifferent service, I was hoping that the St Regis Florence would be the perfect counterpoint. And while the stay was certainly good, it wasn't anywhere near as life-changing as some of the reviews made it out to be. Throughout the course of my five night stay, I kept telling myself ok, today's the day where they'll do something that will really knock my socks off. But that moment never really came.
Let's back up a bit. One thing the St Regis Florence has going for it is undoubtedly its location. Major attractions like the Ponte Vecchio, the Uffizi, Piazza del Duomo, Galleria dell'Accademia, and Basilica di Santa Croce are very close by, but just far enough so you don't get bothered by the associated noise.
It's also less than a 10 minute walk from the train station (even with luggage in tow). We arrived on a morning train from Rome, and soon enough found ourselves at the hotel entrance.
The doorman greeted us and took our bags, ushering us through the revolving doors into the opulent lobby.
The lobby wasn't nearly the art orgy that is the Rome Cavalieri, but had just the right amount of old world charm, right down to the concierge with whom you were supposed to deposit your room key every time you left the hotel (never enforced, mind).
There was a small seating area in front of an inactive fireplace (it was September, after all), and opposite it was a living room with a communal dining table and a couple of couches.
The check-in area had a very relaxed looking bear in a therapy chair, complete with other tchotchkes like an old-fashioned globe (the kind you think opens up to reveal a mini-bar inside).
The staff handled the check-in efficiently and thanked me for being a Platinum member, but apologised that an upgrade would be impossible as the hotel was running full (on the app I saw suites available for all five nights of my stay, but didn't press them on this until I saw the first room they gave- more on that anon). I chose complimentary breakfast as my Platinum amenity, and we received a discount certificate for a (still overpriced) spa treatment.
After checking in, we proceeded down the corridor to the lifts and rode to the third floor.
We had been assigned room 305. The room keys at the St Regis are a curious blend of old and new. They support contactless entry, so you tap the blue plastic fob on the lock to enter. However, the fob is attached to a heavy brass thingamajig, which makes it rather inconvenient to carry around. You could detach the two, but in practice I ended up dumping the key with the concierge every time we headed out.
Room 305 was, in a word, underwhelming. It faced the back side of the hotel, where an adjacent building blocked out most natural light.
Apart from slightly nicer trimmings, the room felt like any other standard hotel room, with a chair in the corner, a flat screen TV opposite the bed and a bathroom to the left of the entrance. It wasn't particularly spacious, and the lack of natural light only made it feel even smaller.
The bathroom was cramped, with too many fixtures competing for too little floor space. The addition of a small trolley with a hairdryer and weighing scale just added to the congestion, and it was definitely more suitable for one person than two.
On the bright side, a bottle of prosecco was waiting in the room as a welcome amenity. The snob in me appreciated the fact that it was DOCG, not DOC.
One nice perk about staying at a St Regis is the butler service, and I wanted to request their assistance with unpacking. To my surprise, I was told that no butler service was available. I was confused, because I was under the impression that all rooms at a St Regis had access to butler service. Not so at the St Regis Florence, as stated on their website:
Guests staying in Premium Deluxe Arno River View Rooms and all suites enjoy impeccable St. Regis Butler Service any time, day or night.
In other words, if your room didn't face the river, no butler service for you. It felt like an arbitrary distinction, almost as if those guests were from the "wrong side of the tracks". I get that manpower is more expensive in Europe, but so are hotel rates. If the 299 room St Regis Bangkok can offer butler service to each guest, shouldn't brand standards dictate that the 99 room St Regis Florence do likewise?
In any case, this definitely didn't seem like the best the hotel had to offer, and later that day I went back to the front desk and asked about upgrades. They repeated the line that they were full, but their tune changed when I pointed out that the website was still showing upgraded rooms and junior suites available for all five nights. A very nice lady from the guest experience team said she'd see what she could do, and the next day we were moved to a room on the first floor (one level up from the lobby, in confusing European style).
Now, this is why I think the St Regis Florence is all about location. Not just the hotel's, but the room's. The second room could not have been more different from the previous one, and it makes such a difference when you're facing the river with unobstructed sunlight.
While the first room felt cramped and dark, the second had high ceilings, which combined with the sunlight streaming in from the full height windows gave a sense of spaciousness.
It helped that there was a lot more space to move around in the room too. Instead of a cramped passageway between the bed and the TV, the room was large enough to have a small bench in front of the bed and a couch opposite.
By the bed was a desk, and although half the space was taken up by pamphlets and other hotel paraphernalia, it was still comfortable enough for short spurts of work.
Thankfully, there were small nods to modernity like bedside power outlets and USB charging ports.
The bathroom was another highlight, easily double the size of the previous room's.
Despite the size of the bathroom, only a single sink had been provisioned. At least the hot and cold taps aren't separate, unlike in certain parts of soon-to-be-ex-Europe…
Bathroom amenities at the St Regis are by Laboratoire Remède, and I've found them to be consistently high quality. 40 ml bottles are provided, but you can buy bigger bottles online at a ridiculous price -a 200 ml bottle of shampoo costs US$22!
As with most hotels in Europe, a separate toilet and bidet was available. Europe unfortunately hasn't gone high-tech with the 2 in 1 bidet solutions you find in Japan, but I suppose that's part of the charm. The Milelioness, not having seen a bidet throne before, asked if it was for washing feet. I nodded sagely, refusing to let my preconceived notions hamper her creativity.
The bathroom had both shower and tub options. The shower featured a bench, always a welcome feature for sitting down and scrubbing feet.
The bathtub, sadly, wasn't one of those free-standing claw foot ones which look so luxurious, and ended up not being utilized at all.
Since this was a river-facing room, we were finally deemed worthy of butler service. A note detailing the benefits was found on the bed, and we received nice handwritten notes each evening.
On the last day they left a small box of chocolate truffles as well.
There was another weird quirk though. While the butler service at other St Regis hotels I've been to have offered complimentary coffee/tea throughout the day, the St Regis Florence only offered it in the morning. Not knowing this, we ordered coffee at around 3 p.m and promptly received a bill for about $12. The front desk waived this charge after I asked them about it, but it felt like another arbitrary distinction. Does it really cost more to prepare coffee in the afternoon?
Breakfast
Breakfast is served from 7-11 a.m in an enclave that overlooks the Michelin Starred Winter Garden restaurant on the ground floor.
Breakfast normally costs 45 Euros per person, but it's complimentary for Platinum members. It was never crowded (but then again, we took breakfast really early, around 7.30 in the morning on most days), and we were seated almost immediately upon arriving.
The spread didn't change at all during the five nights we were at the hotel, which some may call disappointing (others might call it reliable). It was definitely one of the best hotel breakfasts we had on our trip, however, with a good variety of pastries, cold cuts, fruit, cereals, breakfast meats, eggs and waffles to order and yes, prosecco.
I mean, seriously, how hard is it to get a half decent prosecco with breakfast in Italy (I'm looking at you, Rome Cavalieri)?
At the egg station was a small menu you could order off of. This featured pancakes, crepes, waffles, and porridge.
I did find it a bit strange that a 5-Star hotel was using the same kind of automatic pancake machine you'd find at a Days Inn breakfast spread in the States.
But if you ordered a waffle, the chef picked up a phone to the main kitchen, and ten minutes later you'd have a lovely waffle with just the right amount of powdered sugar.
I was hoping the hot items might be a bit more exciting, but it was the same standard American breakfast staples each day. Bacon, ham, sausage, mushrooms, roast potatoes, grilled vegetables and spring rolls, just because.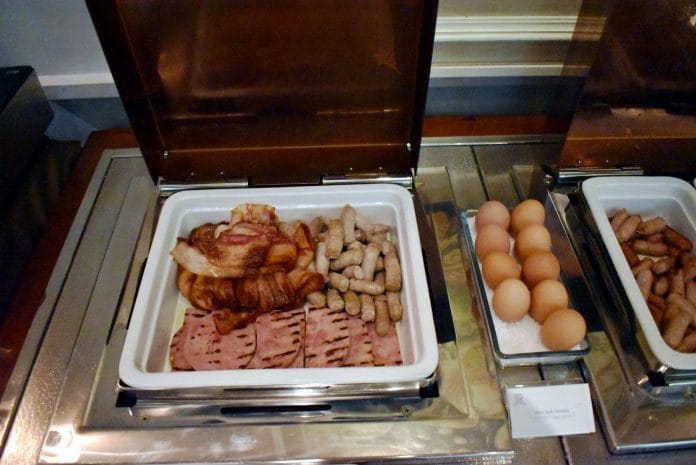 My overall thoughts on the buffet were that I'd have enjoyed it more if they switched things up each day, but otherwise it was everything we needed it to be.
I found service at breakfast to be mixed. On some days drinks were refilled automatically, on others you had to help yourself. I saw a lady spill orange juice all over her table, clearly within eyeshot of several waiters, but no one came to help her out.
Other facilities
If you're hoping for a swimming pool, you're going to be disappointed. Florence isn't the kind of city you come to laze in the sun, after all, and the only fitness facility is the gym.
There is a spa by Clarins, but the treatments are, shall we say, not economical. As per the spa menu, a 1 hour massage costs about 150 Euros, with a 90 minute treatment going up to 190 Euros.
This property does not have a club lounge.
Conclusion
My summary of the St Regis Florence would be "good, but not life-changing." There's no doubt the hotel has a great location, the rooms (at least the second one) are impressive and the breakfast spread more than adequate, but I could say the same about a hundred other hotels out there.
What separates the good hotels from the great is the service, and unlike the W Maldives where the staff really went out of their way to get to know us and our preferences, I never quite felt the same here. The staff were distant- they were extremely polite when approached, but otherwise you were left to your own devices. I don't know whether it's because they believe Asians prefer to be left alone (and some of us do!), but as I read through the Flyertalk and Tripadvisor reviews again I noticed so many of them mentioned their service interactions as a highlight. That's something we didn't have the chance to experience, and the upshot is that it felt like any other premium hotel stay-comfortable, but not personable.
If you're traveling to Florence, the St Regis is definitely worth a night or two just to see what the fuss is all about (make sure you get a river facing room), but otherwise I think you'd do just as well at the Westin Excelsior across the street, or the Sina Villa Medici further west.