Introduction: Roman Holiday
Qatar Airways A350-900 Business Class KUL-DOH
Qatar Airways A320 Business Class DOH-KBP
Waldorf Astoria Rome Cavalieri
St Regis Florence
Interlude: When interlining goes wrong
Cathay Pacific A350-1000 Business Class FCO-HKG
---
We had a four hour stint in Doha before our connecting flight to Kiev, during which we visited the always impressive Al Mourjan Business lounge. I've reviewed the facility twice before so I won't be doing a full post on it, suffice to say I've never seen it so empty.
The lounge was deserted at midday on a Thursday, and there couldn't have been more than 30 people in the whole facility.
It's hard to believe this same place becomes a mad house every evening when connecting flights come in.
It's a visually impressive lounge, no doubt, but catering unfortunately continues to be its weak point. The hot food on offer looked absolutely unappetizing, with dry fish, hard rice, and a couple of containers of who-knows-what. Once upon a time the lounge did a made-to-order menu, those days seem like a distant memory now.
Boarding for QR297 took place from Gate C25, a remote gate. Despite the ground staff telling us that Business Class passengers would have a separate bus to the plane, one never came. That didn't really bother me, although it's always useful to one on arrival (so you can bum rush the immigration desk before everyone else).
Qatar Airways has two types of Business Class seats on its A320 aircraft.
B/E Diamond

Recliner

Configuration

2-2

2-2

Width

21 inches

21 inches

Flatbed

79 inches

N/A

AVOD

Yes

Not all aircraft

Aircraft Registration Numbers

A7-AHL,O,P,Q,R,S,T,U,W,X,Y

A7-AHA,B,C,D,E,F,G,H,I,J,
A7-ADB,C,D


A7-LAA,B,C,D,E,F,G,H
Obviously, everyone's hoping to get the flatbed seats, although with only 11 of 32 A320s equipped with them, your chances are roughly one in three. I was obsessively monitoring QR297 on Flightradar24 in the months leading up to this, trying to discern a pattern as to when the flatbeds appeared. My conclusion was that it's entirely random- some days you'll get lucky, others you won't.
I didn't get lucky, as you can see. Today's flight would be operated by A7-AHA, delivered in December 2009 and pushing 10 years old.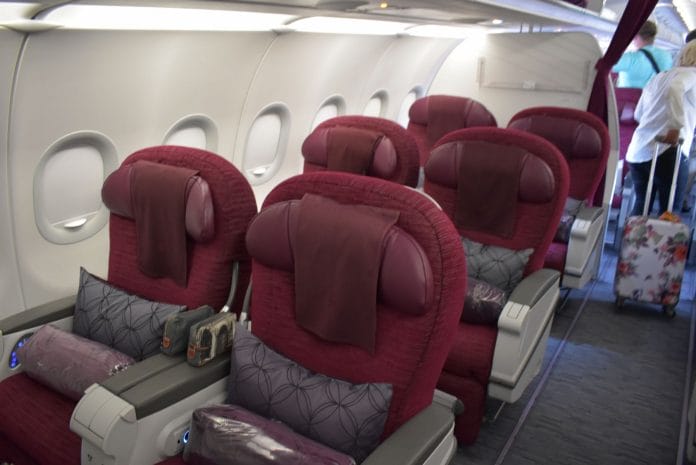 There's no question these seats aren't competitive enough when flatbed seats are becoming more common on narrowbody aircraft, but it's unlikely that Qatar will retrofit any more A320s given they're going to be phased out soon.
If you've flown domestic First Class in the USA before, you'll know the drill. These seats are basically what long haul Business Class used to be 15 years ago. They're wider with more legroom, but otherwise they're basically oversized Economy seats.
Each of the 12 seats had a pillow, shrink wrapped blanket and amenities kit waiting.
In seat storage was limited to the pouch in front of you.
At the end of the day, it's a recliner seat. You're not going to find too many features to write about. I mean, the most exciting thing was probably the flexible reading light.
Seat controls were in surprisingly good shape given the age of the aircraft, and there were no telltale oil spots on the buttons. I've been on planes where the buttons have been touched so much that the markings have been all but been erased, a major ick factor for me.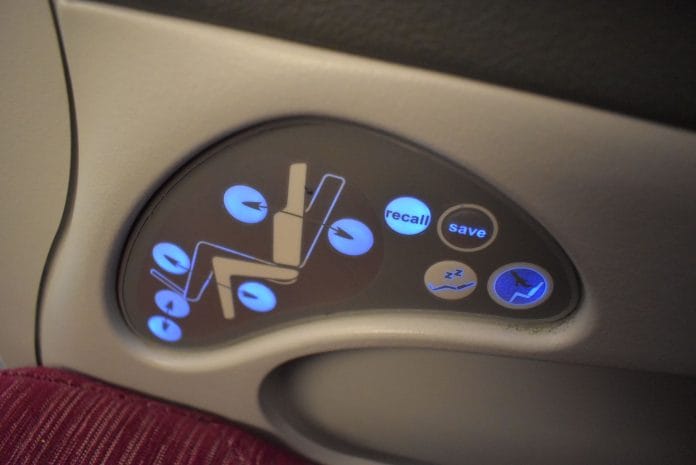 There was also an old-style IFE remote in the armrest.
In a fortunate nod to modernity, both USB and in-seat charging were available.
The crew came around with welcome drinks and cold towels, the perfect antidote to a warm desert afternoon.
One issue with the A320 seats is that the drinks holders and tray table don't inspire any confidence at all. They feel extremely flimsy and precariously narrow, and it doesn't help that Qatar uses the traditional tall champagne glasses. I was worried the entire flight that an ill-timed bump would spill the entire contents of my glass, and here's where SQ's done it right by using stemless glassware.
Although Qatar uses BRIC's for its long haul flights, short and medium haul flights receive amenities kits by Nappa Dori, an Indian brand. There are several different designs, each featuring a destination served by Qatar Airways.
Socks, a sleep mask, earplugs, and skincare products by Castello Monte Vibiano Vecchio were inside.
The captain came on the PA to inform us of the 4h 50 min flight time to Kiev. I was surprised that the flight was pretty full, given that Ukraine's mainly been in the news for the wrong reasons recently. Most of the passengers looked like backpackers and leisure travelers.
After takeoff, the crew came around to distribute menus and take dinner orders.
Pre-dinner drinks and nuts were served, and I switched to the Rose, drinking nervously. The half-folded tray table was ever so slanted towards the aisle, and the champagne glass wobbled with every small bump the plane took.
Dinner began about 40 minutes after takeoff. The starter consisted of prawn and scallop with oilve oil and lemon, black quinoa and pickled red onion. Alas, after years of mocking people who like quinoa, I find myself falling under its spell.
This was followed by the soup of a day, which I believe was a cream of broccoli.
For the mains there was a choice of a grilled veal fillet, a seafood tagine and a smoked cheese tortellini. I went with the seafood tagine, which tasted kind of meh. It was as if someone forgot to season the dish.
The Milelioness had grilled veal, which came with some awesome roasted garlic.
But slice into it, and you'll soon realise why grilled meat isn't a good idea on an airplane.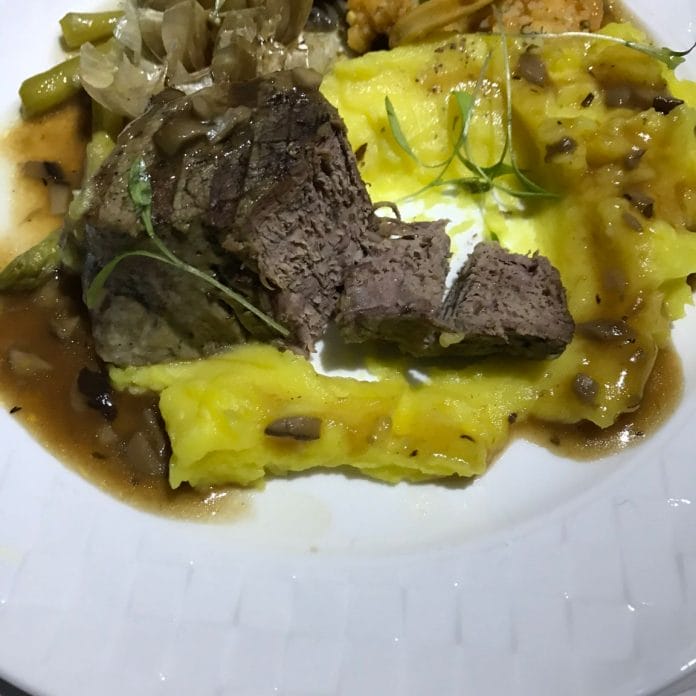 For dessert, we went with one of each- date and walnut pudding, and fresh berries with rose water syrup.
We still had more than three hours to go after meal service was concluded, so I went to the loo to freshen up. The toilets on an A320 are a far cry from the technological marvel that is the A350, but hey, it gets the job done.
The amenities kits did not have toothbrushes, but a large number of dental kits were stocked in the lavatory.
Although this is a medium haul flight, there was no compromise on bathroom amenities. The Rituals products in the A320's bathrooms are the same you'll find on Qatar's long haul routes.
Not all of Qatar's A320s have AVOD, but fortunately this one did. Your IFE screen is located in your armrest, and despite years of use, it was still a struggle to pull out.
For a flight under five hours, the selection was more than sufficient. You had the entire MCU, entire seasons of TV shows and other classic movies.
I tried to catch some rest, but that's not exactly an area where recliner seats excel. With lumpy padding and flimsy legrests, I dozed in and out most of the time. Eventually I realised the cushion on my legrest had given up the ghost and detached onto the cabin floor, but since we were close to landing I didn't bother flagging it.
As we began our descent into Kiev, the route map came on screen and I noticed we'd given Crimea a wide berth.
We landed ten minutes behind schedule at Boryspil International Airport and parked at a remote gate. Again, there was no separate bus for Business Class passengers, which meant it was a mad scrum to get to the immigration counters. Fortunately the lines weren't long, and with a cursory glance at our passports we were admitted into Kiev.
Conclusion
Given how Qatar markets the A320 on its website, you could be forgiven for thinking that all such aircraft were configured with flatbeds. It makes nary a mention of the recliner seat versions, even though the majority of A320s are configured this way.
Reality, however, is a lot more schizophrenic. I knew what I was getting into of course, but the majority of travelers probably won't have done as much research, and if they come in expecting a flat bed, storage space, privacy and Wi-Fi…
All in all, Qatar's excellent soft product helps to somewhat offset the tired hard product, but it's still not an experience you'll want to encounter on a red-eye or "longer" medium haul flight.