Introduction: Roman Holiday
Qatar Airways A350-900 Business Class KUL-DOH
Qatar Airways A320 Business Class DOH-KBP
Waldorf Astoria Rome Cavalieri
St Regis Florence
Interlude: When interlining goes wrong
Cathay Pacific A350-1000 Business Class FCO-HKG
---
Our Roman Holiday started bright and early on a Thursday morning, when we arrived at Changi just after 5 a.m for a 6.40 a.m departure to Kuala Lumpur on Malaysia Airlines. Our bags were checked all the way through to Kiev with no problems, despite SIN-KUL and KUL-DOH-KBP being on separate tickets. We even got priority tags, since the subsequent legs were on Qatar Airways Business Class.
After the formalities, we popped by the SATS Premier Lounge in Terminal 2 for a quick bite.
It's a decent lounge, but I just can't wrap my head around how it won the Asia Pacific Lounge of the Year at the 2017 Priority Pass awards. I mean, it's not like there's live cooking stations, or an in-house spa, or any other kind of gimmick to get excited about. At the end of the day, it's just a generic contract lounge with a passable buffet and plenty of places to sit. That's not a slight on the SATS Premier by any means (I can think of a lot of other places that don't even meet that threshold), but it's not lounge of the year material for me.
The Malaysia Airlines flight to Kuala Lumpur was uneventful, and we had two hours to connect to our Qatar Airways flight. This was a chance to visit the recently renovated Satellite Golden Lounge, which reopened in March 2018.
I'd visited the previous incarnation of this lounge in 2017 and was roundly unimpressed. However, the renovated facility is a much more pleasant experience. The 4,000 sqm space has separate First and Business Class sections, with a total capacity of 455 guests. The decor has a Malaysian heritage-inspired concept that matches the one in the regional lounge at KLIA's main building.
There are shower rooms, seats with built-in USB ports and universal power sockets. A meeting room and children's room are also available.
That said, I can't fully shake off the "warehouse feeling", because the whole lounge is in one big open area without any partitions to create separate zones. To put it another way, you can stand at the entrance and see all the way to the back of the hall, which makes the place feel like a lounge transplanted into somewhere else, rather than something built organically into the area it occupies.
No complaints about the food though. There was a very big selection of Western and Malaysian dishes, including live stations for wanton noodles, prata and kaya toast. Tables were cleared quickly, and despite the large volume of traffic, staff appeared to have everything under control.
Boarding for QR845 started promptly at 9.05 a.m. This flight, if you remember my trip planning post, was supposed to be operated by a QSuites-equipped A350-900. So naturally the aircraft was swapped a few days before for a regular reverse-herringbone version. There's nothing wrong with Qatar's regular A350-900 Business Class per se, but it's certainly doesn't evoke the same amount of excitement as QSuites.
Qatar's non-QSuites A350-900 has a total of 36 Business Class seats, arranged in a 1-2-1 layout.
This means everyone gets aisle access, which is already a big upgrade from Qatar's B77Ws and A330s, where you'll find 2-2-2 layouts. Qatar Airways is still a long way away from being able to promise 100% aisle access across its Business Class, something that Singapore Airlines may be able to do in the near future (except perhaps on narrowbody planes)
The Business Class cabin is segmented into a forward and rear section not by a wall, but rather by an alley created for a mini-bar area, under the round lit dome. This makes the cabin feel a lot more spacious and roomy.
Seats come in one of two color schemes- grey upholstery with burgundy headrest covers, or burgundy for both. The former provides a much nicer visual contrast.
If you're travelling alone, you'll obviously want the A or K seats, by the windows. These point away from the aisle, although the lack of privacy "ears" on the seat make you a bit more visible than I'd prefer.
Even if you end up with a middle seat, it's not the end of the world as there's a privacy divider that is up by default. Unlike the Singapore Airlines Business Class, Qatar's doesn't have particularly high walls so you're still likely to see the other person, but the divider helps.
In terms of where to sit, my advice is that you avoid rows 6 and 7, as these are near the toilet and mini-bar area. The vacuum flushes are loud, and queues may form around the loo closer to landing and after meals. If you really like your privacy, try to go for row 8 or 9, because there's a higher chance you won't have too many neighbours- this section was completely empty for the duration of the flight.
I had seat 3F, in the middle of the forward cabin.
Now on to the seat itself. The footwell may be a bit of a tight squeeze if you have larger feet. It's definitely a "shoes-off" kind of fit.
There is a reasonable amount of storage space behind your shoulder on the side away from the aisle, enough to put a laptop or camera. Technically there's no stowage allowed here during taxi, takeoff and landing, but most of the crew didn't seem to care. A bottle of Evian water was placed in the bottle holder.
Additional items like a small camera bag or a purse could be put in this footlocker (I'm still waiting for an airline to offer a code activated mini-safe for the storage of valuables in flight)…
…and a small bottle of water plus headphones could be stored in the armrest.
Seat controls were intuitive and easy to use, with five presets for bed, steep recline, light recline, dining and landing.
A wired touchscreen IFE controller with buttons for additional light and attendant call was nestled in the armrest.
The IFE screen itself is touch sensitive, although given the distance between the seat and the screen, you'll have to lean forward and tap it which is a surefire way to get gorilla arm.
In-seat power and USB charging were available at every seat. Singapore power plugs work fine without the need for an adapter.
All seats have a large tray table, but thanks to the design it's still possible to slip in and out during mealtimes (versus other tray table designs where you're basically a prisoner in your own seat until the meal is cleared). All you need to do is lower your armrest using the seat control console.
Qatar offers noise cancelling headphones in Business Class. They have a small battery inside and need to be switched on to work properly, which not everyone onboard understood. Quite a few people flagged the flight crew to request a new set as they thought theirs was malfunctioning.
Qatar seems to have upgraded their blankets since the last time I flew with them. Not that there was anything wrong with the old design, but the new ones are larger and softer.
Amenities kits were already waiting at some seats in the cabin (the crew must have checked the manifest beforehand and known what seats were supposed to be occupied). Qatar launched new amenities kits earlier this year, but they weren't available on this flight. Perhaps they're still going through the old stock.
The Milelioness and I each had a different colored kit.
Despite the external differences, the contents were exactly the same- earplugs, socks, eyeshade, lip balm, hand cream and facial mist by Monte Vibiano Vecchio.
The new amenities kits come in male and female versions. The male version can be reused as a washbag, and the female version can be converted into a cross-body bag with a sling, so that's something to look forward to.
As this was a day flight, no PJs were offered. However, Qatar does carry a limited stock on each flight, and I saw several other passengers request and receive them.
The chief cabin crew went around to each seat to introduce herself, sharing with us the flight time of 6 hours and 50 minutes and the expected weather in Doha (hot). Welcome drink orders were then taken, and even though Qatar has some pretty awesome mint lemonade, it's hard to say no to champagne.
It's worth noting that Qatar has downgraded (in my opinion) their inflight champagne from Billecart-Salmon to Pommery. At least it was a generous pour…
The menus were also distributed. Qatar seems to have found the right balance between keeping their menus classy, yet lightweight. Singapore Airlines, unfortunately, is now using single sheet menus on some short haul routes, which comes off as cheap. Qatar's menus aren't nearly as thick as Singapore Airlines' multi-page tomes, yet look entirely presentable.
Lunch would be served on our flight to Doha. Passengers could choose between two appetizers, three mains and three desserts. Five snack options were also available if you were peckish afterwards.
The wine list included:
Champagne: Pommery Brut Royal (France)
Champagne: Canard-Duchene Charles VII Brut Rose (France)
Chardonnay: Truchard Carneros, 2017 (Napa Valley)
Discovery: Castro Martin Albarino 'Sobre Lias' Rias Baixas, 2016 (Spain)
Bordeaux Chateau Larrivet Haut-Brion, Pessac-Leognan 2012 (France)
Shiraz: The Stump, Jump Shiraz 2016 (Australia)
Discovery: Chateau de Chambert Cahors Malbec 2007 (France)
Sauvignon Blanc: Duette Indomita, 2017 (Chile)
Dessert Wine: Hetszolo Tokaji Aszu 2008 5 Puttonyos (Hungary)
Port: Taylor's 20 year old Tawny Port (Portugal)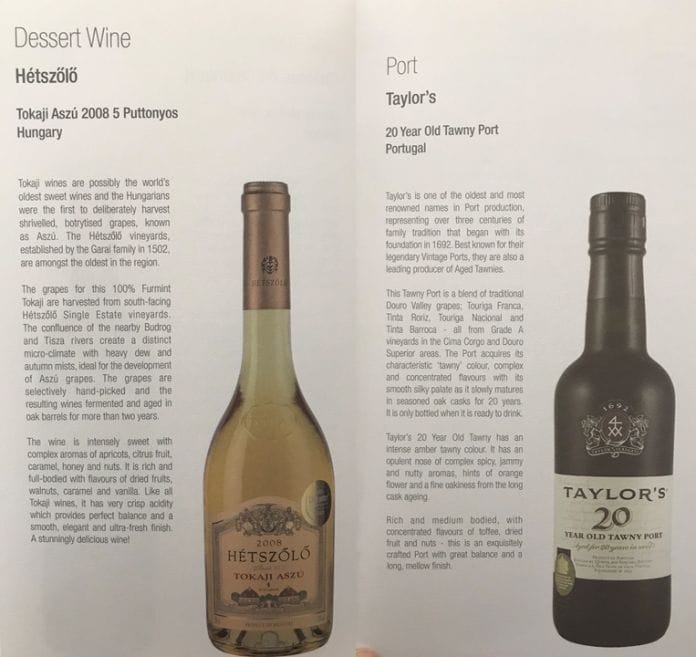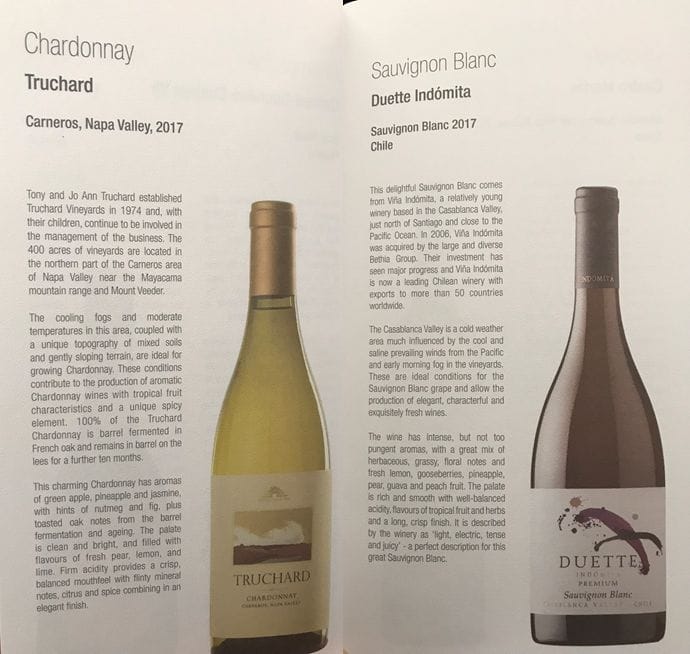 We pushed back on time and started taxiing towards our assigned runway. The A350s have amazing camera options, and I got a kick out of watching the plane from different angles as we took to the skies.
Shortly after takeoff, I managed to get online. Qatar offers Business Class passengers an hour of free Wi-Fi, and you can purchase a pass for the duration of the flight for just US$10.

Another round of drinks was served, together with warm nuts. The inflight internet worked like a charm, as you can see. Speedtest.net was blocked, so you'll just have to take my word that the connection was zippy.
About 40 minutes later, the crew started preparing the cabin for lunch. Qatar Airways offers dine-on-demand in Business Class, but the crew didn't actively advertise it, so everyone ended up having their meal at the same time.
Tables were set and the amuse-bouche was brought out (I thought the addition of the little LED candle was a cute touch).
This consisted of a prawn and a scallop with a wedge of lemon and sun dried tomato. The prawn, unfortunately, was chewy and overcooked.
Proceedings got a lot better with the cream of celeriac with ginger soup, drizzled with pesto oil. I normally don't care for ginger or celeriac, so it says a lot that I thought this was a fantastic dish.
For the appetiser, I chose the crab meat and yuzu salad with edamame puree, which came with kabocha and lemon dressing. For frozen crab meat, it was actually pretty decent.
For the main course, I went with the grilled king prawn and scallop with lemon risotto, sun dried tomato, rocket leaves and parmesan cheese. I suspect they took the prawns in the appetizer from the same dish, because these too were overcooked.
I went with something exciting and unique for dessert- vanilla ice cream. A box of Godiva chocolates came shortly after. These are packed specially for Qatar Airways, and are a fixture on all its Business Class flights.
After the meal it was time to recline and watch some movies. Needless to say, the seat goes full flat, and at 80 inches (2.03M) long, it's more than adequate for most Asians. It is a bit narrow at 30 inches (76 cm) wide, but again, not really an issue for regular-sized folk.
I fired up the IFE system, which had the Islamic Museum of Art in Doha as its wallpaper.
Qatar's IFE selection is very big, with lots of first run movies and the usual crowdpleasers. There were also full seasons of TV series like GOT and Line of Duty (a must watch, if you have Netflix).
I ended up watching Avengers Endgame. Believe it or not, I managed to avoid all spoilers up till that point in time. But really, was anyone ever doubting that they wouldn't bring back everyone who disappeared? I mean, Disney's not going to let their IP vanish just like that 😉
After watching for a couple of hours, I went to the bathroom to freshen up.
The nice thing about the A350 is that your toilet gets a bit more high tech. Unfortunately, Qatar didn't spring for the motion sensing waste disposal unit, but they did have no touch taps. The fewer things you touch in an airplane bathroom, the better.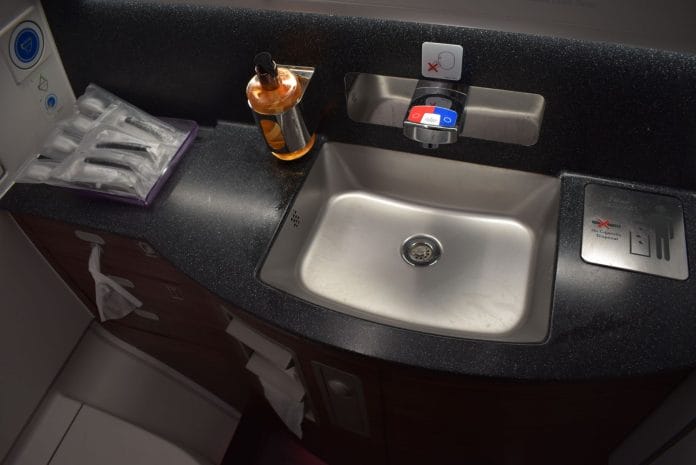 Rituals hand lotion and body mist products were stocked in the bathrooms.
As I stepped out of the toilet, I noticed that the crew had changed the lighting in the cabin to allow people to rest. I have to say, the A350 has some pretty impressive mood lighting. According to Airbus' marketing materials, the LED lights in the A350's cabin have 16.7 million possible color combinations, and can be controlled both lengthwise and across the cabin, which is apparently a unique feature to the A350.
The crew had also set up a help yourself mini-bar in the midsection alley, with a bottle of champagne and a basket of snacks.
If there's an area Singapore Airlines really needs to improve on, its their inflight snacks. Qatar had an almost embarrassingly large selection- Lindt chocolates, Joe & Seph's salted caramel gourmet popcorn, Nature's Valley bars, dried fruit, Kent Crisps and more.
I took a little stroll around the vacant rear section of the plane. Here's a closer look at how that privacy divider works, and how much it actually blocks out.
I could be crazy, but I think the in-seat lighting matches the current tone of the cabin lights (check out the foot locker). That's really cool in my opinion.
I took a quick nap and found the bed to be very comfortable. It's a shame that Qatar doesn't offer any additional mattress padding like some US airlines do, but it wasn't a very long flight and I was able to fall asleep rather easily.
After I woke up, I decided to try a couple of items from the snack menu. The filled pasta with sauteed shrimps and squid in clam chowder sauce sounded promising, but turned out to be more of a glorified pasta salad.
The grilled chicken sandwich with ciabatta bread wasn't much better, kind of like a reheated sandwich you'd find in a gas station.
I saw out the rest of the flight with a couple more movies. Before landing, the chief cabin crew came around once more to thank us for flying, and to ask if we had any feedback.
Our flight landed at Doha about 10 minutes late, but we anyways had a four hour connection to our Kiev flight that afternoon.
Conclusion
Although I didn't get the QSuites plane I was so hoping to review, Qatar's other A350-900 Business Class product is still a solid choice for medium (or even long) haul travel. The entertainment selection is large, the bed is comfortable and the crew, while not as polished as Singapore Airlines, were still friendly and competent. The catering was a bit hit and miss for me, but that's highly dependent on where you fly out from.
I haven't given up on the goal of trying QSuites though, but there'll always be another time…