The Mileymoon: Introduction
Singapore Airlines B787-10 Business Class SIN-DPS
St Regis Bali
Banyan Tree Ungasan Bali
JetQuay CIP Terminal Changi
Cathay Dragon A321 Business Class HAN-HKG
Cathay Pacific The Pier First Class Lounge HKG
Cathay Pacific B77W First Class HKG-SFO
Post Ranch Inn: History & Arrivals Experience
Post Ranch Inn: Tree House Room
Post Ranch Inn: Dining and Ranch Tour
Cathay Pacific Lounge SFO
Cathay Pacific B77W First Class SFO-HKG
Cathay Pacific The Wing First Class Lounge HKG
Cathay Dragon A330 Business Class HKG-HAN
Singapore Airlines A330 Business Class HAN-SIN
Planning a Maldives trip
W Maldives Transfer Experience
W Maldives Villa
W Maldives Dining
W Maldives Activities
---
After five flights and more than 11,000 miles, we were finally in the Maldives. OK fine, technically we just came from Male, but it doesn't really hit home until your seaplane touches down on a patch of crystal clear ocean, with nothing but water bungalows and endless horizon as far as the eye can see.
We were the first flight to arrive that day, landing just after 10 a.m. Out of consideration to guests who were still sleeping, the seaplane did not land directly at the resort. Instead, it parked further away at a floating platform, and a speedboat came to fetch us.
The staff were already gathered at the platform to welcome everyone, and it's amazing how they could still look so enthusiastic given they probably repeat this welcome ritual several times a day, many times a week, and countless times a month.
Despite the early hour, it was already blazing hot, and everyone was ushered into the shelter of the welcome jetty where cold towels and water were waiting. Everyone also received a glass of champagne for a welcome toast.
Chunky Matthew (no, that's really his name), the W Insider, then introduced the team along with the general manager Anuj. Given that there's nowhere else to go on the island, these are the faces you'll be seeing very often for the next few days and it's good to get acquainted early.
All the check-in formalities had already been completed in the seaplane lounge, so it was now more of a lucky draw to see whose room was already ready. A fleet of electric golf carts was waiting to whisk guests away. To be honest, the island is small enough to be completely walkable, but you're in paradise to relax.
Our room wasn't going to be ready for at least a couple of hours, so we were taken to WET, the poolside bar, and set up with some complimentary drinks.
It was a Wednesday when we arrived, and while I'm pretty sure that doesn't mean much in a place that people don't exactly do as a weekend hop, it was quiet nonetheless.
We ended up waiting just about 90 minutes, after which we were told that 206,our water bungalow, was ready for us.
Here's how the rooms on the W Maldives are distributed:
The W Maldives has 28 beach villas and 46 overwater bungalows (not counting three "seascape escapes" and one "ocean haven" presidential suite), of which 21 face the lagoon and 25 face the ocean. These rooms are identical in layout, but the lagoon-facing overwater bungalows (Spectacular Lagoon Oasis) enjoy calmer water, which is better for snorkeling. The ocean-facing overwater bungalows (Fabulous Overwater Oasis) enjoy uninterrupted sunset views.
For what it's worth, the hotel seems to believe the lagoon-facing villas are more desirable, because these cost more in terms of points and cash.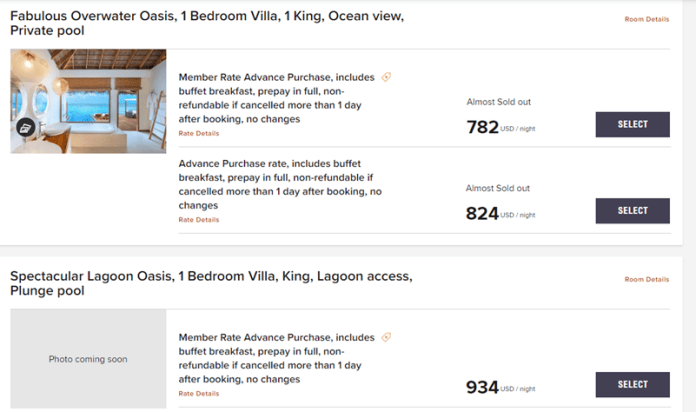 There's also three restaurants (Fish, Kitchen, FIRE) and two bars (SIP, WET), a spa, a watersports activity centre and other facilities which we'll cover in the next review.
All the water bungalows are lined up along a wooden pier that gets a bit narrow in places. There's barely enough space for a buggy to pass alongside pedestrians, and you may have to hop on the ankle high guard rails to let it pass. I couldn't get over how clear the water was- even around the pier, it was so clear that you could see stingrays and (harmless) reef sharks in the water.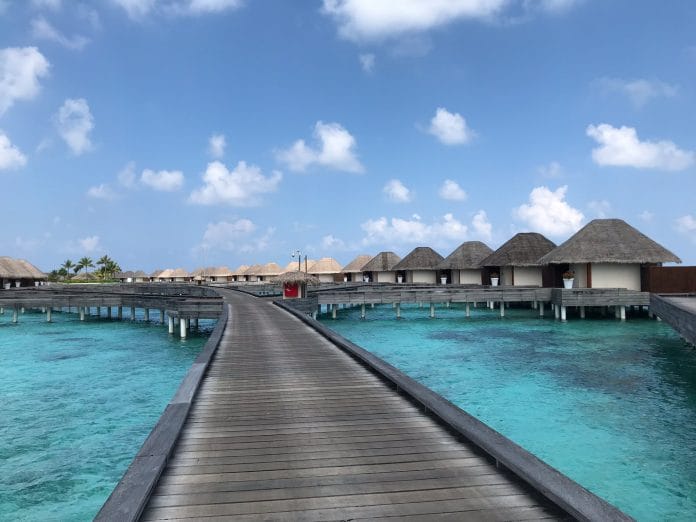 Room 206 was on the second "branch" of the three-bungalow clusters the Spectacular Lagoon Oasis are distributed into. It was close enough to the main reception and pool to walk, but since the sun can be so mercilessly fierce you might still want a buggy nonetheless.
Some guests may prefer a room further down the pier to avoid the noise that comes whenever there's a  DJ playing music at the pool (which is often), but honestly, sound travels so well over water that it won't make much of a difference. There wasn't any loud music at night, thankfully.
Here's the floorplan of the Spectacular Lagoon Oasis, which measures 146m2  and features a private plunge pool and outdoor lounging area. Remember, the Fabulous Overwater Oasis is exactly the same in size and layout, just facing out to sea.
The room makes a pretty incredible first impression. Upon entering, you're greeted by a King-sized bed, a high thatched roof and full-blast air conditioning countering the relentless heat of the Maldives. Although the finishings weren't what you'd call out and out luxury (it's not the St Regis, after all), the room still felt tastefully decorated and inviting.
In front of the bed was a mini-sofa, from which you gaze at the ocean through full length glass doors.
There was also a television in a corner of the room, which wasn't used the whole trip (you're in the Maldives, people). I also noted a cute lounge chair in the corner with a backrest and seat cushion that reminded me of a bikini.
One cool feature about the room was a "porthole" made of clear glass that let you peer into the ocean below. At night, the light from the room attracts certain types of sea creatures, so it makes for interesting viewing!
Speaking of sea creatures, the whole point of having a water bungalow is to go snorkeling straight from your room. There were two life jackets in each room, and snorkeling gear could be rented for free from the watersports centre.
I can't imagine you're going to get much work done in the Maldives, but there was still a proper work desk with a not-so-comfortable chair (perhaps a way of nudging you get out of the room). Power points were universal, and there were two USB charging ports available.
Waiting at the small table in the middle of the room was a bottle of welcome champagne, two coconuts, some fruit and sweets and a handwritten welcome note.
The welcome champagne was a Blanc de Noirs from a house called "Testulat". I haven't seen it available in Singapore before, but it retails for about 26 GBP in the UK.
Since nothing's cheap in the Maldives, it was nice to find little gifts left on the table throughout our stay, like some small cakes and a bottle of Acqua Panna.
Another time, the staff sent over some additional coconuts and Acqua Panna.
You're given a ton of filtered water each day, in reusable glass bottles, so there's really no worry about running out. If for whatever reason you do, more water is just a call away, and there is no charge. This water can't be brought into the restaurants, however, so take note of that- you'll have to buy water for about US$7++ a bottle.
If the free nibbles and drinks aren't enough for you, there's always the mini-bar. Let's just say that prices (in USD) aren't particularly wallet-friendly, but remember where you are.
Perhaps anticipating that people will bring their entire wardrobes with them, the wardrobe has an almost embarrassing amount of space. There was also an ironing board and iron, plus two umbrellas and an emergency torch.
The bathroom was almost as large as the bedroom, with his and hers sinks, round mirrors, and a separate bathtub and shower.
Some thoughtful touches included a wooden hanging rack with plenty of space to hang wet swimsuits, plus a full length mirror that was useful to see exactly where you were sunburned.
The bathroom was stocked with the usual bliss amenities, including soap and body lotion, and full sized shampoo and conditioner. What's interesting is that there are (unconfirmed) rumours that bliss amenities will soon disappear from W Hotels, but so far I've not seen any evidence of this happening. It could just be the case that hotels have a lot of old inventory to go through, however.
The amenities basket contained all the toiletries you could need. There was a sewing kit, makeup remover, a pair of toothbrushes, a comb, cottonbuds and a razor. There was also a bottle of mosquito repellent, but thankfully we didn't need it at all. I don't think we ever encountered a single mozzie on the island.
The shower area had both a rain shower and a hand shower, but it didn't have one of those fancy systems you see in really high end hotels which features a wall mounted body spray. That said, the water pressure was great, and we didn't have issues with sudden rushes of hot/cold water.
The toilet had no fancy bidet (or even a regular wash hose for that matter), but it got the job done.
If you've been snorkeling from your overwater bungalow, the last thing you want to do is drip salt water all over your bathroom floor en route to the shower. That's why all villas come standard with an outdoor rain and hand shower, just outside the bathroom entrance.
The water comes from the same tank as the inside shower, so you'll enjoy heated water here too. It drains directly into the ocean, so don't do your shampooing here.
The sundeck area had a large, circular cabana featuring a table which lit up in funky colours at night. Most of the day it's too hot to hang out here, but towards the evening when it gets cooler it can be a very pleasant place to sip champagne and nibble on snacks while watching day turn to night (the sunsets, remember, are only visible from the ocean facing water bungalows).
It may seem strange to want a private pool when the ocean is literally just steps away, but it really rounds out the whole villa feel. You won't be swimming laps in these, but they're useful for soaking.
The biggest problem? The pool surfaces were like sandpaper. You could very easily nick your knee or elbow on a rough patch of gravel, and it definitely wasn't the place you wanted to navigate when tipsy or in the dark. One wrong move in the water, and you'd be looking at a nasty abrasion.
I asked the staff about this and they mentioned it was the cumulative effect of years of weathering. The resort plans to fix this, but has had difficulty locating the original company who did the pools. I hope they sort it out soon, because this is a significant hazard that sullied an otherwise amazing room.
Conclusion
As far as water villas come, the ones at the W Maldives ticked all the boxes. With the exception of the plunge pool, I found the upkeep of the rest of the room to be very good, and you wouldn't believe the resort opened in 2006.
There's more to the Maldives than just staying in your villa, of course, and in the next couple of posts we'll look at the dining and activity options.