With Restaurant A380 @Changi less than a week away, a palpable sense of excitement is starting to build.
Singapore Airlines has had to add thousandsr of additional seats to cater to overwhelming demand, wall-to-wall media coverage has begun, and come next weekend, the departure hall of Terminal 3 will be the busiest it's been in months.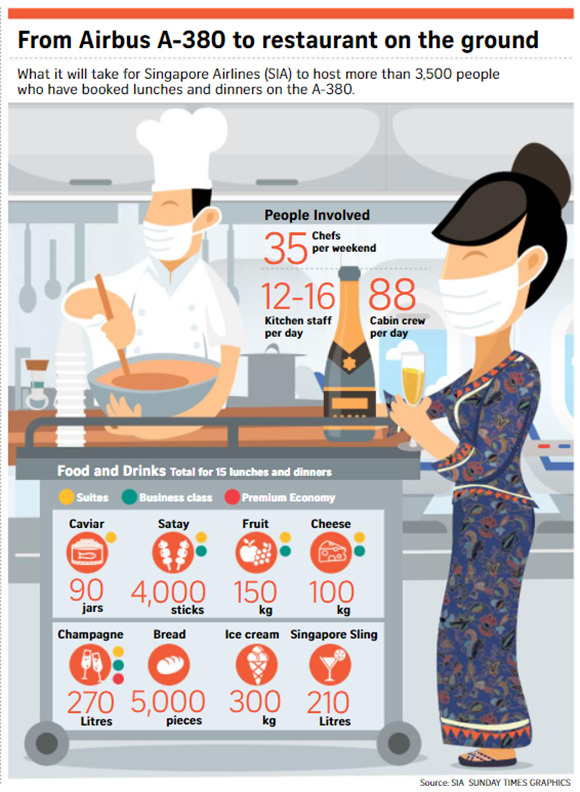 If you've managed to secure a seat for Restaurant A380, here's a guide to what lies in store in the run up to the event and on the day itself.
Restaurant A380: Pre-event
Every attendee should have submitted their Restaurant A380 @Changi Supplementary Details Form by now. This information is needed to apply for an airport pass, which grants access to the transit area where the event is held.
Once your form is submitted, Singapore Airlines will reply with a confirmation email in a few days. This needs to be shown during registration to gain admission. Confirmation emails are sent out in batches, so don't panic if you haven't received yours yet.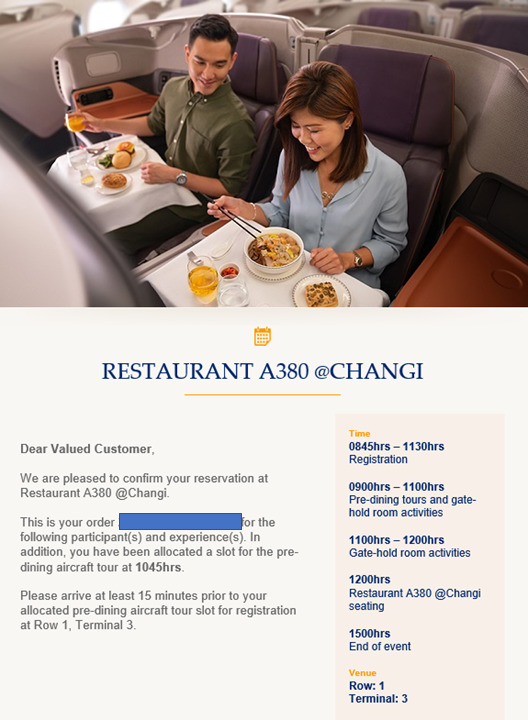 If you expressed interest in a pre-dining tour of the A380, the confirmation email will also indicate which 15-minute slot you've been assigned. I'll be there at 1045 on 24 October, in case you fancy saying hello.
Further information is provided on shopping arrangements. Shopaholics will be pleased to know that attendees can pre-order beauty products from iShopChangi up to 3 days before their Restaurant A380 experience, and collect them from the iShopChangi counter in the arrival hall after the event.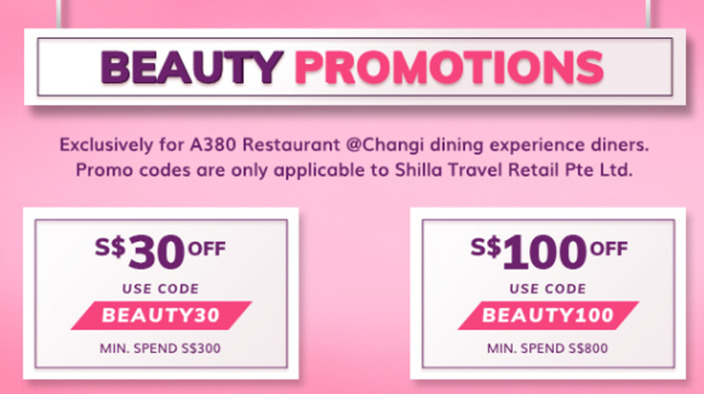 The email also contains a KrisShop.com promo code that gives 15% off a minimum spend of S$180. I can't remember offhand if promo codes can be stacked with KrisShop vouchers, but if so would be a good chance to use the compensation vouchers that KrisShop was issuing on account of their scheduling goof.
All Restaurant A380 @Changi attendees will enjoy special offers at Changi Airport and Jewel by showing their invitation card. These offers include:
S$5 off a minimum spend of S$50 at FairPrice Finest
125 Zone X Tokens for S$20
20% off Central Thai
Free admission to Canopy Bridge and 50% off attraction bundles at Canopy Park in Jewel
Most offers need not be used on the day itself; check the T&Cs for further details.
Restaurant A380: Transport options and meeting point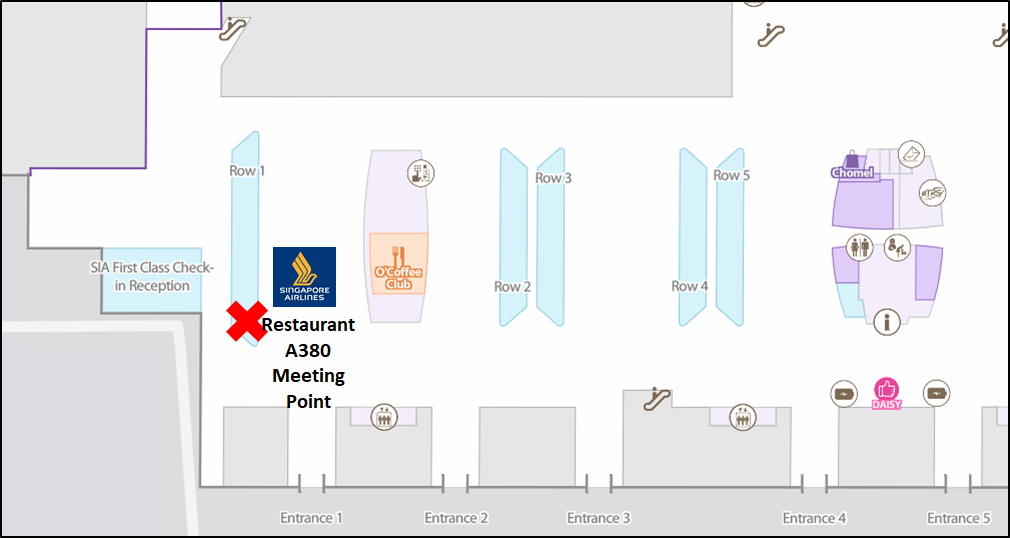 Registration for Restaurant A380 @Changi will be at Row 1 of Changi Terminal 3, opening at 0845 for lunch, and 1615 for dinner. I imagine there'll be plenty of signs for this event, so it should be impossible to miss.
If you're arriving by taxi or Grab, ask the driver to stop at Door 1, just after the SIA First Class Check-in driveway.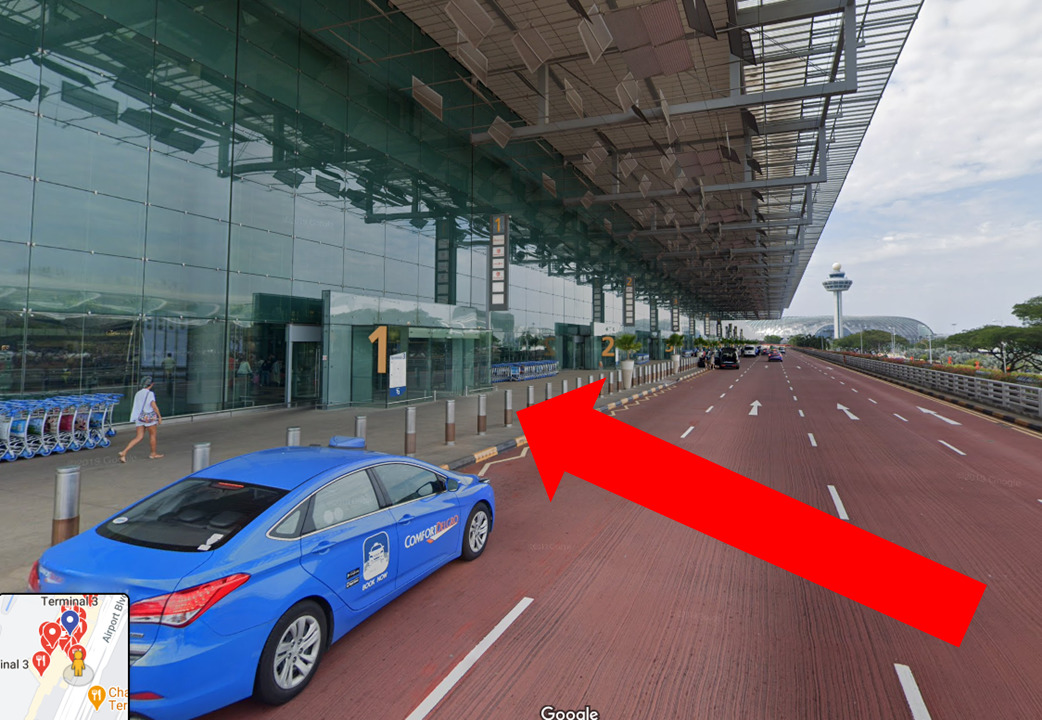 If you're parking at the airport, look for Car Park 3A as it's closer to Row 1. Parking costs 4 cents per minute regardless of time of day, so expect to pay at least S$9.60 for 3 hours of dining and 1 hour of activities.
For those who really want to save on parking, the open-air South Carpark between Jetquay and Terminal 2 charges 3.5 cents per minute, but it's a lot of walking to save a couple of bucks (remember: Terminal 2 is closed, so you can't take the skytrain from there).
For those taking the MRT, follow the signs for Terminal 3 and head up the escalator to the Level 2 departure hall. You'll need to walk across the concourse to get to Row 1 on the other end.

A few miscellaneous things to note. All participants:
Must bring their passport for identification and verification (infants under the age of 2 are exempt from this requirement)
Must present a digital or hard copy of their confirmed reservation during registration to receive an invitation card. This card will be used to gain access to the transit area, and also to reclaim your passport after the event
Must undergo a bag and temperature screening. Anyone with a temperature of 37.5°C or higher will be barred from entry
Must surrender their passport during the screening process, and reclaim it after the event
It's been confirmed that the regular 6-month passport validity you'd normally need to travel overseas does not apply here. So long as your passport is valid as of the date of the event, you're good.
Restaurant A380: Schedule
Here's the respective schedules for the lunch and dinner session.
Lunch Session
Dinner Session

0845hrs – 1130hrs
Registration

0900hrs – 1100hrs
Pre-dining tours and gate-hold room activities

1100hrs – 1200hrs
Gate-hold room activities

1200hrs
Restaurant A380 @Changi seating

1500hrs
End of event

1615hrs-1830hrs
Registration

1630-1800hrs
Pre-dining tours and gate-hold room activities


1800-1900hrs
Gate-hold room activities

1900hrs
Restaurant A380 @Changi seating


2200hrs
End of event

If you've been allocated a slot for the pre-dining A380 tour, you should arrive at least 15 minutes before your slot to register.
Seat allocations will only be made known during registration, so unfortunately there's no opportunity to create a Milelion community seat map ahead of time. I'm sure people will be reporting their seat locations in the Telegram Group though, so if you'd like to meet other members of the community, that's where to find them.
Restaurant A380 @Changi Chat Group
Just like regular restaurants, a maximum of 5 individuals may be seated together in light of safe distancing measures. No changing of seats on board the plane is permitted, so please, please don't be that guy who demands the cabin crew reseat you.
✈️ Which A380 will be used?
Singapore Airlines has already confirmed that the A380 aircraft used for Restaurant A380 will feature their latest 2017 cabin products.
There are a total of eight such aircraft in the SIA fleet, but four are parked in Alice Springs for storage. Of the four remaining in Changi, a little bird has told me that 9V-SKN and 9V-SKV will be the chosen ones.
This is interesting because 9V-SKN is an older aircraft (delivered: 2011) which finished its refit to the latest cabin products in June this year. 9V-SKV, on the other hand, is a much newer aircraft (delivered: 2018) that came with the latest cabin products pre-installed.
There are minute differences between the two aircraft, mostly in Economy Class. For example, the A380s with the factory-installed latest cabin products do not have 43 D/E/F/G, while the A380s which were refitted do.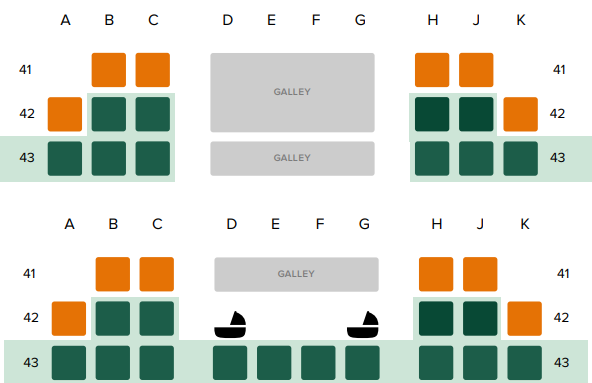 These are just idle factoids though, and will have no bearing on your enjoyment of the event.
Before proceedings begin, guests can look forward to a Heritage Showcase of cabin crew uniforms throughout the year. Guests who show up in traditional heritage wear will receive a special gift, and all guests will take home a limited edition souvenir.
As for the meal itself, the full menus can be found here:
Each guest receives two complimentary alcoholic drinks and a free flow of other beverages, and the KrisWorld entertainment system will be activated for the duration of the meal.
Finally, note that masks will need to be worn at all times while on the plane, except when eating or drinking.
Restaurant A380: Transit area shopping tour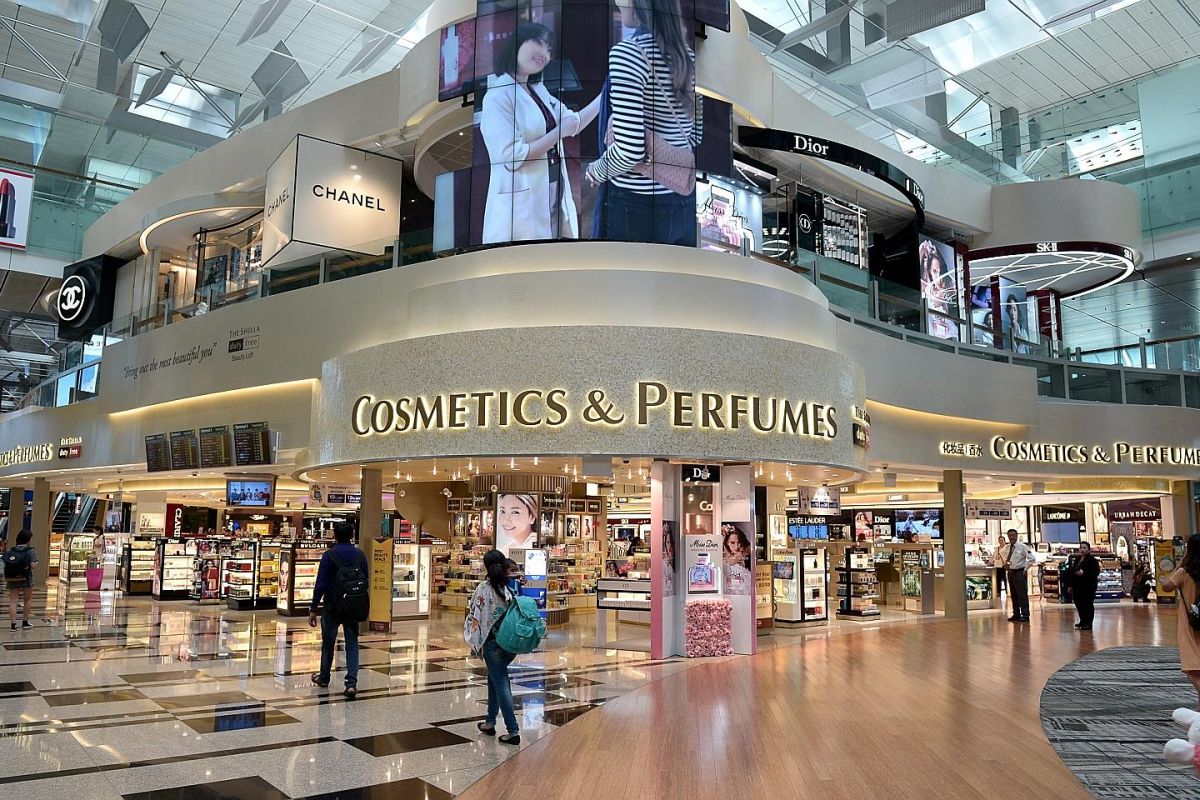 Never one to miss an opportunity for commerce, the Changi Airport Group will be organizing a transit area shopping tour either before or after the meal.
Lunch slot: 4-6 p.m (i.e after dining)
Dinner slot: 2-4 p.m (i.e before dining)
If you're interested in the tour, you'll need to RSVP to the confirmation email as per the instructions below:
Register for this optional free Transit Area Shopping Tour by responding 'YES' to this email at least 5 days before your Restaurant A380 @Changi date.
I assume you'll be closely chaperoned during this trip, so don't wander off unless you fancy a chat with the airport police.
Conclusion
While dining on a parked A380 may not be how most people envisioned their 2020 travel plans turning out, the mere ritual of heading to the airport and boarding a plane brings a comforting sense of normality in my book.
If you're as excited as I am, I'm sure the week ahead will sail by. Remember your passports, charge your camera, and get ready for a special experience.
P.S. Be extra nice to your cabin crew, who have gone through a lot over the past few months. While they can't take tips, a little commendation letter would go a long way towards brightening their day.