Kris+ (formerly known as KrisPay) is running a series of 11.11 offers on its app between 9-22 November 2020. This includes a 40% milesback offer, 11,110 KrisPay miles for whoever tops up the most miles, 3X miles at Harvey Norman Seletar Mall, and 1,000 KrisPay miles for new sign ups.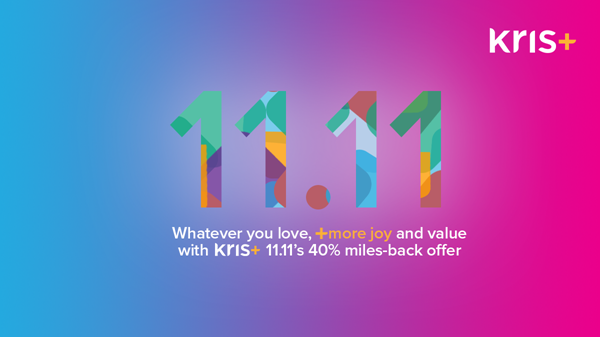 Kris+ 40% milesback promotion
From 9-22 November 2020, Kris+ is offering 40% milesback (T&C here) at all merchants. For example, if you spend 15,000 KrisPay miles you'll receive a rebate of 6,000 KrisPay miles. 
| | | | |
| --- | --- | --- | --- |
| Paid | Rebate | Net Outlay | Value per Mile |
| 15,000 (S$100) | 6,000 | 9,000 | 1.11 cents |
This yields a value of 1.11 cents per mile, significantly better than the usual 0.67 cents per mile rate. 
There is no cap on the milesback you can receive, but miles earned under this promotion cannot be transferred into your KrisFlyer account- you'll need to spend them through the Kris+ app. Each transaction must be worth a minimum of 15 KrisPay miles, or S$0.10. 
40% milesback is the largest we've seen Kris+ offer, and with all that's going on, it's understandable that some people may be tempted. After all, the current promotion would make Kris+ one of the better non-flight options for cashing out KrisFlyer miles. 
Option

Value per mile

Flight Redemptions

2-6 cents

Shangri-La conversion

1.4 cents*

Kris+ (under current promotion)

1.11 cents

Pay with miles for flights

1.02 cents

KrisFlyer vRooms

0.8 cents

KrisShop

0.8 cents

TapForMore conversion

0.73 cents

*Assumes you have GC Jade/Diamond status and use points for F&B at 10 GC points= US$1.25. If regular member, 10 GC points= US$1, i.e value is 1.1 cents/mile
However, we're seeing some promising signs of leisure travel resuming soon (such as the Singapore Hong Kong travel bubble). Moreover, Singapore Airlines has been diligently extending expiring miles, so there's no need to hit the panic button. 
If your personal valuation of a mile is at or below 1.11 cents each, you might be better off earning cashback instead. 
11,110 KrisPay miles for largest top-up
The 11.11 campaign T&Cs don't mention this offer, and the eDM wording seems awfully convoluted to me. So I'm going to paste it here first, then attempt to make sense of it. 
Finally, to amplify the joy, we will be rewarding each week, the top two (2) KrisFlyer members with the highest number of KrisPay miles topped up between 9 and 22 November 2020. Check out the leader board in the highlights section to see if you are in the running! You can be the one!
From what I gather:
During 9-15 November 2020, the two KrisFlyer members who top-up the most miles to KrisPay will receive a bonus of 11,110 KrisPay miles each
During 16-22 November 2020, the two KrisFlyer members who top-up the most miles to KrisPay will receive a bonus of 11,110 KrisPay miles each
So in total, there will be four prizes of 11,110 KrisPay miles (~S$74) up for grabs. And all you have to do is make the biggest non-reversible miles transfer to Kris+. 
Lovely.
Earn 3X miles at Harvey Norman Seletar Mall
From 14-15 November 2020, Kris+ users will be able to earn 3x the usual miles at Harvey Norman's new Seletar Mall outlet.
Unfortunately, the base earn rate is a very low 0.33 mpd, so 3X only brings you to 1 mpd. That said, it's on top of whatever miles you earn from your credit card (e.g 4 mpd with the OCBC Titanium Rewards Card), so if you're intending to shop there anyway, why not? 
Receive 1,000 KrisPay miles when signing up for a Kris+ account
Here's something interesting that wasn't mentioned in the eDM, but appears in the T&Cs file.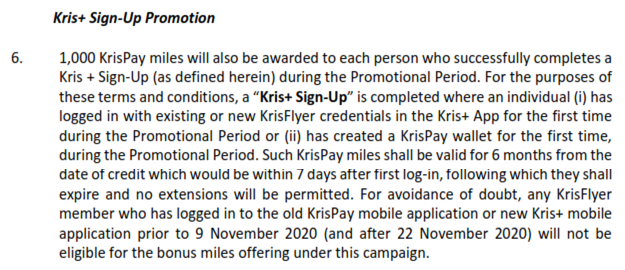 Kris+ is apparently offering 1,000 KrisPay miles to anyone who successfully completes a Kris+ sign-up from 9-22 November 2020.  This is defined as an individual who:
has logged in with existing or new KrisFlyer credentials in the Kris+ App for the first time
during the Promotional Period or
has created a KrisPay wallet for the first time, during the Promotional Period
If you're already using the Kris+ or the former KrisPay app, you won't be eligible for the free 1,000 KrisPay miles (worth ~S$6.70). 
Conclusion
The rules of engagement for Kris+ haven't changed: it's a good way of earning miles, and a poor way of burning them. Even with a 40% milesback offer, you're arguably better off holding on to your miles and waiting for leisure travel to resume. 
If you haven't touched Kris+ yet, however, there's no harm in taking advantage of the 1,000 free miles. Likewise, those heading down to Harvey Norman Seletar Mall will want to pick up their extra 1 mpd on whatever they buy.