Although KrisFlyer doesn't have nearly as many redemption options as some frequent flyer programs in the USA, there's still a healthy range of ways to spend miles on the ground or in the air.
In previous guides, we've explored the "in the air" options- how to use your KrisFlyer miles for flights & upgrades on Singapore Airlines and partner carriers. Now, it's time to explore what you can do with your KrisFlyer miles on the ground. 
In evaluating these options, we need to have one important benchmark at the back of our minds: how much do I value a mile? After all, we can't say that it's "poor value" to get 1 cent per mile, unless we know how much a mile is worth! 
I recently valued KrisFlyer miles at about 1.8 cents each, but let me emphasize that mileage valuation is highly subjective and personal, based on individual travel patterns and mileage acquisition costs. There will be some who value KrisFlyer miles less than this, because they earn them fairly easily through credit cards. There will be others who value KrisFlyer miles more than this, because it saves them from having to pay out-of-pocket for Business and First Class travel.
Wherever you fall on this spectrum, however, I think you'll generally agree that none of the options below represent a good use of miles.
Pay with miles: Use miles to pay for revenue tickets
KrisFlyer allows you to use your miles to pay for revenue flights. This isn't strictly-speaking a "non-flight" option, but I avoided addressing it in previous guides about award redemptions because it's conceptually different from redeeming a flight with miles. 
When you redeem a flight with miles, your seat comes out of award inventory, which is a subset of total available inventory. This means that sometimes you'll be able to redeem a flight with miles, and other times you won't. Moreover, the value per mile depends on what cabin you redeem. 
When you pay with miles, you're using your miles as if they were cash to offset the cost of a revenue flight. Your seat comes out of total available inventory, which means that so long as a seat is available for purchase, you'll be able to use your miles to pay for it. Each mile has a fixed value, regardless of which cabin you pay for
 
 
Pay with Miles
Redeem Miles
Seat availability

Any seat available for sale

Only award seats

Value per mile

Fixed at 1.02 cents each

Variable, depending on cabin

Number of miles required

Depends on the cash cost of the ticket

Fixed based on award chart

Mixing miles and cash

Can use any combination of miles and cash, subject to minimum 980 KrisFlyer miles

Must have at least 50% of the miles required; buy balance from SQ at US$40/1,000 KrisFlyer miles
The value per mile is pretty simple to calculate. When you select a revenue ticket, check the "Pay with KrisFlyer miles" option at the bottom of the screen. 
You'll see a slider bar pop up with the minimum 980 miles payment already reflected. 
Sliding the bar to the right adjusts the mixture of miles and cash. 
When paying with KrisFlyer miles, the value of a mile is 1.02 cents. 
This represents poor value, given that you could easily get much more value by redeeming your miles for flights. The table below further illustrates this point:
| | | |
| --- | --- | --- |
| Round trip SIN-SYD flight | Mileage Redemption | Pay with Miles* |
| Economy Class | 56K + S$202 | ~75K |
| Premium Economy Class | 94K + S$202 | ~200K |
| Business Class | 124K + S$202 | ~418K |
| First Class | 170K + S$202 | ~845K |
*Based on revenue ticket prices from May 2020. This may fluctuate significantly depending on fare sales
Now, this isn't an apples to apples comparison in the sense that there are fewer seats available for mileage redemption than Pay with Miles, but even so it's hard to justify the incremental miles required, especially in premium cabins. 
In general, Pay with Miles should only be used when you have a small balance of miles that are about to expire. 
KrisFlyer vRooms: Use miles for hotels and rental cars
KrisFlyer vRooms is an OTA (online travel agency, e.g. Expedia) portal which lets you use your miles for hotels and rental cars. The search interface works just like a regular OTA. You enter your destination and dates to search for hotels…
…and then have the option to pay for your room with miles. Just like paying for flights with miles, there's a slider bar allowing you to mix miles and cash. 
The marginal value of a mile is about 0.8 cents each, which again makes it a relatively poor value option. You'd get much better value by using a cashback site like Shopback or Ebates in conjunction with an OTA. 
KrisShop: Use miles for duty-free purchases
KrisShop is Singapore Airlines' duty-free store, selling a range of electronics, fashion accessories, fragrances, luggage, watches, wine & spirits and more. You can use your KrisFlyer miles to pay for purchases at a rate of 1 mile= 0.8 cents
I see KrisShop as a double bad deal. Not only do you get inferior value for your miles, you also pay inflated prices compared to elsewhere. Be sure to comparison shop when looking at anything on KrisShop, because most of the items(especially electronics) could be purchased for less elsewhere. 
Infinite Journeys: Convert KrisFlyer miles to Shangri-La Golden Circle points
Back in September 2016, Singapore Airlines and hotel group Shangri-La launched a partnership called Infinite Journeys. This tie up provides for mutual recognition of elite benefits, as well as points transfers between both programs. 
A minimum of 20,000 KrisFlyer miles can be converted into Shangri-La Golden Circle points at a ratio of 12:1. 
Award nights at Shangri-La hotels range from 1,000 to 20,000 points, so that's the equivalent of spending anywhere from 12,000 to 240,000 miles per night. That's not a particularly good use of miles, especially when revenue rates at these hotels may be lower than the implicit cost of miles. 
You can also use Golden Circle points for F&B expenses at Shangri-La restaurants & bars at a rate of 10 GC points= 1 USD. 
This rate helps better visualize why points transfers from KrisFlyer to Golden Circle are value negative: 12 KrisFlyer miles (21.6 cents @ 1.8 cents each)= 1 Golden Circle Point (13.6 cents)
You're basically accepting a valuation of 1.1 cents per mile if you take this option. 
Virgin Australia Partnership: Convert KrisFlyer miles to Velocity points
Singapore Airlines has a partnership with Virgin Australia, allowing frequent flyer members to convert points across both programs. 
The conversion rate from KrisFlyer to Velocity is 1.55 KrisFlyer miles= 1 Velocity point (Velocity to KrisFlyer conversions are at 1.55 Velocity point= 1 KrisFlyer mile). Points Hacks values Velocity points at 1.2 Australian cents each (~1.13 SG cents), which means you're accepting a value of 0.73 cents per mile. 
Moreover, remember that KrisFlyer miles are the only way of redeeming Singapore Airlines' latest Business and First Class cabins, so you're going to want to hold on to them for that. 
KrisPay: Use miles like money at selected merchants
KrisPay is Singapore Airlines' mobile blockchain wallet, introduced back in July 2018. KrisPay lets you spend KrisFlyer miles as money, and earn KrisFlyer miles on purchases at selected merchants.
The problem is, more than a year after launch, KrisPay has less than 50 merchants on its platform. Add the fact that your miles are worth a paltry 0.66 cents each, and it's easy to understand why most people give this a miss altogether. Sure, the earn function is a useful way to pick up some free miles, but the burn rate is so terrible that it's not even worth considering.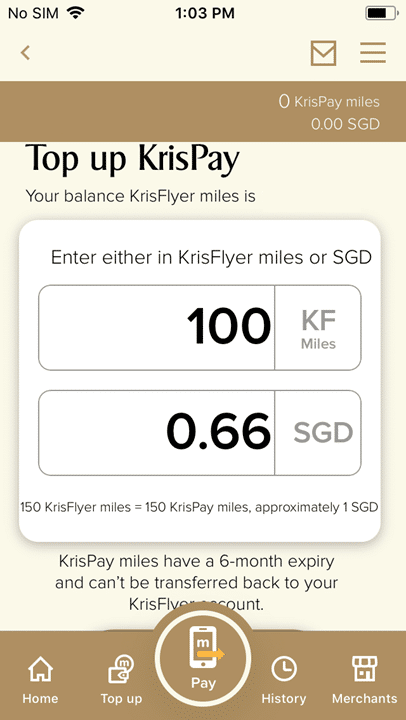 TapForMore points: Spend KrisFlyer miles at Dairy Farm Group merchants
Besides, if you really wanted to cash out your KrisFlyer miles that badly, TapForMore would offer you better value than KrisPay (but still poor in the grand scheme of things)
TapForMore is the loyalty currency of the PAssion card, and points can be redeemed at Dairy Farm Group merchants (Cold Storage, Giant, Guardian, Jason's) at a ratio of 150 points= $1.
KrisFlyer miles can be converted into TapForMore points at a ratio of 1:1.1 (with a minimum 3,000 miles), so if your goal was to monetize your KrisFlyer miles, it actually makes more sense to convert them to TFM points. 3,000 KrisFlyer miles would yield 3,300 TFM points worth $22, better than the $20 you'd get with KrisPay.
Keep in mind- it's still bad value, because those 3,000 KrisFlyer miles are worth about $54. You're accepting 0.73 cents per mile. 
When would you use any of these options?
Here's a summary of the value per mile you get when using any of these options:
| | |
| --- | --- |
|   | Value per mile |
| Shangri-La conversion | 1.1 cents |
| Pay with miles | 1.02 cents |
| KrisFlyer vRooms | 0.8 cents |
| KrisShop | 0.8 cents |
| Velocity conversion | 0.73 cents |
| TapForMore conversion | 0.73 cents |
| KrisPay | 0.66 cents |
When you redeem your miles for flights, you typically get upwards of 2 cents per mile in valuation, which highlights how poor value these non-flight options are. Given this, why would anyone ever use their miles this way?
It all has to do with expiring miles. KrisFlyer miles are valid for 36 months; suppose you've got 5,000 miles expiring soon. That's too few for a flight redemption, and it's better to get poor value than no value for your miles. This is the only situation where I'd use my miles for non-flight options. 
KrisFlyer seems to tacitly acknowledge this too- you'll notice that whenever the system prompts you to pay with miles, it also gives you an indication of how many of your miles are expiring soon!
Conclusion
The old maxim holds true: the best use of any loyalty currency is for that program's native rewards. Hotel points should be redeemed for hotels. Rental car points should be redeemed for rental cars. Airline miles should be redeemed for flights. 
The analysis here further reinforces the point, showing how anything other than flight redemptions represent a poor use of miles. So consider yourselves warned!