GrabRewards has added a new airline transfer partner in the form of Qatar Airways Privilege Club, with two-way conversions now available via the Grab app and Qatar Airways website. 

While it could be a useful way of making a small top-up and/or renewing your entire Qmiles balance for another three years, most Grab users will find the proposition marginal at best. 
Transfers from GrabRewards to Qatar Privilege Club
GrabRewards points can be transferred to Qatar Privilege Club Qmiles at the following ratio:
| | | |
| --- | --- | --- |
| |   | |
| 1,200 points | ⇒ | 100 Qmiles |
The ratio remains the same, regardless of your GrabRewards tier, and there's no limit on the maximum number of Qmiles you can redeem. 
Transfers can be made via the Grab app, under the rewards section.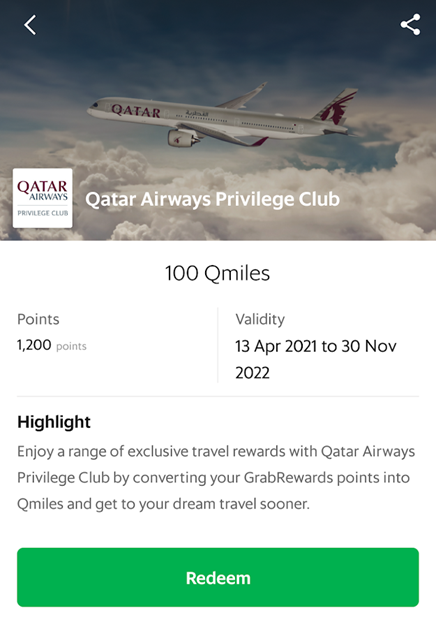 For the sake of comparison, Grab offers transfers to KrisFlyer miles at the following ratios:
500 points = 50 KrisFlyer miles
1,000 points= 100 KrisFlyer miles
5,000 points= 500 KrisFlyer miles
10,000 points= 1,000 KrisFlyer miles
20,000 points= 2,000 KrisFlyer miles
❓ You might be wondering: why offer five different options if the ratios are all the same? It's a matter of convenience- since a maximum of one KrisFlyer miles conversion request can be made at any time, offering larger denominations means less waiting. For example, it's easier to submit one request for 100 KrisFlyer miles than two requests for 50 KrisFlyer miles (each of which will take three working days to process).
You can see that Grab charges 20% more points for Qmiles transfers than it does KrisFlyer. In my opinion, 1 KrisFlyer mile is more valuable than 1 Qmile (although it does depend on where you're looking to go), which makes this a dubious proposition at best.
On the plus side, Qmiles redemptions are processed instantly, which would make this a simple way of "renewing" your entire Qmiles balance. Remember- Qatar Airways now adopts an activity-based expiry policy, where miles don't expire as long as you earn or redeem at least 1 mile within a three year period. That said, given Qatar's penchant for unannounced devaluations, you might not want to keep too many miles sitting there in the first place.
Transfers from Qatar Privilege Club to GrabRewards
Qatar Privilege Club Qmiles can be transferred to GrabRewards points at the following ratio:
| | | |
| --- | --- | --- |
| |   | |
| 1,000 Qmiles | ⇒ | 1,000 points |
The ratio remains the same, regardless of your Qatar Privilege Club tier, and there's no limit on the maximum number of GrabRewards points you can redeem. 
Transfers can be made via the Qatar Airways website, and are processed instantly.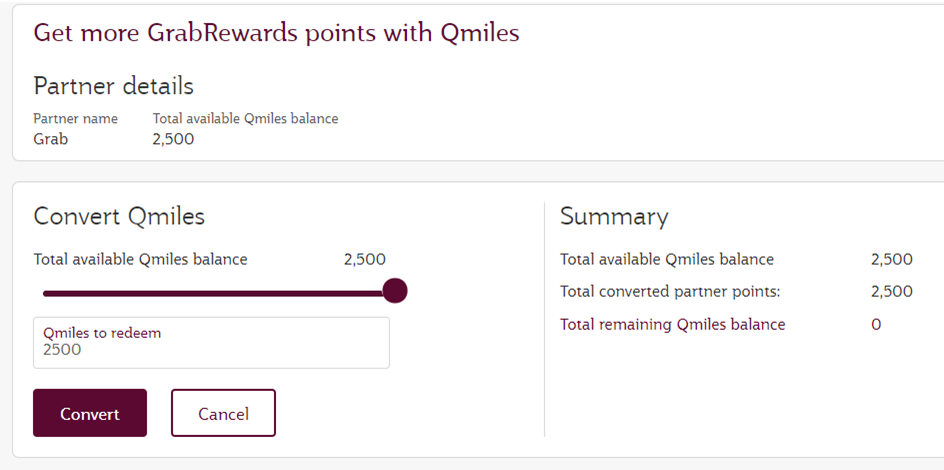 Based on Grab's internal heuristic of 1 point= 0.2 cents, you get a dismal value of 1 Qmile= 0.2 cents. Sure, you can sometimes get higher value when Grab does its voucher flash sales, but we're talking at best 0.4 cents. 
Qatar Airways is currently offering new Privilege Club members an instant 2,500 Qmiles just for signing up, so I suppose if you never intend to use them, getting a free S$5 Grab voucher isn't the worst possible outcome. 
Transfer Qmiles to KrisFlyer?
And just for the heck of it, we need to consider this possibility. Since Qatar Qmiles can be transferred into GrabRewards, it stands to reason that you can transfer Qmiles to KrisFlyer, via GrabRewards as an intermediary.
| | | | | |
| --- | --- | --- | --- | --- |
| |   | |   | |
| 1,000 Qmiles | ⇒ | 1,000 points | ⇒ | 100 miles |
But…why? You'd be trading 10 Qmiles for 1 KrisFlyer mile. Sure, I value 1 KrisFlyer mile more than 1 Qmile, but not 10 times more. 
What can you redeem with Qatar Privilege Club Qmiles?
Qatar Airways does not have an award chart, so you'll need to use their Qcalculator to find the cost of a given route. Use it like you would a regular flight search- pick the cabin, airline, origin and destination.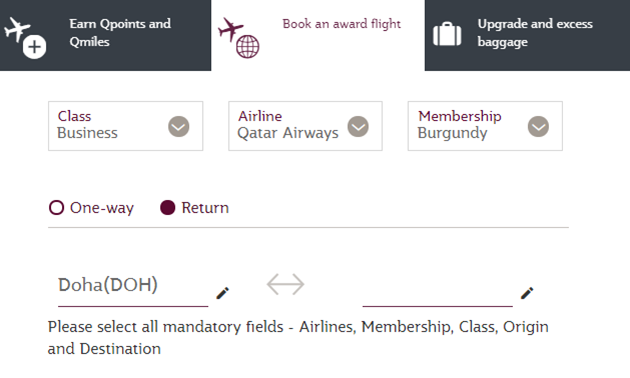 Qatar Privilege Club recently reversed their 2018 devaluation. Here's an idea of how much Business Class redemptions cost for one-way travel on Qatar Airways out of Singapore. 
| | |
| --- | --- |
| One-Way Business Class Price | Qmiles |
| Doha | 50,000 |
| Athens/ Bucharest/Kiev/ Sofia/ Thessaloniki | 70,000 |
| Barcelona/ London/ Frankfurt/ Paris/ Zurich  | 75,000 |
| Boston/ Dallas/ New York/ Los Angeles/ Sao Paulo | 95,000 |
Qatar Privilege Club members will not pay fuel surcharges for redemptions on Qatar Airways operated flights (they will for oneworld partner redemptions, where applicable), so the only thing you need to consider is the usual airport taxes.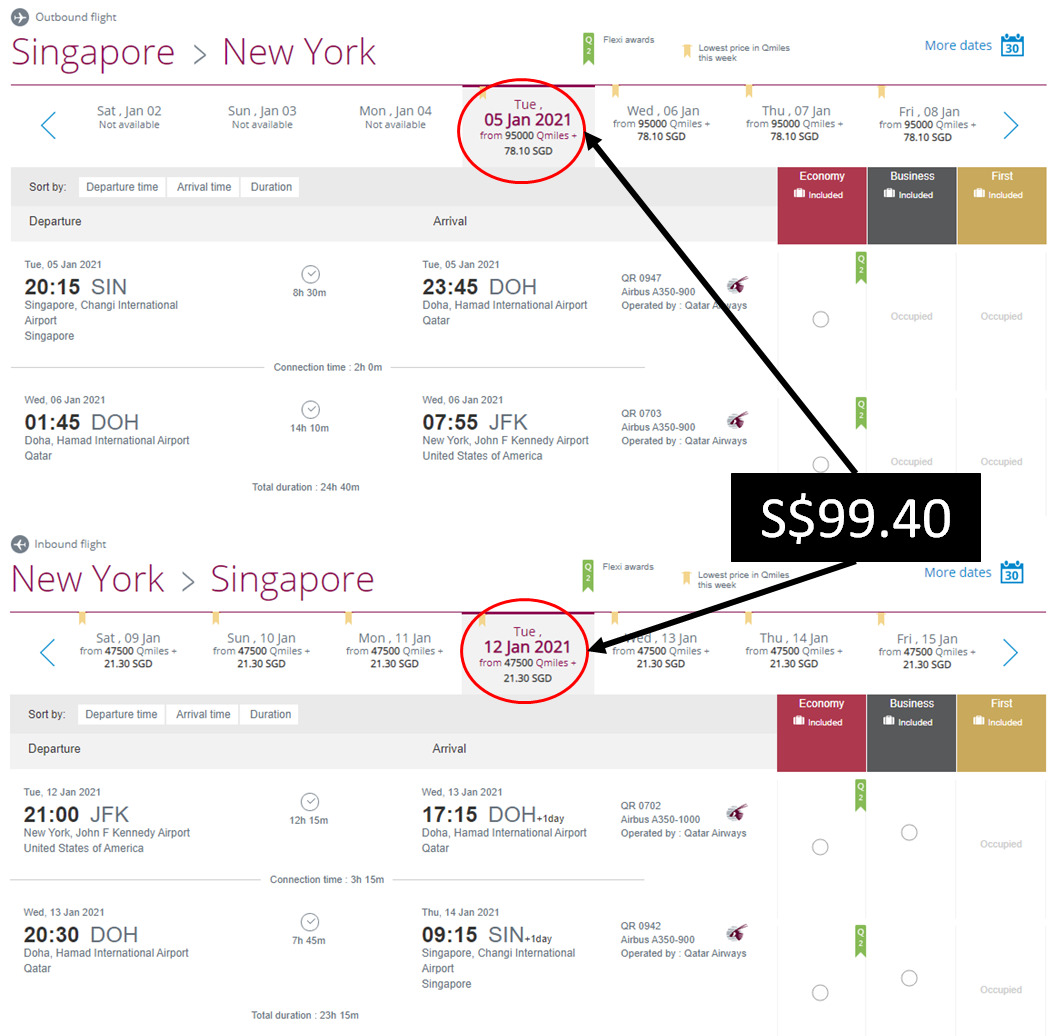 I highly doubt that any of these destinations will be on our radars for a while, but assuming these award rates remain unchanged (which isn't a given for Qatar Privilege Club), it may be worth looking at when things get a bit more sane. Here's hoping there'll be a chance to visit Qatar's phenomenal Premium Lounge in Changi again too. 
Conclusion
Transferring GrabRewards points to KrisFlyer hasn't offered great value historically (not since Grab quietly devalued KrisFlyer transfers in March anyway), and the addition of Qatar Airways does little to change that. There isn't too much to get excited about here, although the ability to instantly extend your Qmiles balance for 1,200 GrabRewards points could be useful in a pinch. 
As for me, I'd rather use my GrabRewards points for ride or food vouchers.