The Standard Chartered Visa Infinite got an unexpected resurrection earlier this year, reopening for applications after its demise seemed all but certain.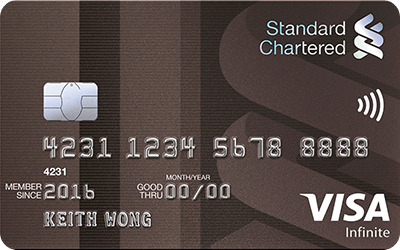 It's basically the same card as before, but Standard Chartered is now offering a limited-time additional sign-up bonus that could be useful for those looking to buy miles during the upcoming income tax season.
Standard Chartered Visa Infinite 40,000 miles sign-up offer
From now till 25 May 2021, new Standard Chartered Visa Infinite cardholders who apply through SingSaver will receive up to 40,000 miles, split into:
Welcome gift: 35,000 miles for paying the S$588.50 annual fee
Sign-up bonus: 5,000 miles for spending S$2,000 in the first 30 days of approval*
*This offer is available to both new and existing Standard Chartered cardholders, but they must not have cancelled a Standard Chartered Visa Infinite in the 12 months prior to application
The welcome gift is actually among the best in the market on a cents per mile basis, as illustrated below:
Welcome Miles

Annual Fee

CPM

OCBC VOYAGE

15,000

S$488

3.25

Citi Prestige

25,000

S$535

2.14

Citi PremierMiles, DBS Altitude, OCBC 90N, KrisFlyer UOB

10,000

S$192.60

1.93

SCB Visa Infinit

e

35,000

S$588.50

1.68

HSBC Visa Infinite

35,000

S$488 (Premier)




S$650 (Others)

1.

39/




1.86
As for the sign-up bonus, well, if you have S$2,000 to spend anyway, then getting 5,000 bonus miles isn't the worst possible outcome. Assuming the S$2,000 is spent in local currency, the Standard Chartered Visa Infinite would earn 1.4 mpd for a total haul of 7,800 miles (2,000 * 1.4 + 5,000)- roughly where you'd be if you spent it all on a 4 mpd card instead.
The S$2,000 spend excludes the usual categories like educational institutions, government transactions, charitable donations, insurance premiums and prepaid wallet top-ups. Bonus miles will be credited to your account by 31 July 2021, and the full T&Cs can be found here.
Income tax payment facility
The welcome gift and sign-up bonus are decent enough, but the main trump card of the Standard Chartered Visa Infinite is its income tax payment facility.
Cardholders can pay their taxes with a 1.6% admin fee, earning up to 1.4 mpd in the process (assuming they spend at least S$2,000 per statement month; this includes the tax payment facility). Do the math, and it works out to 1.14 cents per mile, one of the cheapest ways of buying miles when paying taxes in Singapore.
Even better, Standard Chartered will deposit the tax due amount into your bank account, and then it's up to you to pay IRAS directly. You can still take advantage of the interest-free monthly GIRO payments, making this an all-round win.
For alternative ways of paying your income tax bill with a credit card, be sure to have a read of my article below:
2021 Edition: How to pay IRAS income tax with your credit card (and earn miles)
Key Features: Standard Chartered Visa Infinite
Apply here
Income Req.

S$150,000 p.a

Points Validity


No expiry



Annual Fee


S$588.50

Min.
Transfer

25,000 points


(10,000 miles)



Miles with
Annual Fee
35,000 (Y1)
20,000 (Y2 onwards)
Transfer
Partners

•Singapore Air
•Accor
•Emirates
•Etihad
•EVA
•FlyingBlue
•IHG
•Lufthansa
•Qantas
•Qatar
•United


FCY Fee

3.5%

Transfer Fee

S$26.75

Local Earn
1.0 mpd
(1.4 mpd with ≥ S$2K/month)
Points Pool?

Yes

FCY Earn
1.0 mpd
(3.0 mpd with ≥ S$2K/month)

Lounge Access?
6x Priority Pass
Special Earn

N/A

Airport Limo?

No

Cardholder Terms and Conditions
Standard Chartered Visa Infinite cardholders earn 1.4/3.0 mpd on local/overseas spend, with a minimum spend of S$2,000 per statement month (otherwise they'll earn 1.0 mpd for both).
| | | |
| --- | --- | --- |
| | Spend <S$2K/month | Spend ≥ S$2K/month |
| Local | 1.0 mpd | 1.4 mpd |
| Overseas | 1.0 mpd | 3.0 mpd |
Cardholders also receive six Priority Pass lounge visits per year, but that's nowhere as good as the unlimited visits offered by competing cards like the Citi Prestige and HSBC Visa Infinite.
The real perks of membership, therefore, are the welcome gift (take note that from the second year onwards, cardholders receive only 20,000 miles with the annual fee) and tax payment facility. In other words, the Standard Chartered Visa Infinite is a great card for someone who wants to buy miles.
Buy 35,000 miles upfront with the S$588.50 annual fee
Buy additional miles with the income tax payment feature
Conclusion
While the features of the Standard Chartered Visa Infinite aren't much to get excited about, it's still a very useful card for those who want to buy miles on the cheap.
If you've been considering this card for that purpose, an additional 5,000 miles sign-up bonus won't hurt. Remember, Standard Chartered Visa Infinite cardholders can access all of SCB's new rewards partners, so your points are quite flexible.