If you're travelling through Changi Airport in Economy Class and don't hold elite status, your best bet of escaping the crowd (though there's little to speak of at the moment) is a contract lounge.
There's two options currently open in Terminal 3:
Ambassador Transit Lounge
SATS Premier Lounge
I managed to review both on the outbound leg of my Romantic Road journey, and there's little doubt in my mind that the SATS Premier Lounge is more worthy of your card swipe. 
🍸tl;dr: SATS Premier Lounge T3

With its recent refurbishment, the SATS Premier Lounge is definitely the pick of the two contract facilities currently open in Terminal 3.

The Good

The Bad

New furniture and spacious feel thanks to airy concourse

Excellent productivity pods

Offers a sparkling wine option

Limited showers with tired interiors

Food quality isn't great
Access and Operating Hours
The SATS Premier Lounge in Terminal 3 is open 24 hours daily. Access may be purchased online via the Plaza Premium website (S$72.90 for a 5-hour stay), or is available to those with the following lounge memberships:
Diners Club
DragonPass
LoungeKey
Priority Pass
AMEX KrisFlyer Ascend cardholders also receive four lounge passes per membership year, which can be redeemed for entry at this facility. 
Transit passengers with a 14-day travel history exclusively featuring Category I or II countries  may visit the lounge.
Getting to the Lounge
The SATS Premier Lounge is right next to the temporary SilverKris Lounge, so if you know how to get there, this shouldn't be too difficult. 
Once you pass through immigration, make a left at the giant Louis Vuitton store and head in the direction of the A gates. 
You'll see an escalator on your right- take it up to level 3.
Once you get off the escalator, you'll see the entrance to the SilverKris lounge. 
To the left of the SilverKris Lounge is the SATS Premier Lounge. 
Seating
Just like the temporary SilverKris Lounge, the SATS Premier Lounge adopts an open-air design that takes in the atmosphere from the departures concourse below. There's a view of the tarmac, although you won't be able to see much thanks to the shutters which regulate the amount of light entering the terminal. 
If you visited this lounge before COVID, you might be surprised at the refurbishment it's received. As recently as January 2020, the lounge had a mix of low back red and white armchairs, as well as a few high back thrones. These have been replaced with a series of spanking new red, grey and mahogany-coloured armchairs, which really look the part. 
Four leather-upholstered massage chairs are mixed in among the seats. While I'm no advocate of hygiene theatre, I thought they should at least have put a headrest cover. Imagine all the oil that's going to build up over the years…
In one corner of the lounge is a separate seating nook, which has been refurbished with grey partitions, grey armchairs and modern lighting. This is a slightly more private area of the lounge, good for catching a nap. 
Adjacent to this area are a series of six productivity pods. I rather like their design, which reminds me of a Business or First Class seat. Each pod has a good amount of privacy and a cozy leather bench. A faux marble counter worktop, two universal power outlets and three (!) USB charging outlets complete the set.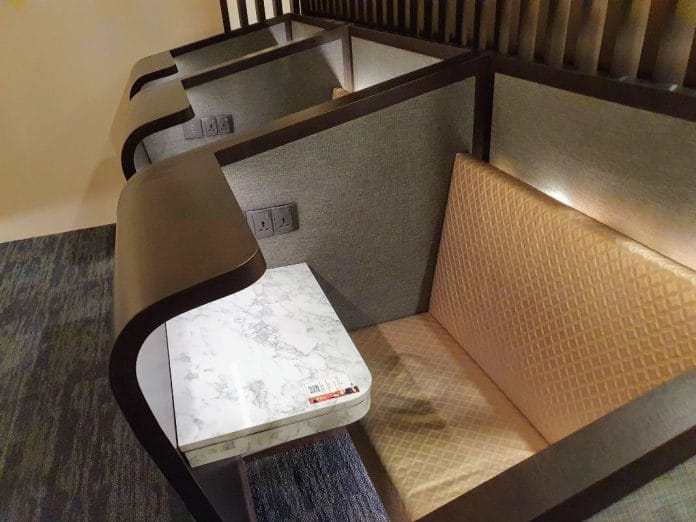 The pods are a great place for getting work done, but if they're all occupied, try your luck at one of the four booth seats with wall-mounted floating desks. There were a few computers and VoIP phones located here prior to COVID, which have since been removed.
None of the reading materials interested me, but their very presence was a surprise- I thought all magazines were supposed to be removed in order to reduce touchpoints. 
Power & Productivity
Complimentary Wi-Fi is provided throughout the SATS Premier Lounge. When I visited, I managed to clock speeds of 19.5 Mbps down and 14.4 Mbps up, which was even faster than the speeds at the SilverKris Lounge. 
Scattered throughout the lounge are universal power sockets and USB ports. 
Food & Beverage
COVID has put a pause on the usual hot food buffet offered at the SATS Premier Lounge, and the food display area feels strangely empty.
In the meantime, guests can request a bento set (limit one per passenger), choosing from four options which rotate periodically:
Roasted Chicken Rice: Served with flavored chicken rice and braised vegetable, accompanied with fried omelette
Ayam Bakar Belado (Spicy Grilled Chicken): Served with fried rice and vegetables
Baked Cream Snapper with Lemon Caper Sauce: Served with cheese mashed potato and seasonal vegetables
Fishball Kway Teow Soup: Served with fish cakes, bean sprouts and spring onions
I tried the Ayam Bakar Belado and Baked Cream Snapper. While the taste of the food left much to be desired (piping hot in the middle, suggesting it was popped into the microwave and reheated), I suppose I'll give them some points for at least bothering to plate it. 
The food took only five minutes to arrive, but if you need something even faster, a wicker basket with assorted breakfast cereals is available (milk is in the fridge). 
Prior to COVID, this lounge boasted a make-your-own laksa station. After COVID, there are…instant noodles. I hope you like vegetarian flavor. 
A French door refrigerator contained soft drinks, juice, UHT milk, Tiger Beer and chilled mugs. 
Guests who want more of an eye-opener can make coffee at two digital bean-to-cup machines, or choose from a selection of teas.
Those who prefer to keep their eyelids heavy can imbibe a range of spirits and wines. 
The wine selection is best described as "table", with a choice of two red wines:
Vino+ Spanish Tempranillo 2019 (S$21)
Ochagavia Media Luna Cabernet Sauvignon Merlot 2018 (S$20)
Two white wines were available in the chiller; neither of any particular pedigree:
Vino+ Spanish Airen 2019 (S$21)
Drostdy-Hof Chenin Blanc Steen 2015 (no Singapore price available; Vivino suggests US$8)
However, to my great surprise a sparkling wine option was offered as well. Yes, it's just a Pol Remy Brut (which retails for about S$28 on KrisShop), but it's so rare to see a contract lounge offering bubbles. It might not be Dom, but it makes the trip a bit more fun.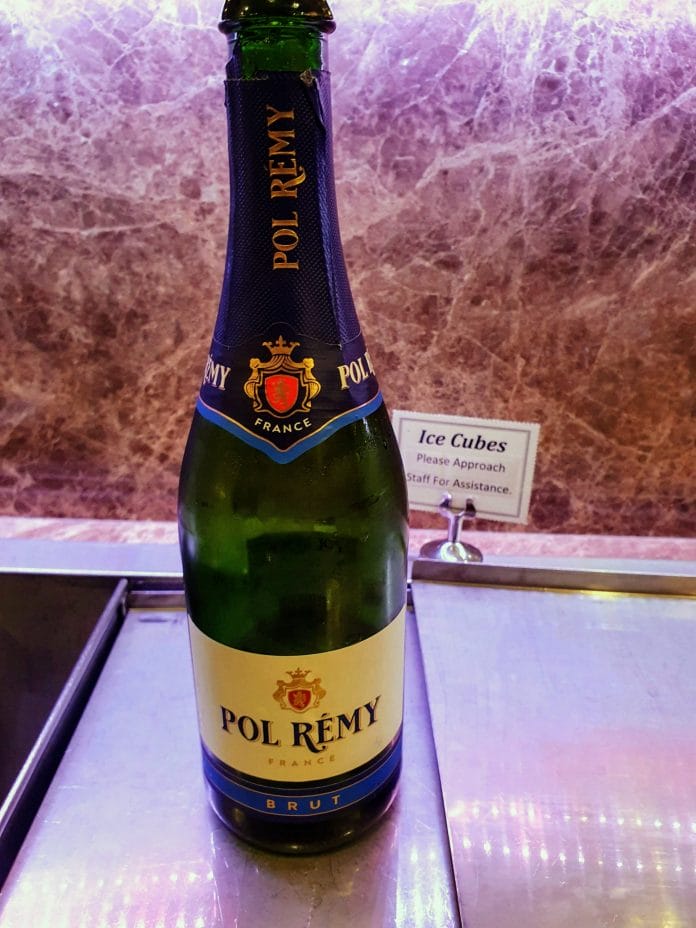 Showers & Toilets
A total of two shower rooms are available in the lounge. It's not that big a deal now, but I can see long queues forming when the airport gets a bit busier.
Shower rooms are spartan, and neither one has an attached toilet. Inside each is simply a cubicle and vanity area, with a hairdryer built into the wall. I'm surprised at the choice of wood flooring (or at least something that looks like wood)- one wonders how that'll hold up in a damp environment. 
Shampoo and body soap are dispensed from wall-mounted pump dispensers. 
Conclusion
The SATS Premier Lounge at Terminal 3 may not be worth an early visit to the airport, but it's still a very pleasant place to get some work done while waiting for your flight (especially if you manage to snag a productivity pod). The open concourse design makes it feel less claustrophobic and better ventilated than the Ambassador Transit Lounge, and the investment in new furniture gives it a modern look. 
Besides, which other contract lounge in Changi offers bubbles?