While most of the European and North American VTL countries have fairly simple entry procedures, South Korea is a different story altogether.
South Korea has yet to open its borders to the rest of the world; in fact, Singapore is only the second country/territory to enjoy quarantine-free access (the other being Saipan). This means that travellers from Singapore can expect a "not-quite-there" arrivals experience- you can enter, but it's nowhere as frictionless as before. 
I flew into Seoul yesterday (18 November) to cover the launch of the VTL, and here's my end-to-end experience of the Singapore to Seoul process.
🇰🇷 BTS (Back to Seoul)
🇸🇬 Singapore- South Korea VTL 🇰🇷
Night Before Departure to Seoul
24 hours before your scheduled on-arrival test at Incheon Airport, you'll receive an email from the Safe2Go portal prompting you to complete a pre-questionnaire.
Login to the Safe2Go portal, look for your booking and click on the green "pre-questionnaire" button.
You'll be prompted to answer a series of eight questions, which will take at most a minute to complete.
At Changi Airport
During check-in at Changi Airport, you'll be asked to present the following documents:
Korea Electronic Travel Authorisation (K-ETA)

Not required if you hold an APEC Business Travel Card

Vaccination certificate

Use the one from Notarise as it has a machine-readable QR code

Confirmation of on-arrival PCR test booking

Check your inbox for an email from Safe2Go 

Negative PCR test result (PDT)

Sample must be taken within 3 days to departure (e.g. if your flight departs at 8 a.m on 18 November, you can take the test anytime from 12 a.m on 15 November)

Travel insurance certificate

With minimum KRW 30M (~S$35K) medical coverage for COVID-19 medical treatment. You do not need to print the policy wording, just the insurance certificate will suffice. This can be requested from customer service
I highly recommend you print physical copies of all of the above before coming to the airport. Even though digital copies are acceptable on the Singapore side, South Korea, 5G nation that they are, requires physical printouts.
If you forget to do so, the Incheon airport staff can help you print physical copies free-of-charge. However, you'll add an unnecessary delay to an already drawn-out arrivals process. 
Once your documents have been verified, you'll receive a lanyard that identifies you as a SG-Korea VTL passenger. There's no need to wear it now, but put it on once you land at Incheon so the airport staff know you're travelling under a quarantine-free arrangement.
It's business-as-usual after that. Clear immigration, wander around the shops/visit a lounge or two, then pass through security and board the plane. 
At the boarding gate, you'll be given four paper forms to fill out. 
Form #1 is a Travel Record Declaration. You'll be required to list all countries you have visited within 14 days prior to arrival in South Korea. As stated in the VTL requirements, this can  only consist of Singapore and/or South Korea.
❓ What about other VTL countries?
If you're entering Singapore on the VTL, your 14-day travel history can consist of any VTL country and/or any Category I country and/or Singapore.
If you're entering South Korea on the VTL, your 14-day travel history can consist of Singapore and/or South Korea only.
Form #2 is a Health Declaration Form. You'll be asked about your 21 day travel history (as opposed to 14 days in Form #1), as well as make a declaration that you're not suffering from any symptoms of disease. My 21 day travel history included Germany, but this didn't raise any eyebrows.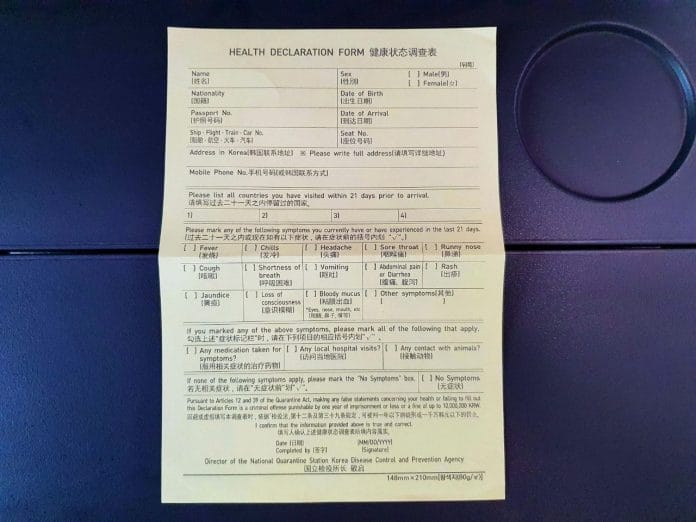 Form #3 is a standard Customs Form. Are you carrying more than US$10,000, do you have any fresh fruits or vegetables, do you have any items in contravention to public security or morals (heh heh), that sort of thing.
Form #4 is a standard Arrival Card, asking for information like where you'll be staying and the purpose of your visit.
Do note that all four forms require your exact address in Korea. It is not sufficient to provide just the name of the hotel; you'll need the full address. Save yourself (and everyone behind you in the queue) some time by filling this out on the plane. 
You will also need to provide a local contact number; if you don't have a Korean number, the hotel's phone number is fine. 
If you plan to change hotels during your stay, provide the details of the first hotel you'll be staying at. 
On arrival at Seoul Incheon
After disembarking from the plane, take a deep breath. You'll now start the arrivals process for VTL travellers, which may take up to two hours. 
Keep in mind that I visited during the first week of the VTL, and was seated in the last row of Economy Class, so hopefully my data point represents the upper limit of what you can expect to encounter. 
A few pointers before we talk about the exact process:
Use the toilet before you land. Because of all the document checking, queues are going to be long. The last thing you want to do is lose 30 minutes of your time for a 5 minute trip to the toilet
If you see a queue forming, don't try and skip it by using the travelator- you'll just get sent straight to the back
There is no special queue for APEC Business Travel Card holders; everyone from Singapore goes through the exact same process
The arrivals area is not "sterile", in the sense that passengers from non-quarantine free flights will be here too. Wear your lanyard prominently, it's the only way the airport staff know you're a VTL passenger
For reference, I disembarked from SQ600 at 3.16 p.m.
(1) Check Vaccination Cert & PDT
Station #1: Check Vaccination Cert & PDT

Joined Queue

3.20 p.m

Finished Station

3.41 p.m

Approx. Time

21 mins
Immediately after disembarking the plane, you'll be identified by your VTL lanyard and directed to a queue for checking vaccination certificates and PDTs. 
Before you reach the head of the line, a staff member will take your temperature and use the Korean COOV app (which you don't need to install) to scan the QR code on your Notarise vaccination certificate. This, by the way, is why you can't use the HealthHub vaccination certificate- it doesn't have a QR code to scan. 
Once you reach the head of the queue, you'll be directed to a table where:
your negative PCR test result slip will be inspected and taken from you
your Health Declaration Form will be inspected and taken from you
your Travel Record Declaration Form will be inspected, stamped and returned to you
your vaccination certificate inspected and returned to you.
A PCR sticker will be stuck on your passport. Be careful with this, as it proves you're exempt from quarantine. You'll need it for the next few stations, to board the train at the very end (should you wish to ride the AREX- more on that later), and check-in to your hotel. 
You'll also be given a sheet of paper with general information on visiting Korea via the VTL (they call it a "Travel Bubble"; have they learned nothing?). This basically reiterates your post-arrival responsibilities, namely:
Report your daily health status via the Self-Check mobile app for the duration of your stay or 14 days, whichever is shorter
Take a PCR test on Day 6 or 7 if your stay in Korea is eight days or longer
You will also get a stamp on your Travel Record Declaration form, required for the next step.
(2) Check Travel Record Declaration & K-ETA
Station #2: Check Travel Record Declaration & K-ETA

Joined Queue

3.43 p.m

Finished Station

4.11 p.m

Approx. Time

28 mins
At the next station, present your K-ETA or APEC Business Travel Card, plus the documents from the previous step. 
Once verified, you will be given a document labelled "Restriction Order on the Scope of Activities". This basically informs you of your obligation to comply with the relevant guidelines and the penalties for non-compliance.
The officer will ask you to sign a form certifying your receipt of and agreement with this Restriction Order.
(3) Clear Immigration
Station #3: Clear Immigration

Joined Queue

4.11 p.m

Finished Station

4.21 p.m

Approx. Time

10 mins
Immigration is the same as it always was. Remove your mask, smile for the camera, scan your index fingers, and hand them your Arrival Card (mine was returned to me, presumably because I have an APEC Business Travel Card and cardholders are usually not required to fill arrival cards). 
You'll receive a small slip of square paper with your entry confirmation. This takes the place of the usual passport stamp. 
(4) Collect Luggage
Station #4: Collect Luggage

Joined Queue

4.22 p.m

Finished Station

4.25 p.m

Approx. Time

3 mins
After immigration, proceed to collect your luggage. Due to the time required to finish all the previous steps, your bag will almost certainly be on the belt waiting for you. 
Claim your bag, pass the Customs Form to the guard, then exit the secure area. 
(5) On-arrival Test
Station #5: On-arrival Test

Joined Queue

4.27 p.m

Finished Station

4.55 p.m

Approx. Time

28 minutes
There's just one final step before you can leave the airport: take the on-arrival PCR test. 
Since I visited Seoul in the first week of the VTL, the Korean Tourism Organisation was out in full force with the charm offensive. As soon as we left the secure area, travellers from Singapore were greeted by ladies wearing traditional Korean garments, as well as various mascots. Goody bags were issued, and photo taking is more than encouraged. 
A VTL Guide (identifiable by their blue jackets with "Vaccinated Travel Lane" on the back) received all arriving passengers from Singapore, requesting that they wait for a chaperone to escort them to the West or East test centre.
Groups leave fairly regularly, and you shouldn't have to wait more than ten minutes. 
❓ Got Questions?
While the standard of English was hit and miss among the regular Incheon airport staff, it's much better among the VTL Guides.
If you have any questions at all about the VTL process, your best bet is to approach one of these guys. 
If you want to buy a SIM card, now's the time to do so. There's a counter just a few steps away from where the group waits. 
And if you need a jacket from your bag, now's the time to get it, because you'll be heading outside the terminal and across the road to to the swab centre (it's a sheltered walk). 
People keep asking whether they should choose the West or East centre. The answer is: it doesn't really matter. There's no way you can predict which one will be more crowded, and both are a mere 1-minute walk from each other. If the queue builds up too much at one location, they'll automatically rebalance it. 
By the way, if you're planning to do your ART swab at Incheon just before checking in for your return flight to Singapore, you'll come back to exactly the same place. 
Once you reach your respective testing centre, you will be asked to leave your luggage outside (backpacks can be brought in). A staff member will check your booking email at the door. 
❓ What if I'm outside my appointment window?
There are two queues at the test centres: one for those with appointments, and one for walk-ins.
Here's where it's a bit fuzzy. Early reports suggest that if you miss your appointment window by more than 15 minutes, you'll need to join the walk-in queue. 
Appointment windows seemed to be irrelevant for my group, however. We all had slightly different timings, but everyone was pointed to the same queue. 
As a rule of thumb, perhaps book your on-arrival test for 1-hour after landing time. There's no way you can accurately predict how long all the previous steps will take anyway.
Inside the centre, you'll be brought to a computer where the staff member will punch in your booking number and confirm that all your details (especially email address) are correct. 
Once confirmed, you'll receive a queue number to pay for your swab test.  All major credit cards (including American Express) are accepted, and the total cost of a PCR test for non-Korean residents is 174,000 KRW (~S$200). 
A receipt with a bar code will be issued. Keep this for the swabbing process. 
Before you take your swab, you'll speak to a doctor and make a brief verbal declaration that you have no symptoms, you have not been diagnosed with COVID-19 in the past (it's not necessarily an issue if you have, especially if you managed to clear your pre-departure PCR test in Singapore), and you have been fully vaccinated.
Then it's finally time for the swab, and South Korea does things differently from Singapore. The swabber stands on the other side of a clear glass enclosure, reaching out through special arm holes to swab you. You'll also be instructed to scan the barcode on your receipt to match your sample with your name. 
My swabber went very deep (c'mon, buy me a drink first!), and keep in mind this is coming from someone whose nostrils have already been widened from years of nose picking.
It'll be over in five seconds. Stay calm and think of kimchi. 
Proceed to accommodation
Once you've completed your on-arrival PCR test, you're on your own. There's no more escorts; you're on your honor to proceed directly to your accommodation and self-isolate until the result is out. 
Your self-isolation accommodation can be a hotel, an AirBnb (confirmed here– check with your host first, of course), or with friends/family in Seoul. 
In terms of transport options, the Korean embassy advises that VTL travellers may take:
taxi
private vehicle
designated bus or train
(3) is interesting, because I was under the impression that public transport was off-limits. Apparently not, as VTL travellers can take the all-stop Airport Rail Express (AREX). 
❓ What about the AREX express train?
I didn't see any AREX express trains, and based on previous reports, it's currently not operating.
I crossed the road back to the airport terminal and found the signs for the AREX. You'll need to take the escalator down. 
On the walk to the AREX, you'll see repeated reminders that it's not for overseas arrivals.
You can safely ignore these. There's an exemption for people with "isolation exemption certificates", and this is meant to cover VTL travellers too (why it causes some confusion is that VTL travellers do need to isolate, although just for a few hours while waiting for their on-arrival test results). 
Besides, they wouldn't let you board if you don't have the proper paperwork. Remember the PCR sticker on your passport? You'll need to show that (plus your vaccination certificate) to the person at the AREX Information Centre (just next to the gantry). 
He'll then give you a blue tag for your luggage that allows you to enter the gantry. 
As a side note, the AREX ticket vending machines do not accept credit cards. You'll need some KRW on you (the fare from Incheon Terminal 1 to Seoul Station is 4,150/1,900 KRW for adults/children). 
I didn't have any, but the attendant (who spoke great English) told me to leave my bag at the Information Centre. He opened the gantry and I went down to the platform to use this automated Money Exchange called BuddyCoin.
You might think these machines are for suckers, but I found the rate to be acceptable, all things considered. My US$100 bill got me 115,000 KRW, approximately a 2% spread compared to the Google rate. Have your passport handy, as you'll need to scan it before exchanging money. 
The machine dispenses notes only, and any rounding adjustments will be given to you in BuddyCoin points.
Once I reached Seoul Station, I took a cab the rest of the way to my Aloft Seoul Myeongdong, reaching at 6.45 p.m.
There was no issue checking in once I showed them the PCR sticker on my passport- they knew about the VTL, and didn't ask me to show a "quarantine exemption certificate". 
Wait for Results
Even though the timetable provided on the Safe2Go portal says that tests taken after 3 p.m would only receive results the following day, I'm delighted to report they're underpromsing and overdelivering.
| | |
| --- | --- |
| Test Time | Result |
| 0700-0800 hrs | Same day by 1100 hrs |
| 0800-1000 hrs | Same day by 1300 hrs |
| 1000-1145 hrs | Same day by 1500 hrs |
| 1300-1400 hrs | Same day by 1700 hrs |
| 1400-1500 hrs | Same day by 1800 hrs |
| 1500-1800 hrs | Next day by 0800 hrs |
My swab was done at 4.55 p.m, and my negative result came back at 8.25 p.m. Keep in mind again that I was seated at the very back of the plane with a 90%+ load. 
Based on other data points I've read, I can say this is the norm, not an exception. In other words, you don't need to write off your whole first day! 
❓ Can I wait at the airport?
Since results seem to reliably come back in ~3 hours, some people may be wondering if they can wait at the airport, get their clearance, then travel onwards via domestic flight or non-AREX public transport.
As far as I know, the answer is no. There's no demarcated waiting  area that I could see, and the instructions were quite clear that you should leave the airport as soon as possible. If you have other experiences, do share them in the comments
Next Steps
Once you have your negative result, be sure to drop by the front desk and inform them. 
You'll also need to fill in a daily health report on the Self-Check mobile app for 14 days or until you leave Korea, whichever is shorter. 
Despite the poor reviews on the app store, I found it fairly straightforward to set up. The OTP came through to my Singapore number without issues, and daily reporting is more of a minor inconvenience than anything else. Just set a calendar reminder to do it each morning; it won't take more than 30 seconds.
Conclusion
I realise the arrivals process seems like a lot of steps, but it's because I've taken pains to spell out everything in more detail than you probably need. 
The process isn't particularly complicated, since you're chaperoned all the way till the end of your swab test. It's just long, and those with young kids (the Korea VTL is open to unvaccinated children aged 5 and below) will need ways to keep them entertained.
I doubt hardcore Korea fans will mind, really, and it's a small price to pay to be able to visit.
Any questions about the VTL arrival process at Seoul Incheon Airport?