For my third and final night in Seoul, I booked myself into RYSE, a quirky 274-room property in the Hongdae neighbourhood. 
As nice as the Aloft Myeongdong and Sofitel Ambassador were, they're still ultimately chain hotels. You know what to expect the moment you step inside, from the signature scent in the lobby to the customary soundtrack in the lift, from the standard-issue toiletries right down to the Wi-Fi's SSID. 
RYSE was an opportunity to try something different. Yes, it's still under the Marriott umbrella, but it exists within the grey area that is the Autograph Collection- a series of boutique hotels, plugged into a global loyalty programme. 
🇰🇷 BTS (Back to Seoul)
🇸🇬 Singapore- South Korea VTL 🇰🇷
🏨  tl;dr: RYSE Seoul

Quirky and stylish, RYSE is a breath of fresh air for Marriott loyalists who yearn for something different yet can't kick the points habit.

The Good

The Bad

Irrepressibly stylish from start to finish

Cute little amenities like face masks and wonton churros

Surprisingly spacious rooms and well-appointed bathrooms

Wasn't impressed with the breakfast option I picked
Check-in
RYSE is located in the Hongdae district, which Seoulites believe to be their equivalent of Brooklyn or Shoreditch. It's a mecca for edgy fashion, urban art, indie music culture and artisan cafes, a suitable backdrop for a hotel like this.
The nearest metro station is Hongik University (which hosts one of the most renowned art colleges in South Korea), and if you're coming directly from the airport, the AREX stops at this station too.
You can tell as soon as you step inside in the hotel that even though RYSE may be nominally part of the monolithic Marriott conglomerate, it's something that defies categorisation.
The cavernous lobby boasts pink resin floors juxtaposed with raw concrete walls (a 3D scan of an actual cliff face, apparently), illuminated by light streaming in from the floor-to-ceiling windows. Guests sip coffee and nibble on pastries from Tartine (the hipster bakery from San Francisco) in amphitheatre-style seats.
The check-in area is on the third floor, set in what looks like the world's funkiest library. Called the Print Culture Lounge, this area hosts an extensive selection of niche magazines, books and vinyl records for browsing. 
My room was ready when I arrived at 2.30 p.m on a Saturday, and I was requested to show a copy of my negative PCR test result from Incheon Airport. 
I was also given a contact tracing form to fill, since Singaporeans can't use the COOV app.
As a Marriott Gold member, I was upgraded one category to an Editor Room, and given a welcome amenity of wonton churros. This is an absolutely inspired idea- crispy wonton skins dusted with cinnamon sugar. 
Room
Rooms at RYSE are split into media-themed categories: Creator, Editor, Director, Producer, Artist and Executive Producer (a 2,000 sqft penthouse suite that hosted Sam Smith in 2019). As mentioned, I booked the lead-in Creator Room (29 sqm) and received a one-category upgrade to an Editor Room (38 sqm).
One thing's for sure- these aren't your cookie-cutter hotel rooms. Interiors are decked out with artwork and designer furniture; velvet curtains are paired with hand-woven Kenyan rugs. You won't find a stodgy office desk or Herman Miller chair anywhere. 
I was amused that the room's sense of style even extended to the fire extinguisher. 
The king-sized bed was extremely comfortable, with a padded headboard conducive to curling up in bed with a book.
Each bedside had USB ports and universal power outlets. 
Other nice touches included two complimentary face masks ("Ryse and Shine", of course) and some small candies at the bedside area.
The room's TV set was mounted on a pole. It's on the small side (perhaps 42 inches), but I didn't use it at all during my stay anyway.
If there's one thing the room sacrifices, it's work friendliness. The sofa and low-height coffee table aren't a great combination for laptop use (although I suppose if you wanted a work-friendly setup you'd have gone to a Hilton or Sheraton). On the plus side, Wi-Fi speeds were incredibly fast, the fastest I've encountered at any hotel on my travels so far. 

An open-concept wardrobe offers space to hang clothes, with a pair of custom bathrobes made specially for the hotel by streetwear brand IISE. 
The room also had a mini-bar with a kettle and bluetooth speaker. Two complimentary bottles of mineral water were inside the drawer (in Seoul, most hotels provide unmarked bottles to save on the plastic wrapper), with a further two chilling in the mini-fridge.
Boutique hotels normally compromise when it comes to the bathroom, but this terrazzo-tiled enclave was large enough for two people to maneuver comfortably. The clear glass design helps improve the feeling of spaciousness, although it also meant less privacy. 
A backlit mirror hung above the single vanity, which had adequate countertop space for all my items. The hotel even provides a little take-home amenities kit, with toothbrush sets, shower caps, combs and cotton buds. 
The oversized shower area had a bench and mirror, although I do wish they'd gone with a larger-sized shower head to maximise the experience. Shower amenities were provided through wall-mounted dispensers; I never learned the brand, but they smelled good and lathered well. 
As with all the other hotels I stayed in Seoul, the toilet had an electric bidet seat with numerous washing and drying functions.
So yes, I'm very much a fan of the Editor Room. It's perhaps not the best place to get work done, but I think you've come to the wrong hotel for that. This is a room built for Instagram, but hashtags aside, remains practical enough for a comfortable stay. 
Facilities
RYSE has no swimming pool, but it does have a 24-hour gym on the 4th floor. No prior bookings are required; just tap your keycard and enter.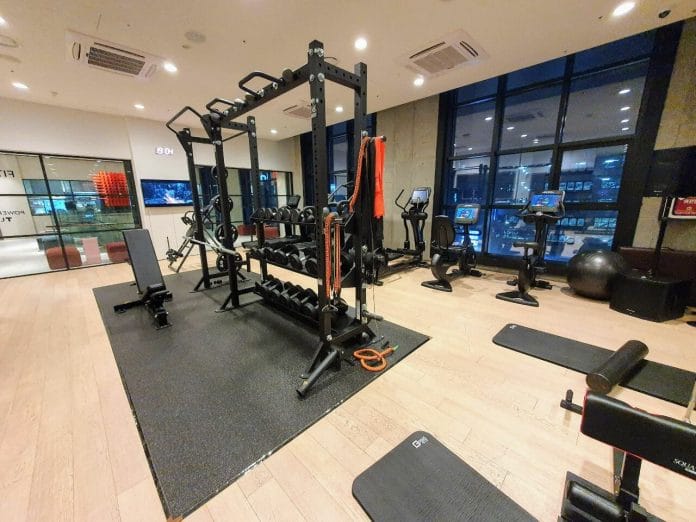 The usual assortment of cardio and strength training equipment is offered, as well as free weights. 
Breakfast
Breakfast is served from 7 a.m to 11 a.m daily at Charr on the 4th floor. It costs 33,000 KRW (~S$38) per adult, although you have the opportunity to add it at check-in for 22,000 KRW (~S$25). 
Each guest can pick one of the following items, plus juices and coffee/tea.
Since my flight was departing at 10.30 a.m that morning, I didn't have all that much time to eat. The staff recommended the chicken porridge as a quick option, but I found it rather bland and unmemorable. 
If I could do it all over again, I'd spring for the avocado toast or perhaps the beef bone soup. Based on pre-COVID reviews, they used to serve a buffet breakfast, so hopefully that comes back soon. 
Conclusion
It's hard not to like RYSE- the whole hotel exudes so much personality it might win a Miss Congeniality competition. There's even some other other cool features I didn't have time to explore, like the Side Note Club (which of course has its own vinyl collection) or the Worksout Store (a retail concept showcasing various clothing and accessory brands, spread over the first three floors).
After a steady diet of Hiltons, Westins and Hyatts, RYSE is like a breath of fresh air, a reminder that there's a world beyond small disposable toiletries and big box hotels.
And hey, you can still earn Marriott points and nights.