If you're planning a VTL trip to South Korea, you might be wondering what everyday life looks like post-COVID.
Will your favourite restaurant be open, will your Singapore vaccination certificate be recognised, how do you go about the Day 6/7 and pre-departure tests, what restrictions are there on activities etc. etc…
Here's my attempt at providing some answers.
🇰🇷 BTS (Back to Seoul)
🇸🇬 Singapore- South Korea VTL 🇰🇷
Self-isolation on Arrival
Before you can head out and explore, you'll need to get the all-clear from your on-arrival PCR test at Incheon Airport.
Once the swab is done, travellers must head directly to their accommodation and self-isolate until the result is out. I've provided more details in the post below, suffice to say you can take a taxi, private-hire vehicle or AREX train, and results are out within 3 hours or so.
South Korea VTL Arrivals Process at Seoul Incheon: My Experience
There's been some concern about whether or not hotels will accept travellers from Singapore during the self-isolation period, since a range of responses have been received (some hotels require a negative on-arrival PCR test result, others ask for a "quarantine exemption certificate" which VTL travellers do not receive).
The good news is this won't be an issue at the majority of hotels, since the Korean Tourism Organisation has been hard at work briefing hoteliers about the VTL scheme and what it entails.
I can't speak to all hotels, but I had no issues at the Aloft Seoul Myeongdong. At check-in, the staff simply asked to see the PCR sticker on my passport (which confirms you entered Korea under a quarantine-free arrangement).
Once I received my negative on-arrival result, I went down to the front desk, showed it to them, and was free to move around and use the facilities.
At subsequent hotels (Sofitel Ambassador Seoul, RYSE), I simply showed the same negative on-arrival PCR test slip at check-in. Not once was I asked to show my Singapore vaccination certificate, but that's probably because they knew all VTL travellers must be fully vaccinated anyway.
As for early check-in (necessary for those arriving on SQ608, or any flight that puts you in Seoul before official check-in time), that's between you and the hotel. The hotel has no obligation to give you a room if you arrive before official check-in time (usually 3 p.m), and it's your responsibility to ensure you have a room available to self-isolate.
In other words, make arrangements with them beforehand. If that means paying extra money or flexing your elite status, well, that's what you have to do.
Rules on Mask Wearing
While Korean law technically only mandates masks for indoor areas, and outdoor areas where 2-metre distancing is not possible, it's de facto compulsory everywhere.
I saw people wearing masks not just when walking outside, but even when jogging (how?) and in the (outdoor) jacuzzi. During my whole time there, I never saw a single person removing their mask to walk and eat. So I think it's safe to say they take the whole mask thing very seriously.
Unlike Germany, Korea has no restriction on the type of mask that can be worn. Cloth, surgical, N95 etc. are all equally acceptable.
From what I can find, there's no hard and fast rule about when you can remove your mask at restaurants (e.g. when the food comes, or straight away), but since most places already have a pitcher of water at the table, I'd assume you can take it off once you're seated.
Recognition of Singapore Vaccination Certificates
Koreans use the COOV app for day-to-day life, which stores their vaccination certificate. For check-in, they can show a QR code from their Naver or Kakao app to scan at the entrances to malls, hotels, shops and restaurants.
For Singaporeans, it's slightly different. In theory, Singapore vaccination certificates are interoperable with the COOV system. On arrival in Seoul, a member of the airport staff uses the COOV app to scan your vaccination certificate.
You can even test it for yourself. Download the COOV app, tap "authenticating other party" at the bottom, and scan the QR code on your Singapore vaccination certificate (the one from Notarise). Your vaccination data will be successfully loaded, with a pop-up message saying "fully vaccinated overseas".
However, this firmware update has yet to be rolled out widely, and in all the places I went, my Singapore vaccination certificate simply did not work. Keep in mind I visited during the first week of the VTL, and things could be very different by the time you go.
❓ Alternative Method
An alternative method of checking in is to dial a toll-free number that's listed at the entrance. This was intended for Koreans without smartphones, however, and I doubt any foreigner will want to incur roaming charges every time he/she enters a venue.
For what it's worth, no one ever asked me to call the number while I was there.
⚠️ Update: The paper method described below has been discontinued from 13 December 2021. The only check-in method available to tourists is the Safety Registration Call mentioned above, so you should definitely get a local Korean SIM to make calls.
Not that this was ever a problem, however. I just explained to them I was a foreigner, and they directed me to fill out a paper form with my contact tracing information.
For those of you who can't read Korean, the columns are (from left to right)
Date
Visiting Time
Agreement to Personal Information Collection
Residing Area/Neighbourhood
Phone Number
You can provide your hotel name under (4), and Singapore phone number or Korean hotel number under (5). It doesn't really matter- if there's one thing this trip showed me, it's that the art of wayang is universal. No one bothered to check what I wrote, much less verify that I was in fact a foreigner (I mean, I have such Korean features…) In fact, when one scanner rejected my certificate (with an audible chime), the guard just waved me through!
So tl;dr: your Singapore vaccination certificate won't pose much of an obstacle to day-to-day life.
COVID-19 testing
Pre-departure testing (PDT)
Before returning to Singapore, you'll need to take an ART or PCR test within 2 days of departure. For example, if your flight departs at 12 p.m on 20 November 2021, you can take the swab any time from midnight on 18 November 2021.
In my opinion, the simplest option is to get it done at Incheon Airport, just before your flight. You can book an appointment for an ART swab using the Safe2Go portal, at a cost of 84,000 KRW (~S$96). If you do the test on weekend/holidays or weekdays before 9 a.m and after 6 p.m, the cost will be 90,000 KRW (~S$103).
You should already be familiar with the location of the test centre, since it's the same place you visited for the on-arrival swab when you first landed at Incheon Airport. But in case you need a refresher, head down to the arrivals floor (Level 1)…
…exit via Door #7…
…turn right and look for the pedestrian crossing…
…head straight until you encounter a fork in the road.
Turn left at the fork for the East testing centre.
Turn right for the West testing centre.
It really doesn't matter which one you book, since it's impossible to predict crowds at any given time. Also, they don't seem to be very strict about showing up exactly during your booking window, provided there isn't a crowd (in which case they may prioritise according to slot timing).
I was travelling on SQ607 to Singapore, which departs at 10.30 a.m. I booked my appointment for 8 a.m, did my swab at 8.11 a.m, and got the result at 8.50 a.m.
Now, the testing centre will tell you to return to collect your results, but I also received them via email at 8.56 a.m. I guess it doesn't hurt to get a hard copy (though the check-in desk at ICN will accept soft copies as well).
While testing at Incheon Airport is the most convenient option, it's certainly not the cheapest. If you're willing to take time off your Seoul itinerary, you can do an ART swab at 50,000 KRW (~S$57) at H+ Yangji Hospital (located at Gwanak-gu).
However, reports are not sent by email, so you'll need to revisit the hospital to collect the results. This means two trips, which may or may not be convenient depending where you're staying.
The report will be in English, so it satisfies all of ICA's requirements for PDT.
❓ MFA Website
I'm aware the MFA's website says that professionally-administered ART COVID-19 tests are only available at Incheon Airport, but I believe this information is outdated. Anecdotally, I've heard of people who did their ART swabs elsewhere and checked in without any issues.
Day 6/7 Testing
If you're staying in South Korea for eight days or more, you'll need to do an additional PCR test on Day 6 or 7 of your stay (the day you enter South Korea is considered Day 1).
Travellers can consider the following options:
There may be cheaper options elsewhere, but I'm assuming you want to combine the Day 6/7 test with your pre-departure test (see below). If so, the two aforementioned facilities provide results certificates in English (required by the ICA)as well as online booking functionality.
Combining Day 6/7 Testing and PDT
For avoidance of doubt, you can combine the Day 6/7 test and the PDT.
If you intend to use the Day 6/7 test as your PDT, you must get a results certificate in English, as per ICA requirements.
If you intend to stay in South Korea beyond 2 days from Day 6/7, then there's no need for the Day 6/7 facility to provide a results certificate in English. This then opens up additional possibilities, and you can visit any of the facilities in the list below.
Places for Day 6/7 PCR testing
What if you test positive?
If you test positive, you'll be conveyed to a quarantine facility or hospital as needed, and responsible for your own medical expenses. That's where your travel insurance kicks in, and remember, you need a minimum coverage of 30M KRW (~S$35,000) for COVID-19 related medical treatment.
From what I understand, home recovery will soon be the default option for COVID-positive patients.
Daily Health Reporting with Self-check app
Visitors from Singapore will need to fill in a daily health report on the Self-Check mobile app for 14 days or until you leave Korea, whichever is shorter.
Despite the poor reviews on the app store, I found it fairly straightforward to set up. The OTP came through to my Singapore number without issues, and daily reporting is more of a minor inconvenience than anything else.
Just set a calendar reminder to do it each morning; it won't take more than 30 seconds.
I understand some people have issues setting up the app because they keep running into the message that their passport number does not match the entry list. You can override this; just click OK when it asks if you'd like to proceed.
Otherwise, you can get it set up at Incheon Airport by asking one of the friendly blue jacket clad VTL guides for assistance.
Post-COVID Life in Seoul
South Korea abandoned its 4-tier social distancing system and moved to a "Living with COVID" plan from 1 November 2021.
This means no more 10 p.m curfew on restaurants, bars and cafes, private gatherings of up to 12 people (10 within the Seoul metropolitan area), the resumption of musicals, concerts and sports events, and no more speed limit on treadmills in gyms (yes, that's silly, but is it really any more silly than our ban on background music?).
Self-serve buffets have also returned, and the SOP is to wear gloves and a mask when approaching the buffet line.
While the restrictions have been loosened, the scars will take a lot longer to heal.
I visited Myeongdong Shopping Street, and it was nothing like the videos I saw on YouTube. Before COVID, it'd be shoulder to shoulder, with pop-up stalls occupying every inch of real estate along the path. Now there's only a handful of stalls lining the street- and keep in mind I visited on the weekend.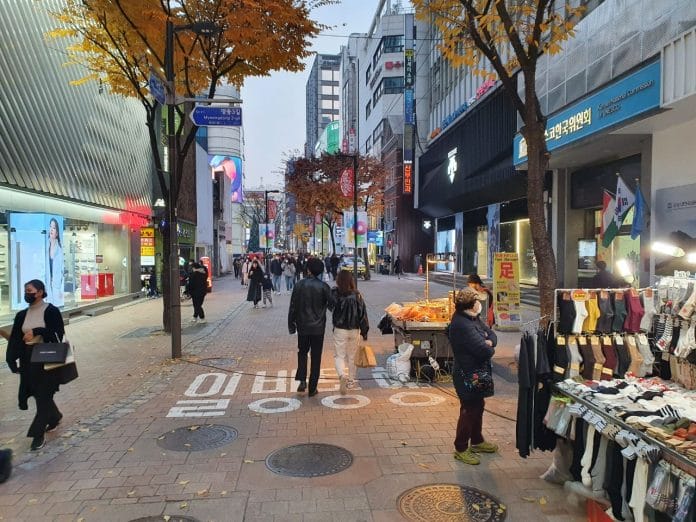 Likewise, a good number of businesses have closed down, leaving vacant shop fronts in their wake. Only the big international brands like Nike, innisfree, Zara etc. were open.
Restaurants seemed to be doing slightly better, although it really depends which area you're talking about. Those which relied heavily on tourist takings will obviously have suffered more, but all the places recommended to me by friends were still there.
I'm not that well-versed with other popular tourist areas in Seoul, so I can't say for sure whether they're the same as before. But what's clear is that arrivals from Singapore alone will be woefully insufficient to jump start Korea's tourism industry, and things will only get better when a wider reopening of borders happens.
Conclusion
Post-COVID life in Seoul is certainly a far cry from normal, but for what it's worth, I still enjoyed my (very short) trip. I think die-hard Korean fans won't care either way, and may even appreciate the opportunity to visit some famous sites and attractions with lower-than-usual crowds.
For further resources on the South Korea VTL, refer to the articles below:
Questions about the VTL and/or life in Seoul? Ask below.