After spending a solid eight hours in a mix of the Gulf Air Falcon Gold Lounge and a sleep capsule in the Bahrain Airport Hotel, it was time to board a red-eye flight back to Singapore. 
I'd already reviewed Gulf Air's long-haul Business Class when flying into Bahrain and wasn't blown away, but I figured the experience might be better out of home port.
🍸 tl;dr: Gulf Air B787-9 Business Class

The Gulf Air Business Class experience is slightly better out of Bahrain, but far from the standard of its Middle East peers.

👍 The Good

👎 The Bad

Bedding and mattress pad offer comfortable sleep experience 

Toilets with bidet seats

Meal service doesn't suit the red-eye timing

Clunky IFE system with limited options

Inadequate storage space and strange placement of outlets

Unimpressive catering
🇧🇭 The Long Way to Singapore
Boarding took place from Gate 19A, a short walk from the Gulf Air Falcon Gold Lounge near Gate 18A/18B. 
Boarding started at started at 11.25 p.m, 25 minutes before departure. It was a relatively orderly process compared to what I experienced out of Bangkok, with Business and Economy Class passengers divided into separate lines. 
GF165 to Singapore is operated by a B787-9 Dreamliner, one of seven in the fleet. These two-cabin aircraft have 26 Business Class and 256 Economy Class seats.
Business Class stretches over one extended section, with seats in a 2-2-2 configuration. These are known as Apex Suites (also offered on Japan Airlines and Korean Air), and their unique design allows for a high-density layout that still gives every passenger direct aisle access.
While window seats are typically to be avoided in a 2-2-2 Business Class configuration, here they just might be the pick of the lot. You enjoy unparalleled privacy thanks to the divider, which when raised renders you practically invisible to someone in the aisle.
Window seat passengers still enjoy direct aisle access, thanks to a private walkway created by the staggered seats. It's almost akin to an enclosed Business Class suite with a door. 
I'd previously chosen the window seat on the flight to Bahrain, so this time I went with the D/G seats in the middle. These would be more ideal for couples, since both seats are directly in line with each other. 
Even if you're travelling solo, you'll still be shielded from your seatmate when the divider is raised, as well as from the aisle thanks to the wraparound privacy ears created by the seat shell. 
In terms of seat selection, my only advice would be to avoid Row 1, which gets the double whammy of galley and bathroom noise. Also, the curvature of the fuselage makes the 1A and 1K seats feel narrower than they really are.
Unlike the window seats (A/K) which have a fold-down ottoman, the aisle and centre seats  (C, D, G, H) have a fixed ottoman which is much wider. A small cabin bag can be stored beneath the ottoman.
Seat controls are found in the armrest, with four pre-set positions. You can make further manual adjustments as required, including the back rest, leg rest and lumbar support. There is also a massage function, though the motors were rather weak, producing only a dim vibration. 
The IFE remote and additional seat controls can be found on the opposite armrest. This includes a 'do not disturb' button, lighting toggle, a button to raise and lower the privacy partition, and a button that confusingly sets the chair to lounge mode (since there's a logo of an airplane taking off, you'd think this would be the button to reset the chair to full upright).
A flip out reading light provides three levels of brightness. 
The generously-sized tray table pops out from the centre divider. It's reasonably sturdy, and you can swivel it 90 degrees to exit or enter the seat without stowing the table. However, the height can't be adjusted, which means it's not ideal for a "breakfast in bed" type arrangement. 
Storage space is a key weakness of the Gulf Air Business Class seat. Apart from a small nook that just about fits a water bottle, there's no place to store your personal items like phones or tablets. 
In-seat power and 3x USB ports are provided, but the positioning is odd to say the least. All the outlets are tucked into the area beneath the armrest, and your power cable may need to bend at an awkward angle to fit. In fact, the third USB port is almost inaccessible because it's at the very bottom, and you'll need nimble fingers to maneuverer the cable in. 
Gulf Air's Business Class headphones were extremely disappointing, made of flimsy plastic and without noise cancellation. They emitted an electronic whine if the cable was kinked at certain angles. 
An amenities kit was distributed to all Business Class passengers. I can't say I'm a big fan of the design though, especially compared to the previous edition by Cerruti 1881.
The amenities kit contained:
Earplugs
Mouthwash
Socks
Sleep Mask
Comb
Dental kit
THANN Oriental Essence Lip Balm
THANN Oriental Essence Face and Hand Moisturiser
THANN Signature Eau de Toilette
Dark blue pyjamas were distributed as well. These weren't from any fancy brand, but were made of comfortable, breathable material. Protip: go for a size larger than you think you'll need. What you see below is XL. 
The crew (who were much more friendly than the ones out of Bangkok) came around to offer pre-departure beverages, including Jacquart Champagne, the same pour that Singapore Airlines used to offer in Premium Economy.
It's a Gulf Air tradition to serve Arabic coffee and dates before take-off. The hour was a bit late for coffee and I doubt it's decaf, but it's more of a tasting portion anyway. 
The crew also asked about our post take-off preferences, like whether we wanted to eat or whether we wanted the bed turned down straight away. Some passengers opted to sleep, and the crew turned down the bed on the ground (by putting the mattress pad over the seat and unwrapping the blanket; they obviously had to put the seat to full upright for take-off). 
The chief steward came on the PA to welcome passengers on board, mentioning proudly that Gulf Air was "A Skytrax 5-Star COVID-19 airline". That's kind of a weird flex (what he didn't mention is that Gulf Air is a Skytrax 3-Star airline), but since when have Skytrax ratings actually mattered anyway? 
A prayer was played, followed by two safety videos: one in Arabic, and one in English (I wonder if they could economise the process by just playing it once with subtitles).
While midnight is the peak departure period for most Gulf Air flights, there wasn't much congestion on the taxiway. We took off within 10 minutes of pushing back from the gate. 
If you were planning to hit the hay as soon as the plane pushes back, be advised that a loud Gulf Air advertisement blasts over all the IFE screens and cabin PA after take-off. It felt rather tacky, but well. 
Menus had been distributed on the ground. Gulf Air still offers physical copies, but unfortunately, they're not much to look at. No smiling photos of celebrity chefs, no glossy illustrations or colorful wine labels. This is as basic as it gets, and if Gulf Air opted to scrap menus altogether, not a whole lot would have been lost.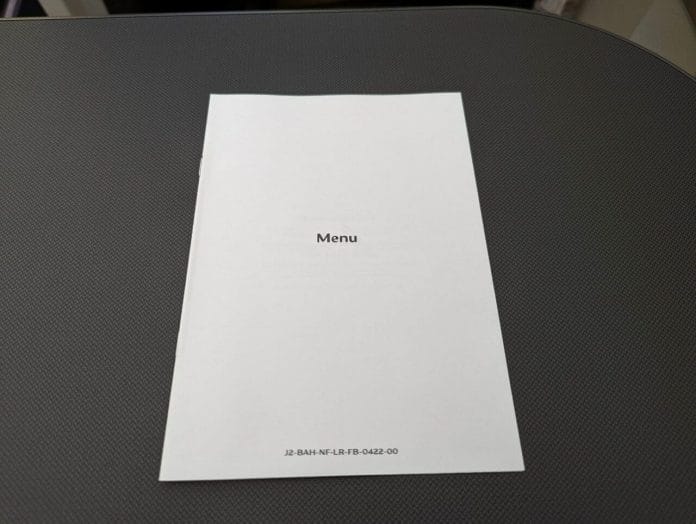 On this flight, a light meal would be served immediately after take-off, with breakfast before landing in Singapore. Given the flight time of just under eight hours, however, I'd have preferred if they just went with a single meal instead, or offered dine-on-demand which would  allow passengers to maximise their sleep and eat later on. 
I also thought it strange that the menu made no mention of the types of champagne or wines available onboard. In fact, there was no reference to alcohol at all, despite Gulf Air not being a dry airline.
With sleep time at a premium, I was watching closely to see how fast the crew could power through meal service. 
The seat belt sign went off at 12.36 a.m, and by 12.54 a.m the first dish was served. I hustled through the tomato soup, the Middle Eastern mezze selection and some fruits, finishing up at 1.10 a.m. It was much better than the service out of Singapore, which dragged on despite the delayed take-off. 
The problem was that even though I finished quickly, other passengers took their time, and as such the cabin lights were left on for another 30 minutes or so. It's another reason why dine on demand would work so much better on a flight like this. 
The crew came around to turn down my seat, which involved adding a mattress topper and unpacking the plastic-wrapped blanket. 
Before going to bed, I visited the bathroom to wash up. Gulf Air has installed touchless toilets and taps in their lavatories, as well as a bidet seat. It's just a shame they cheaped out on the toiletries, which were generic white-label stuff.
Exhausted, I returned to my seat and fell asleep almost immediately. Gulf Air's seat, when fully flat and done up with the mattress pad, offers a very good sleep experience. I particularly liked that I could manually adjust the angle of recline; I find 160-170°  to be the most comfortable angle for sleeping. 
After sleeping for about four hours, I decided to get back on Singapore time and start working. 
Gulf Air offers Wi-Fi on its B787-9 aircraft, but it's confusing to say the least. Passengers can choose from two packages:
Chat (US$10)
Smart (US$15)
It's unclear how much data is included with each, or how long each package is valid for. I can't believe whoever designed this UX decided not to include such information, but I eventually figured out that Smart covers the entire duration of the flight.
Wi-Fi speeds were 6 Mbps down and 2 Mbps up. This is significantly faster than anything I've clocked on an SIA plane, and might even be enough for some light YouTube watching. 
However, the Wi-Fi became unavailable as we passed over India (which confuses me because I thought they'd lifted their ban in 2020), which led me to catch a movie instead.
Gulf Air uses the Thales AVANT IFE solution on its B787-9s, and each Business Class seat has a 21.5-inch entertainment screen. I noted previously that it washed out in bright light, but since this was a night flight the problem was less apparent.
One annoying thing about the system is that the first time you start it up, there's an unskippable 80 second ad showcasing the IFE features. 
Browsing the IFE system is rather confusing. Intuitively, you'd try to use the handset to navigate what you see on the big screen. But here, it's either/or. You either navigate through the handset or the big screen, but not both at the same time.
Frankly speaking, I don't know why they even bothered making the big screen touch sensitive. It's very far forward and uses resistive touch technology (i.e. single touch only) so you need to press very hard before input is registered- a sure-fire recipe for gorilla arm. 
Navigating via the handset isn't much better, because the small screen means you can only see a handful of selections at a time. There's a discernible lag between swiping the screen and seeing a response, and all in all, an extremely inefficient way of browsing the library
Not that the content is much better. There's a total of 155 movies, but only 73 of them are in English, and very few are first run. How many of you have been dying to watch Clean, wherein Adrian Brody portrays a tormented rubbish man (named Clean, really) who tries to live a quiet life of redemption until he must reconcile with the violence of his past after running into a local crime boss? I seriously can't look at Adrian Brody and not see Dmitri from Grand Budapest Hotel. 
I settled on Matrix Resurrections, a show so meta that if you look closely at the movie poster, you can see that good guy Keanu Reeves is telling you not to watch it. 
There's a moment in the movie which alludes to the fact that Warner Bros. pretty much forced Lana Wachowski to make it, and given the phoned in quality, probably everyone else involved too. I cannot emphasise enough how bad the Matrix Resurrections is, and my expression pretty much mirrors Keanu's. 
I eventually gave up and tried my hand at Angry Birds. It provided better social commentary than the Matrix. 
Wi-Fi connectivity was eventually restored just off the coast of Chennai, and I got to work. 
The crew started serving breakfast about two hours before landing. I went with the chive and cheese omelette, which was nuked to oblivion. The mushrooms and potato patty were mushy, and everything was bland. Clearly, catering isn't one of Gulf Air's strong suits.
We touched down at Singapore Changi Terminal 1 more or less on schedule, after which it was a short taxi to the terminal.
Conclusion
While Gulf Air offers a better Business Class experience out of Bahrain (the lounge really helps), it's far from amazing. The seat is good for sleeping, but its numerous design flaws (lack of storage space, awkwardly placed power outlets, clunky IFE system) start to grind the longer the flight goes on. Catering was poor quality, and on the whole I wouldn't consider the airline to be in the same league as its Middle East counterparts. 
Don't get me wrong- for the amount I paid (<S$400!) there really can't be any complaints, but I'd certainly feel different had I paid full price.