My Gulf Air flight back to Singapore departed at 11.40 p.m, which meant that even with 3 p.m check-out from the Hilton Garden Inn Bahrain Bay, I had long wait ahead of me.
I reached Bahrain Airport at 3.30 p.m, and had a brief scare when the counter staff told me she wasn't sure if I could check-in this early. Gulf Air's website says that passengers can check-in up to 24 hours before their flight, but she said that "because of COVID" this was now cut to four hours. Then she consulted her computer and said "oh, but since you're flying in Falcon Gold it's OK- if you were in Economy you'd have to wait". All's well that ends well, I suppose. 
Bahrain opened a new US$1 billion airport terminal in January 2021, and Gulf Air made full use of the opportunity to reimagine its Falcon Gold (Business Class) Lounge. The old lounge was tired and unimpressive, but the new one? Well, it's just as stunning as the airport itself…
🍸 tl;dr: Gulf Air Falcon Gold Lounge Bahrain

Modern, sleek and fun, the Gulf Air Falcon Gold Lounge in Bahrain hits all the right notes- except in the toilets.

👍 The Good

👎 The Bad

Beautiful, contemporary design

Good range of food, including some prepared-to-order items

Well-stocked bar with friendly service

Numerous recreational facilities including PS5s and a VR simulator

Shockingly bad showers and toilets

No dedicated sleeping areas
🇧🇭 The Long Way to Singapore
Access and Operating Hours
The Gulf Air Falcon Gold Lounge is located post-security, one floor up from the main departures concourse near Gates 18A and 18B. There's only two lounges in the airport, and with all the signage it's hard to miss. 
The lounge is open 24 hours a day, and access is available to:
Falcon Gold passengers
Black (+2 guests), Gold (+1 guest) and Silver Falconflyer card holders
Guests must be departing on a same-day Gulf Air flight. All other passengers travelling on Gulf Air may purchase four hours of lounge access for BHD30 (~S$110) or 5,000 Falconflyer miles. 
Lounge Overview
Gulf Air's brand new Falcon Gold Lounge opened along with the airport terminal in January 2021. The lounge measures in at 6,500 sq ft, with a capacity for 400 passengers.
Gulf Air brands itself as a boutique carrier, with a smaller network (50 destinations in 28 countries) than regional giants Emirates, Etihad or Qatar. Consequently, crowding remained fairly manageable things even during the evening rush. 
To the right of the reception desk is a small overflow seating enclave, where you'll only want to sit if all other options are gone.
Instead, turn left and head into the lounge proper. 
Given all the over-the-top bling that typifies the Middle East, Gulf Air should be commended for approaching lounge design with a restrained hand. The vibe is decidedly minimalist, with handsome dark blue armchairs, rich dark wood, decorative lighting, and just the slightest bit of gold trim. It looks sophisticated and modern, while still maintaining that air of luxury. 
Seating options were varied, including armchairs, two-top dining tables, recliners for napping, even a couple of massage chairs.
Further in, the lounge splits into an L shape. Turn to the right, and you'll see a TV area with six recliners. TV audio is piped in through headphones, so there's no noise pollution. 
Beyond the TV area is the main dining hall, where the buffet is found. 
It looks like Gulf Air is planning to build a children's corner as well, with an ice cream fridge and popcorn machine already installed. A small play area has also been created, though hopefully this isn't the final version as it looks a little sad at the moment. 
And if you need proof of the obscene wealth that oil money brings, check this out: four PS5s, each of which costs roughly $3-4 million plus several unicorn horns on the black market currently. 
The other branch of the lounge contains more seating, as well as the lounge's "fun zone". 
What that means, in concrete terms, is here's where you'll find the bar. I'll talk about it more in the F&B section, but it's a great place to hang out and make new friends. 
The Gulf Air Lounge has some serious recreational credentials. In addition to the PS5s mentioned earlier, guests can enjoy a pool table, racing simulator, golf simulator, and VR simulator.
There's one catch: none of these were in operation when I visited. Lounge staff tell me they should open within the next few months, along with the shisha area. Yes, there's going to be an (outdoors) shisha area. Ever seen one of those in a lounge before?
Power & Productivity
The Wi-Fi network at the Gulf Air Lounge clocked in at an astounding 337 Mbps down and 596 Mbps up, making it the zippiest Wi-Fi I've ever seen in an airport lounge.
If you forgot to bring your laptop, there's a small business centre near the entrance with five terminals, plus printing facilities. 
Surprisingly for a new-build lounge, power outlets were not universal. Fortunately, Bahrain uses the same Type G plugs as Singapore, but everyone else will need an adapter. Every pair of power outlets had one USB Type-A charging port (again, it would have been nice to see them install Type-C ports or wireless charging for futureproofing).
Food & Beverage
Falcon Gold Lounge passengers can enjoy the following food items.
However, only the pastas and pizzas are made to order. Gulf Air has even invested in a dedicated pizza oven (electric, sadly- I doubt airport building codes would let you install a wood-fired one!).
Now, I have very high standards for pasta, so I can't say this impressed me much. Both the spaghetti bolognese (Italians, look away now) and vegetable farfalle were drowning in cheese, and Nonna's pasta this ain't. 
Still, it's hard to mess up pizza (warm bread and cheese is always a winner), so if you're limiting your carbs then I'd pick this over the pasta. 
The rest of the food options are found on the buffet line, including salads and desserts…
…as well as hot items like white snapper with lemon butter sauce, chicken biryani, beef stew, palak paneer and steamed vegetables.
Non-alcoholic drinks like juices, soft drinks and a (rather mediocre) coffee machine can be found at the buffet line.
However, if you want the good stuff you'll need to head over to the bar, where the affable bartender is ever-ready to pour you a glass of champagne or wine. 
The following wines were available:
Other options include beers (Amstel Light, Heineken, Budweiser and Coors), spirits and liqueurs. The bartender isn't afraid to show off his chops either, so ask him for a customised creation and he'll gladly whip it up. 
Showers & Toilets
As nice as the Gulf Air lounge may be, the toilets are an absolute let-down. It's as if they completed the lounge and then someone said "oh wait, there's still the toilets do we have any Dinars left" and someone else said "no habibi we spent all of it on the PS5s".
Forget shower suites; there's a single shower cubicle. One. And I'm not exaggerating when I say these could be the most miserable shower I've seen in any airport lounge.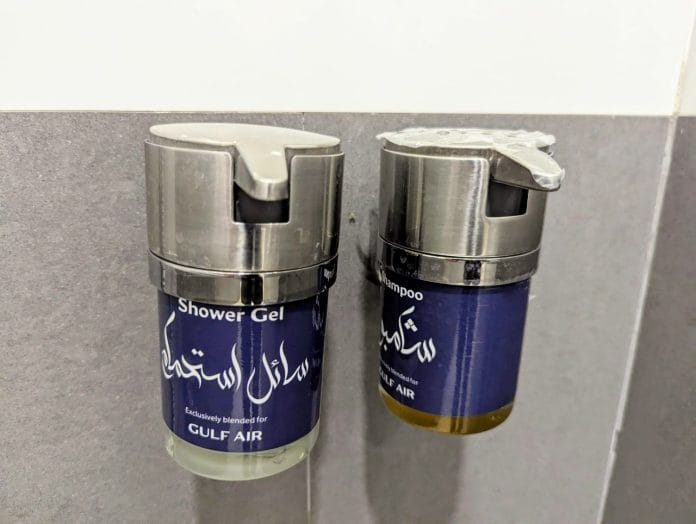 It was shockingly bad. And having seen the toiletry dispensers, I take back all the jokes I made about Singapore Airlines' unmarked ones in the SilverKris Lounge.
My advice? Use your Dragon Pass and visit the Pearl Lounge (sorry, Priority Pass and LoungeKey not accepted) where private shower suites and Elemis shower amenities are waiting. 
Conclusion
Gulf Air's new flagship Falcon Gold Lounge makes for an impressive experience, thanks to its modern interiors, great service and good spread of food and drinks. It'll only get better once the full range of recreational options open up- imagine practicing your golf drive, puffing a shisha, taking a VR ride or melting your brain on the PS5, all before catching a drink at the bar. Those long layovers will pass rather quickly. 
What I can't wrap my mind around is why they'd invest so much on the lounge, then neglect the toilets completely. That shower has to go down as one of the most miserable I've seen in any lounge, and travellers transiting after a long flight will be better off visiting the Pearl Lounge (if they're eligible).
Visited the Falcon Gold Lounge in Bahrain? What do you make of it?