The Long Way to Singapore would involve flying Gulf Air twice: once from Bangkok to Bahrain (via Singapore), and then again from Bahrain to Singapore direct.
🇧🇭 The Long Way to Singapore
Since I have two Gulf Air flights to review, I figured I'd do them two different ways. This first review (to Bahrain) will be a point-by-point take on various aspects of the flight, like the seat, dining, and entertainment. The second review (out of Bahrain) will be done in a more narrative style like my usual trip reports.
This would be my first-ever Gulf Air experience, and while the airline is rarely mentioned in the same breath as Emirates, Etihad and Qatar, I was hoping to be pleasantly surprised nonetheless.
✈️ tl;dr: Gulf Air B787-9 Business Class

While its Apex Suites are comfortable, the overall Gulf Air Business Class experience feels somewhat unpolished.

The Good
The Bad

Apex Suites offer a good compromise between comfort and density

Bedding, amenities kits and pyjamas provided to all passengers

Bidet-equipped toilets

Some poorly-designed features (e.g. lack of storage space, placement of power outlets) 

Clunky IFE system with limited options

Service, while earnest, could use more polish

Cabin wasn't cleaned properly
Check-in and Boarding
I arrived in Bangkok on SQ710 at 2.13 p.m, well ahead of GF166's 4.50 p.m departure.
Bangkok Airport does not currently permit airside transits on separate tickets, and all the airside transit counters were closed. This means you'll need to clear immigration, and hence require a Thailand Pass. The general queue for immigration snaked around several times, but thanks to my APEC Business Travel Card, I was out in a matter of minutes.
Once through immigration, I headed up to the departures area and checked in again for my Gulf Air flight. There were two counters to serve Business Class passengers, and I didn't need to present any documentation beyond my passport (Bahrain doesn't even require visitors to be vaccinated). 
Business Class passengers departing from Bangkok Airport are entitled to use the priority security and immigration lanes. This can save you a fair bit of time, as Bangkok seems to get busier every week. 
Gulf Air uses the Miracle Lounge at Concourse D. However, I opted instead to visit the Oman Air lounge at the nearby Concourse E, which is accessible through Priority Pass. I'll write a review of this lounge in a separate post, but tl;dr: there's champagne! 
Boarding in Bangkok was delayed by more than 30 minutes due to the late arrival of the aircraft, and it was a very messy and chaotic process. Everyone rushed the gate when boarding was called, though Business Class passengers were eventually allowed to board first.
GF166 transits in Singapore, and on arrival at Changi those terminating their journeys in Singapore were instructed to disembark first, followed by those continuing on to Bahrain. Transit passengers were given a card to identify themselves.
There was no opportunity to visit the lounge, as transit passengers were funnelled directly through security before being deposited at the gate to wait for boarding to recommence. 
The layover was meant to be one hour long, but turned out to be much longer than that.
I went to check the operational history of GF166, and this shouldn't come as a surprise. GF166 is scheduled to depart from Singapore at 9.20 p.m, but over a two-month period, the earliest this flight ever departed was 9.42 p.m. Keep in mind that's an outlier; the median departure time is well after 10 p.m. 
So it figures my flight had to go and set a new record for all-time lateness, pushing back at 11.23 p.m. Passengers were pissed to say the least, especially those with tight connections in Bahrain. 
Gulf Air B787-9 Business Class Seat
Gulf Air's B787-9 Business Class cabins feel sleek and modern, with their black and white colour scheme and gold trim finishes. There's none of the over-the-top bling you'll find on Emirates, and that's just fine by me.
A total of 26 Business Class seats are available, in a forward-facing 2-2-2 configuration. These are known as Apex Suites (also found on Japan Airlines and Korean Air), and their unique design enables airlines to achieve the best of both worlds: a high-density configuration that still gives every passenger direct aisle access.
How does that work? The two seats at the side are staggered to create a passageway for easy ingress/egress. 
This means that window seats (A and K) should be the seats of choice for solo travellers desiring extra privacy (and aren't claustrophobic); with the partition raised, you're virtually invisible to anyone in the aisle. That and the private walkway made it almost comparable to an enclosed Business Class suite with a door. 
Couples travelling together may prefer the D/G seats, which are directly in line with each other and allow for easy conversation or sharing of food. 
If you're travelling solo and didn't manage to get one of the seats at the side, fret not. With the privacy partition all the way up, you can't really see your seat mate. The shell around each seat also provides some visual separation from the aisle, although it's obviously no substitute for the window seat. 
The only other thing I'd add regarding seat selection is to avoid Row 1, as the curvature of the fuselage can make the 1A and 1K seats feel narrow. You'll also get the double whammy of galley and bathroom noise.
For this flight, I selected 3A, a window seat on the port side of the aircraft. 3C remained empty all the way to Bahrain, fortunately. 
Window seats are unique in the sense they have a special fold down ottoman, below the IFE screen.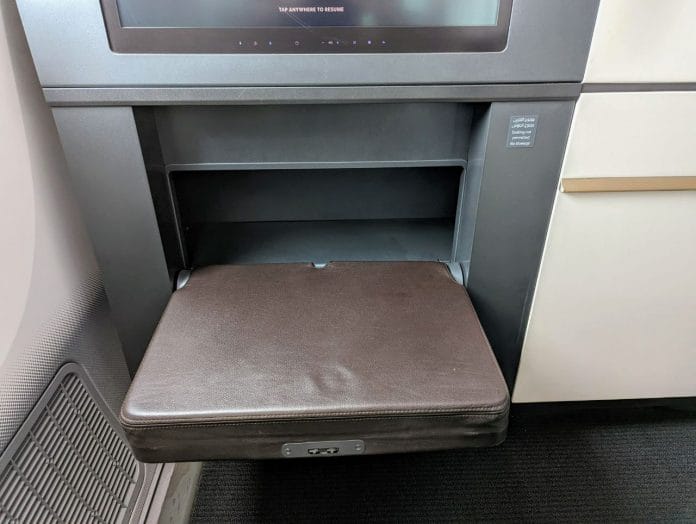 I thought this was meant for couple dining, but it's actually meant to support your feet while sleeping. In other words, it's not designed to take the full weight of a person, hence the notice "seating not permitted".
The tray table is generously-sized, and pops out from the leather siding. You can swivel it parallel to your body to easily enter/exit the seat even during meal service, should nature call. 
However, the height of the tray table cannot be adjusted, which may be problematic if you want to sit up and take breakfast in bed. 
Seat controls are found in the armrest, with four pre-set positions. You can make further manual adjustments to the seat as required, including the backrest, legrest and lumbar support. A unique feature is the massage function, though an OSIM chair it's not. 
Further controls can be found on the opposite armrest, including a 'do not disturb' button, lighting controls, a button to raise and lower the privacy partition, and a button that confusingly sets the chair to lounge mode (with the airplane taking off logo, you'd think it'd be the button to reset the chair to full upright).
A reading light is nestled into the moulding behind your head, with three levels of brightness. Apart from that, the only other option is the overhead light. 
One main weakness of Gulf Air's Apex Suite is the lack of storage space for personal items. There is a small recessed area towards the front…
…and a nook beneath the armrest (which I wouldn't recommend using for electronics, since they could be crushed when the seat reclines). 
That's it, unless you're sitting in the C or H seats, in which case you have a separate stowage area behind the head of the window passenger (though I'm not sure if this was intentionally designed for storage).
In-seat power and 3x USB ports are provided, but the positioning is odd to say the least. All the outlets are tucked into the area beneath the armrest, and if the head of your power plug happens to be particularly large, it may have difficulty fitting. In fact, the third USB port is almost inaccessible because it's at the very bottom, and you need nimble fingers to maneuverer the cable in place. It feels like someone didn't think this through when designing the seat. 
When the time comes to sleep, the crew will turn down your seat into a full flat bed with a mattress topper. I found it very comfortable indeed, and liked the fact that I could manually adjust the recline to about 160-170°. I find that 180° puts too much strain on the lower back, and remember, the aircraft itself flies at a slight angle due to the incline of the nose. 
The seats on my flight were in generally good condition, but hadn't been cleaned properly. I found crumbs on the controls, and some sticky residue on the tray table.
Food & Beverage
No menus were provided on either leg, so everything below is from memory. 
On the Bangkok to Singapore leg, pre-departure drinks were served on the ground, including orange juice, mint lemonade, and a very decent Champagne Jacquart (what SIA used to serve in Premium Economy, before scrapping champagne altogether).
It's also a Gulf Air tradition to serve dates and Arabic coffee before take-off. 
After take-off from Bangkok, light canapes were served from a trolley. There was no menu, but the options included a beef sandwich, chicken skewer, prawn cake, as well as an assortment of sweet tarts.
On the Singapore to Bahrain leg, pre-departure drinks were served again (but no champagne this time).
Dinner was served after take-off, which would be fine if the flight actually departed at its scheduled 9.20 p.m slot. But if it's 11.20 p.m and passengers have one foot in sleepytown, the crew need to adapt on the fly and double time the service, especially since the light refreshment served before landing further cuts into sleep time. 
I timed the meal service, and unfortunately it took just under two hours from take-off to the serving of the main course. I skipped dessert because I simply didn't have it in me to wait.
I was also surprised that table cloths weren't provided, and dishes were brought on trays. I mean, I'm perfectly fine with foregoing aesthetics for efficiency in a scenario like this. But if you're serving a meal on a tray, you might as well bring everything at one go. It's like we got the worst of both worlds- subpar presentation and slow service.
The appetiser was a prawn salad, though it looked more like prawns + salad, if you know what I mean. The prawns were sizeable, but the greens were more decorative than anything else.
For the main, I had what the crew described as "chicken with rice". This was awful, an greasy mess that looked like someone had taken an Economy Class meal and dumped it into a Business Class plate. The chicken was buried in an oil slick, the rice was mushy and the vegetables had been blanched into oblivion. 
It didn't help that the meal service was extremely inefficient. All items were served individually from the galley instead of from a trolley, meaning a lot of repeated movement back and forth to serve all 26 passengers. 
Before landing, the crew did a canapes service from the trolley, with similar items offered as on the Bangkok to Singapore leg. 
If you ask me, they should have reversed the order by serving the canapes as a quick snack after take-off, then using the time passengers spend sleeping to prepare the food for a proper meal before arrival. 
Amenities
On the Singapore to Bahrain leg, all passengers received an amenities kit that contained:
Earplugs
Mouthwash
Socks
Sleep Mask
Comb
Dental kit
THANN Oriental Essence Lip Balm
THANN Oriental Essence Face and Hand Moisturiser
THANN Signature Eau de Toilette
The sleep mask is hidden inside the socks bundle, and I didn't see it at first. I requested for a sleep mask, and the crew gave me a separate kit that contained a mask, earplugs and socks. 
Slippers and pyjamas were distributed, but only in one size: XL. I'd like to have a word with whoever did the ordering!
The pyjamas weren't branded, but they breathed well and got the job done (there's no pockets, by the way).
Inflight Entertainment
Gulf Air uses the Thales AVANT IFE solution on its B787-9s, and each Business Class seat has a 21.5-inch entertainment screen. This delivered acceptable picture quality, though it washed out a bit in bright light. 
Browsing the IFE system is rather confusing. Intuitively, you'd try to use the handset to navigate what you see on the screen. But here, it's either/or. You either navigate through the handset or the screen, but not both at the same time.
Frankly speaking, I don't know why they even bothered making the display a touchscreen. It's so far in front and uses resistive touch technology (i.e. single touch only) so you need to press with all your might before input is registered; a sure-fire recipe for gorilla arm.  Even Gulf Air recommends that passengers navigate via the handset instead.
And yet this poses problems of its own. The handset's small screen means you can only see a couple of selections at a time, and is an extremely inefficient way of browsing the library. There's a discernible lag between swiping the screen and seeing a response, which adds further annoyance. 
You could watch the IFE content on the handset instead of the big screen if you so desired, but it's not advisable since the handset overheats if its screen remains on for a prolonged period.
Business Class headphones felt cheap and plasticky, with no noise cancelling feature to speak of. They would also emit a high pitched electronic whine if the connector was bent at the wrong angle.
Another annoyance is that when you first start the system, there's an unskippable 80 second ad showcasing the IFE features. 
There were 155 movies to choose from, but only 73 of which were in English (KrisWorld, by comparison, offers almost 400 movie options). I didn't see a lot of first run movies either, and there was a fair share of "straight-to-DVD" content (hands up if you've heard of Clean or The Desperate Riders).
The TV selection wasn't much better either, with a small selection of nature documentaries, Mr Bean, and a few random sitcom episodes.
I decided to finally watch Crazy Rich Asians, if only to see how they butchered my beloved country.
It was during this movie that I discovered something absolutely hilarious: Gulf Air censors female legs and feet. At first I thought it was just a problem with my screen…
…and then realised no, no it wasn't. 
I mean I'd understand blurring out bikinis or cleavage, but this is a whole new level. 
Wi-Fi
Gulf Air offers Wi-Fi on its B787-9 aircraft, but the system is confusing to say the least.
Passengers can choose from two packages:
Chat (US$10)
Smart (US$15)
How much data is included? Beats me. How long is each package valid for? I don't know. I searched the Gulf Air website, read the terms and conditions and am still none the wiser. 
I purchased the Smart package, which I think covers you for the duration of the flight (since the notification below says "available during the entire flight"). 
Wi-Fi speeds clocked in at a very decent 9 Mbps down and 2 Mbps up, much faster than any connection I've had on Singapore Airlines.
Toilets
Prior to this flight, the only onboard bidet seats I'd seen were on ANA and Japan Airlines. But Gulf Air has them too, since Islamic hygiene principles necessitate it. Washrooms also feature contactless flushes and taps (but not bins, sadly).
Bathroom amenities weren't anything particularly fancy, mostly generic Gulf Air-branded stuff. 
Service
The Gulf Air crew on my Bangkok to Singapore flight were friendly and approachable, while the Singapore to Bahrain crew were more reserved.
In general I'd say they try their best, but there's a distinct lack of polish. For example:
Passengers were never addressed by name, just the generic sir and madam
Drinks orders were sometimes forgotten
I asked a crew member if they had other pyjama sizes besides XL, she said she'd check- then never came back
Crew would sometimes reach across the partition to serve the passenger at the window seat, instead of going via the passageway 
Communication among crew members was lacking; my tray was cleared when I still had one more course to go
The crew forgot to do a final pass of the cabin to clear pre-departure drink glasses, so several passengers were left clinging on to them as the plane took off
If anything, it just drives home how well Singapore Airlines trains its crew. It's easy to take for granted sometimes, but once you fly elsewhere you'll notice the differences immediately.
Conclusion
If I had to sum up my Gulf Air experience in one word, it'd probably be "unpolished". 
Apex Suites are a strong foundation on which to build a great Business Class product, but on Gulf Air they're hamstrung by poor design decisions, such as the lack of storage space and odd placement of power outlets. The IFE system feels clunky and doesn't offer much first-run content, and the service, while earnest, was hit and miss.
For what it's worth, my experience out of Bahrain was slightly better, but that's something I'll cover in a separate post.
Have you flown on Gulf Air's Business Class before? What was your experience like?