Physical menus were one of the early casualties of the COVID-19 pandemic (despite the lack of evidence that COVID spreads through surfaces), and Singapore Airlines passengers have been making do with digital versions for almost two years now. 
While these undoubtedly have their advantages, I find they detract somewhat from the premium cabin experience. If you feel the same way, here's some good news: effective 1 July 2022, Singapore Airlines has restored physical menus to all its First and Business Class routes.
Singapore Airlines restores physical menus
Singapore Airlines removed physical menus from its flights sometime in May 2020, as the COVID pandemic worsened. In September 2020, it announced a "digital initiative" that saw the introduction of a digital menu system in all classes.
This digital initiative is part of the airline's drive to enable a safer and more seamless travel experience for passengers by reducing the need for its crew to distribute paper menu cards during the flight.

The digital menu will also reduce on board waste, which will help to reduce the airline's carbon footprint as paper menu cards are discarded after every flight.

-Singapore Airlines
The digital menu can be accessed up to eight days before departure at inflightmenu.singaporeair.com. It can also be accessed inflight by connecting to the KrisWorld Wi-Fi network and navigating to the same link (there's no need to purchase an inflight Wi-Fi plan).
In addition to meals, passengers can also browse the inflight beverage list and amenities via the same link.
While most aspects of inflight service have been restored (except pre-departure drinks in Business Class; make it happen please!), physical menus have continued to be conspicuous by their absence.
Well, not anymore. I've received a few reports from MileLion readers that physical menus have made a comeback in First and Business Class.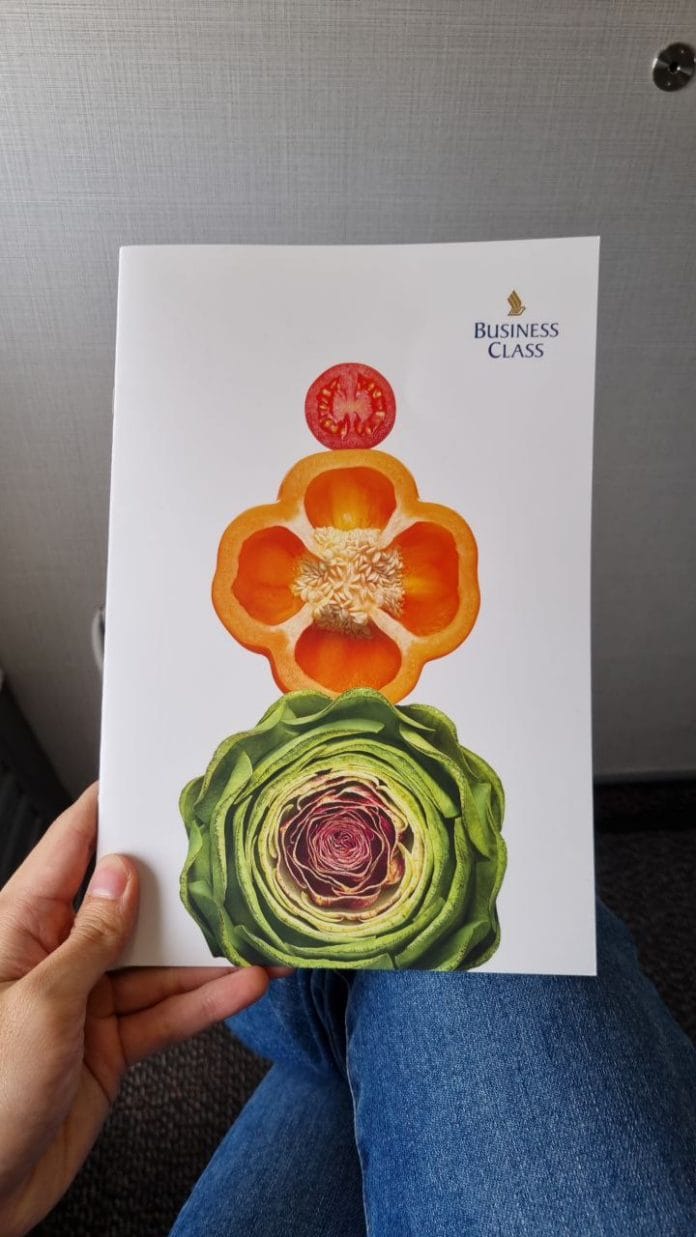 I asked Singapore Airlines about this, and received the following response from a spokesperson:
SIA suspended the distribution of hard copy menus, and launched its digital in-flight menus, during the Covid-19 pandemic to minimise physical interaction and the risk of infection between our customers and cabin crew.

Taking our customers' feedback into consideration, we reinstated the hard copy menus in Suites, First Class, and Business Class from 1 July 2022.

These menus are printed on paper that has been sustainably sourced. 

-Singapore Airlines spokesperson
Even better, it looks like Singapore Airlines has scrapped its trial with the one-page truncated menus we saw on short-haul routes prior to COVID. Back in 2019, I received a flimsy double-sided piece of paper in Business Class on a flight to Bali. Needless to say, I wasn't impressed. 
But the reader who supplied the menu photo was on a 2 hour 40 min flight from Da Nang, and there's a further data point from a 1 hour 45 min flight to Jakarta, so it looks like even short-haul flights will benefit. 
In defence of physical menus
It might sound silly to some, but I view physical menus as an important part of the premium cabin experience. They provide a tactile way of browsing through the food and beverage selection (lets face it: you're starting at a screen too much as it is), and recreate the feeling of being in a restaurant. It also adds a bit of theatre to proceedings, especially in First Class where the menu comes in a handsome leather-bound book with good heft. 
I like the ability to view a whole page at once without scrolling, to see the labels of the various wines I'm about to enjoy, to lean across the divider to my wife and point at what I'm thinking of having. Let's also not forget there are some out there who may be uncomfortable with technology.
I think this Washington Post columnist summarises it well: 
A physical menu sets the stage. It highlights the fact that this is a special occasion, even if it's simply a quick bite at a local diner. The menu signifies that it's time to take a break in a busy day, that this meal is something separate from the normal course of events. It also pushes us to interact with others. We share menus. We point to things; we ask the wait staff questions about the meal and what they particularly like. It's like opening a program at a theatre, for a show you and your companions are about to experience together.
Moreover, physical menus are a way for airlines to impart some branding and personality (if you're going to distribute anonymous photocopies like Gulf Air, please don't bother). Singapore Airlines has traditionally produced special menus to mark different seasons, and some of these invariably end up on eBay as collector's items!
I've also found them handy for marking special occasions, like the return of SQ22, the longest flight in the world. The crew autographed my menu from the flight. 
Treehuggers will moan about the environmental impact of physical menus and germaphobes the potential for infection, but you know what? Killjoys will be killjoys. I like physical menus, and I'm delighted they're back.
Conclusion
Singapore Airlines has restored physical menus for First and Business Class cabins, and you can look forward to these on your next flight. The digital menu system will remain as a backup option (or sole option for passengers in other cabins), and you can still check out the menu for your flight ahead of departure as before. 
I doubt we'll ever see physical menus return in Premium Economy and Economy Class, but at least they won't be complete relics.
What do you think about physical menus?