The following post is a collaboration with American Express Singapore. The airlines and hotels featured did not have any prior notice or input into the review process.
🏠 Don't Leave Home Without It
Six Senses may not be as immediately recognisable as the Four Seasons or Waldorf Astoria when it comes to luxury hotel brands, but it's every bit their equal in terms of opulence (not to mention price). 
Founded in 1995, Six Senses has carved a niche for itself in the "sustainable luxury" space, offering intimate hospitality and wellness experiences in harmony with the natural surroundings and local culture. 
To that end, you'll only find its outposts in pockets tucked away from the madding crowd, like the verdant serenity of the Douro Valley, the rough cliffs of Uluwatu, or the vast emptiness of Shaharut, an isolated commune in the Negev desert. In fact, its attempt to transplant the formula to an urban setting fizzled out with a whisper, as the Six Senses Singapore closed after only two years. There's something to be said about staying in your lane (the brand intends to try again with Rome and London). 
Today, Six Senses manages 21 hotels and resorts worldwide, with seven more in the pipeline. The brand was acquired by IHG Hotels & Resorts in 2019, and IHG One Rewards members have been able to redeem points at selected properties since April 2021.
One such hotel is the Six Senses Yao Noi, located on a quiet island a ferry ride away from the bustle of Phuket. This was my first-ever stay with the Six Senses brand, and based on my experience, hopefully not the last. 
🏨 tl;dr: Six Senses Yao Noi

The Six Senses Yao Noi is an oasis of calm for the city-weary traveller, with unforgettable views and a back-to-nature vibe that avoids getting too rustic.

👍 The Good
👎 The Bad

Spacious villas with outdoor showers and excellent privacy

Beautiful views from the swimming pool

Well equipped day-use rooms for early arrivals/late departures

Good quality breakfast spread with enough variety to keep things interesting

Extensive list of complimentary activities like cycling and kayaking

Great service from the GEM and resort staff

Only three daily scheduled speedboat transfers, which could mean a long wait if your flight arrives at the wrong time 

Arrival experience at marina needs work to match the hotel's positioning

Spa treatments and dining are very pricey, even for a 5-Star resort

Beach isn't particularly memorable
Booking the Six Senses Yao Noi
I booked the Six Senses Yao Noi through the American Express Fine Hotels & Resorts (FHR) programme. This is an exclusive benefit for AMEX Platinum Charge cardholders, which offers guests the following additional benefits: 
Room upgrade (subject to availability)
Breakfast for two guests
12 p.m check-in (subject to availability)
Guaranteed 4 p.m check-out
Complimentary Wi-Fi
A US$100 hotel credit or similar amenity
FHR bookings price the same as the hotel's best flexible rate, and are eligible to earn elite status credits and points with hotel loyalty programmes like IHG One Rewards and Marriott Bonvoy (my stay was initially tagged by IHG as ineligible since some FHR bookings are inexplicably going through Expedia now; I'm in the midst of sorting this out).
Six Senses Yao Noi's FHR rate of S$2,652 for 3 nights was the same as the hotel's official website, so I was basically receiving amenities like breakfast and a US$100 hotel credit for free. AMEX Platinum Charge cardholders can also use their S$400 Platinum Hotel Credit on FHR stays, knocking a little more off the price tag.
Arrival Experience
Although the Six Senses Yao Noi gets lumped together with Phuket hotels during online searches, it's not actually part of Phuket. It's on an island called Koh Yao Noi, described as "the quieter version of its bigger sister Koh Yao Yai to the south, and a world away from its bustling neighbour Koh Phi Phi". 
Getting to the hotel involves a car ride to Ao Po Grand Marina, and then a speedboat ride to the island. Three different transfer options are offered:
↔️ Six Senses Yao Noi Transfer Costs*

Airport to Marina
Marina to Yao Noi
One-Way Cost
(Per Pax)

Shared

Shared

1,600 THB

Private

Shared

2,250 THB

Private

Private

12,500 THB

*Starting point from Phuket International Airport (or other resorts in Phuket). If originating from Krabi, private land and speedboat transfer costs 12,600 THB for 2 pax.



The shared speedboat only operates 3x per day, which means you'll need to observe the following timings:
| | | |
| --- | --- | --- |
| Depart Phuket Airport | Depart Ao Po Grand Marina | Arrive at Six Senses |
| 1000 hrs | 1100 hrs | 1145 hrs |
| 1300 hrs | 1400 hrs | 1445 hrs |
| 1500 hrs | 1600 hrs | 1645 hrs |
| | | |
| --- | --- | --- |
| Depart Six Senses | Arrive Ao Po Grand Marina | Arrive Phuket Airport |
| 1000 hrs | 1045 hrs | 1145 hrs |
| 1200 hrs | 1245 hrs | 1345 hrs |
| 1500 hrs | 1545 hrs | 1645 hrs |
As far as possible, try to book your flights to arrive around these timings, because a 4 hour 45 min transfer (in a worst case scenario where you just miss the airport pickup) is no fun at all. 
My flight was scheduled to land at 9.35 a.m, so I requested the 10 a.m pick-up. The transfer desk tried to push back, saying there wasn't enough time. I wasn't about to wait till 1 p.m, so I insisted, and as it turned out my flight landed at 9.25 a.m, and I was out of the airport at 9.33 a.m. 
You can say I just got lucky, but if you hold an APEC card and don't plan to check bags, there's no reason you can't do it too. In any case, the transfer timings already build in a good amount of buffer. The drive from Phuket Airport to Ao Po Grand Marina takes 30 minutes, and the speedboat departs a further 30 minutes after that. 
In fact, I was out so early the Six Senses representative wasn't even there yet! I eventually  found her amidst the sea of hotel signs. 
Even though I'd booked the shared transfer option, I still enjoyed a private car ride to the marina, presumably because no one else was arriving at that time. And not just any car, a very nice Mercedes Benz for that matter.
It took roughly 25 minutes to reach Ao Po Grand Marina, where first impressions weren't exactly stellar. It was absolutely pouring the day I arrived, and to reach the waiting area, we had to pass through several flooded areas. At one point, the water was so deep I had to take off my shoes, roll up my pants and walk barefoot. 
Unlike the Maldives, where posher hotels offer their own private lounges at the seaplane terminal, the arrangements here are rather more spartan. Six Senses guests wait at the marina's café, which has both indoor and outdoor seating. One free non-alcoholic drink is offered, and there are toilets and Wi-Fi, but that's it. 
Given the Six Senses' price tag, it would have been nice to see a better welcome wagon; perhaps an exclusive area for guests, with a range of complimentary snacks and drinks. The current solution feels somewhat makeshift, and probably the weakest part of the whole experience.
Boarding started about five minutes before departure to the island. There was one couple travelling with me on the speedboat, and we walked about 100 metres downhill to the jetty area. 
The boat is nothing fancy, though it's comfortable enough for the 30-minute hop to the resort. Cold towels and water were provided, and even though the sea was choppy due to the weather, it never got uncomfortably bumpy. 
Buggies and staff (including the resort manager) were lined up at the pier to welcome guests, as the rain broke ever so slightly for our arrival.
On arrival, each guest was introduced to their personal Guest Experience Maker (GEM), who would be the single point of contact for all requests during the stay. My GEM was June, and she was excellent (more on that later). She drove me to The Library, the hotel's de facto lobby, where check-in formalities were settled.
I was also asked to download the Six Senses app, which was then paired to my room. This allows guests to chat with their GEM, book facilities, restaurants and activities, request a buggy or housekeeping, and everything else you might need during your stay. 
Day-Use Room
Although bookings through AMEX FHR are eligible for 12 p.m check-in, this benefit is subject to availability. My villa wasn't ready when I arrived (just before noon), but instead of dumping guests at the pool to wait, Six Senses Yao Noi goes above and beyond by providing day-use rooms.
These are basically mini-villas, each with their own bathroom, shower, soaking tub, wardrobe (with safe) and day bed. It's basically everything you could need, short of an overnight stay.
Full marks to Six Senses for offering this. For those of us flying in on a 90-minute hop from Singapore, having a place to freshen up and rest may not be that important. But for those stepping off long-haul flights from Australia, Europe or the USA, these rooms will be lifesavers.
If you're departing late and the hotel can't grant late check-out (though all bookings through AMEX Fine Hotels & Resorts come with 4 p.m guaranteed check-out), you can also get a day-use room to tide you over.
My room was eventually ready at 2 p.m.
Ocean Deluxe Pool Villa
The 56 villas at Six Senses Yao Noi are divided into the following categories:
| | | |
| --- | --- | --- |
| Type | Size | No. of Rooms |
| Hideaway Pool Villa | 154 sqm | 19 |
| Ocean Pool Villa | 154 sqm | 8 |
| Ocean Panorama Pool Villa | 154 sqm | 7 |
| Ocean Deluxe Pool Villa | 181 sqm | 7 |
| Beachfront Pool Villa | 154 sqm | 1 |
| Hideaway 2BR Pool Villa  | 228 sqm | 5 |
| Ocean 2BR Pool Villa | 228 sqm | 2 |
| Beachfront Pool Villa Suite | 228sqm | 4 |
| Hideaway 4BR Pool Villa | 300 sqm | 1 |
| The View | 225 sqm | 1 |
| The Ocean Retreat | 500 sqm | 1 |
Of the one-bedroom villas, Hideaway Pool Villas, Ocean Pool Villas and Beachfront Pool Villas are exactly the same in terms of architecture, segregated only by view and location. 
Ocean Panorama Villas come in two different configurations, one of which is similar to the Hideaway, Ocean and Beachfront Pool Villas, the other similar to the duplex Ocean Deluxe Pool Villa.
My reservation was for the lead-in Hideaway Pool Villa, but AMEX FHR bookings come with a complimentary room upgrade. I ended up receiving a three-category upgrade to an Ocean Deluxe Pool Villa instead, one of seven at the resort. 
Mine was villa 45, located a short (but steep) walk from the Hilltop pool area. 
Here's my video walkthrough.
At the door, you'll see Six Senses' cute implementation of the do not disturb/make up room system. Want service? Flip the wooden handle up so the fish's eyes stay open. Want privacy? Flip the wooden handle down to put the fish to sleep mode. The analogue solution means it can't be directly controlled from the room, however. 
Beyond the door was a flight of stairs leading down to the villa proper. While it was well-lit with anti-slip strips, it's probably not the best villa for those with impaired mobility.
Ocean Deluxe Pool Villas measure in at 181 sqm, spread across two floors. The villa and plunge pool are on the first floor, while an outdoor sala occupies the second floor. A floor plan can be found below.
Floor plan
At the front of the villa is a wooden deck with a plunge pool. The 1.2M deep pool isn't heated, nor is it large enough to swim laps, but it's a refreshing place to cool off during a hot day. Maintenance was good; any leaves or debris were removed by housekeeping the following day. 
A yellow sofa, pair of cushioned pool recliners and a coffee table completed the outdoor furniture. I must say that the privacy was excellent. Unlike some other resorts that try and cram in as many villas as they can, Six Senses' relatively low density means that the only thing I ever saw was foliage, and the only thing I heard was nature. It'd be almost impossible for someone to stare into your villa, even if you're occupying a relatively low lying one.
As mentioned, this is a duplex villa. A staircase takes you up to an outdoor sala, decked out with yellow cushions and a ceiling fan. You can take in views of the ocean from here, or simply enjoy some al fresco reading. 
Just inside the villa's entrance is the wardrobe and study area. This bisects the bedroom and bathroom- slightly an odd layout, since it means a longer trek to visit the toilet at night. 
I also want to draw attention to the three steps leading to the bedroom. They may seem innocuous, but can be dangerous when you're groggy and not aware of your surroundings. 
While no one comes to a Six Senses to do work (well, except me), the villa gets a proper writing desk nonetheless, equipped with universal power outlets. 
Wi-Fi speeds were excellent, considering where we were. 74 Mbps down and 86 Mbps up meant you could stream 4K videos or make Zoom calls without any stuttering. I should mention, however, that coverage outside the villa can be hit and miss. You can expect a good signal at the pool, around the spa and at the restaurants, but you might lose connection at the beach or when walking along the various pathways.
On the desk was a copy of the standard AMEX FHR welcome letter laying out the benefits, as well as a copy of the activities schedule for the week.
The drawers were empty except for a pair of mosquito coils and an electric mosquito repellent diffuser. Housekeeping sets up mosquito coils outside the villa during turndown service.
Adjacent to the writing desk was the mini-bar, with teabags and a Nespresso capsule machine. Complimentary house-filtered still and sparkling water is provided. You can request as many additional bottles as you like at no extra charge. 
Inside the fridge was additional water, home-made kombucha and a welcome coconut.
Six Senses, incidentally, makes its own wine in Thailand. It's not Robert Parker stuff, but oenophiles may appreciate the novelty value nonetheless. You can try it out for free during the weekly management cocktail, which I'll talk about later in this article. 
Opposite the mini-bar is a dressing table with a suspended Hollywood mirror, great for preening. Next to that was the wardrobe, storing a pair of bathrobes, a digital safe, insect repellent, aloe vera gel, after sun shampoo and conditioner, plus an egg basket for your visit to the chicken farm. 
The spacious bedroom looked out to the garden and pool, with a high timbered ceiling and a king-sized bed, set beneath a suspended mosquito net. I was very concerned about mosquitos coming into this stay, and though I can't say I got away unscathed (they're the kind that's active during the evenings, not the day), I had no issues in the room itself. That's the most important really, because nothing disrupts sleep like high pitched buzzing in your ear and sudden itching.
The medium firm Naturalmat mattress was specially designed for the Six Senses chain with natural and organic materials, combined with a latex layer for extra orthopaedic support. A choice of eight pillows was available:
The Air Pillow
Linear Gravity Pillow
Butterfly Pillow
Snore Reduction Pillow
Neck Support Pillow
Buckwheat Crescent Pillow
Buckwheat Comfort Rolls
Buckwheat Miracle Pillow
Bedside charging sockets were surprisingly not universal, unlike those at the desk. These accept Type A, B and C plugs; visitors from Singapore will need an adapter (available free-of-charge on request from housekeeping).
A Bose sound system with an AUX cable was hidden inside the bedside cabinet, allowing you to play your own tunes through the villa's sound system. 
A welcome amenity of fruits and chocolates was on the chessboard-patterned coffee table. As this is the jungle, flies and ants may become unwanted visitors- if you're done with any room service, be sure to get the tray cleared quickly.
The TV in the corner of the room was virtually unwatchable due to its small size and low brightness, but if television is a key decision criteria, you might be staying at the wrong resort.
Out the bedroom and back down the corridor was the bathroom, fitted with his and hers sinks, a well-stocked towel rack, an orange sofa, and a sunken tub (notice how the towels near the bathtub are arranged in the shape of Six Senses' iconic logo).
I find it amusing sometimes how eco-luxury brands like Six Senses tend to talk out of both sides of their mouth when it comes to sustainability. On the one hand, a bookmark in the bedroom reminds guests to save water by showering instead of bathing. On the other, a deep-soaking tub comes standard in all villas, and proved difficult to resist. 
But being eco-conscious doesn't necessarily mean missing out. Guests can take a shower in the indoor wet area…
…or enjoy one of the most amazing bathing experiences outside, in an open-air shower flanked by tall wood slats for privacy. Twin shower heads make this a couples' experience, and yes, the water's hot. I took a shower here in the middle of a passing storm, the cold rain kept in check by the warm deluge from the shower head. It was unforgettable.
Six Senses, of course, eschews single-use toiletries in favour of ceramic bottles with pump dispensers. Shampoo, conditioner and shower gel came in peppermint or lemongrass fragrances, smelled great and lathered well.
Hideaway Pool Villa
As mentioned, my room was upgraded from the lead-in Hideaway Pool Villa. But even if you don't get upgraded, Hideaway villas are not too shabby themselves.
They still have soaking tubs, outdoor showers, plunge pools and a large outdoor area- the main thing you lack is a view. In fact, some may prefer their layout, since the bedroom is directly connected to the bathroom. Here's some photos from a under maintenance villa my GEM showed me.
Breakfast
Breakfast is served at The Living Room from 7 a.m to 10.30 a.m daily.
Food is served buffet style, with stations spread across three main areas. The hot food is at the al fresco part of the restaurant, with a mix of Thai, Asian and Western options to choose from. 
The selection of Asian items rotated daily, featuring Thai staples such as curry, mixed vegetables, pepper beef, sweet and sour fish, as well as a soup option.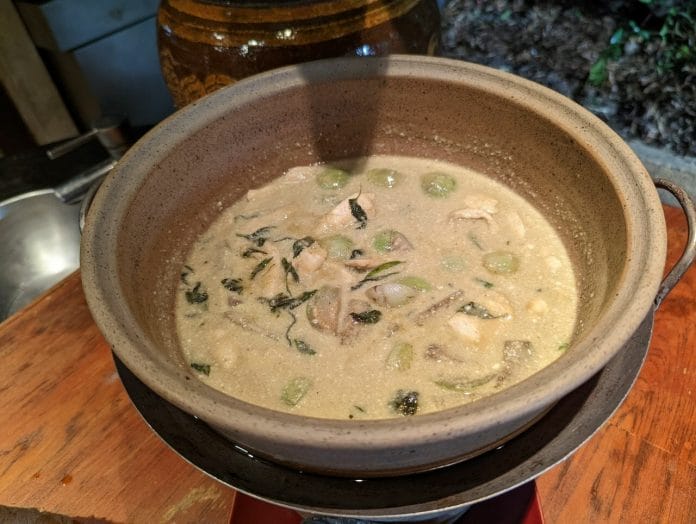 Western items, curiously, didn't rotate. I saw the same options each day: an assortment of sausages, grilled tomatoes, baked beans, and bacon. 
A noodle station served up a choice of beef, pork or chicken noodles. Be sure to take it with the home made chili oil, which really adds a kick. I thought the noodles had a bit too much flour on them though, as they were gummy rather than springy. 
Pancakes and waffles can also be made to order, with a choice of toppings including maple syrup and cinnamon sugar- a killer combo.
Next to the al fresco area was an air conditioned room with salads, fruits, cheeses, cereals, smoothies and juices. There was even a display of deli meats that could be sliced on demand. 
My favourite section was the bakery, filled with the wonderful aroma of freshly-baked bread. The in-house bakers pulls their weight by churning out a wide selection of cakes, pastries and breads every morning. Be sure to try the banana bread, poppy seed cake, and sourdough.
Guests can order from a small a la carte menu featuring a variety of egg dishes, and if you collected your own eggs from the chicken farm the day before, bring them to breakfast and the staff will serve them up.
In terms of what was absent: I didn't see items like smoked salmon or avocado on the buffet line, but you can request them at no extra charge. 
I found breakfast to be very satisfying, but given the price point of the hotel, I don't think it'd be asking too much to have a boozy breakfast option, if not champagne than at least prosecco. It would also be good to see some wow-factor dishes on the a la carte menu, like a St. Regis style epicurean omelette with lobster, or a steak and eggs like the Shangri-La Valley Wing. 
Facilities
Swimming pool
The Six Senses Yao Noi's swimming pool is located at the Hilltop, which used to be the resort's presidential villa. It's since been converted into a restaurant, a few day-use rooms, as well as the resort's main pool.
The pool is open from 9 a.m to 5 p.m daily, converting into a dining venue in the evening (see the dining section for more details). 
It's an average-sized pool for a resort, but a colossal one for a single villa. Once upon a time, this would have been the exclusive preserve of a single group, though everyone can now enjoy the breathtaking views of the islands in the distance. I'd rank this among the best pool views of any resort I've visited.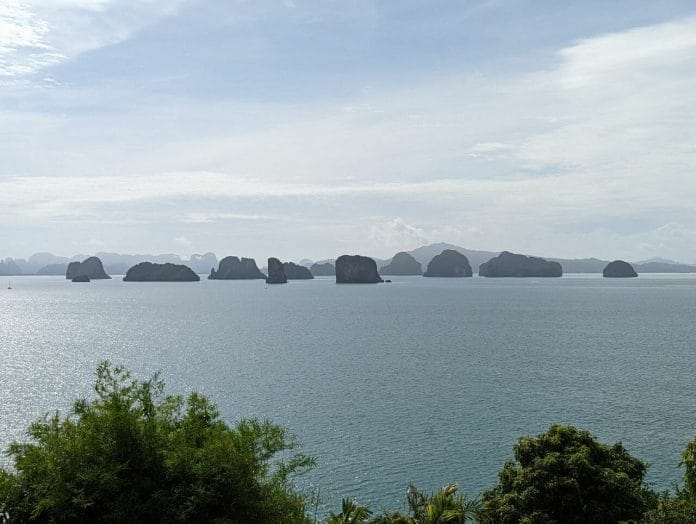 Unfortunately, the pool faces east, which means it's not a place to catch sunsets. However, if you're an early bird, you can visit in the morning to watch a quite incredible sunrise. 
Complimentary reef-safe sunscreen and aloe vera gel are offered by the pool. 
Just beyond the ledge of the infinity pool is a wooden deck with love seats and suspended nets that let you stargaze on a clear evening. 
Gym
The Six Senses Yao Noi's gym is located inside the spa village, and open 24 hours daily.
The gym is housed inside a wooden cabin, with full height glass windows providing jungle views. Both cardio and resistance Technogym equipment is available, together with in-house trainers and special training programmes. 
Spa
You can't visit a Six Senses without trying the spa, which opens from 8 a.m to 6 p.m daily. It's really more of a spa village, with 10 individual villas plus a sauna and steam hut, connected by wooden walkways and nestled amidst tropical greenery. 
Prices, as you might expect, aren't cheap. A 60-minute body treatment starts from 5,200 THB (~S$200) with an early bird discount of 30% for all treatments with starting times from 8 a.m to 2 p.m daily. 
All the treatment villas are beautiful, but if you have the chance, request one with the waterfall running behind. The sound of cascading water forms the perfect backdrop for any treatment, and these huts have an attached outdoor area with warm water showers. 
I did a 60-minute head and shoulders massage, which was so relaxing I think I dosed off a few times. Even with a 30% discount, however the total price came up to 3,640 THB (~S$141). Once was more than enough.
After the treatment, I was escorted to the relaxation pavilion where tea and dried fruits were served. 
Elsewhere in the spa village is a steam and sauna hut, which can be used before or after a treatment (or any time at all, really). While it's decent enough, I think I'm forever spoilt by the jawdropping one I experienced at the Conrad Koh Samui, which had a stunning view of the ocean. This was rather ordinary by comparison.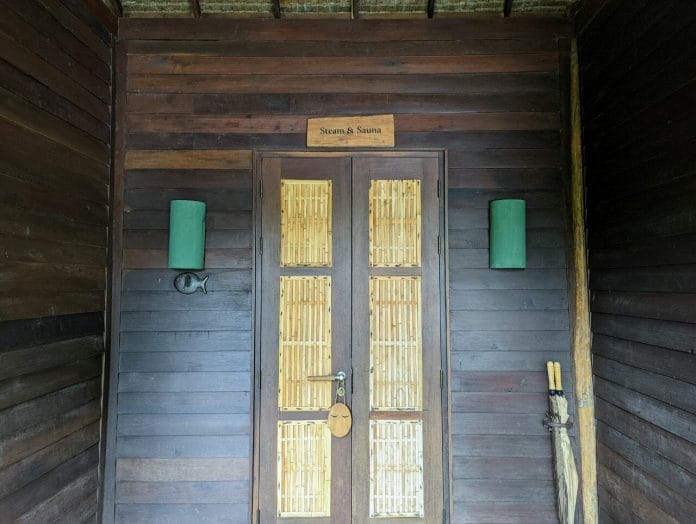 Activities
Bike rentals
While you can't cycle within the resort (too steep, plus the narrow paths and frequent buggies pose a hazard), you can rent a complimentary bike to cycle around the island from 6 a.m to 6 p.m. You really wouldn't want to cycle beyond that, given the lack of street lamps and the mozzies coming out. 
Yao Noi island is mostly flat (at least it was around the hotel), and there's affordable restaurants and massage places within a 10 minute pedal of the Six Senses. There's hardly any traffic, and it's safe enough that you don't need a bike lock.
Tennis Courts
I don't often bring my tennis racquet on vacation, but couldn't resist when I found out the Six Senses Yao Noi had its own tennis court. 
It's a bit of an unusual surface. Instead of the traditional concrete, clay or grass/astroturf, Six Senses has gone for tiles. This surface drains better and is easier on the knees, though you won't find any tournament of note using this material. 
The in-house tennis coach (who Six Senses says is "unbeaten in Thailand") was injured, but they arranged for a replacement to be brought in from the Ritz-Carlton Phulay Bay in Krabi. It wasn't cheap at 1,000 THB per hour, but we had a real good game- and yes, he won, as he should (I'd be very concerned if I'm able to beat the in-house expert). 
What's particularly nice is that Six Senses built proper facilities around its tennis court. There's a toilet, a viewing couch, towels plus a mini-fridge filled with chilled water. 
If you're just looking to hit among yourselves, Six Senses doesn't charge for court bookings. 
Beach
The Six Senses Yao Noi has its own private beach called "Mai Thai", with a small beach club that screens evening movies every now and then.
The beach itself is a quiet stretch that is suitable for light swimming (though a series of buoys warn you from straying too far), and though the sand is thankfully absent of sharp shells, it isn't exactly Maldivian powder stuff either.  
I wouldn't consider the beach to be a star attraction of this resort, really. It might be nice for a late afternoon walk (the islands form a great backdrop for photos), but there wasn't anything to make me return. 
Organic farm
If you're a city boy like me who thinks eggs grow on trees, you'll definitely want to pay a visit to the Six Senses Yao Noi's organic farm, which is behind much of the food consumed in the resort. 
It's a short walk out the main gate, and guests are encouraged to visit whenever they wish. A complimentary guided tour is also available, and can be arranged through your GEM. You'll have the opportunity to feed chickens (they really like kang kong, who knew?) and harvest your own eggs. 
Bring your eggs to breakfast, and the chef will wash and cook them any way you like.
The farm also has ducks and goats, and while it isn't nearly as big as the one I saw at Conrad Koh Samui, it's a novel experience that you shouldn't miss.
Other Dining
Hilltop
In addition to hosting the swimming pool, the Hilltop serves as a casual dining venue by day, with an assortment of light bites and Western/Thai classics.
In the evening, the pool chairs are removed as the venue transforms into a temporary fine dining venue, standing in for the temporarily-closed Dining Room (reopening planned for October). 
The Hilltop serves a mix of Thai and "Contemporary Western" cuisine, which while decent, comes at a very steep price. 
For lunch on the first day, I had a fish curry, papaya salad and plate of brown rice, which cost a whopping 1,250 THB (~S$48). 
I had dinner here twice. The first time, a meal of lobster bisque, mushroom tagliatelle with truffle shavings and a tom yum cocktail set me back 2,165 THB (~S$84)…
…the second time, a salmon tartare, roast chicken and Moscow mule cocktail cost 2,095 THB (~S$81).
IHG's Savor Save Earn promotion does not apply at the Six Senses Yao Noi, so you're paying full price. While the ambiance was lovely and the service attentive, I don't think the food was nearly life-changing enough to justify the prices. 
The Living Room
Outside of breakfast, the Living Room serves up an a la carte menu for lunch, and a buffet dinner (on selected nights). 
On the night I visited, they were running a Yao Noi street buffet, which included the following:
It wasn't cheap at 2,500 THB (~S$97) per person, but I can't argue with the selection. The highlight was undoubtedly the BBQ station, which had all the lamb, steak, giant tiger prawns, and Phuket lobster you could eat. 
There were also pizza, pasta and Indian food stations, together with a chef making tom yum soup a la minute, as well as various food warmers with Thai options. 
A sushi bar and dessert selection rounded up the spread. You can certainly get your money's worth if you pig out on lobster and prawns, and I felt this was better value than The Hilltop.
Odds and Ends
Here's a few things that didn't fit in any of the other sections, but are still worth knowing.
The pre-arrival experience was a bit messy, with the hotel sending emails to "my Expedia email address" (a generic email address assigned to AMEX bookings) that I didn't receive. Some requests weren't communicated properly. For example, I gave them a few timings I wanted to play tennis, and was told they'd get back with availability. A few days went by without a response, so I emailed again and was asked what time I wanted to play- no one had acted on the first message. To their credit, the hotel comped the first tennis session as service recovery
While free water is provided in your room and by the pool, it's chargeable at the restaurants (110 THB ++ (~S$4.25++) per bottle). It felt particularly strange at Hilltop, where I was paying for water at my table while guests barely five feet away on the pool loungers were getting the exact same thing for free
Free ice cream is available all day, every day, at The Living Room. They make it all in house, and my personal favourite is banana (OK fine, it's chocolate, but banana's not bad either)