The following post is a collaboration with American Express Singapore. The airlines and hotels featured did not have any prior notice or input into the review process.
🏠 Don't Leave Home Without It
Travel to Thailand has really picked up since pre-departure testing was removed and the Thailand Pass requirement scrapped, and Singapore Airlines currently operates four daily flights in each direction. 
| | | |
| --- | --- | --- |
| Flight | Timing | Frequency |
| SQ726 | SIN 0830/ HKT 0935 | Daily |
| SQ728 | SIN 1000/ HKT 1050 | Daily |
| SQ736 | SIN 1620/ HKT 1710 | Daily |
| SQ740 | SIN 1830/ HKT 1920 | Daily |
I'd booked myself on SQ726, the first flight out, so I could reach Phuket in time for the first boat to the Six Senses Yao Noi (more on that in the hotel review post). 
✈

Don't Leave Home Without It

: Flights
SIN-HKT
HKT-SIN
SQ726
Depart: 0830
Arrive: 0935
Cabin: Economy
Cost: 25,000 miles + S$52
SQ735


Depart:

1810




Arrive:

2100
Cabin: Business
Cost: S$593
While check-in for all Singapore Airlines passengers takes place at Changi Terminal 3, flights may depart from Terminals 1, 2 or 3, depending on operational requirements. A quick way of checking which terminal your flight departs from is to look at the gate printed on your boarding pass: 
If you see A or B, your flight departs from T3
If you see C or D, your flight departs from T1
If you see E or F, your flight departs from T2
My flight to Phuket was departing from A21, which was at the furthest tip of T3. It was about a 7 minute brisk walk from the SilverKris Lounge. 
Today's flight was operated by a B737-8, a former SilkAir aircraft which received a significant upgrade before launching in SIA colours, with cabin-wide Wi-Fi and brand new cabin products installed.
I previously wrote a detailed review on the B737-8 Economy Class experience on a flight from Da Nang to Singapore, so be sure to check out that piece for detailed seat selection tips and other observations.
The Economy Class cabin features a total of 144 seats in a 3-3 configuration with 18″ of width and 5″ of recline. The 30″ seat pitch is 2″ less than what you'd find on SIA's widebody aircraft, and although it's tolerable for a short flight to Phuket, you'll certainly feel the difference on a route like Darwin or Cairns. 
If legroom is a concern, consider picking a seat in Rows 48 or 49. These have additional space because of the emergency exit in front of them. However, Row 48 does not recline (so as not to obstruct the emergency exit behind it), leaving Row 49 as the sweet spot.
Row 48 seats are designated as Standard, and available for complimentary pre-selection by any passenger buying an Economy Standard or Flexi fare, or members with KrisFlyer Elite Gold status or higher. All others will pay a fee starting from US$8.
Row 49 seats are designated as Extra Legroom, and are available for complimentary pre-selection by Solitaire PPS and PPS Club members. All others will pay a fee starting from US$25. 
It should be mentioned that all seats in the cabin can be selected once online check-in opens 48 hours before departure, and any remaining seats can be chosen for free. It's always worth a shot. 
I chose aisle seat 49H for this flight. The middle seat 49J was occupied, but the window seat 49K went out empty so my seat mate switched over once the plane reached cruising altitude. 
The captain came on the PA to welcome us onboard and provide a weather update for today's 1 hour 50 minute flight to Phuket: clear skies most of the way, with some bumpy weather closer to landing due to rain around the island.
Passengers in the exit row are normally given a pre-departure briefing on how to operate the slide in case of emergency, but that didn't happen today. I was confused at first, then learned that if there's an unoccupied seat in the exit row, a member of the cabin crew will fill it during take-off and landing. And that's just fine, quite frankly- if worse comes to worse I know I'd rather have them operating the emergency exit than a panicky passenger like me.
Once we hit cruising altitude and the seat belt sign went off, I got connected to the aircraft's Wi-Fi network. 
All KrisFlyer members receive a free 2-hour chat package (suitable only for text-based messaging via apps like WhatsApp and Telegram), provided they enter their membership number at the time of check-in. Solitaire PPS and PPS Club members, as well as passengers in Business Class, receive a free 100MB allowance. 
 

PPS

KF

Non-KF

Suites & First

Unlimited

Business

100MB

Premium Economy

100MB

2-hrs chat

N/A

Economy

Wi-Fi allowances do not stack; for example, a PPS Club member in Business Class would only receive 100MB, not 100+100MB. 
100MB might be enough for a short flight, but probably not if you're planning to do any sort of streaming. Paid plans are available as well, ranging from US$3.99 to US$15.99. 
| | | |
| --- | --- | --- |
| Plan | Cost | Allowance |
| Chat | US$3.99 | 2 hours |
| Pro | US$9.99 | 100MB |
| Premium | US$15.99 | 200MB |
| Surf | US$15.99 | 3 hours |
If you plan to use your laptop on board, you should also note that Economy Class seats do not have in-seat power. Singapore Airlines has only installed power outlets in Business Class, so make sure your device is fully charged before boarding.
Phuket is one of the shortest routes with a meal service, so the crew had their work cut out for them. Within 10 minutes of reaching cruising altitude, they were wheeling the trolley down the cabin serving breakfast. 
I went for the pork congee with century egg, served in Singapore Airlines' new Economy Class meal boxes. This packaging was designed with dishes like congee in mind, and it works rather well for the most part. The food is is kept piping hot, and the container provides the depth you can't get with a traditional casserole. 
The porridge itself was delicious, though the shallow bamboo spoon made scooping difficult. And even though the proteins were already provided in bite-sized chunks, I still think some passengers might appreciate a knife.
All Economy Class passengers have their own personal 10″ HD touch-sensitive IFE screen, loaded with the same selection of entertainment you'd find on any other Singapore Airlines aircraft.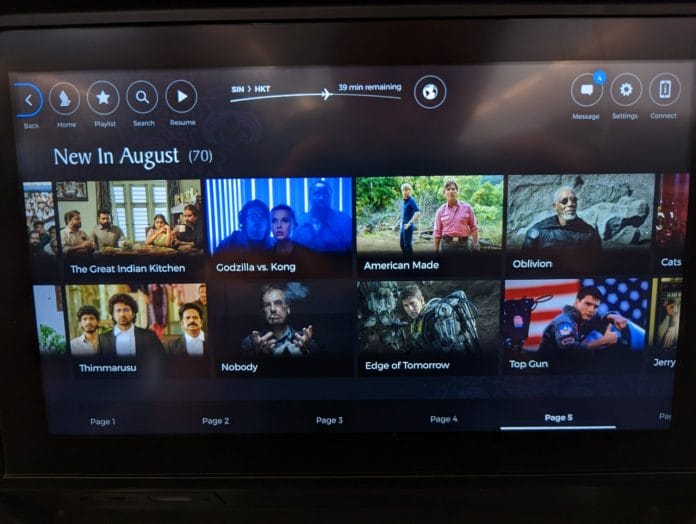 Headphones had been distributed during boarding in a zip-lock bag labelled "reusable". I don't think too many people would bother keeping this flimsy pair for their next flight, but if you're using airline-issued headphones in the first place you're doing it wrong. The jack beneath the IFE screen will accept a standard 3.5mm audio cable, allowing you to BYOD.
This flight was much too short for a full movie, but I decided to catch some snippets of Cats, if only to see whether it was everything the critics made it out to be (my personal favourite: "Cats is the worst thing to happen to cats since dogs").
Quite frankly, I don't see what they were all so worked up about. This show is a timely warning about the dangers of sentient felines, especially if they break out into showtunes.
Feeling slightly uneasy from the sight of so many CGI fursuits, I excused myself to the bathroom. There's a total of three lavatories on the B737-8, one in the forward area for Business Class passengers, and two in the aft for Economy Class. 
The confines are snug to say the least, though that's an issue for all narrowbody aircraft in general, not just Singapore Airlines. Touchless features have not been installed (I'm not sure if they're even an option for this aircraft type), but you can clean your hands with sanitiser from bottles mounted outside each toilet.
By this time we had started our descent into Phuket International Airport, where it was absolutely pelting down. Traffic was light when we arrived, and we landed more or less on schedule. 
Conclusion
A common criticism I have about short-haul Economy on full service carriers is that there's very little to distinguish it from a low cost experience. That's especially true if you look at Europe and the USA, where you often need to pay for meals, checked bags, and all sorts of frills. 
In contrast, the new B737-8s ensure that Singapore Airlines' regional Economy experience is every bit identical to long haul routes, with a free checked bag, a meal (plus complimentary alcohol), inflight entertainment, and Wi-Fi. Do you need all those on a short-haul flight? Maybe not. But at least you walk away knowing where the extra money went, and that can only be a good thing.