In the 1933 novel Lost Horizon, James Hilton wrote of a place called Shangri-La, a mystical, harmonious valley whose inhabitants possessed the secret to inner peace and extraordinarily long life. 
Whether or not Hilton had an actual place in mind when he conceptualized this paradise on earth is debatable, but what is beyond contention is its impact on the popular imagination. 
The novel was a smash hit, selling several million copies and inspiring an Oscar-winning movie directed by Frank Capra. Former U.S President Franklin D. Roosevelt was such a fan he named the presidential retreat in Maryland "Shangri-La" (you know it today as Camp David). Shangri-La has been referenced in every kind of media from music to films to video games; it's the name of a decommissioned aircraft carrier, it's a feature on Saturn's largest moon Titan. 
Oh, and it's also a hotel chain.
In 1971, Malaysian businessman Robert Kuok opened the first-ever Shangri-La on Orange Grove Road, just a stone's throw from the up-and-coming Orchard district. Set amidst 15 acres of lush greenery, the 25-storey luxury hotel quickly established itself as a haven of rest from the hustle and bustle of urban life- in the heart of the city, yet isolated from it.
Over the years, the Shangri-La Singapore has hosted countless foreign dignitaries, international conferences, and high society weddings. The annual (well, not for 2020) IISS Asia Security Summit takes its name from the hotel, and even if you've never stepped foot on the grounds, it's surely part of your lexicon. 
But within this walled garden lies a further veil of exclusivity- the fabled Valley Wing. 
What is the Valley Wing?
To properly appreciate the Valley Wing, you first need to understand the lay of the land at the Shangri-La Singapore. The hotel consists of three wings, each a separate building with its own personality and appeal. 
| | | | |
| --- | --- | --- | --- |
|   | Built | Rooms | Vibe |
| Tower Wing | 1971 | 503 | Business |
| Garden Wing | 1978 | 158 | Resort |
| Valley Wing | 1985 | 131 | Exclusive luxury |
The Tower Wing is the original building that opened with the hotel in 1971, but it's also the most up-to-date, having completed a major renovation in 2017. It hosts the hotel's Horizon Club lounge, as well as the five themed family suites (pick from: castle, outer space, safari, treetop and underwater). The wing is currently closed to bookings, as it's used for SHN accommodation.
The Garden Wing was the next to be added in 1978, adding a distinctly tropical resort vibe with its open-air garden atrium (a first in Singapore), wooden decks and cascading waterfall. All rooms have balconies which overlook the abundant greenery or the swimming pool. 
The Valley Wing was finished in 1985, and is practically a hotel within a hotel. It boasts a private driveway and entrance, a lounge that serves all-day champagne, and the most opulent breakfast in the house at the Summit Room. Guests receive special Valley Wing monogrammed bathrobes and amenities, and should you venture out to mix with the hoi polloi at the hotel's shared facilities, you'll even find special reserved seating at the pool. 
Booking a Shangri-La Valley Wing Staycation
Needless to say, the Valley Wing costs a pretty penny more than your run-of-the-mill Shangri-La stay (if such a term were even possible). Shangri-La is currently offering a Valley Wing Indulgence package that includes the following:
🏨 Valley Wing Indulgence (S$645++)

1 night in Valley Wing Deluxe Room

Valley Wing benefits including afternoon tea, evening canapes, all-day champagne

Breakfast for 2

In-room butler drawn bubble bath

90-minute massage for 2

Free parking

Book By

30 Dec 2020

Stay By

30 Dec 2020

Cancellation Policy

24 hours before arrival

More Info
When Phase 2 first started, the Valley Wing Indulgence package priced at a very attractive S$525++ (S$618 nett). That was almost too good to be true, and therefore it was somewhat unsurprising that the rate was quickly hiked to S$645++ (S$759 nett)- arguably a decent deal still, but much more painful for your wallet. 
But thanks to the folks in the Milelion's Telegram Group, I learned of a much better way to access the Valley Wing and its full suite of benefits: Luxury Circle rates. 
For the uninitiated, Luxury Circle is a preferred booking channel, kind of like Starwood Luxury Privileges or Hyatt Prive. Guests who book Luxury Circle rates generally pay the same as the hotel's Best Available Rate (BAR), but enjoy the following additional benefits:
🏨 Luxury Circle Privileges

Upgrade to the next room category at the time of booking, subject to availability

US$100 hotel credit

Breakfast for two

VIP welcome amenity

Early check-in and late check-out, subject to availability

Book By

N/A

Stay By

N/A

Cancellation Policy

Same as flexible cancellation policy
Now, a Garden Wing Pool View Room usually upgrades into a Tower Wing Horizon Deluxe. However, since the Tower Wing is temporarily closed, a one-category upgrade takes you to a Valley Wing Deluxe Room.
Even better, the Luxury Circle upgrade is confirmed at the time of booking, not upon arrival. If the hotel doesn't happen to have upgrade space on that particular date, you can simply cancel (bookings are refundable) and switch to a different one. 
So that's how I booked a Garden Wing Pool View Room for S$440++ (S$518 nett), and got an upgrade to the Valley Wing. I received confirmation of my upgrade within 72 hours of booking. 
How to book Luxury Circle rates?
Luxury Circle rates can be booked by most online travel advisers, e.g QX Travel, Bon Vivant, Classic Travel etc. I personally used Classic Travel to book (they have an online booking portal that lets you check availability instantly; most other sites require you to send an email and wait). If you're planning to book with them, say you were referred by Aaron from The Milelion. 
Once the value of the US$100 amenities credit is adjusted for, my out of pocket cost was S$379 nett- less than Marina Bay Sands, and a heck of a lot nicer (all-day champagne!). For comparison's sake, the cheapest rate I can currently find for a Valley Wing room on the official website is S$593 nett. 
Shangri-La Valley Wing: Arrival and Check-in
The isolated nature of the Shangri-La Singapore means you'll almost certainly have to take a cab here. Forget public transport; the nearest bus stop involves a good 10 minute walk up a hill. 
Most guests will arrive at the hotel via Orange Grove Road, but if you're staying in the Valley Wing, you'll take a private off-ramp on Anderson Road. It's a one-way stretch and you'll need to make a big loop if you miss it, so be sure your driver is cued in. 
Fortunately, both Grab and gojek list the Valley Wing as a unique drop-off point, so the experience should be rather painless. 
The Valley Wing entrance sits at the top of a small hill, and a bellman came out immediately to assist with my bags. I understand that guests in the past would be greeted with drinks and wild orchids, but I suppose COVID-19 has put an end to elaborate welcome wagons. 
After the usual temperature screening and SafeEntry check-in, I was ushered into the lobby, which certainly makes a grand first impression. 
The centerpiece of the Valley Wing lobby is an 8.6 metre tall painting by Hong Kong artist Lam Chung, which portrays the idyllic settlement of Shangri-La in the mountains of Tibet. 
The interior design of the Valley Wing was overseen by LRF Designers, and while the project was completed 35 years ago, there's a kind of timeless elegance to the place. It screams old world luxury; actually, whispers is more like it. Absent is the gaudy gold and in-your-face bling found at many establishments in the Middle East- the Valley Wing oozes quiet dignity and confidence. 
I arrived on a Tuesday morning just after 10 a.m. There was no line for check-in, and I was attended to straight away. 
My room keys were issued, and the staff explained the various benefits I'd be entitled to for booking through the Luxury Circle program:
Room upgrade (upgraded from Garden Wing to Valley Wing)
Daily breakfast for two (already included for all Valley Wing guests anyway)
Early check-in (10 a.m check-in granted)
Late check-out (6 p.m check-out granted)
S$139 nett hotel credit (equivalent to US$100- they use quite a generous rate)
I was also given a letter explaining the Valley Wing privileges. 
As mentioned, the Valley Wing is really a self-contained hotel within a hotel. However, should you wish to see how the other half lives, you can access the main building through the pool area, or via an umbilical walkway on the 3rd floor. 
This disgorges you in the Tower Wing, just next to Origin Grill.  
Shangri-La Valley Wing: Deluxe Room
The Shangri-La Singapore has a total of 792 guestrooms and suites across three wings, split as follows: 
Tower Wing

Room

Rooms

Size

Tower Deluxe

358

38m2

Horizon Deluxe

81

38m2

Grand Premier

34

67m2

One Bedroom Suite

5

82m2

Family Deluxe

19

38m2

Family Themed Suite

5

72m2

Grand Suite

1

250m2
Garden Wing

Room

Rooms

Size

Deluxe

146

50m2

1 Bedroom Suite

9

81m2

Premier Balcony Suite

3

137m2
Valley Wing

Room

Rooms

Size

Deluxe

105

57m2

1 Bedroom Suite

11

79m2

Deluxe Suite

12

110m2

Singapore Suite

2

238m2

Shangri-La Suite

1

348m2
I was assigned to room 652, a Valley Wing Deluxe Room on the 6th floor. 
The room is, well, let's just say it looks its age. James Hilton wrote about Shangri-La as a place where time seemed to stand still, and that's unfortunately true of the Valley Wing rooms too. If updates have been made since construction finished in 1985, they're hard to spot. I know you don't come here expecting cutting-edge design, but as the Raffles Hotel's renovation has shown, it's perfectly possible to blend heritage ethos with quality of life improvements, and in that respect, the Valley Wing rooms could really do with a makeover. 
Don't expect any modern conveniences like digital thermostats, bedside charging, smart TVs or tablet control. The year is 1985. Ronald Reagan has started his second term. "We are the World" is playing non-stop on the radio. Debbie's husband is years away from his CPA qualification. This room is all about cream-colored wall panels, gold-framed paintings, and chandeliers.  
Fortunately, beds were still decent in 1985, and the Shangri-La mattress scores high points for comfort. However, bedsheets were not tucked into the bottom of the mattress, making the bed look very messy despite the room being freshly made up. 
All Valley Wing rooms either face the pool or the city. Noise insulation is excellent, so you don't have to worry either way. 
The television in the room didn't support streaming from your phone, so you'll have to bring your own Chromecast if you want to connect. 
Like I said, don't expect power outlets at the bedside, much less USB ports. The only tech you'll find here are buttons to draw the day and night curtains. 
The work desk had plenty of space for all your devices and wires, although the chair could have afforded better back support. If you intend to do prolonged periods of work, you might prefer relocating to the Tower Wing lobby, where the seating area next to Shophouse has communal work desks with plenty of charging. 
There's no USB or HDMI ports here, although there is a universal power outlet. Note the cracked faceplate for the local power outlet- man, this place is old. 
I also found it icky that some areas hadn't been properly cleaned, like this sliding cover for the power outlets. 
Wi-Fi speeds clocked in at 19.1 Mbps down/ 17.6 Mbps up, a very respectable speed that was more than sufficient for video streaming and Zoom meetings. 
 
🔽 Download
🔼 Upload

Mandarin Orchard

273 Mbps

294 Mbps

M Social Singapore


46 Mbps

49.Mbps

YOTELAir Changi

29 Mbps

49 Mbps

W Sentosa Cove

34 Mbps

34 Mbps

The Fullerton Hotel

23 Mbps

24 Mbps

PARKROYAL Pickering

24 Mbps

23

Mbps

Shangri-La Singapore

19 Mbps

18 Mbps

InterContinental Bugis

15 Mbps

15 Mbps

The Capitol Kempinski Hotel

16 Mbps

13 Mbps

Hilton Singapore

13 Mbps

14 Mbps

Marina Bay Sands

11 Mbps

11 Mbps

Andaz Singapore

8.0 Mbps

9.5 Mbps

The Barracks Hotel

7.3 Mbps

7.7 Mbps

Hotel 81 Tristar

7.0 Mbps

6.8 Mbps

Raffles Hotel

6.9 Mbps

6.8 Mbps

Hotel Soloha

4.7 Mbps

5.1 Mbps

Internet speeds based on Speedtest.net scores
In what must be a first for me, the room had an actual printer, hidden beneath the desk. 
I'd read Mark's review from 2016, where he received personalized stationery with his name on it. I was hoping to find the same (men love putting their name on things, don't you know), but sadly that amenity seems to have been phased out. 
Instead, you get a Shangri-La Cares hygiene pack, with a pair of wet wipes, a mask, and hand sanitizer. 
At 57 m2 , the Deluxe Room has enough space for a dressing table as well, with well-lit mirror and power plug for a hairdryer.
The mini-bar was empty on account of COVID-19, but you could scan a QR code and order any snacks or drinks to your room for free (I forgot to check if alcohol was included). 
I tried out the system by requesting for some fresh apple juice, but something must have been lost in translation because this showed up. 
A Nespresso machine comes standard, with six capsules of varying intensity.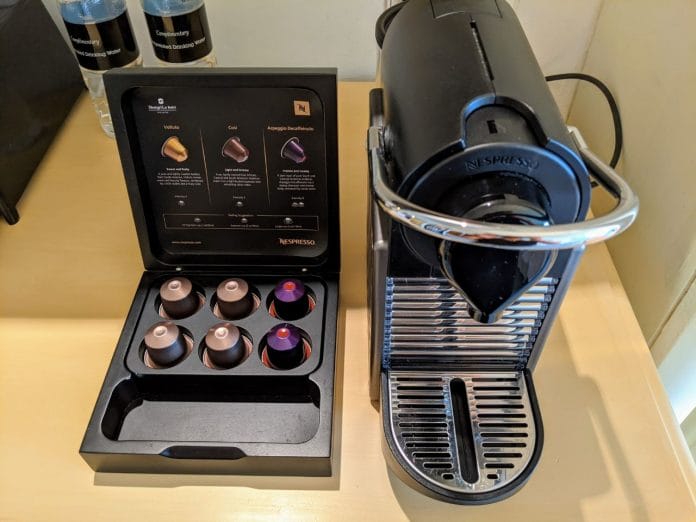 On the coffee table was a small welcome gift of some chocolates and kueh lapis. 
Outside the toilet is a little dressing area, cordoned off from the rest of the room by a set of swinging wooden panels.
This gives you a place to change clothes outside the toilet  without having to close the bedroom's curtains. 
Valley Wing Deluxe Rooms have spacious bathrooms, with marble clad floors, deep soaking tubs, open display cabinets and his and hers sinks. 
The shower area has both a rain and hand shower, operated with old style levers. The temperature controls are not particularly responsive (no thermostatic mixer here), and it takes a fair bit of time to increase or decrease the water temperature. 
The bathub is large enough for two people, but unfortunately (or perhaps fortunately) just as we were about to soak, we found a crack in the surface. It's small, but sharp- you could give yourself a nasty cut rubbing bare skin on it. I reported this to the front desk later that evening, and as a result we were moved to a 1-bedroom Suite (see below).
What's interesting is that the wooden cabinet by the bathtub has not just bath salts, but a power outlet and cable port. This suggests that once upon a time, a television was mounted to the wall for your viewing pleasure while soaking. 
The toilet does not have a bidet hose, but instead has an old-fashioned stand-alone bidet. 
Bathroom amenities in the Deluxe Rooms are from the Jasmin & Bergamote range by L'Occitane. These were gentle on the skin and had a subtle jasmine scent, with two full sets provided in the toilet. 
In addition to that, there were also toothbrush and toothpaste sets (packaged separately, interestingly enough), shower caps, a hair band, a shaving kit and a loofah. 
Throughout the bathroom you'll notice little subtle Valley Wing branding, whether it's on the towels, the bathrobes, or the glass covers. 
I did the usual blacklight sweep of the bathroom, dressing area and mattress, with nothing interesting to report. 
At the risk of sounding like a broken record, this room is really past its prime. Based on the room alone, I certainly wouldn't think the Valley Wing was worth the price. If you wanted a blend of old and new, you could certainly find much better at the Capitol Kempinski or Raffles Hotel, or one of the renovated heritage rooms at the InterContinental Bugis or Fullerton Hotel.
Shangri-La Valley Wing: 1 Bedroom Suite
Because of the issue with the bathtub, the hotel upgraded us to room 1660, a one-bedroom suite on the 2nd highest floor.
One-bedroom suites are only 22m2 larger than deluxe rooms, but the difference certainly feels a lot bigger. You enter the suite via a long corridor with the bedroom on the left, and living room on the right. 
The bedroom is practically identical in layout and size to the deluxe room, right down to the same dark wooden partitions separating the wardrobe from the rest of the room. 
The living room has space for hosting plenty of people, with five chairs and a sofa. In one-bedroom suites, the work desk has been relocated out of the bedroom and into the living room, allowing one party to work late into the night without disturbing the other. 
Likewise, the bathroom is a mirror image of the one in the Deluxe Room, although there are some differences in amenities (see below). 
While the whole reason we changed rooms was the bathtub, the one here came with a problem of its own- an unsightly rust ring blooming from the drainage area. 
I asked the staff to touch it up while we went for dinner, and while there's no easy solution short of repainting, they did a commendable job. 
Apart from the hardware, there are a few notable differences between the regular Valley Wing rooms and the suites. Suites come with Acqua Di Parma toiletries (versus L'Occitane), and Evian mineral water (versus house brand). They also have a fragrance diffuser, bath pillow, Bose sound system and bidet hose for the toilet- all absent in the regular Valley Wing rooms. 
Shangri-La Valley Wing: Lobby Lounge
So if the dated rooms aren't enough to justify the price of the Valley Wing, what is? Perhaps the Lobby Lounge, which is likely to be one of the highlights of your stay. Think of it like a club lounge, just for Valley Wing guests. 
Here you'll find the Champagne Bar, which as the name suggests, serves all-day champagne. Whatever hour the craving hits (except 10.30 p.m to 7 a.m, thanks to the current COVID-19 control measures- last order for booze is 9.30 p.m), you can waltz up to the bar and request a glass. 
They make other drinks too, of course, and will happily whip up a cocktail upon request. I've included a copy of the wine and cocktail list here; the full selection can be found at this link.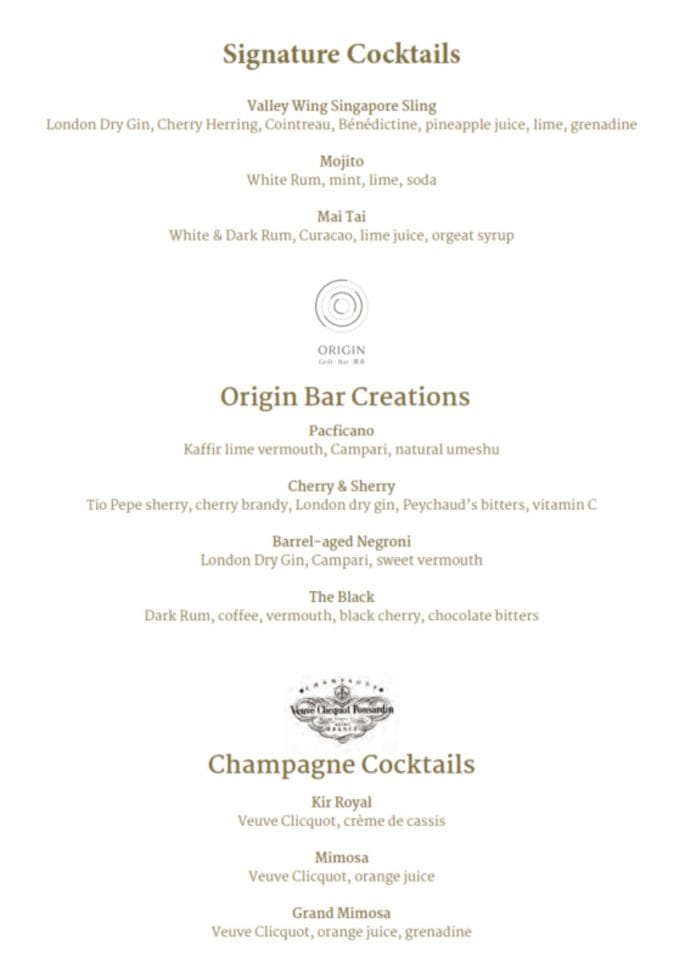 I decided to put this to the test at 11 a.m, and wasn't disappointed. 
Apart from all-day inebriations, guests will also enjoy the following meal presentations daily:
Afternoon tea: 2 p.m to 5 p.m
Evening canapes: 5 p.m to 7 p.m
The afternoon tea is certainly decent, although it's not meant to be a replacement for a full-fledged set. Over here it's a simple two-tier affair, one with sandwiches and a samosa, the other with cakes and kuehs. Scones are of course included, and their clotted cream is quite something. If you want the works, you'll need to go to The Lobby Lounge (same name, different place) in the Tower Wing, where it's available for S$42++ on weekdays and S$48++ on weekends.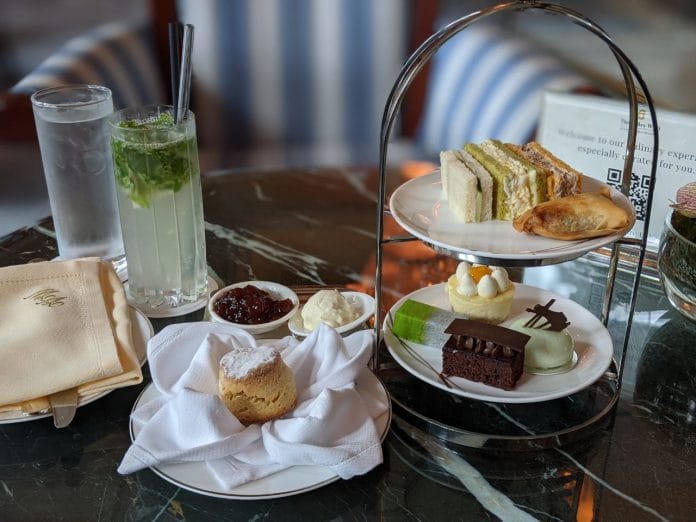 Since I had a late check-out on the second day, I was able to enjoy the evening canapes twice (the staff actively invite you to join, so there's no need to feel shy). The selection on both days was excellent, although the wait for food on the first day was rather long. 
One surprising omission was the lack of any menu (printed or otherwise) for the food presentations. It'd have been nice to know what we were eating, and although (some) of the staff could introduce the items, it'd be so much easier with a menu. 
Shangri-La Singapore: Facilities
| | | |
| --- | --- | --- |
| Pool | Gym | Spa |
| Yes: 6 a.m to 8 p.m | Yes: 6 a.m to 10 p.m | Yes: 10 a.m to 7 p.m |
| Kids' Club | Business Centre | Others |
| Yes: 8 a.m to 7.30 p.m | Yes: 24h | Tennis Courts |
Looking for facilities? The Shangri-La Singapore has them in spades. It's not just the usual pool, gym and spa. This place packs a kids' club, water park, tennis courts, and yes, even a business centre. 
Swimming Pool
The freeform swimming pool at the Shangri-La is open from 6 a.m to 8 p.m daily. It's a sizable one, measuring in at 912 cubic meters (for comparison, Marina Bay Sands' massive swimming pool holds 1,425 cubic metres, so the Shang's is almost two thirds the size). The depth of the pool ranges from 1.2M to 2.5M, although the deep end is cordoned off to prevent kids from wading in. 
Despite staying on a weekday, the pool was packed with kids most of the day, and parents will be comforted to know that no fewer than three lifeguards patrol the pool religiously. For some strange reason, the hotel has set up chain barricades around the perimeter of the pool, which no one seemed to care about. You could step over them and jump in, and they became tripping hazards more than anything else. 
I counted a good number of sun loungers in the pool area, although I suspect you may have issues snagging one on a crowded weekend. 
Valley Wing guests are supposed to have reserved sun loungers, but I suspect they're referring to these chairs facing outwards on the Valley Wing patio. These are good for sunbathing, but they don't offer convenient pool access. 
The pool area has a few roving waiters to take food and drink orders, and every once in a while they bring around some free treats for guests.
Splash Zone
🏊‍♂️ Shangri-La Splash Zone Timings

0800-0930

1400-1530

1000-1130

1600-1730

1200-1330

1800-1900
Pool not enough to amuse the kids? Try Splash Zone, a mini water park built just for younglings. Even better, it's completely free for all guests, although you will need to make a pre-booking. 
Splash Zone is only accessible to adults if they're accompanying a child, and since I don't have any progeny (that I'm aware of), I tried to lift my camera over the bushes to snap a few photos. I stopped when it dawned on me this looked distinctly Amos Yee-ish. 
So here's the publicity photos from the website instead. Expect lazy rivers, water slides, water sprouts and jet cannons, with shallow wading pools for smaller children. 
Tennis Courts
As an avid tennis junkie, I was excited to learn that Shangri-La not only has three tennis courts (astroturf surface), they've available for guests to book at a very reasonable S$10.40 per hour. There are public tennis courts in Singapore which charge more than that! 
I managed to play two hours on the second day, and although astroturf plays very different from hard courts, it was still thoroughly enjoyable. Courts (at least the one I was in) have built-in water coolers, so you don't need to venture too far for refreshments. 
buds Kids Club
🧒 Shangri-La buds Kids Club Timings

0800-0930

1400-1530

1000-1130

1600-1730

1200-1330

1800-1930
For parents who want to offload the kids for a few hours, buds Kids Club is a godsend. This 1,872m2 indoor and outdoor play area is for children aged up to 12 years, with attentive staff and a host of activities to participate in.
Admission costs S$18 per child for 90 minutes. Separate areas with age-appropriate play equipment are available for toddlers, while older children can perform in a music studio, get messy with painting, or even take a baking class. 
I'm obviously not the best person to ask about this, so I'll link you to a few reviews you might find useful:
Gym
The gym is open daily from 6 a.m to 10 p.m, and pre-reservations are not required. As you'd expect for a hotel of this size, the gym is humongous, measuring in at just over 850 m2. Floor-to-ceiling windows let in abundant natural light during the day, and give guests a view of the lush gardens outside. 
Guests can help themselves to chilled bottled water, and wet wipes for cleaning the machines are provided. 
Inside the changing rooms are sauna, steam room and whirlpool bath facilities, but these are temporarily closed due to COVID-19.
Business Centre
Do hotels still need a business centre in this day and age? Probably not, and there's a reason you don't see them in modern hotels anymore. But of course you find one in the Valley Wing, and it's every bit the relic that you remember. Useful for printing a boarding pass, or reading a book- if you're a dinosaur still using physical media. 
Chi Spa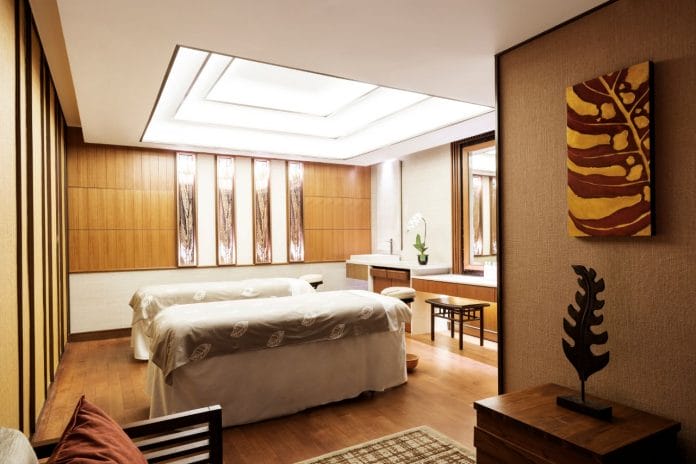 I didn't visit the spa, but for those who are interested, it's located in the Garden Wing and open daily from 10 a.m to 7 p.m. The menu and price list can be found here; expect to pay S$165++ for a 60 minutes treatment. 
The Shangri-La has sprawling grounds, and taking the time to explore will pay dividends. Be sure to check out the waterfall garden and koi pond, as well as the orchid greenhouse (empty now, sadly). 
Shangri-La Valley Wing: Summit Room Breakfast
Served at

Cost

Style

Summit Room or The Line

All Valley Wing rooms come with breakfast


A la carte buffet

Hours

Sparkling Wine?

Discounts?

0700-1030 (Mon-Sat)
0700-1100 (Sun)

Yes (Summit Room)

None
Update: Breakfast at the Summit Room is no longer free flow. Guests are limited to two main courses and three sides with each order of eggs. Sad.
Valley Wing guests are given a choice of breakfast at the Summit Room or The Line. Whatever you do, do not go to The Line. Seriously, there'll be plenty of opportunities to visit when you stay in the Garden or Tower Wing. 
But you're in the Valley Wing, and breakfast at the Summit Room is a big part of why you're paying a premium. 
There's no need to make prior reservations, and guests can choose to be seated inside or on the outside patio (be warned that if you choose the latter, you might get some cigarette smoke wafting over from the garden). 
We got a table immediately upon arriving at 8.30 a.m, and the menu came shortly after. 
Now, of all the hotels I've reviewed so far, I've yet to see a breakfast menu this extravagant. Even the fabled Raffles Hotel had a decidedly down-to-earth breakfast menu. But the Valley Wing pulls no punches, with several wow factor dishes in its repertoire. 
There are some misses, but it's mostly hits. We started by trying the three Chef's Signature items. The steak and egg (singular) consisted of a small piece of grain-fed Australian tenderloin and a poached egg. 
While the beef was seasoned nicely, I did find the meat underdone (I requested medium rare, this is closer to mooing). 
Also, the poached egg had been overcooked to the point it wouldn't flow. 
It wasn't the most impressive of starters, but thankfully things improved from there. 
The Crispy Egg Confit is an absolute superstar dish. Think sous vide egg with parmesan sabayon, topped with Kaluga Queen caviar. Caviar snobs may scoff at Kaluga Queen (it's a Chinese brand, and notably cheaper than the Russian or Iranian varieties), but I really couldn't tell. Break the yolk, mix everything together, and relish the fact you can have as many helpings as you please. 
The Bikini Sandwich looked wholly unimpressive when it arrived; The Milelioness didn't even want to order it in the first place. But my goodness, looks can be deceiving. The bread is grilled with truffle butter that renders it delightfully crisp, and the insides are a warm, delicious mess of parma ham and mozzarella cheese. Sensational, and a must-order. 
If it's more caviar you want, then order the Valley Wing Soft Boiled Eggs. This comes with toast soldiers and your choice of sides. We ordered mushrooms (fantastic, but the default portion is three small pieces), cumberland pork sausage (excellent), avocado (can't go wrong), tomatoes (the fancy Jardin Rabelais variety), and rosti (avoid- too soggy).
Like the steak & egg, the first batch of soft boiled eggs were overdone. I requested a separate batch to be made, which came out nicely. 
The Belgian waffles were nicely done, with a crisp exterior begging to be slathered in Vermont maple butter. 
The pancakes, on the other hand, were too dense and cakey for my liking. This usually happens when there's too much egg in the batter, or when the chef presses down on the pancake during cooking (pushing out the air). The title of best hotel pancakes still remains firmly in the hands of the InterContinental Bugis and Capitol Kempinski.
On to the Asian options, and I'm pleased to report that the Summit Room does a very good rendition of Nasi lemak. The otak is full of fish (as opposed to mostly starch), the chicken was juicy and tender, and the sambal had a kick to it. 
To wrap things up, I ordered the Teriyaki Salmon bento set, which was good too. 
Champagne is not officially on the breakfast menu, but if you request a glass the staff will gladly pour one. I say why not- there's nothing quite like a champagne breakfast, especially when the food is good enough to match the bubbles (ahem PARKROYAL Pickering ahem)
Other Dining Options
| | |
| --- | --- |
| Restaurant | Status as of 10 Nov 2020 |
| Origin Bar | Open  |
|  Origin Grill | Open  |
| NAMI  | Closed  |
| Shang Palace | Open |
| Shophouse by Shangri-La | Open |
| The Line | Open |
| The Lobby Lounge | Open |
| The Rose Veranda | Closed  |
|  Waterfall Ristorante Italiano | Open  |
The Shangri-La Singapore has a rich roster of restaurants, and I wasn't able to try them all during my stay. I think most people will be familiar with The Line by now, so I decided to review Origin Grill and Waterfall Ristorante Italiano. 
Origin Grill
Origin Grill is located in the Tower Wing, and is open for lunch from 12-2.30 p.m daily, and dinner from 6-10 p.m daily. I wanted to give their executive set lunch menu a try, and showed up at 12.30 p.m without a reservation. Bad idea- this place is surprisingly popular with the business lunch crowd (where do they come from?), and I had to return at 1 p.m instead. 
The executive set lunch starts at S$34++ for 3 courses (1 appetizer + 1 main + 1 dessert), but you can opt for an additional appetizer in place of dessert for S$40++. If you want the works (2 appetizer + 1 main + 1 dessert), expect to pay S$44++. 
I went with the cabbage consomme as my starter. The broth was delightful, but they could have been a bit more generous with the protein- there was hardly any pork belly to be found inside. 
For the main, I had the Westholme petit tender. A petit tender, for the uninitiated, comes from the shoulder of the cow and isn't seen very often on account of the labor and skill required to extract it. Despite the name, I didn't find it particularly tender, and it wouldn't rank in my top steaks. Fortunately, the accompanying tater tots and cauliflower cous cous were delicious. 
For dessert a "fall sweet" was served, made up of black sesame, purple sweet potato mousse, candied sweet potato, jasmine persimmon and coconut curd. 
The first course came at 1.13 p.m, the second at 1.37 p.m, the third at 1.53 p.m, making this a tidy one hour affair- just right for a business lunch. 
Waterfall Ristorante Italiano
Waterfall Ristorante Italiano, as the name suggests, is next to the waterfall garden in the Garden Wing. It's also next to the swimming pool, making for a nice casual place to get a quick lunch or dinner. Opening hours are similar to Origin Grill, i.e 12-2.30 p.m for lunch, and 6-10 p.m for dinner daily. 
The full menu is too long to copy here, so I'll just link you to it. The restaurant is currently serving a seasonal special white truffle menu too, which we ordered our starter from.
Below is Carpaccio Di Manzo Al Tartufo (S$45++), beef carpaccio with parmesan, olive oil and freshly-shaved white truffle. The beef was sweet and tender, but as expected, the truffle stole the show. Try a bite with the arugula, beef, cheese and truffle mixed together- it's a heavenly confluence of flavors. 
For the mains, we had a Spaghetti Vongole (S$28++) and a Linguine Allo Scoglio (S$34++). Both were fantastic, with al dente pasta and sauce bearing the taste of the sea (this was seafood pasta, as opposed to seafood and pasta). Even if you want to try other dishes, I'd strongly recommend you at least order the linguine. 
Off-topic: Here's a simple protip if you want to know whether an Italian restaurant is serving up the good stuff- just ask what brand of dry pasta (pasta secca) they're using. If they reply "Barilla", you probably shouldn't come back (if they say "San Remo", flee the restaurant immediately). 
It's not that Barilla is bad or anything- it's a genuine Italian product. But it is a supermarket brand, made in bulk, dried quickly, and extruded through teflon dies. As such, it will never be as good as artisanal brands like Rustichella D'Abruzzo or Pasta Mancini, which are made in small batches from higher quality wheat, extruded through bronze dies (which help the pasta cling to sauce better), and dried slowly (allowing for better toasting, which yields a more flavorful product). Trust me, it makes a world of difference- I cook with the good stuff at home, and I can't go back to the old ways. 
But you'd be surprised how some supposedly high-end Italian places in Singapore (Pete's Place, I'm calling you out) go cheap on the pasta, hoping people can't tell the difference. Fortunately, Waterfall Ristorante Italiano does no such thing. They use Pasta Cavaliere Giuseppe Cocco, one of the best brands out there. 
To learn more about the differences between artisanal and mass-produced pasta, have a read of this explainer. 
Shangri-La Valley Wing Service
I think it's fair to have very high expectations for service in a place like the Valley Wing, and while it was certainly good, it didn't hit the heights of the Raffles or Kempinski. 
There were times when service felt rather unpolished. Case in point: towards the end of canape hour, staff went around taking last orders for food. The couple next to us ordered an additional set, then waited close to 20 minutes with nothing arriving. When they asked about it, they were told there was a mix up and their platter went to someone else, but the kitchen was closed now and nothing could be done. 
"Sorry ah", the waiter told them. 
That was it, and I can't help but think it's not an acceptable resolution for a place like this.
Wait times during breakfast were long, and it was often difficult to get refills or make new orders. At the pool, I noticed the sun loungers weren't cleaned regularly, and the ants were having a field day going after scraps on the chair next to me (suggesting the food had been there for a while). 
I've already mentioned the issues with the bathtubs in both the original room and suite. In addition to that, the air conditioning in the suite malfunctioned at night and we waited about 20 minutes for a technician to show up- probably an OK response time during the day, but you really feel every minute when all you want to do is get in bed. 
Then there's the minor stuff, things that set a good hotel apart from a great one. When I moved rooms, I was wondering if they'd remember I also ordered some special pillows from the pillow menu, and send those along to the new room. No luck. I was hoping the staff would observe whether occupants adopted a shoes on/off policy when entering the room. Not done. On the second day, I was waiting to see if lounge staff would remember guests and their drinks preferences. Nope. 
While I had some great individual interactions with other members of the staff (like Iris, the service leader of the Valley Wing), everything's only as strong as the weakest link. Obsessive attention to detail is what elevates a hotel to the next level, and in my mind, the Shangri-La Valley Wing didn't reach that. 
At check-out, the front desk proactively waived my lunch at Origin Grill for the issues with the room. 
Conclusion
How do I rank the Shangri-La Valley Wing? It's a tough question. 
It's clearly one of my better staycations, especially for the price I paid. My net outlay (after adjusting for the F&B credit) was S$379, for which I had an excellent breakfast and all the champagne I could drink. At the same time, the room badly needs an update, and service was uneven in parts. 
Because of that, I can't rank the Valley Wing above the Capitol Kempinski or Raffles Hotel (keep in mind though, that if you're a parent with kids, the Shangri-La is doubtlessly the best option available). Neither of those has all-day champagne, but their rooms and service are on another level. 
The Valley Wing is great option for those who relish privacy and don't intend to leave the hotel (you're not really walking distance from anywhere), and for those who enjoy their drinks. It's not quite the Shangri-La James Hilton wrote of, but renovate the rooms and it could come close. 
Overall ranking of Phase 2 staycations
Shangri-La Valley Wing
*Andaz Singapore ranking is as per my 1 October 2020 visit; the experience has notably declined since then. 
🏨 In Summary
The Shangri-La Valley Wing exudes a sense of exclusivity and luxury that few hotels in Singapore can match, and the property is an excellent choice for parents. On the other hand, service can be uneven, and the rooms are still stuck in 1985.
Do say: Springsteen, Madonna, way before Nirvana
Don't say: Champagne is one of the basic food groups