Yesterday came the long-awaited news that after more than 30 months of isolation, Japan would finally be reopening to tourists from 11 October 2022.
Pedants will argue that tourists could already visit Japan in June, but I'm talking about a proper reopening- none of this mandatory visa and supervised tour group nonsense. I want things the way they were before the pandemic, when one could freely wander the streets without having to give a full accounting of their whereabouts, or cough in public without facing the Spanish Inquisition- which, for the record, no one expects. 
While COVID-19 has been a visceral reminder that the affection foreigners have for Japan is mostly a one-way street, my teenage years have made me nothing if not comfortable with the concept of unrequited love (take that, Debbie from drama club!). 
And so, within minutes of the news breaking, I pulled the trigger on an October trip to Japan.
Planning a post-pandemic Japan trip
Technically speaking, I've actually visited Japan during the pandemic. When I flew to Los Angeles in March en route to the Indian Wells Masters, SQ11 had a layover in Tokyo-Narita Airport. 
It was of course a ghost town, with entire sections of the terminal dimmed, restaurants closed, and only a skeleton crew keeping things running. I spent most of the time at the ANA Suite Lounge, which was my first taste of genuine Japanese food in two years (or at least as genuine as lounge food can get).
The layover in Japan was only 90 minutes, but this time round I hope to spend a little longer. I've booked a 4D3N trip arriving on 23rd October- while it would have been fun to be among the inaugural wave on the 11th, I'll be away in New York until the 22nd.
As for which part of Japan, I figured Tokyo would be a good starting point to get reacquainted. There's just so many places I want to visit again, like Manten Sushi, Sushi Tsubaki, Ukai-tei, Matsurokuya, and Ichiran (cry all you want, ramen hipsters, but that's good enough for me). Frankly, I have no idea how many of them still exist, but I'd even be happy with a good old fashioned 7-Eleven onigiri or a visit to Yoshinoya (try one in Japan, and you'll never eat at the overseas locations again).
I'll be sure to do a proper trip planning post next month, but here's a broad outline of how I'm tackling the pre-departure logistics, as well as flights and hotels.
Pre-departure logistics
Visas
Japan will restore its pre-COVID visa waiver arrangements from 11 October, which means that Singaporeans no longer need to apply for one. 
A full list of visa-exempt countries can be found here.
Testing
Japan has already scrapped the requirement for a pre-departure COVID-19 test for all fully vaccinated travellers. As a reminder, Japan defines "fully vaccinated" as individuals who have received at least three doses of the following vaccines:
AstraZeneca
Bharat Biotech
Janssen (only two doses required)
Moderna
Novavax
Pfizer-BioNTech
Any combination of the above is acceptable as well. 
Do note that Sinovac and Sinopharm vaccinations are not recognised. Travellers who have received such vaccinations are still required to produce a negative pre-departure PCR test result, taken within 72 hours of departure. The cost of a PCR test in Singapore starts from S$50.
Unvaccinated children under the age of 18 who travel with vaccinated parents/guardians will be treated as fully vaccinated (refer to the bottom of page 17 for the source). 
On-arrival testing depends on an individual's travel history. Singapore is currently classified as a Blue List country, which does not require on-arrival testing or quarantine, regardless of vaccination status.
Visitors from Yellow or Red List countries may be required to take on-arrival tests or quarantine, depending on their vaccination status. However, since the Red List is currently empty, a fully-vaccinated traveller is basically free from all pre-departure and on-arrival tests.
Category
Vax?
Test?*
Quarantine

Blue

Yes

PDT: N/A
OAT: N/A

N/A

No

PDT: PCR
OAT: N/A

N/A

Yellow

Yes

PDT: N/A
OAT: N/A

N/A

No

PDT: PCR
OAT: PCR

3 days (home)

Red

Yes

PDT: N/A
OAT: PCR

3 days (home)

No

PDT: PCR
OAT: PCR

3 days (facility)

*PDT= Pre-departure test, OAT= On-arrival test
If your 14-day travel history cuts across various categories, the restrictions of the strictest one will apply. You can view the full list of countries by category here.
Flights
To Japan
Want to redeem miles to Japan? Well, so does everyone else. 
If you're hoping to travel in 2022, it's almost impossible to find Business or First Class award space on Singapore Airlines. Even if you expand your horizons beyond Tokyo, the best I could find was Business Advantage waitlists to Osaka and Nagoya. 
If it's any consolation, I'm seeing decent Economy Saver space to Narita and Haneda for the rest of the year, even during the December peak period. I know the conventional wisdom says it's a bad idea to redeem miles for Economy Class, but with revenue fares set to skyrocket, this may prove the exception to the rule.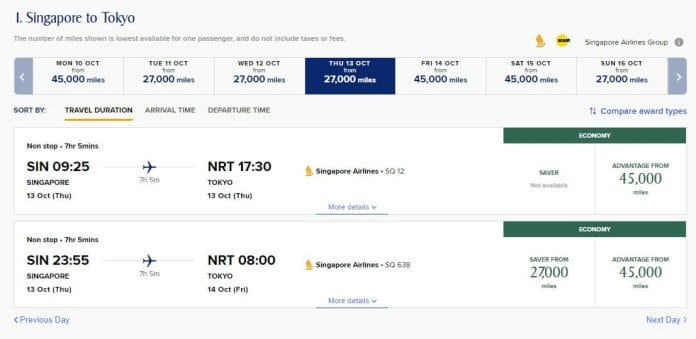 However, Economy Saver space is only available to PPS/Solitaire PPS Club members. I ran another search with The MileLioness' account (regular KrisFlyer member), and all I see are Economy Advantage awards. 
But not all is lost. If you have miles with Alaska Mileage Plan, Asia Miles, British Airways or any other oneworld programme, it's still possible to book Japan Airlines Business Class awards from Singapore to various cities in Japan for the rest of 2022.
For example, I can find many dates in November 2022 with at least two Business Class awards to Osaka.
Even in December, there's still some hope for visiting the ski slopes of Hokkaido!
Do note that if you search for flights between Singapore and Tokyo Haneda or Narita, you won't find anything. That's because Japan Airlines is practicing married segment logic, whereby an itinerary like SIN-HND-ITM would be possible, but not SIN-HND. 
If you wish to visit Tokyo, it is possible to skip the last leg of your trip (even if you check a bag, the SOP for international arrivals is to claim your bag on landing, clear customs, then recheck it at the domestic terminal, so there's no risk of it going to the final destination without you). Before you do so, I'd encourage you to read about some of the potential pitfalls of so-called "throwaway ticketing", and decide if you're OK with the risks. 
Sadly, I wasn't able to find any Japan Airlines Business Class award space for October, so I've gone ahead and booked an Economy Class award on Singapore Airlines for 27,000 miles + S$52.30. 
Here's a reminder of how much award flights between Singapore and Japan will cost with KrisFlyer, Alaska Mileage Plan and Asia Miles.
| | | |
| --- | --- | --- |
| One-Way Prices | Saver (SQ) | Advantage (SQ) |
| Economy | 27,000 | 45,000 |
| Premium Economy | 37,500 | N/A |
| Business | 52,000 | 70,000 |
| First | 77,000 | 120,000 |
| | | |
| --- | --- | --- |
| One-Way Prices | (JL) | (JL) |
| Economy | 15,000 | 27,000 |
| Business | 25,000 | 61,000 |
From Japan
For the flight back from Tokyo, I managed to snag a very good value fare with ZIPAIR, the only airline that will sell you menstrual panties as an add-on (I'm not even kidding). A one-way Zip Full Flat ticket cost 78,660 JPY (S$786), and as the name suggests, comes with a full flat bed. 
The reverse herringbone configuration is cosmetically similar to many full service airlines, so much so that if I showed you the photo below, most people would struggle to tell that it came from a budget carrier. 
While ZIPAIR does not have personal inflight entertainment screens, passengers receive complimentary streaming and Wi-Fi (in all cabins). 
The main drawback is that ZIPAIR's flights aren't daily at the moment. Here's the current schedule for October; ZIPAIR has yet to publish schedules from November onwards. 
Flights
Days
ZG54

S
M
T
W
T
F
S
SIN 2300


➞


NRT 0710 (+1)

✔
 
 
✔
 
✔
 
ZG53

S
M
T
W
T
F
S
NRT 1510


➞


SIN 2130

✔
 
 
✔
 
✔
 
Hotels
I'm no expert on Tokyo hotels, but something tells me it might be wiser to book sooner rather than later. 
In case you were wondering, hotels in Japan aren't offering fire sale prices at the moment- despite the lack of foreign visitors, the domestic tourism industry has been doing a roaring trade.
I did a search for October with Hilton Honors and Marriott Bonvoy, and found that prices are in that annoying range where they're not high enough to justify burning points, yet not low enough that you don't feel the pinch while paying cash. 
In the end, I figured it might be better to book a luxury agent rate via HoteLux, since quite a few hotels are offering Stay 3 Pay 2 rates. On the shortlist are:
Conrad Tokyo
Four Seasons Hotel Marunouchi 
The Peninsula Tokyo
The Prince Gallery Tokyo Kioicho
The Tokyo EDITION, Toranomon 
All bookings will enjoy standard HoteLux benefits such as a room upgrade, daily breakfast, a US$100 hotel credit and early check-in/late check-out. 
I'm leaning towards the Tokyo EDITION, since it's a brand new property that opened in October 2020 and therefore has higher review potential than the visited-to-death Conrad or Peninsula Tokyo.
If you have any feedback on these hotels, do let me know!
Conclusion
Japan will scrap its remaining tourism restrictions on 11 October, which returns travel to pre-COVID conditions provided you're fully vaccinated with a recognised vaccine. 
I'll be heading over towards the end of October to check the situation out. Expect a fully fleshed-out trip planning post in the next few weeks, and good luck with the award hunt!
How's your Japan planning coming along?