Note: The following stay was sponsored by HoteLux, a luxury hotel booking platform. However, I had a free choice of properties, and the hotel was not involved in the review process.
For this trip to Japan, I'd be spending all three nights at The Prince Gallery Tokyo Kioicho, a Luxury Collection Hotel under the Marriott Bonvoy umbrella. This property opened in 2016 , offering 250 rooms in the Akasaka neighbourhood.
In a short space of time, it's quickly become one of Tokyo's more aspirational Marriott Bonvoy properties, right up there with the Ritz-Carlton Tokyo and brand new Tokyo EDITION. If you've had your eye on this hotel, here's what you should know about the stay experience.
🏨 tl;dr: Prince Gallery Tokyo Kioicho

Modern rooms, extensive facilities and great service make the Prince Gallery a solid option for the Akasaka neighbourhood.

👍 The Good

👎 The Bad

Spacious, modern rooms with oversized shower areas

Extensive facilities including indoor pool, heated jacuzzi and well-equipped gym

Fantastic service from the lounge staff

Club lounge food offerings are rather basic (although there's free-flow champagne)

Breakfast buffet has yet to make a return; only a la carte options for now
🇯🇵 Land of the Sinking Yen
Booking The Prince Gallery
I booked this stay through HoteLux, a hotel booking platform that offers luxury agent rates such as Marriott STARS & Luminous, Hyatt Prive, Shangri-La Golden Circle and Hilton Impresario.
These prices the same as the hotel's best flexible rate, and typically come with additional benefits such as:
Room upgrades (can be guaranteed or subject to availability, depending on programme)
Early check-in and late check-out
Complimentary breakfast for two adults
US$100 hotel credit
Welcome amenity
Flexible cancellation
You can sometimes find free night offers through these programmes as well, which take the form of a free 3rd, 4th or 5th night.
🇯🇵 Current HoteLux Japan Offers
Mandarin Oriental Tokyo

20% off or 4th night free

Valid till 30 Sep 2023

Shangri-La Tokyo

Stay 4 Pay 3

Valid till 31 Dec 2023

Four Season Hotel Kyoto

3rd night free

Valid till 31 Dec 2023

Ritz-Carlton Nikko

3rd night free for suites

Valid till 30 Mar 2023

Tokyo EDITION Toranomon

4th night free

Valid till 18 March 2023

Ritz-Carlton Osaka

30% off Club rooms or 20% off Superior/Deluxe rooms (min. 2 nights)

Valid till 31 May 2023

Suiran, a Luxury Collection Hotel, Kyoto

4th night free

Valid till 28 Dec 2023
On this particular stay, the rate I booked at The Prince Gallery came with the 3rd night free, yielding an overall cost of S$525 nett a night. That may sound steep, but it's actually slightly below par for a 5-Star hotel in Tokyo.
For avoidance of doubt, these rates also qualify for hotel points and elite status credit where applicable. My stay posted to my Marriott Bonvoy account within 24 hours of check out.
A HoteLux membership can be obtained for free through the following cards.
🏨 HoteLux joining offers
DBS/POSB cardholders enjoy a 3-month HoteLux Elite membership (extendable to 12 months after the first stay)
OCBC VOYAGE cardholders enjoy a 12-month HoteLux Elite membership + 500 points
OCBC Premier Visa Infinite and OCBC Premier, PPC and BOS VOYAGE cardholders enjoy a 12-month HoteLux Elite Plus membership + 500 points
World Mastercard cardholders enjoy a 12-month HoteLux Elite membership +500 points

World Elite Mastercard cardholders

enjoy a 12-month HoteLux Elite Plus membership + 2,000 points
Final note: HoteLux offers a mixture of luxury and regular OTA rates. Always make sure you've selected a rate tagged with "HoteLux Privileges" (if you pick a non-luxury rate, the app will show you a warning message so there's no ambiguity).
Arrival and Check-in
The Prince Gallery is located in north Akasaka, with both the Akasaka-Mitsuke and Nagatacho subway stations a short walk away. It's not the sexiest of locations, but is within walking distance of the Imperial Palace, and just a few stops away from Shibuya and Roppongi.
The hotel is situated on the 30th to 36th floors of a mixed-use development that includes offices, restaurants, a convenience store and flower shop.
Your arrival experience depends on the mode of transport. If you took the train like me, you'll enter from the ground floor. Look out for the Prince Gallery marquee on the wall, and enter through the sliding doors to the right of it.
If you take a taxi, you'll pull up to the second floor, where a porter will assist you with your bags.
Either way you'll need to head up to level 36 for check-in. The lobby is elegantly decorated, with floor to ceiling windows allowing the bright autumn sunlight to flood in, an instant remedy for jetlag.
Prince Gallery Tokyo lobby
My flight from Singapore landed at 6 a.m, and it was close to 7.40 a.m by the time I got to the hotel. Obviously my room wasn't ready yet, but I was given access to the spa facilities on level 30 so I could shower and relax in the onsen first.
The front desk also confirmed my HoteLux benefits:
Room upgrade: I was upgraded from a regular Deluxe room to a Club Deluxe room
Breakfast: Daily breakfast for two guests was offered at Oasis Garden
Early check-in: My room was ready at 12 p.m
Late check-out: I was offered check-out as late as 4 p.m, which I didn't need because I had to head to the airport before that
US$100 credit: This was converted into 13,500 JPY, a far cry from the 14,500 JPY spot rate that day!
Welcome amenity: I received some fruits and snacks in the room (see next section)
With regards to the upgrade, hotels normally do not include club lounge access for club room upgrades. This makes the upgrade perk rather useless, since oftentimes the difference between a club and non-club room is a higher floor, or an in-room Nespresso machine.
Therefore, I was very surprised to receive full club benefits- for the record, HoteLux did not contact the hotel ahead of my arrival, so as far as they were concerned I was just another guest. However, this is probably a YMMV situation, and will depend on hotel occupancy.
Rooms
The 250 rooms at The Prince Gallery are split into the following categories.
| | | |
| --- | --- | --- |
| Category | Size | No. of Rooms |
| Superior | 36 sqm | 11 |
| Deluxe | 42 sqm | 198 |
| Deluxe Premier | 46 sqm | 14 |
| Grand Deluxe Corner | 58 sqm | 11 |
| Grand Deluxe Premier | 62 sqm | 5 |
| Kioi Suite | 95 sqm | 6 |
| Designer's Suite | 100 sqm | 4 |
| The Prince Gallery Suite | 148 sqm | 1 |
As mentioned, I'd been upgraded to a Club Deluxe Room on the 36th floor, a short walk from reception through a set of keycard-controlled doors.
The door opened into a pristine white passageway, with the toilet to the left and wardrobes to the right.
The room décor was clean and bright, with natural light streaming in from an oversized bay window. At 42 sqm, these rooms are sizeable for Tokyo, which is better known for capsule and shoebox hotel rooms.
My room had a great view of the surrounding neighbourhood, which got even better at night as the city lit up. When the time came for shut eye, the blackout blinds did an excellent job of keeping out unwanted light with no gaps whatsoever. It was hard to tell what time it was outside with the blinds fully drawn.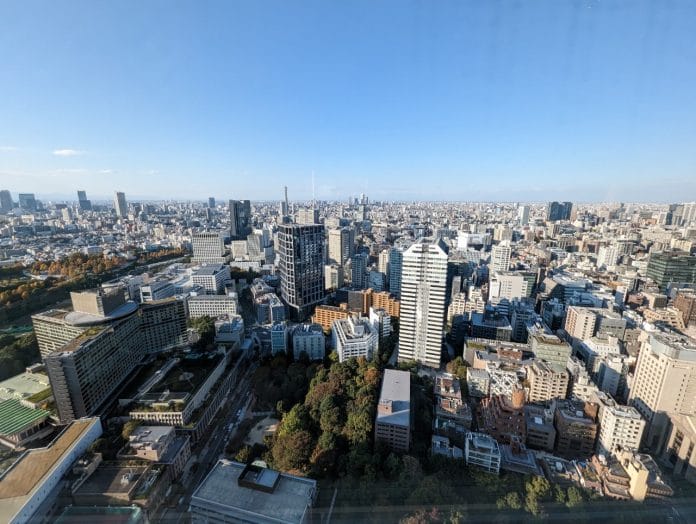 On the coffee table was a welcome note from the hotel, together with some lovely Japanese grapes.
The king-sized bed was extremely comfortable, with silky smooth sheets and a choice of firm or soft pillows. By one bedside was a control panel that allowed you to control the room's lighting and blinds, as well as toggle the do-not-disturb or make up room options. By the other was an iPad which offered the same controls, plus room service ordering and digital newspapers.
Both bedsides had a USB Type-A port as well as a Japanese-style power outlet (a bit strange they didn't install a universal one given the hotel's international clientele).
Nightly turndown service was provided, and I'd return to find chocolates and two sets of Japanese pyjamas laid out on the bed.
The work desk had a flip-up vanity mirror, which doubled up as a storage area. Additional power outlets and a HDMI connection to the TV could be found here, together with a Bose Bluetooth wireless speaker.
Wi-Fi connectivity clocked in at 40 Mbps down and 50 Mbps up, more than sufficient for heavy-duty video calling and streaming.
Inside the mini-bar was a Nespresso machine and kettle, together with various soft drinks, juices, bottled water and a small bottle of champagne. None of these are complimentary, but club room guests can visit the lounge for whatever they need.
Inside the wardrobe was a bathrobe, digital safe and ironing board. The bathrobes weren't quite as luxurious as I was expecting for a hotel of this calibre; give me the Waldorf's boca terry bathrobes any day!
Now let's talk about the toilet. You may have noticed from some of the other photos that the layout is rather exhibitionistic. There's no blinds or drapes, so anyone from the outside can look in.
But press one button in the bathroom, and presto! The glass turns completely opaque. Now that's a nifty feature!
The bathroom itself had a single vanity area, and while the passageway was narrow, the bathing area was oversized. This featured an overhead rain shower (with excellent water pressure), plus a hand shower and a movable bench. Those who prefer soaking could relax in a sunken bathtub, complete with bath pillow.
Bathroom amenities were from BYREDO, which has been making quite a splash in the hospitality space in recent months, becoming the standard-issue brand at Conrad and InterContinental.
Additional amenities such as toothbrush kits, cotton buds, a razor, hair brush and comb were stored in the vanity drawer. There was an extra little gift: a box of C.O Bigelow skincare amenities, including make-up remover, face foam, and skin lotion. You might have seen these products on American Airlines.
As is standard in Japan, the toilet had an automatic TOTO bidet that raised the seat cover when it detected your presence. Lights in the toilet were also controlled by motion sensors, which helped prevent accidents at night.
Facilities
Pool
The Prince Gallery's 20m indoor swimming pool is open from 6.30 a.m to 10 p.m daily, and located on the 30th floor spa area. You will need a swimming cap to use the pool, but fortunately the staff have extras on hand.
With its rectangular shape and 1.2m depth, this is a strictly-business pool. It's great for swimming laps, but those with kids won't find it too enticing.
The pool is supposedly heated, but I didn't find the water particularly warm. If it's too cold for you, you can always flee to the nearby jacuzzi, where hot water awaits.
I was confused at first as to why the deck chairs were pointing the wrong way, but as it turns out, I think most people would prefer to take in the Tokyo skyline than various uncles swimming.
Fitness Centre
The fitness centre is open 24 hours a day, and equipped with a wide variety of Technogym equipment. There's also a studio for staff-conducted classes.
Spa
The spa is open daily from 10 a.m to 10 p.m, and while I didn't go for any treatments here, I did make use of the bathing facilities.
Do note that these are only complimentary for guests staying in Club rooms, Grand Deluxe rooms or Suites. All other guests will pay an access fee of 2,500 JPY (~S$25) per day.
Guests can soak in a cold or hot bath, complete with views of the skyline. It's especially great in the evenings, when you can watch the sunlight slowly fade and the city begin to light up. Be advised: the custom in Japan is to be completely nude in the baths, so squeamish individuals might want to sit this one out.
A dry sauna room was also available, with similar clothing rules.
Club Lounge
The hotel's club lounge is located on the 34th floor, and is open from 10 a.m to 10 p.m daily.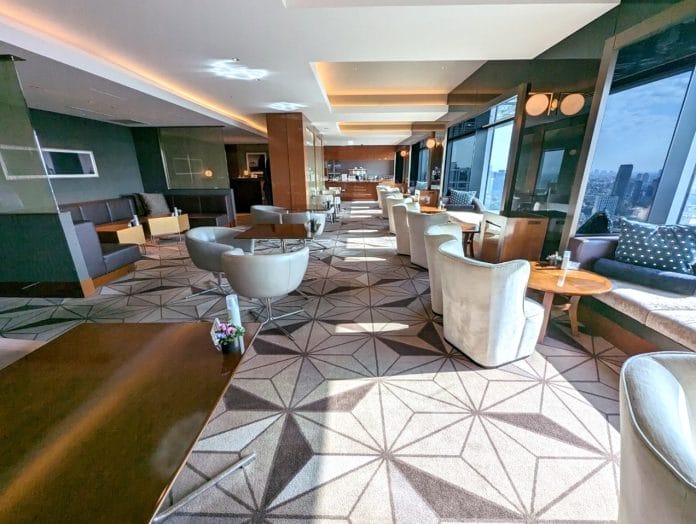 Lounge guests can help themselves to complimentary coffee and tea, beer and soft drinks, as well as light snacks throughout the day.
Two meal presentations are offered daily:
Afternoon tea: 2.30 p.m to 4.30 p.m
Evening cocktails: 5 p.m to 7 p.m
Hotel lounge access can be a funny thing in a city like Tokyo, with so many must-try eateries around every corner. On the one hand, it's great to have free alcohol and bites every day. On the other, you don't want to feel like you're obligated to return to the hotel every afternoon and evening just to take advantage of this (and potentially spoiling a bucket list meal).
So it's a tricky question that everyone's going to have to weigh for themselves, but a compromise might be to book a club room just for one day to try it out, while booking a regular room for the rest of the stay.
I will say that the afternoon tea at Prince Gallery isn't worth disrupting your plans for. It was extremely basic, with a small assortment of five sweet items, as well as coffee and tea (which are available all-day anyway).
The evening spread was better, with a cold cuts, hot items like fishcake, pan-fried fish and stewed beef, and various desserts. That said, it definitely won't be a dinner substitute, which is either a bug or feature depending on how you look at it.
If you enjoy your booze, however, you'll be delighted to hear that Piper-Heidsieck NV champagne is available on free flow, together with a 2021 Chateau Vieux L'Estage Bordeaux white and a 2019 Dampt Freres Pinot Noir. Various spirits were also served.
Service in the lounge was uniformly excellent, with the staff keeping drinks topped up and eager to chat with guests. They even helped me make a last-minute booking at a popular yakiniku place, diligently researching and presenting me with different options.
Breakfast
Breakfast is served at Oasis Garden from 7 a.m to 10 a.m daily. No prior reservations are required, and complimentary breakfast is provided to Marriott Bonvoy Platinum, Titanium and Ambassador guests.
Prior to COVID, the hotel offered a buffet spread together with made-to-order items. The buffet hasn't returned yet, so in the meantime, guests can choose from either a Western or Japanese set menu. The former is a fixed set of options, the latter rotates daily.
On the first day I went with the Japanese breakfast, which featured an assortment of small dishes like boiled snow crab, steamed wagyu beef and grilled salmon. A small piece of delicious musk melon was offered too- if you know your Japanese fruits, you'll know how pricey this can be!
On the subsequent two days I tried items from the Western set, starting with the truffle scrambled eggs. Protip: ask for it "espuma style" and they'll pour mushroom broth over the eggs. I'll admit it doesn't look the most appetising, but the flavour is amazing.
I also had the French toast with fruits, which was excellently done. The bread was slightly crispy at the edges, with a warm, mealy centre. I only wish it were slightly bigger!
All western sets come with standard accompaniments including a salad, toast and preserves, grilled sausage, bacon and mushrooms, and juice.
On the whole I enjoyed the quality of the breakfast items, but really wish they offered at least a partial buffet. That would have made it easier to get refills on things like juice and milk, or even some additional pastries or bread for those still hungry.
Other dining options
Sky Gallery Lounge Levita is The Prince Gallery's signature bar. It's closed during the day, but a night transforms into a very eye-catching watering hole, complete with Blade Runneresque lighting and million-dollar views of the skyline.
I decided to spend my US$100 hotel credit here, which covered an Old Fashioned and Champagne Mojito…
…as well as a wagyu beef burger. The drinks were decidedly the highlight, as the burger was nothing special.
I spent my remaining credit on check-out day for room service, where I tried a plate of house-cured smoked salmon. This was actually pretty good, especially after I draped it over the Yoshinoya I bought in a kind of unholy donburri.
Conclusion
The Prince Gallery Tokyo Kioicho offers surprisingly large and modern rooms, with excellent facilities and service from the lounge staff. It may not be the most natural of locations for those who want all the action at their doorstep, but the popular shopping and eating neighbourhoods are just a few train stations away (plus there's a Bic Camera closeby).
The highlights of my stay would be soaking in the onsen au naturale, tucking into truffle scrambled eggs at breakfast and knocking back champagne during the evening happy hour. With a third night free, I'd consider the price to be good value for Tokyo too!